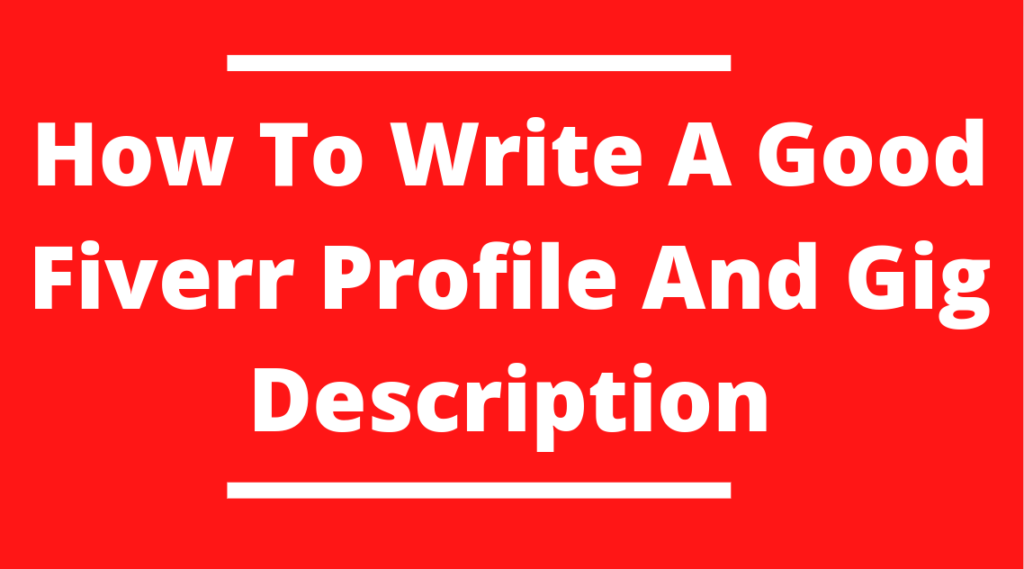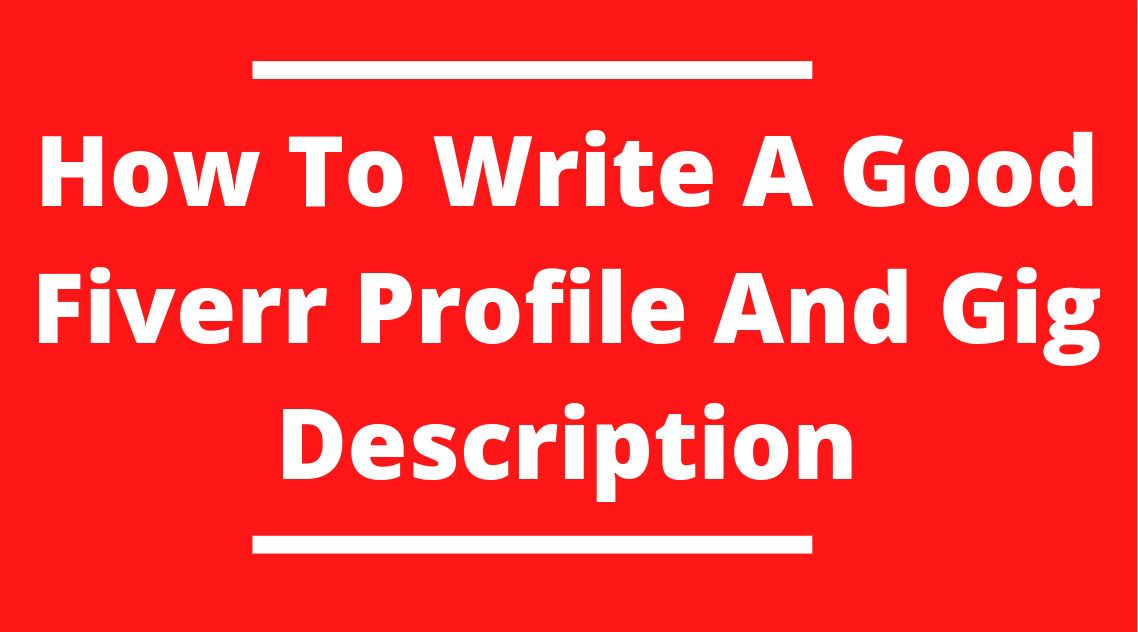 Freelancing is a great way to earn money online, but it can be hard to get started if you don't know how to write a good fiverr profile and gig description. This article will help you out with both of those things.
You need to have a good profile and gig description because they are the first thing people see when they search for your services on Fiverr. By having a good profile and gig descriptions you give yourself an edge over other freelancers by being more likely to get hired.
How To Write A Good Fiverr Profile And Gig Description
1. Introduce Yourself
The first thing that people should read in your profile is your introduction. It doesn't matter what kind of service you offer or what skills you have, just make sure that your introduction is short and sweet so that people can quickly understand who you are and why they should hire you.
Your introduction should be written in a few sentences. Be sure to keep it short and sweet. Avoid writing anything irrelevant about yourself. Limit your introduction to no more than 600 characters. Stick to the basics and make sure that everything you include adds value to your profile.
2. Use Simple English Words
Your profile and gig description should be written in simple English. Most buyers on Fiverr speak only basic English. They often struggle with difficult vocabulary and complicated sentences. Try to keep your descriptions short and sweet. Make sure to use proper grammar and punctuation. Double check everything before submitting it.
3. Talk About Your Experience
People always want to know more about you and they want to know what you're like. So make sure to describe your experience in your fiverr profile and gig description. 
Talk about your experience as much as possible. You want to show off all of your strengths and experiences. This will help potential clients decide whether or not they would like to work with you. Showcase your best works.
4. Use Bullet Points And Lists
To make sure you're getting the best possible price for your gig, consider using bullet points and lists. These will help make your gig description easy to scan and increase the chances that customers will actually buy your gig.
Make sure to list every skill that you have listed in your profile. If you have any special talents or skills that you think might benefit your gig, add them here too.
5. Keep SEO In Mind
One of the most important aspects of creating a successful fiverr profile and a good gig description is making sure that you optimize it for SEO.
It is essential to get Fiverr SEO right if you want to rank on the first pages of the Fiverr Search Results. It will help generate high quality traffic to your gigs without paying from promotions. Additionally, you will also see an increase in conversions. Even though using keywords is vital, it is equally important that you use them in both your profile description and your gig title. This step will give additional support to your SEO efforts. SEO is the best method to promote your gigs.
READ ALSO:
6. Enlist Your Clients
As a part of its new feature, Fiverr has given some top sellers the ability to add a widget of their clients' list.
However, this feature is not available to most new and level sellers. But that doesn't mean you can't add your clients, you just need to mention it in your profile description.
By doing that, it adds more social proof, more credibility to your skills.
7. Focus on Customer Satisfaction
It's important to talk about customer satisfaction in your fiverr description and profile. If someone hires you and then isn't happy with your work, they might end up leaving negative feedback. However, if they are satisfied with your work, they may leave positive feedback.
Make sure to focus on customer satisfaction. Tell them exactly what they'll get from working with you. Don't try to hide anything. Instead, tell them what they can expect.
Now that you've completed all of the necessary steps, you should focus on clients' satisfaction. It is an integral component of running a business on fiverr. You need to show the buyers that they're important to you. You can offer unlimited revisions at the beginning and a full refund if they're not happy with the results. These offers can help you get noticed and make your profile stand out from others.
8. Create Awesome Gig Image And Video
The image and video that you upload to your fiverr gig needs to be awesome. They need to be eye-catching and interesting.
You can create a great image by taking advantage of the many free stock images available online. The same goes for videos. There are tons of free video templates available online which you can use to create a professional looking video.
Make sure that they are attractive, creative, and unique. The more original and appealing your images and videos are, the better chance you'll have of getting hired.
9. Write FAQ
FAQs are great tools for both customers and sellers. If you add some Frequently Asked Questions (FAQ) about your gig, then your clients will get an idea what to expect when buying your gig. You should also explain why your service is superior to others.
By adding a FAQ section, you can answer any questions that potential buyers might have. This gives them confidence in hiring you.
10. End With A Call To Action
When you include a call to action at the end of each product description, you'll be able to influence people to hire you.
Make sure you don't copy another user's profile description because this could lead to your account being suspended.
Conclusion
Writing a good fiverr profile and gig description isn't hard if you follow these simple tips above. By following these guidelines, you can increase your chances of getting hired and making money as a freelancer.
What do you think? Share your thoughts below.