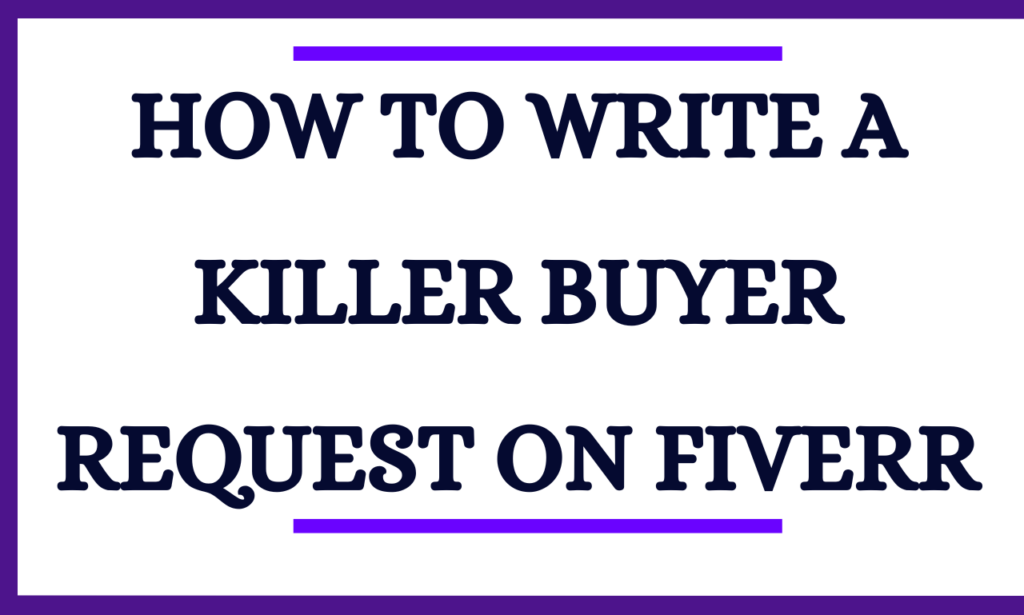 Writing a killer buyer request on Fiverr is an art form, and it's one that you can master with practice. I have been writing these requests for over a year now, and I've perfected how to write them. If you want to learn how to write a killer buyer request on Fiverr, then keep reading!
I'll also go into detail about what makes a good buyer request, so you know exactly what to include in your own requests. This will help you get more buyers, sell more of your services, and make more money!
10 Tips For Writing A Killer Buyer Request On Fiverr
So if you are looking to start selling on Fiverr, here are 10 tips for writing a killer buyer request:
1. Demonstrate Greeting
Your first line should be something like "Hello Sir/Madam, My name is…" or "Good Morning/Afternoon/Evening, my name is…"
You want to quickly and politely draw their attention as soon as they read your message. It may sound simple enough, but it is amazing how often sellers forget to include this step when writing their messages.
When you start out, you might not even realize that this is an important part of the process. Greeting can really set the tone for your entire message.
If you don't greet someone properly, it could deter them from buying anything else from you. After all, if someone doesn't feel welcome, why would they buy any service from you?
2. Introduce Yourself With A Short Summary
Introducing yourself can go a long way towards making a connection with your potential client. You need to give them some information on who you are and what you are capable of doing.
A short summary of your experience and qualifications is always a great idea, and it should focus on your expertise and your ability to deliver quality work.
By giving people a quick overview of what you do, they can see whether or not you are worth hiring. They can tell if you are going to be able to complete the job within the time frame they gave you and at the price both of you agreed upon, so they can decide if they want to hire you or not.
3. Write A Brief And Clear Description Of The Service You Want To Sell
This is where you describe what kind of service you offer. What you say here is very important because it sets up the expectations of your potential customer.
It's your chance to explain to the person what you can do for them, and it gives them a clear understanding of what you can provide.
What you write here needs to be concise and clear. Don't ramble or talk too much. Keep it brief and direct.
4. Include Your Pricing
Pricing is another big factor when it comes to deciding whether or not to hire someone. Make sure you include your pricing right away.
To stand out among other freelancers when bidding for a buyer request you need to have both your skillset and price point be better than everyone else. Don't worry if you don't know much or have any skills. Keep your price as low as possible by providing a lower rate for your services than other freelancers who bid.
Make sure you give them a fair price for your services, and that you state clearly how many days it will take to complete the task.
When you offer a better and fair pricing structure than others, buyers are more likely to choose you over your competitors.
5. Give A Sample Of Your Previous Work
The best way to demonstrate your talent and professionalism is to show off examples of previous work. This lets your potential client get a sense of exactly what you can do.
It helps in getting more gigs from buyers who have been impressed by your work before. Showcase past projects and make sure your clients are happy with them, because it will help boost your credibility.
Doing this can also help you build trust with new customers. If your potential clients like what they see, they are more likely to hire you.
READ ALSO:
6. Offer Unlimited Revisions
Offering unlimited revisions is a great way to win new buyers. 
Offering unlimited revisions shows your clients that you are willing to improve their project until it meets their standards. It shows them that you are trustworthy and dependable.
If you can be as realistic as possible with your clients regarding their expectations, you'll be able to secure high-quality business with long-term success, which will benefit you greatly.
By offering unlimited revisions, you can increase the likelihood of winning more gigs, which means higher earnings.
7. Try To Address the Needs of the Buyer
If you're a seller on Fiverr, you should listen to your customers and make sure you understand what they're asking for. If a customer requests changes, pay attention to their feedback and then make sure you address their concerns with new features.
You should understand the mind of your customers in order to win their business. This is only possible if you know what they are expecting from you and how you are able to convince them that you are exactly what they need.
So, the tip is to tell the buyer what you can do for him instead of telling him what you did for others, provide a solution to his needs and say that you're available to make things work out for him.
Show them that you understand their requirements and that you have the necessary skills to complete the project.
8. Ask Any Question 
Asking questions about the gig helps you clarify the details of the job, so that you can deliver a quality product.
This is an excellent way to get to know the buyer, since he'll feel comfortable talking to you. You may ask about the project's timeline, budget, etc., which will enable you to estimate whether the project will fit into your schedule.
Ask the buyer for any clarification or additional information, and don't hesitate to ask him/her questions, especially if something seems unclear to you.
This makes you look professional and knowledgeable, but most importantly, it will give you a chance to learn more about the buyer and his/her needs so that you can deliver better results.
9. Explain How You Will Complete The Gig
Explaining how you plan to complete the task is crucial.
If you want to earn money through selling gigs on Fiverr, it's important to explain clearly how you plan to complete every gig.
Once you have understood what the buyer wants, explain how you will achieve the task. This will help them understand that you are not wasting their time. This is a great way to get orders from buyer requests.
You need to show your potential client that you are serious about completing the project and that you are reliable, so this is one of the best ways to gain trust from buyers.
10. Include A Call To Action At The End
A call to action (CTA) is essential because it encourages people to take action.
When you end your message with a CTA, you are encouraging your potential clients to choose you over other sellers.
The CTA must be clear and direct, so that it doesn't confuse the buyer.
A call-to action at or near your request gives potential clients a sense of exactly what you're after. Make sure you clearly state what you're looking for and be open about your needs. You may even consider using these requests as opportunities for you to showcase your skills.
Adding a call-to-action (CTA) at the end is intended to increase the chances of buyers initiating contact with you. As soon as buyers land in your inbox you'll be able to get them to buy from you.
Conclusion
Writing a killer request is a great way to make sales on Fiverr but it takes practice to perfect the art of writing successful buyer requests.
With these 10 tips, you'll be able to write killer requests that will help you sell gig projects on Fiverr.
I hope you found this article useful. If you have any questions or comments, please leave a comment below.