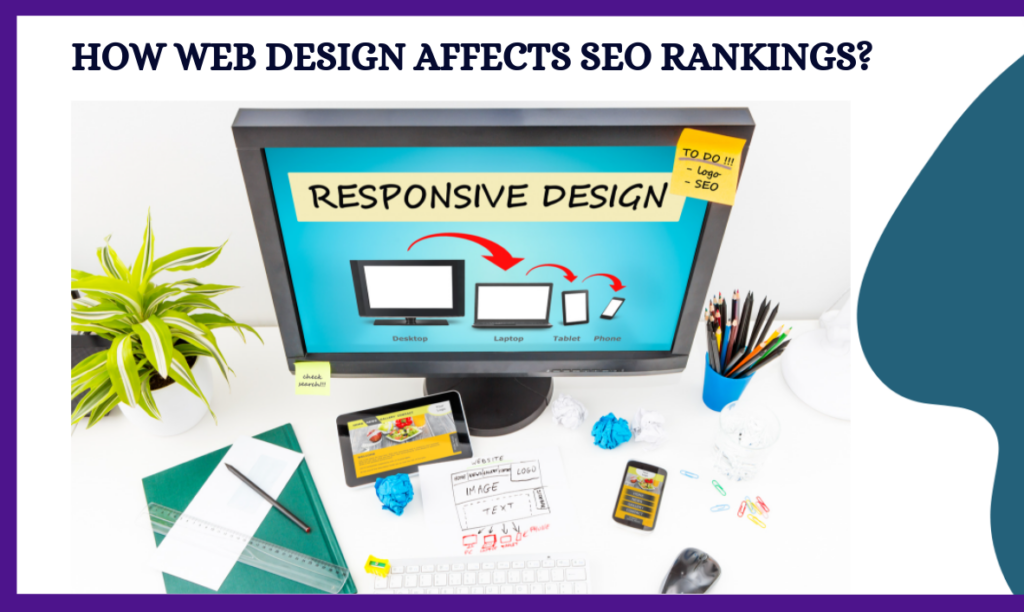 SEO (search engine optimization) is the practice of improving the visibility of websites or blogs in search engines such as Google, Bing, Yahoo, etc. The goal is to increase traffic from organic searches.
Your web design affects your site's speed, appearance, user experience, and accessibility on smartphones, tablets and PC computers. A good design is adaptable and easy to change for SEO purposes, while a poor design can make content changes hard. These factors impact your website's search engine ranking and your website's ability to execute an effective search engine optimization strategy.
Web designers often overlook the importance of SEO because they don't realize that their designs can impact the success of SEO strategies. This article explains why web design matters for SEO and how it impacts your site's ranking.
12 Ways Web Design Affects SEO
1. Page Load Speed
One of the first things people see when visiting a new website is its loading speed. If you have a slow page load time, visitors will quickly leave your site for one with a faster page load speed.
The average website has about 3 seconds to impress potential customers before they decide whether to stay or go. When you consider that most people tend to leave pages that take longer than 5 seconds to load.
Website speed is one of the most important aspects of website design. It has a direct relationship with your rankings. If you want to rank well in Google, then you must make sure that your page loads quickly.
The best way to improve your page load speed is to optimize images and use CSS sprites. You should also minimize JavaScript files and keep large HTML documents well-organized.
2. Mobile Friendliness
Today, more people are using smartphones and tablets to access the Internet than desktops. In fact, 60% of all visits to websites now come from mobile devices.
This means if your website isn't optimized for mobile users, you could be losing out on significant amounts of traffic.
When users are browsing the Internet, they usually do so using smartphones and tablets. They expect websites to be optimized for these devices, which means responsive web design.
Mobile friendly websites are those that work equally well on smartphones and tablets. As more people access the Internet through their phones than ever before, having a responsive website is critical for boosting your SEO and driving traffic to your site.
Responsive design allows a single website to look exactly the same no matter what device someone uses to access it. Responsive design makes your website more accessible by reducing the effort required to navigate through different screen sizes.
If you want to attract more visitors via search engines, then you need to ensure that your website is mobile friendly.
3. User Experience
A good user interface creates a positive impression on visitors and encourages them to interact with your site. Poorly designed interfaces encourage people to bounce off your site immediately.
Your site's ease of use makes a difference because your visitors decide whether or not to return to your website within seconds of arriving.
Website design significantly impacts the success of your SEO strategies, and it has a direct effect on your SEO rankings. If website visitors bounce off your site because it is difficult to navigate, then you will have difficulty ranking well in search engines.
4. Parallax Design
Parallax design indicates developing complete websites inside a single page. This really is excellent and distinctive, particularly when combined with a wonderful background. It also utilizes an innovative structure or menu which slides down to specific points on the web page. The design is specifically useful for the content page or perhaps the business house page.
However, the contents of this kind of site may have a risk of distracting from the impact of several keywords. This makes it for search engines hard to understand the type of information your website contains. There exists just a few pages for rankings which can also be a problem as well. Conversely, it truly depends upon the type of website. When it comes to a content page, then it certainly requires ranking on one or two key phrases and this design can be very effective.
5. Images And Videos
Images are an important element of any web page. Images can add a lot of value to your site and provide a great user experience. But you need to use them wisely. Adding images to your pages will help boost your SEO and drive more traffic to your site. You should also keep in mind that loading speed is essential. If your images aren't loaded quickly, users may leave your site before they get to see your content.
Add descriptions to your images using alt tags. These tags help search engine spiders read your website, and they are also useful if someone encounters any issues viewing your page. Alt tags should contain at least 70 characters, and they must be unique. Also, try to keep your alt tag under 100 characters. 
Videos are another way that you could improve your SEO, but you should make sure they are optimized properly. A video needs to load quickly so it doesn't affect the performance of your website. Your video size should also be optimized, and they ought to be hosted on sites like Youtube, Vimeo, and Dailymotion for you to embed them into your own website.
Images and videos can help improve engagement and drive conversions when they're optimized for both web and mobile viewing. If you monitor how new and existing graphics affect your page speed, you'll be able to ensure that your organic search performance isn't being negatively impacted by slow-loading graphics.
6. Heading Tags
Heading tags are used to organize text within a webpage. 
Heading tags are important for both search engines and targeted audiences. Search engines use them as a means of understanding what is on every page of a site. Targeted audiences use them to find relevant content. Headings for H1 through H6 all work differently. Each heading has its own purpose, and each one serves a purpose for SEO.
Headers provide structure for visitors and make it easier for them to navigate through your site. You can use heading tags to help you organise your website's content and boost your SEO rankings.
READ ALSO:
7. URL Structure
URL structure refers to the hierarchy of your URLs. They should be easy to remember and easy to share with others. In addition, they should include words that describe the content on the page. 
You should also consider how your URL structure will affect your SEO strategy. Each URL slug should only contain your web page or blog posts' focus keywords.
This helps Google understand which keywords to rank your pages for while also making sure they're easy to access. Because most focus keywords consist of only a few words, these ensure that your URL slug is easily remembered and typed into a URL field if a user is searching for a specific page.
Make sure you implement URLs that both users and search engine spiders can understand.
8. Internal Linking
Internal linking helps search engines crawl through your website more easily, and it improves the overall quality of your site. It's recommended that you link from one page to another on your site. This allows search engines to better understand your website and makes it easier for people who visit your website to find what they need. 
9. Meta Descriptions
Meta description tags appear in search results next to your title tag, and they give searchers an idea of what the page contains before clicking through to the page itself. The meta description tag appears below the title tag, and it's usually 150 characters long.
It's important to keep your meta descriptions short and concise. Try to avoid using too many keywords in your meta description since this may look spammy to some search engines.
10. Schema Markup
Schema markup is a set of HTML codes that search engines use to better understand your website. These codes tell search engines about the type of information available on a particular page. 
You should create schema markup for any structured data that you have on your website. This will allow search engines to understand what kind of information you have on your website and display it appropriately in search results.
11. SiteMaps
A sitemap is a great tool to help search engine bots crawl your website. Sitemaps provide a map of all the pages and information on your website. This allows search engines to understand which pages are most important to you and index them accordingly. You should also add a sitemap to your website so that search engines can see everything on your site. If you're interested in SEO, then you'll want to keep an eye out for changes to Google's guidelines around sitemaps.
Sitemaps are a great way to organize and index all of your website's content. You should create a separate XML file for each section of your website. Each page of your site should link back to its corresponding sitemap. By doing this, you will increase the chances that Googlebot will crawl your site. If you have a large site, you may need to split your sitemap into several smaller files.
12. 404 Page
A 404 error page is displayed when a web browser requests a page that doesn't exist on a website. A 404 page tells visitors that something went wrong with their request, and it gives them a reason why.
If you don't already have a 404 page, you should create one. Your 404 page should include a clear message explaining what happened and how to fix the problem.
Don't use a generic design. Design an attractive 404 page that grabs attention and communicates clearly what happened. Make sure you list all the most important webpages on the 404 page and tell users to visit them. If possible, eliminate the possibility of the 404 page appearing by removing all broken links. You should also want to add a search function to help visitors find specific content.
Does Changing Website Design Affect SEO?
Yes, changing website design affects SEO. Search engines use algorithms to rank websites based on how relevant they are for users' search queries. If a page has been redesigned, the algorithm might pick up changes in the new version and adjust the ranking accordingly. This means that you should be careful when redesigning pages to avoid losing rankings. 
A website's design can affect its placement in Google search results. Design elements like page speed, mobile friendliness, site architecture, and user experience all play an important role in determining whether your website ranks well in Google.
You may also need to consider the type of device your visitors are using when designing your website. For example, if you're creating a website for desktop devices, then you should focus on making sure your website is easy to navigate and load quickly. If you're targeting mobile devices, you should think about how your website displays on smaller screens.
There are multiple ways your website can impact your search engine optimization (SEO). One of the most important aspects of an effective website is how easy it is for users to navigate. Users should be able to easily locate information, whether it's about your products or services, or a specific page on your site. When visitors cannot find what they've come to see, they'll likely leave before finding what they were hoping to find.
Additionally, if your site doesn't look nice, people may not stay around long enough to even read your content. Your content must be clear, concise, relevant and well organized. A poorly designed website will look messy, and people will not linger long enough to even check out your content.
Conclusion
In conclusion, a website without a solid web design will struggle to rank high on search engines. In fact, a poorly designed site can actually hurt your ranking and cause more harm than good.
While it's true that having a unique, quality website design is essential for success, there are many other factors that influence your SEO strategy. The best way to ensure your website performs at peak levels is to work with a professional SEO company who knows how to properly optimize your site.