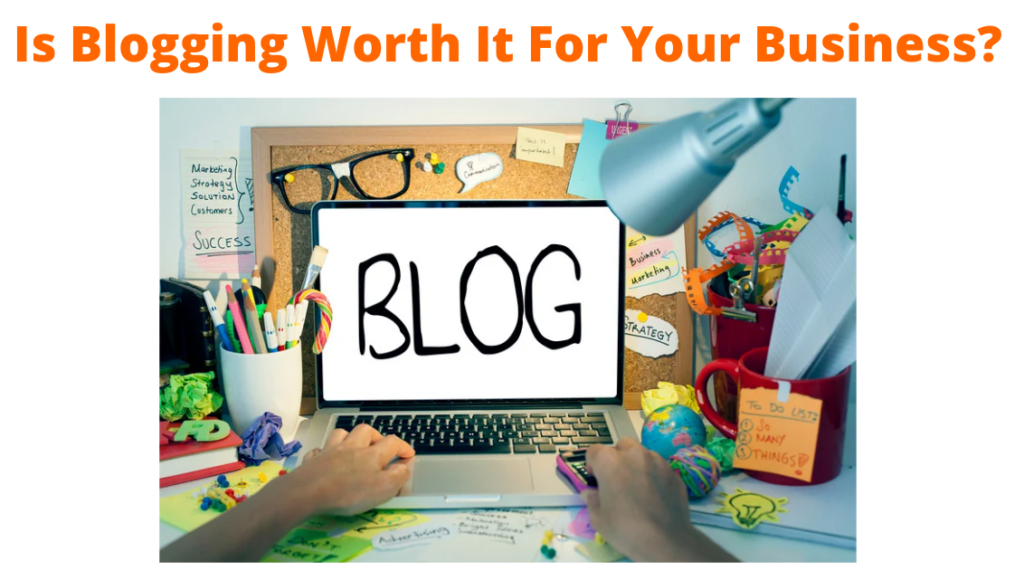 Are you blogging or writing articles for your business? Are you sure it's worth it? Is it really worth it?
Blogging has become the top way to share information and build relationships with customers. There are thousands of blogs out there, but only a few succeed. 
Blogs can be great marketing tools for both personal and professional purposes. They provide valuable insights into your brand and allow you to connect with your audience in new ways.
Whether you're a blogger who wants to build a strong brand or a business owner who needs to market their products online, this post will help you decide if blogging is right for you.
Is It Still Worth Having A Blog?
Yes, having a blog is still worth it. If you want to increase traffic to your website, it's still one of the best ways to grow your business. Many businesses use blogs today to generate leads, promote sales, and even drive conversions.
5 Benefits Of Blogging For Your Business
1. Build Relationships With Customers
Blogging allows you to communicate directly with your audience. You can create content that answers questions and provides value to people. This creates an opportunity to develop long-term relationships with your customers.
2. Generate Leads
If you have a product or service, chances are you need more clients. One of the most effective ways to attract potential customers is through blogging. By providing useful tips and advice on your niche topic, you can encourage readers to visit your site and buy from you.
3. Create Brand Awareness
A blog gives you the chance to tell your story. When you write about topics related to your industry, you're able to establish yourself as an expert.
Having a blog helps you stand out among competitors. When your business name appears at the top of search results, you give off a sense of authority and expertise.
4. Increase Traffic To Your Site
When people read your posts, they often share them on social media sites like Facebook and Twitter. As a result, these posts get shared by other users which increases the number of visitors to your site.
Quality content in your blog can also boost SEO (search engine optimization) rankings, which means more exposure for your business.
5. Attracting New Customers 
Writing a blog helps you reach out to new audiences. When you start a blog, you'll begin building a following. These followers may eventually turn into paying customers. 
READ ALSO:
What Does A Good Blog Look Like?
A good blog should have:
1. Relevant Content That Engages Readers
Content that engages readers is what makes a blog successful. If people don't find value in what they're reading, they won't continue to read.
Your blog should offer something unique and interesting. You need to make sure that your content meets the needs of your target audience and provides them with the kind of information they want.
2. Quality Photos And Videos To Attract Visitors
People love visuals. The more engaging photos and videos you include on your site, the better. These images and videos should complement your written content.
You should also use infographics and other visual elements to add interest to your posts, make sure they're relevant, and engage your visitors.
3. Easy Navigation
If your blog isn't easy to navigate, your readers will get frustrated and leave. Make sure your navigation bar is clear and simple so visitors know where they are and how to move around your site.
4. Social Media Sharing Buttons To Grow Followers
Social media sharing buttons are an important part of any blog because they increase traffic and engagement.
Make sure that your social media sharing buttons are visible and easy to access. This includes Facebook, Twitter, Pinterest, LinkedIn, StumbleUpon, Reddit, Tumblr, Instagram, and others.
Social media plays an important role in driving traffic to your blog, so make sure you take advantage of it. 
5. An Email List To Build Relationships With Customers
An email list allows you to send targeted messages to specific groups of people. When you send emails to your subscribers, you can keep in touch with them and let them know about upcoming events, promotions, and discounts.
Email lists are one of the most effective ways to communicate with your audience, so make sure you build one for your blog.
6. Regular Updates To Keep People Interested
Regular updates are essential to keeping your followers interested. Include new content at least once every week, and even daily if possible. This will ensure that your blog remains fresh and interesting to your audience.
7. Mobile-Friendly Design
Mobile devices are becoming increasingly popular, which means more and more people are using smartphones and tablets to browse the web. This means that your website needs to be mobile friendly.
Responsive design is also a way to adapt your website to fit all types of screens. This ensures that your website looks great no matter what device someone uses to view it.
FAQ
Is It Worth Trying To Start A Blog?
Yes, starting a blog can be extremely rewarding. However, it is important to understand what blogging is and how it works.
Blogging is a great way to share information about yourself, your company, or your industry. Your readers may be interested in learning from you, and they might find your writing interesting. Also, blogging helps build your reputation by allowing you to create a personal profile on the web.
Do Bloggers Still Make Money?
Yes! Blogging has been around for a long time, and continues to be a popular way to build traffic and generate leads for businesses. As a blogger, you need to understand how search engines work, optimize your blog for keywords, and publish high quality content.
However, it depends on how much traffic you drive to your blog. The average blogger makes $500-$2,500 per month from blogging depending on their niche, although some bloggers make much more money.
How Long Does It Take To Earn From A Blog?
The average blogger earns $500-$2,500 per month after one year of blogging depending on their niche. If you want to earn money from blogging, you need to be consistent and persistent. There are several ways to monetize your blog, such as selling eBooks, affiliate links, adsense, etc.
Yes, blogging courses are worth it because they teach you how to start a blog, build traffic, monetize your blog, and grow your business, among other things. You can learn these skills from professional bloggers who have already done it before.
If you want to become a successful blogger, you should consider taking online classes. These classes help you develop valuable skills that will allow you to succeed in this field.
Is Blogging Still Worth It As A Marketing Activity?
Yes, blogging still has a place in today's digital marketing landscape because it provides a great way to share information about your business, and build your personal brand. This allows you to stay ahead of the competition, and provide a better experience for visitors.
What Is The Future Of Blogging?
The future of blogging is still bright, and it is expected that the number of bloggers will increase over the next few years. Blogging serves as an excellent platform for companies to connect with customers, and build relationships.
As a result, many large corporations are investing heavily in blogs, and creating their own content.They use blogs to promote products, services, events, and other activities.
Conclusion 
Blogging is a great way to promote your business online. If you're looking for ways to market your products and services, consider writing articles about them.
You need to know how to write good articles, optimize them for SEO, and publish them on a regular basis.
Blogging takes time, but if done right, it can help you gain exposure and attract customers. Just remember to keep your writing fresh and relevant.