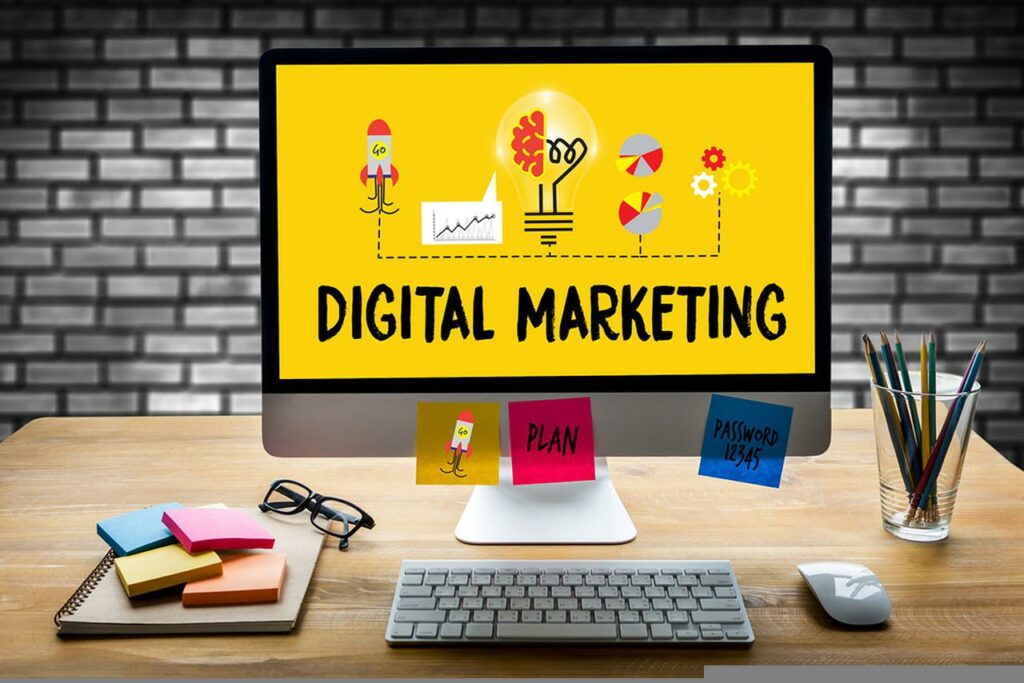 Digital marketing is definitely not really hard to learn, but you can't just jump into digital marketing without any plan or strategy in mind. You need a step-by-step guide on how to start your journey towards success as an online marketer. 
Digital marketing has a lot of moving parts and each one needs to be learned in order for you to be successful with your digital marketing efforts, but once you get going, it's really quite easy!
As a new digital marketer, you need to be aware of emerging trends rather than sticking to established best practices, because that will only slow down your progress towards success.
You can start learning about digital marketing by watching some videos on YouTube. You could also go to an online course where you'll get lots of information and training. There are tons of free resources like this available.
You just need to make sure that whatever you choose to do, you put enough time into it so that when you're ready, you feel comfortable and confident with what you've learned. 
What Skills Does It Take To Be A Digital Marketer?
1. Search Engine Optimization (SEO)
SEO is an invaluable skill in any digital marketer's arsenal, no matter if you are a beginner or experienced professional.
If you want to rank high in search engines like Google, Bing, Yahoo, etc., then SEO is a must-have skill, especially if you want to build long term relationships with customers who are looking for products/services similar to yours.
With the increasing demand for skilled SEO experts, taking an SEO course might be the best investment one could ever make.
2. Content Creation
Content creation is another essential component of digital marketing. Whether you are building websites, creating blogs, publishing social media posts, or writing articles, content plays a vital role in helping people find your business and know more about you and your company.
Content creation is another vital part of digital marketing. This includes: blog posts, articles, social media updates, emails, websites, etc.
The main goal of content creation is to provide valuable information to people who are interested in buying products and services that you offer. If you create great quality content, it will help attract potential clients as well as encourage them to visit your website again.
3. Social Media Marketing (SMM)
Social media management is the process of managing all of your social media accounts at once. This means making sure they are active and engaging with your audience.
It's important to understand how to manage social media, because having a strong presence on social networks like Facebook, Twitter, Instagram, Pinterest, LinkedIn, etc., could mean the difference between getting leads and losing customers.
As a new digital marketer, you need to know how to engage your followers and keep them coming back.
4. Email Marketing
Email marketing is still one of the most effective ways to reach out to potential customers and let them know about promotions, sales, etc.
When done right, email marketing can generate revenue from those who have signed up for your list. The key here is to ensure that your messages are relevant and engaging.
That's why it's important to learn how to use email marketing effectively and efficiently.
5. PPC (Pay Per Click Advertising)
Pay per Click (PPC) refers to buying ad spaces in apps and websites. It's a sister to Search Engine Optimization (SEO).
You'll need to learn how to target the right audience to get the most customers while spending the least amount of money.
A proficiency in paid advertising or Pay-Per-Click (PPC) can get you a rewarding job in digital marketing, and studying it alongside search engine optimization (SEO) makes you a rare gem among digital marketers.
READ ALSO:
6. Conversion Rate Optimisation
Conversion rate optimization (CRO) is the practice of improving the conversion rates of web pages. CRO involves analyzing data from analytics tools such as Google Analytics to identify what works best when it comes to converting traffic into leads.
CRO helps companies increase conversions by identifying which elements on their site work best and then adjusting these elements. These adjustments include things like changing images, using different fonts, and adding videos.
By learning CRO techniques, you will be able to improve the conversion rates of any website given to you by an employer or client.
7. Copywriting
Copywriting is the art of crafting text that speaks directly to readers to make action. It's used to write headlines, descriptions, and other parts of ads.
In order to become a good copywriter, you must be able to think like a reader first and foremost. You should also have an understanding of grammar, punctuation, spelling, and sentence structure. 
Copywriting will give you a head start in becoming a better writer and also help you land more jobs as a digital marketer.
8. Marketing Analytics And Data Analysis
Marketing analytics and data analysis is the study of data collected from various sources to find meaningful patterns and trends. This allows businesses to optimize campaigns, figure out what worked, and where they can do better next time.
This helps digital marketers to measure their own progress and success, and to adjust their marketing strategies, activities, and tactics accordingly. 
9. Video Production
Video production involves shooting video content for online distribution or streaming. In today's world, there has been a rise in demand for video content since people spend more time watching videos than reading articles on the internet.
If you want to get ahead in this field, you must master the skills of editing videos and filming them with high quality cameras.
By mastering video production, you will gain valuable experience and prepare yourself for potential employment opportunities in the future.
10. Customer Relationship Management (CRM)
Customer relationship management (CRM) is the process of managing customer interactions in order to provide support and services to clients. A company uses CRM software to track sales and marketing efforts, manage relationships with its clients, collect information about each individual client, and create efficient processes.
Digital marketers need to learn CRM which involves strategies you can employ to connect with customers on an emotional level, build trust, nurture your leads, and ultimately convert them into paying customers.
Is Digital Marketing Hard To Learn?
No, Digital marketing is definitely not really hard to learn. The digital world is changing fast, and most companies are struggling to keep up. There are new tools and strategies coming out all the time. If you want to stay ahead of the curve, you need to constantly learn about new techniques and technologies. This is why it's important for you to be committed to learning about these things.
Can You Learn Digital Marketing On Your Own?
Yes, you can learn digital marketing on your own. However, learning digital marketing requires dedication and patience. But because the digital marketing landscape changes constantly, self-guided learning might not be the best route to go. Digital marketing courses and digital marketing programs have become increasingly popular over recent years, helping aspiring marketers stay up-to-date with the industry and understand the latest trends and technologies that can lead to business success.
What Should You Do After Learning Digital Marketing?
There are many digital marketing jobs available for graduates, such as SEO, SEM, PPC, Social Media Marketing, Email Marketing, etc. If you want to be successful in digital marketing, then you should focus on learning important aspects of digital marketing.
The best thing you should do after learning digital marketing is start using it. Start small, and build up from there. Make sure you have enough knowledge to succeed in the industry.
Conclusion
Digital marketing is definitely not really hard to learn, It depends on the individual and their motivation to learn. The field of digital marketing is constantly evolving, which means that you need to keep up with the latest developments to remain relevant. You need to be consistent and patient because you will always be learning new things as things change.