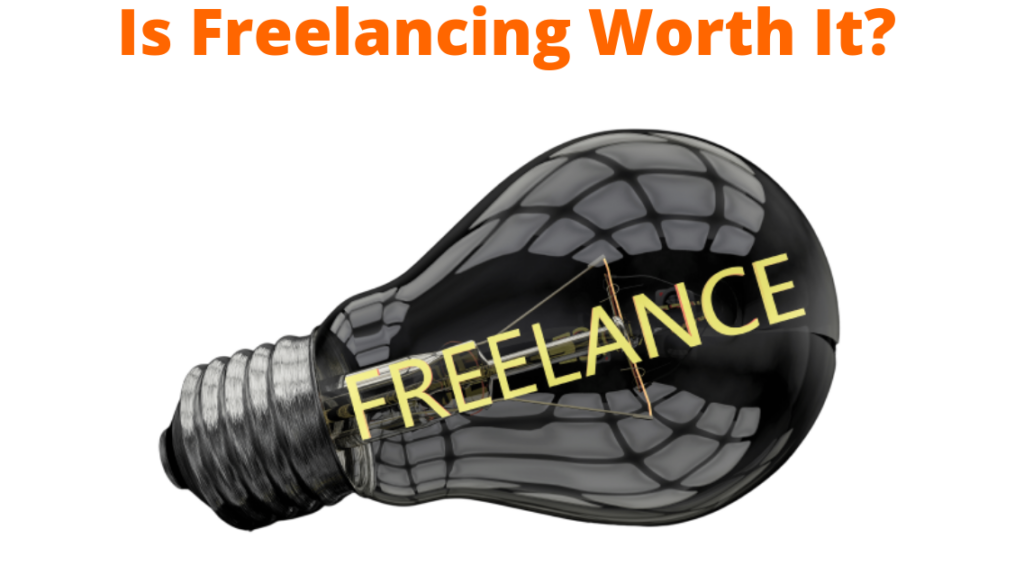 Freelancing has become a viable option for many people who need to earn money on the side or even full time, but is it worth it?
Freelancing has become a booming career choice over the last decade or so. There are thousands of freelancers around the globe who earn a handsome living from their skills. Can you really make a decent amount of money from this line of work?
Freelance jobs are becoming increasingly popular because they provide flexibility, independence, and freedom. They also allow you to choose your own hours and work schedule. This way, there's no boss breathing down your neck all day everyday.
The rise in freelance opportunities comes as more companies turn to online platforms such as Upwork, Fiverr, and PeoplePerHour to outsource projects. These platform have made it easy for individuals to bid on different projects and clients to find freelancers to complete certain tasks.
In this article we will give you some answers about whether freelancing is worth it or not. We will discuss the pros and cons of working as a freelancer, how much money can you expect to earn as a freelancer, and highest paying freelance jobs you can choose from.
What is Freelancing?
Freelancing is when an individual works independently by offering his or her services to customers at a rate that varies according to the project. The client then pays the freelancer based on the terms agreed with them.
While freelancing may seem like a very simple job, it requires extensive knowledge of various fields, including: ghostwriting, content creation, technical editing, proofreading, blog posts writing, web development, SEO services, website copy, resume writing, and more. 
Freelancing is the act of offering your professional services for money. The main difference between freelancers and full-time workers is that they do not receive any benefits from their employers. They also work independently and are responsible for finding new clients themselves.
Pros & Cons of Freelancing
There are many pros and cons associated with freelancing. 
Pros of Freelancing
1. Flexibility 
One of the major reasons why freelancing is attractive to a lot of people is its ability to offer great flexibility. You get to determine your own schedules and choose where and when you want to work.
2. Independence
Many people love being able to set their own rules and be independent. Working as a freelancer allows you to control everything about your life and business, which means you don't have to answer to anyone else's opinions or expectations to succeed. 
3. Income Potential
Freelancing offers great income potential . Some freelancers earn up to six figures per year while others earn less than $1000 per month. However, it depends on several factors, including the type of service you provide, your experience, location, industry specialization, skill level, and other factors.
4. Better Job Prospects 
If you're looking to change career paths, freelancing might be the perfect option for you. Many professionals who decide to become freelancers end up getting better paid jobs or promotions within their company.
5. Work From Home
Another advantage of freelancing is that you don't need to commute to work every day. Most freelancers work remotely, so they can easily save time and money.
Most jobs require you to be present at the workplace every day. However, Freelancers can work whenever they want and wherever they want.
Cons Of Freelancing
1. Lack of Benefits
As mentioned earlier, most employees enjoy a number of benefits that come along with their jobs. These include health insurance, retirement plans, vacation days, sick pay, etc.
However, because there is no employer to cover these things, you'll have to find ways to finance your healthcare expenses, retirement savings, taxes, and other costs yourself. This could mean that you have to cut back on spending in other areas of your budget.
You will only make enough to live off if you charge too much per hour. If you charge too little, you won't make enough to survive.
You will only make enough to support yourself if you charge an amount that's high enough to cover all of your expenses.
2. Administrative Responsibilities
The biggest downside of freelancing is the administrative responsibilities that come with it. These include keeping track of client payments and invoices, managing your finances, marketing, networking, and more.
Unless you hire someone to help you out, you'll be forced to handle all of this by yourself.
3. Initial Cash Investment
Although some freelancers do not spend any cash initially, others invest thousands of dollars into their businesses before earning even one dollar.
This initial investment usually includes buying equipment such as computers, software, and more.
Before you start working as a freelancer, you should have a solid understanding of how you plan to use your skills and what kind of clients you'd like to attract. Once you've done that, then you can proceed to learn how to market your services online so that you can eventually build a thriving freelance business.
4. Client Development
Working as a freelancer isn't easy. You have to constantly develop new clients, maintain existing relationships, and keep your skills sharp to stay competitive in today's marketplace.
You must have a strategy to get clients and retain them. Otherwise, you'll never grow your business.
5. Meeting Tight Deadlines
Freelance projects are often tight-knit deadlines and deliverables. You may be asked to complete tasks within a very short period of time. It takes a lot of planning and effort to meet those deadlines and succeed as a freelancer.
Read Also:
5 Highest Paying Freelance Jobs 
1. Programming And Software Development
If you love writing code, consider becoming a software developer or programmer. Some programming jobs involve creating websites, apps for mobile devices, games, and more. 
Software development has become one of the most popular careers in recent years. As technology continues to advance, there will be continued growth in demand for qualified developers. Freelance programmers often work on a contract basis and can work with different clients. They develop custom software and apps for businesses and individuals. 
Are you a writer who specializes in copywriting? Consider getting paid to write. People often seek out professional writers when they need content for blogs, social media sites, email campaigns, website articles, and more.
Copywriters typically specialize in crafting compelling messages for brands designed to persuade potential customers to buy products or service.
3. Graphic Designers
Designing graphics requires artistic talent and knowledge of graphic design principles. If you're skilled at designing logos, packaging, advertisements, web pages, brochures, and other printed materials, you could make money doing so as a freelancer. 
Graphic designers typically create high quality visual assets for companies and organizations. Many times, however, they also produce collateral material for events, promotions, advertising, and more.
4. Marketing And Advertising Specialists
If you know how to promote product through social media, networking, public relations, SEO (search engine optimization), and more, you might want to think about starting a career in this field.
Marketing experts help clients to market themselves and their products and services. These professionals often craft effective ads and promotional strategies for businesses and organizations.
A virtual assistant is an employee who helps clients run their businesses. They perform tasks such as bookkeeping, answering emails, scheduling appointments, and much more.
Virtual assistants are a great way to make money online. They require minimal skills and knowledge, so you can start working almost immediately. Of course, the more you do, the more you can charge. 
Further Reading: Redefining Retirement: The Benefits of Freelancing After 60
So Is Freelancing Worth It?
Yes, freelancing is worth it because you can work from anywhere at any time. You get to choose your own schedule, set your own hours, and earn extra cash by completing freelance projects. By earning extra income while balancing life's responsibilities, you'll have the flexibility to spend less time at work and more time enjoying the things that matter most to you.
Freelancing can also give you the opportunity to try new things and build your network. Plus, many people find it rewarding to work independently, so if you like being self-employed, then freelancing may be right up your alley.
Do Freelancers Make Good Money?
Yes, freelancing makes good money for those who work smart and stay motivated. However, freelancing is not easy and requires lots of effort to succeed. To become successful at freelancing, you need to learn how to market yourself and grow your business. If you want to be successful at freelancing, then you need to know the skill you need, how to market yourself, the type of clients you should target, and so on.
Is Freelancing A Good Career Option?
Yes, freelancing is a great career option for those who want to work from home. As a freelancer, you will be able to choose when and where you work, set your own hours, and earn money whenever you feel like working. All you need is a computer or smartphone with internet access, a reliable connection, and some basic tools and skills.
Can You Make A Living By Freelancing?
Yes, freelancers do make a living from freelance work. However, it takes a lot of effort to become successful at freelancing. You can make a full-time living from freelancing if you consistently deliver excellent results and manage your workload well.
Is There A Future In Freelancing?
Yes, there is a strong demand for freelancers all over the world, but competition is high. In order to stand out among other freelancers, you must offer value and provide better service than others.
Conclusion
If you're looking for a flexible job where you don't have to follow one specific employer, then freelancing is definitely something you should consider. With this post, you now have everything you need to decide whether freelancing is worth it for you.
I hope you found this post helpful in deciding whether freelancing is worth considering. I wish you luck in making a decision about your future!
I would love to hear what you think about this topic, so please leave me a comment below.