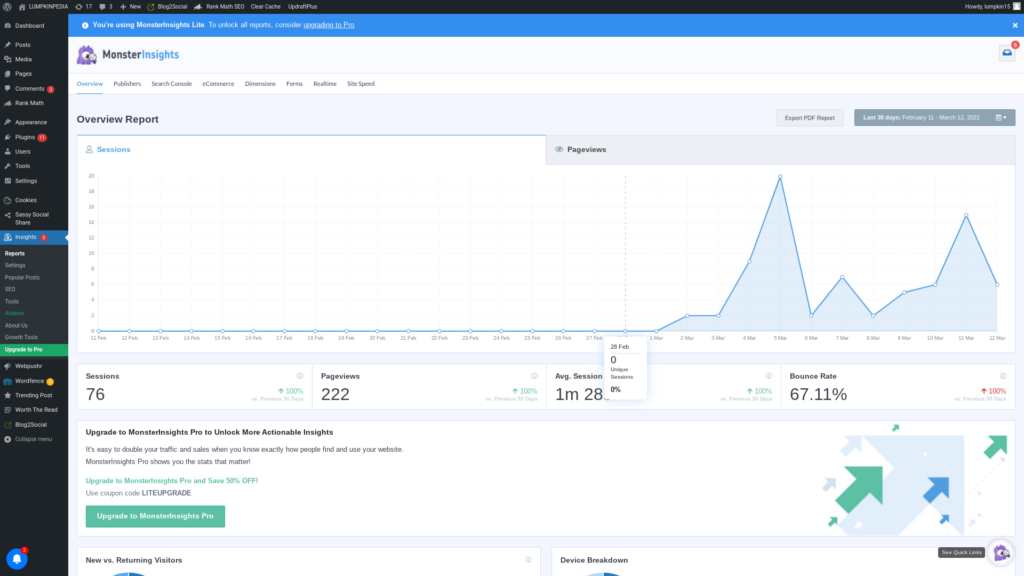 MonsterInsights is a popular WordPress Google Analytics plugin that helps you in analyzing your website traffic and provides valuable insights for improving the performance of your site.
The main purpose of this review is to provide you with an unbiased insight about whether it is really worth using. If you want to use this tool, then we recommend you read this post further. We are going to cover its features, why you need monsterinsights for your website, pros & cons, pricing. So let's get started.
What Is MonsterInsights?
MonsterInsights is a simple way to manage and track your Google Analytics data. This plugin will help you in gaining more knowledge about what your visitors do when they visit your web pages. You will be able to see all the details such as where they come from, which page they visited on your website, etc. The plugin also allows you to analyze the data and find out if there is any problem in the way your users interact with your site.
MonsterInsights Is designed for:
Publishers (Bloggers)
Store Owners (E-commerce)
Business websites
SEO and digital marketing Agencies
How Does MonsterInsights Work?
MonsterInsights comes with a clean user interface and easy-to-use options. There are no complicated settings or steps required to install and activate it. Once installed, you can simply log into your account, connect your google analytics account, and start monitoring your website traffic.
It automatically imports your Google Analytics data and shows you all the information related to the visitor's behavior. You can view these reports by day, week, month, and year. You can also export the report data to Excel so that you can easily analyze them at a later time.
15 Features Of MonsterInsights
There are many useful features offered by this plugin including:
1. Real-time statistics
You don't have to wait until the end of a particular period to check your website traffic. With MonsterInsights, you can view real-time statistics. 
2. eCommerce statistics
This feature helps you monitor your sales, revenue, and conversion rate, among other things, by showing you detailed stats about your products.
3. Affiliate Link tracking
MonsterInsights has a built-in affiliate link tracking system that lets you know which links were clicked by your customers, you can also see top earning pages where people click on affiliate links, so you can optimize these pages for better conversions.
4. Facebook Instant Articles integration
Facebook Instant Articles isn't really compatible with Google Analytics by default. MonsterInsights takes care of this for you, allowing you to effortlessly collect audience data, engagement metrics, etc.
5. Performance analysis
The performance analysis module gives you detailed insights about the performance of your website. You can learn everything from your website speed, to the average bounce rate, and much more.
6. File download tracking
When visitors download files from your website, you can easily see which files are getting the most downloads, from which pages, countries, and devices. All of this data is shown in an interactive chart that makes it easier to understand.
7. Scroll tracking 
If you want to know how far down your website visitors scroll before leaving, you can now easily track it using MonsterInsights. With just 1 click, you can activate scroll-depth tracking to know precisely where your viewers lose interest in your content and adjust it for optimal engagement and time on site. If you notice something unusual happening on your website, you can use this feature to investigate further.
8. Google AMP tracking
Google AMP stands for Accelerated Mobile Pages. This new technology allows websites to load faster, MonsterInsight allows you to set up Google Analytics tracking for Google AMP in a way that ensures accurate attribution when users switch between AMP and non-AMP pages of your site.
9. Author tracking
Author tracking allows you to identify who wrote articles and posts on your website. You can find out what type of content generates the most clicks, views, and leads.
10. Search console report
MonstersInsights provides a search console report that shows you how your keywords perform across google, so you can see if there's any keyword optimization needed for your site. It Shows you how well your website ranks in Google, enabling you to improve your SEO and increase organic traffic.
11. PDF exports
Using MonsterInsights you can export all sorts of reports into PDFs, including daily reports, weekly reports, monthly reports, or even custom ones.
12. Headline analyzer
Headlines play a huge role in whether someone reads through your article or not. Using MonsterInsights, you can analyze headlines and determine their effectiveness. Directly in the Gutenberg editor, you create captivating SEO-friendly headlines that increase traffic, social media shares, and improve search rankings.
13. Google optimize
The MonsterInsights Google Optimize integration allows you to create and run A/B split tests on your website without writing any code.
14.  Email summaries
Get weekly analytics reports with the most essential stats emailed to your (or your client's) inboxes so you can keep track of how well your site is performing.
15. 14-days money-back guarantee
If you are not satisfied with the service provided by this plugin, you can ask for a refund within 14 days.
5 Reasons Your Website Needs MonsterInsights
Let's take a look at some of the reasons why your website needs MonsterInsights:
1. Easy installation
MonsterInsights comes with a clean user interface and easy-to-use options. There are no complicated settings or steps required to install and activate it. Once installed, you can simply log into your account, connect your google analytics account, and start monitoring your website traffic.
2. Enhanced tracking ability
With MonsterInsights, you can track almost any aspect of your web traffic. The plugin will automatically set up Google Analytics for your website. You can track all kinds of events like pageviews, exit rates, event based goals, Visits, sessions, bounce rates, and many other metrics.
3. Simple UI
MonsterInsights has a simple user interface that lets you monitor your website without any hassle. The dashboard displays all important information such as number of visits, unique visitors, daily active users, session duration, bounce rate, referrers, and so on. You can also view the statistics graphically and drill down into the details if necessary.
4. Customization options
You have complete control over the functionality of MonsterInsights. You can customize all tracking features to your needs including the following:
Pageview reporting – Specify custom dimensions and metrics
Event-based goal tracking – Set goals based on specific events on your website
Goal conversion tracking – Track conversions with ease
Bounce rate tracking – Know exactly which pages are causing people to leave your site
5. Fast customer support
The team behind MonsterInsights is always ready to help their customers. They offer 24/7 live chat support and quick responses via email.
Pros And Cons Of MonsterInsights
Pros
Easy installation & setup
Ability to import and export reports
Simple & clean dashboard
Customizable reporting options
Advance tracking ability
Cons
Limited free version
Expensive
Conclusion: MonsterInsights Review
It is clear from our research that MonsterInsights is an advanced solution that offers detailed insights about your website traffic. It's easy to use and requires minimum configuration. If you want to increase your business revenue, then it is best for you to give MonsterInsights a try.a
Do you use MonsterInsights? What do you think about it? Share your experience in the comments section below!