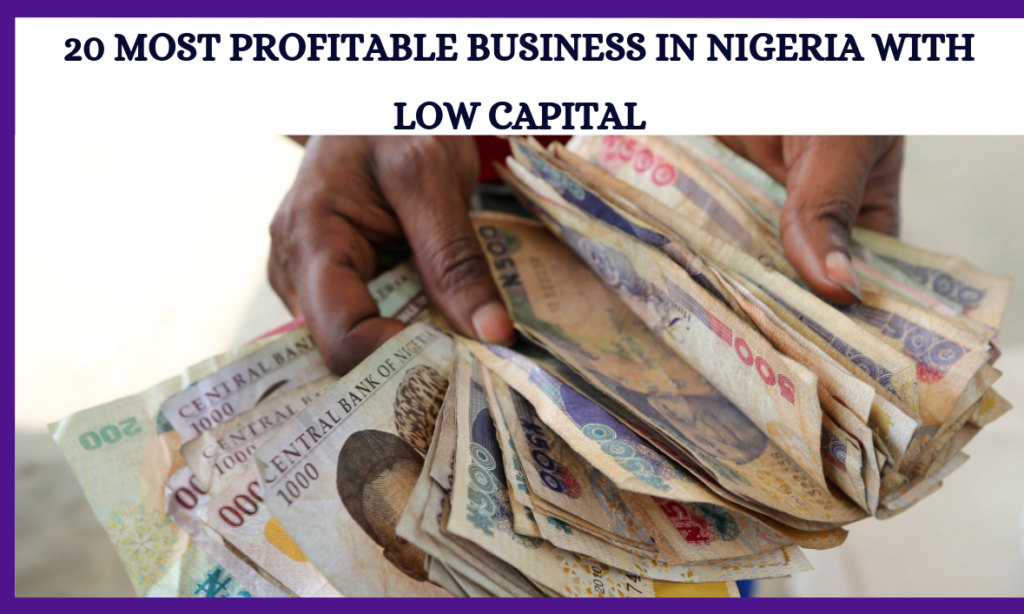 Are you looking for profitable businesses with low capital requirements? Do you want to make money without having to spend a lot of money on buying new equipment or paying high salaries to pay employees? If your answer is yes, then this article will be useful to you. It talks about the most profitable business in Nigeria that needs very little investment and can generate huge profits from day one.
There are many profitable businesses in Nigeria that require little or no investment, but they need time before they start making a profit. If you want to get started with a profitable business in Nigeria that requires little capital, then read on. I'll share 20 profitable businesses that will help you earn good money without spending much.
20 Most Profitable Business In Nigeria With Low Capital
Starting a profitable business in Nigeria doesn't have to cost a fortune. There are several ways you can start up a profitable business in Nigeria without investing too much. Some of these include:
1. POS Operator
The point of sale (POS) business is not a new thing in Nigeria. People have been making big money from the business for years.
A point of sale (POS) agent will help customers perform purchases by providing them with cashier services. They will be paid commissions for each purchase they help customers to complete.
It's very simple to get started with this business. All you need is a POS machine from any bank.
When deciding where to set up a POS business, one of your first considerations should be where you'd like to position the shop. Where your business is located can either help or hurt your business idea.
When looking for a location for your point of sale (POS) business, consider whether the location is secure and has little or no history of crime. Because you'll be handling cash every day, you're at risk of becoming a victim of a crime if the location isn't secure, so it's important to choose wisely.
Making money from a POS business doesn't take long for you to start getting paid. The more sales you do, the faster you'll start more money for yourself.
2. Mobile Phone Repair
Mobile phones are everywhere today, and there are millions of Nigerians who depend on their mobile phone as their primary communication device.
Repairing mobile phones is an easy way to make money fast. To begin earning well from this, you must learn how to fix different kinds of mobile phones.
The phone repair business will fetch you big money if you are patient enough to learn how to repair mobile phones. But it takes patience and discipline to succeed in this business.
3. Graphic Design
Graphic design is another lucrative business that requires little or no capital to get started. When starting out with graphic design, it may seem difficult because it involves learning the basics of designing such as using Adobe Photoshop and other software tools.
But once you gain experience, you'll find it easy to create designs that will impress clients. You don't need expensive software or tools to create great graphics. All you need is creativity, imagination, and passion to produce quality work.
If you know how to use Photoshop, Adobe Illustrators, Pixlr, and similar programs, you're ready to start.
Starting a graphic design business with no initial capital is very easy if you have graphic designing skills. Odds are, you are in very high demand. You can design posters for events, websites, flyers, logos, etc. – your usefulness is unlimited.
4. Photography
Photography is a great business opportunity for those who love taking pictures
You don't have to invest a lot of money to start a successful photography business. You just need a camera with high-quality lenses and a good memory card to store images.
If you are very good at taking photos, then you can expect to earn good money from this business.
As you start your business, you will improve at doing things over time and acquire more clients as your brand grows. This is a great business idea to start even with low capital.
 5. Baking
Baking is a fun business that does not require much investment but gives you a steady income, especially when you open a bakery.
To start a baking business, you'll need some basic equipment such as ovens, mixers, scales, pans, utensils, and other kitchen supplies.
Once you've got all these items, you can start making delicious baked goods like cakes, cookies, loaves of bread, pies, pastries, and many others.
This is a simple business that anyone can start with almost nothing, you can start your own baking business by baking right from home. In this case, you will need to purchase just the necessary ingredients for the recipes you want to prepare.
6. Fashion Design And Tailoring
Fashion design is one of the best businesses to start up with little capital. It's also a business that has been around for ages.
One of the reasons why fashion design is so popular is because it offers a wide range of products and services. From clothing to accessories, shoes to bags, you name it!
There are people looking for fashionable clothes, bags, shoes, and other accessories. To make money in this business, you must first be creative and come up with unique ideas.
Once you've learned the art of creating attractive outfits, you can sell them online or offline to customers who can pay well for what they see.
Fashion design is a very lucrative business that doesn't require lots of capital, but requires a lot of hard work to succeed.
7. Football Viewing Centre
Football is one of the most popular sports around the world. Its popularity continues to grow as more and more people become interested. Viewing centres provide a place for sports fans to gather together and enjoy their favorite sport. Fans can debate with each other, which adds another dimension to the experience.
Football viewing centres are places where fans go and watch their favorite teams play live on TV. These centres usually charge a small fee from fans for watching football matches live on TV.
Football viewing centres are a fantastic way for you to make money. They don't require much capital at all. Just a small area of land which can be converted into a viewing centre. You'll then need a TV set, a decoder and a subscription to a sports channel. A generator, chairs, and adequate lighting will complete the package for you.
8. Dry Cleaning and Laundry Services
If you have ever thought about starting a dry cleaning or laundry service, now may be the perfect opportunity. The demand for this type of service is increasing every day, thanks to busy lifestyles and busy schedules.
You can easily start a dry cleaning or laundry business with low capital. All you need is an appropriate location, a washing machine, a dryer, a vacuum cleaner, and other necessary equipment.
You could offer dry cleaning and laundry services to individuals or companies. If you're willing to invest your time and energy to take care of clients' clothes, you can earn good money through this business.
The good thing about running a dry cleaning and laundry service is that it's a stable business that can easily be started with low initial capital.
 9. Car Wash
Car wash is one of those businesses that can be started with low capital. This means that you do not need to spend a fortune buying expensive equipment, all you need is water, soap, a hose, brushes, buckets, and a carwash machine.
In order to attract potential customers, you should advertise your business by placing signs near major roads and highways. Clients will find it easier to get to your shop when they drive past these signs.
Because there will always be an increasing demand for car washes, anyone can start one regardless of their age. If you want to run a successful car wash business, you should be able to maintain cleanliness in your car wash premises.
When you own a car wash, you can expect to make profits because cars are dirty and they must be washed before being driven again. There is a guarantee that you will never run out of customers because everyone needs a car washer to keep their vehicle clean.
 10. Open A Provision Store
Provision stores sell food items like biscuits, bread, milk, cheese, butter, etc. Many people prefer to buy groceries from provision stores instead of going to supermarkets.
To open a provision store, you only need to purchase some basic supplies such as flour, sugar, oil, salt, pepper, cooking spices, eggs, and so on.
Starting a provision store is one of the best ways to start a business, especially if you don't have a lot of money to invest, but still want to become self-employed. It does not require any special skills because you just need to sell the products and make profits.
To start a provision store business, you need capital depending on the size of your shop and the volume or number of products you want to sell.
By selling goods at reasonable prices, you can make a profit even without spending too much money. However, you should ensure that the quality of your products is good enough to satisfy your customers.
READ ALSO:
11. Blogging
Blogging is a great side hustle because you can blog about almost anything you know well. If you're knowledgeable in a particular subject matter, then you can monetize your knowledge by becoming an expert blogger.
Starting your own blogging business requires little capital to start it off.  All you need to do is to buy a domain, and web hosting, install WordPress, and start writing.
You should start your blog with a particular niche in mind. For example, if you have an interest in health, fitness, and nutrition, then you may consider starting a blog that focuses on healthy recipes, diet tips, and fitness routines.
Blogging is a very lucrative business because there are so many people who are always online searching for information. Making money from your blog is easy when you know how to monetize it effectively.
You can easily sell advertising space on your blog and use the profit to invest back into your business. This way you can grow your income quickly.
12. Freelancing
If you have a skill that people are willing to pay for, then freelancing could be a great option for you.
If you like to work online, then freelancing is perfect for you. You can signup on websites like Upwork, Fiverr, and Peopleperhour and offer your services to clients all over the world.
Freelancing allows you to set your own hours and choose the projects you want to take on. The best part about freelancing is that you don't have to worry about working long hours since you only have to work as much as you feel comfortable.
Freelance writers, graphic designers, programmers, and other skilled professionals have been able to earn a living through freelance work. You can also take advantage of this opportunity by offering your skills to small businesses and startups that need them.
13. Affiliate Marketing
Affiliate marketing is another way to start a profitable business in Nigeria. This means that you promote products and earn commissions whenever someone buys those products using your affiliate link.
Anyone can start making money from this lucrative online business opportunity without any initial investments, although some training is required to learn how to market products and make sales.
To become an affiliate marketer, you must first find out which products are popular among customers. Then, look for companies that sell these items, and join their affiliate program. Once you've joined their program, you'll receive a unique affiliate link that you can use to refer potential buyers to their website.
When someone purchases one of the items you're promoting, you'll automatically receive a commission. To maximize your earnings, you should focus on selling high-quality products that are relevant to your audience's interests.
14. Online Courses
Another great way to start a profitable online business in Nigeria is through selling courses.
People love learning new things, especially if it helps them improve their career prospects. Selling online courses is a great way to make money while helping others at the same time.
Creating an online course takes time and effort but once it's done, you can charge anywhere between $5-$100 per lesson. The key here is to create quality content that teaches people something they couldn't otherwise learn elsewhere.
Once you get started with creating an online course, you'll be surprised by how fast you start earning. It may take you months before you begin generating profits, but once you do, you'll enjoy watching the cash flow in.
15. Ebooks/eBook Writing
One of the easiest ways to make money online in Nigeria is through ebook writing. 
This involves writing eBooks that teach people how to do certain tasks or how to complete specific goals. You can write about topics related to blogging, finance, real estate, entrepreneurship, etc., or anything that you are good at teaching others.
You can publish your books on Amazon Kindle, Apple iBookstore, Barnes & Noble Nook, Kobo Books, Google Play, Smashwords, and many more.
You can write your book yourself or you can hire professional help to do it for you if you don't want to spend too much time on it. 
You can make money from your book by charging each reader a fee when he or she downloads the eBook, the fee depends on the type of book you are writing and its length.
eBook writing is a very profitable online business in Nigeria because there is no limit as to how many books you can write. There are thousands of people who would pay to read your eBooks so you will not have to struggle to make enough money every month.
16. Real Estate Business
The real estate business is one of the oldest businesses in the world and still among the best. In fact, there is no better investment opportunity than real estate. It is one of those businesses where you don't need much capital to start up.
You can make a good profit even if you invest a small amount of money into the real estate business. This is because the real estate business is very profitable. There is no shortage of customers. And since the demand for housing keeps increasing, there will never be a lack of potential buyers.
As a realtor, you have access to a wide range of opportunities. From helping people find homes for a fee or commission to investing in land and developing properties. You can also offer services like house flipping and rental management. These are just some of the ways you can make money in the real estate industry. 
17. Agriculture Business
Agriculture has always been a source of income for millions of Nigerians. People grow crops, sell produce, and raise livestock all over the country. If you know how to farm, then this could become your next big business idea.
There are different types of agriculture businesses such as crop farming, livestock farming, plantation farming, and aquaculture. If you love animals, then livestock farming might be your ideal choice. But if you prefer planting trees and vegetables instead, then plantation farming is what you should go for.
If you decide to plant fruits and vegetables, then you must ensure that you buy seeds that are disease resistant, otherwise, you may end up losing everything you invested in. Also, before starting any agricultural business, you should check with the relevant authorities to see whether you need licenses.
18. Mini Importation/Dropshipping Business
Mini importation and dropshipping businesses are great sources of passive income, but they require little startup cost.
You purchase products from overseas companies and resell them to local customers at a higher price, making a nice profit. The main advantage of this business is that you only pay for shipping fees and there are no inventory costs.
To get started with mini importation, you first need to find reliable suppliers in foreign countries. Once you have secured these contacts, you can place an order and wait for the supplier to ship their product to you.
When the goods arrive, you pack them and prepare them for delivery. After delivery confirmation is made by the courier company, you send out your own shipment to customers using another service provider. That's it! You're done!
Look for products with high demand from Nigerians. You can import them from other countries and ship them down to Nigeria in large quantities to lower their prices. Once your goods arrive in Nigeria, sell them for the cost price plus the additional price that reflects all your effort to make them available.
You can make money from this business without stress. It takes time to learn about the best way to start this type of business. However, once you've mastered the process, you'll be able to earn a steady stream of income that will help you reach financial freedom.
19. Social Media Influencer 
Social media influencers are becoming increasingly popular because they provide a unique perspective on life. They create content that entertains, informs, educates, and inspires others.
This kind of business is growing very fast and you can easily make good money online by creating quality content that people love to share.
The key to success is to build a strong social media following. This requires consistency and dedication.
Once you have built a solid base of followers, you can monetize your audience. There are many ways to do this including sponsored posts, affiliate marketing, selling digital products, and more.
20. Fast Food Business
Fast food restaurants offer cheap meals that taste delicious, which makes them perfect for those who want to earn extra cash.
However, running a successful fast food restaurant isn't easy, especially when you don't know how to cook. But if you have experience cooking, you can open your own fast food restaurant.
There are so many people who go out to eat at restau­rants, so this is definitely an idea that can make you rich. If you want to serve low-income people, you don't need so much money to get started. When you get enough customers, you can expand into different locations or even hire employees to work for you.
This business can fetch you some pretty good revenue. So, why not try it?
FAQ
Can I Start A Business With No Money?
Yes, you can start a business with no money. All you need is passion and determination, then nothing can stop you from achieving your goals.
If you are determined to succeed, there is no reason why you cannot start a business with no initial capital. In fact, you can also start a business with zero investment.
What Business Can I Start As A Student?
Starting a business as a student is a great opportunity. Freelancing is one of the easiest businesses to start. All you need is a laptop, smartphone, and internet connection. Then, you just need to find clients and complete projects as you see fit.
What Business Can I Start With 50k In Nigeria?
It's possible to start a business for less than N50,000 but the chances of succeeding are slim. What's more important than the amount of money required to start a business is the mindset you bring to the table, whether you're willing to work hard and put in the effort needed to achieve your goal.
Conclusion
We hope that our list of profitable businesses has helped you decide what kind of business suits you best. We also hope that you found the information we provided useful.
If you have any questions or comments, feel free to leave them below. Thanks for reading and stay tuned for more info like this one.