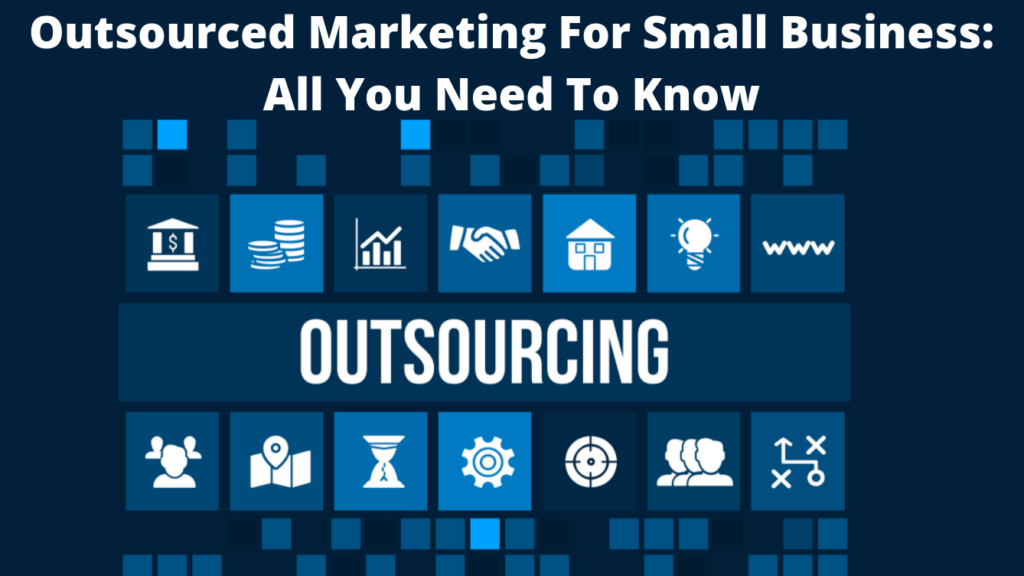 Are you looking to get started with marketing for your small business? In today's competitive environment, having a strong marketing strategy is essential. If you are new to marketing or don't want to spend a fortune on advertising, outsourcing is the answer.
Outsourcing is a great way to save time and resources without compromising quality. This is especially true for small businesses who cannot afford to hire full time employees.
Outsourcing marketing for small businesses means hiring someone else who does the heavy lifting for them. This frees up their time to focus on other important aspects of running their company.
What Is Outsourced Marketing?
Outsourced marketing is when an external agency takes over all of your in-house marketing efforts. An outsourcing marketing agency provides a wide range of services including SEO, social media management, email marketing, website design, content creation, PR, etc. They have the latest tools and technology at their disposal. You can trust that they will do what it takes to generate leads, increase sales, and build your brand to ensure that your business improve its overall performance.
Outsourcing marketing allows you to concentrate on more important aspects of your business like customer service, product development, and strategic planning. It also helps you reduce stress as everything is taken care of by experts.
How Does Outsourced Marketing Work?
Outsourced marketing agencies are not like your traditional full-time employees. They are these businesses that take on small or large projects depending on their preference.
As a client, you will receive an executive summary of the project along with regular updates about how the project is going. Their goal is to help you achieve your business goals and create a strong brand identity that stands out from your competitors.
An outsourced marketing agency has the skills and expertise to handle any type of campaign. These agencies know how to market effectively through various channels such as search engine optimization (SEO), paid ads, email campaigns, social media, video marketing, etc.
They will be able to help you create a comprehensive plan that addresses every aspect of your online presence. They will make sure that your website ranks high in search engines and gain visibility from potential clients. When you work with an outsourcing marketing agency, they keep track of the results and adjust their strategies accordingly.
Outsourcing marketing is a great way for small businesses to save money while still getting quality results, which is one reason why it's so popular among small business owners. If you're looking for ways to grow your business or if you want to get more involved but lack the time, then outsourcing is the perfect solution for you.
When Should You Outsource Marketing?
If you're just starting out or need some extra help growing your business, you should consider outsourcing marketing. It makes sense to hire professionals to take care of certain tasks since they specialize in those areas. 
For example, if you're new to social media marketing, you may find it difficult to understand what types of posts to post on Facebook and Twitter that will attract potential customers. An outsourcing company can provide professional guidance to maximize your reach and engagement rate.
Hiring a marketing agency will allow you to focus on other aspects of your business that require your attention. This frees up time for you to spend improving your products and increasing your revenue.
READ ALSO:
Why Outsource Marketing?
There are many reasons why you should consider outsourcing your marketing efforts. Here are just a few benefits of doing so:
1. Save Money
Hiring a professional marketing agency can help you save a lot of money. The cost of hiring in-house staff can be very expensive especially when you have limited resources, especially during the initial stages of your startup. With an outsourced agency, you don't have to worry about paying salaries or overhead costs.
2. Grow Your Business
A good marketing strategy can help you increase sales and build your reputation. Working with a reputable marketing agency will give you the tools necessary to develop a successful marketing strategy, including creating content, using SEO techniques, optimizing websites, developing landing pages, and much more.
You don't always have to do everything yourself. Outsourcing marketing gives you the opportunity to become more involved in your business by delegating responsibilities to others who specialize in these areas.
3. Focus On Other Areas Of Your Business
It's important to allocate your resources where they'll benefit your business the most. By outsourcing certain tasks to experts, you can free up time and energy to improve other parts of your business.
4. Get Quality Results
The best marketing agencies have industry experience and know how to implement proven methods that generate real results. These companies also have access to cutting edge technology and data analysis tools that are used to measure success and identify opportunities for improvement.
The best outsourcing companies offer quality services that will not only save you time, but they'll also bring high returns on investment (ROI).
5. Professional Advice And Guidance
Most outsourcing companies offer consulting services. They work closely with their clients to ensure that all procedures are carried out correctly and at optimal levels. This allows them to provide expert advice and guidance as well as training to ensure that you achieve the maximum return on your investment.
With an outsourcing agency, you'll receive expert advice and guidance from people who specialize in marketing. They'll help you create effective strategies, design engaging campaigns, optimize websites, and ensure that all your messages are consistent across platforms.
FAQ
Is Outsourcing Good For Small Businesses?
Yes, outsourcing enables businesses to focus on what they do best – running their business. Outsourcing also reduces costs for small businesses who don't have the resources to hire full-time employees. 
Small businesses can benefit greatly by outsourcing their marketing efforts. Oftentimes, small companies don't have enough resources to manage effective marketing activities. Outsourcing allows them to focus on other parts of the business that require attention.
Why Does My Business Need Outsourced Marketing?
When you are a small business owner, you need to be able to focus all of your attention on running your company. However, your business needs to also grow and expand in order to survive. If you want to grow your business, then you must outsource some of your work to experts who can do it better than you can. 
Is My Company Too Big Or Too Small For Outsourcing?
There are no hard and fast rules for determining whether your company is too big or too small for outsourcing. The size of your company depends on many factors, including the number of employees, industry, and overall budget.
Conclusion
Outsourcing marketing is an important way businesses today keep up with the pace of change in the market. Some companies use it to address specific, short term needs, while others turn to external marketing agencies to deliver the sophisticated, power and performance they couldn't achieve with internal resources alone.
Outsourcing has made it possible for small businesses to gain access to expert marketing services without having to spend tons of money on hiring new staff. It's allowed them to increase productivity, reduce operating expenses, and improve their overall performance. As long as your outsourcing agency understands your business model and objectives, they should be able to develop tailored solutions that suit your needs.