SEO is a very important part of any online business strategy, and it's also one that can be expensive to maintain if you don't have the right tools at your disposal.
In this article we will compare two of the most popular SEO tools on the market today – SE Ranking and Ahrefs. Both are great tools in their own way, but which one should you use for your website? Let's find out!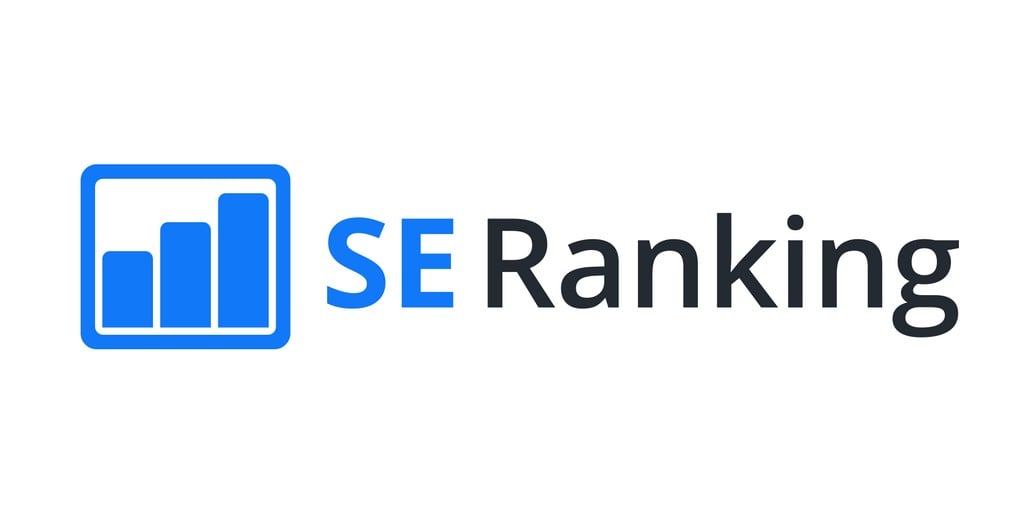 SE Ranking is a cloud-based SEO and marketing platform designed specifically for small business owners, SEO professionals, digital agencies, and enterprise-level companies.
SE Ranking was created as a rank tracking solution. Over time, however, the platform grew into a full suite of SEO tools. Today, the platform includes everything from keyword research to site audits, keyword rankings, and backlink monitoring, page change monitoring, automated white-label reporting, and more.
SE Ranking is a must have tool for anyone who wants to track their keywords and see how they are performing. Aside from this, it offers a number of useful features at affordable rates, this tool has everything a small business needs to succeed online.
SE Ranking Features
1. Keyword Rank Tracker 
The Keyword Rank Tracker gives you the real-time rankings of your selected keywords in various search engines on desktop and on mobile devices.
After entering the keywords you want to track, the tool allows you to monitor your performance across multiple platforms, geographic locations, and language preferences. You can also check your performance across all the major search engines, including Google, Bing, Yahoo!, and Yandex.
You can also track your rankings on a specific country, region, city or postcode level, as well as monitor for Google Maps.
2. Keyword Research
Keyword research is an essential component of any successful SEO campaign.
The Keyword Research Tool allows you to enter a specific keyword – e.g., "make money online" – and get detailed data about it. You can see the keyword's keyword difficulty score, monthly searches, and CPC (cost per click).
3. Website Audit
As with many other comprehensive tools, SEO Ranking offers an audit feature which crawls through your website identifying issues that could harm its ability to rank well
SE Ranking's website auditor has several features that make it stand out among its competitors. These include:
Page Crawler – Allows you to crawl up to 1,100 web pages within seconds.
Result Analyser – Compare results between multiple crawls. Share reports with teammates or clients.
Xml Site Generator – Helps search engines like Google understand what your site is all about.
How To Fix Guide – The report includes solutions to common problems.
Custom Setting – Choose which issues you want to monitor.
You can run the site audit at any time, whether manually or scheduled regularly every day or week, to see what progress has been made in fixing the errors on your site and maintaining a healthy one.
4. Backlink Checker And Tracker
Backlinks are vital to ranking high in SERPs. They provide credibility to websites and help them gain authority.
The SE Ranking Tool has a variety of features which make it one of the most powerful tools available. One of its more useful functions is the ability to check backlinks. This feature allows you to see how many backlinks each website has and what their characteristics are. With this data, you can then decide whether or not to use those backlinks for your own purposes.
The backlink check tool from SE Ranking provides a 360-degree view of your backlinks. You can analyze all aspects of your backlinks including lost and new backlinks, referring domains, anchor texts, and the top pages that are linked out. This is an invaluable resource for those who want to evaluate their current backlink profile.
5. Competition Analysis
SE Ranking's competitor tool can be used to get insight into your competitors' SEO and PPC practices. Simply enter any website URL or domain name and you'll receive a comprehensive report.
Competitor Analysis is a powerful tool that gives you a deeper understanding of your competitors. It provides detailed insights into each of their websites so that you can quickly identify what makes them successful and gives you detailed reports on what you should focus on next.
SE Ranking has three major price plans:
Essential starting at $39.00 USD/Month
Pro starting at $89.00 USD/Month
Business starting at $189.00 USD/Month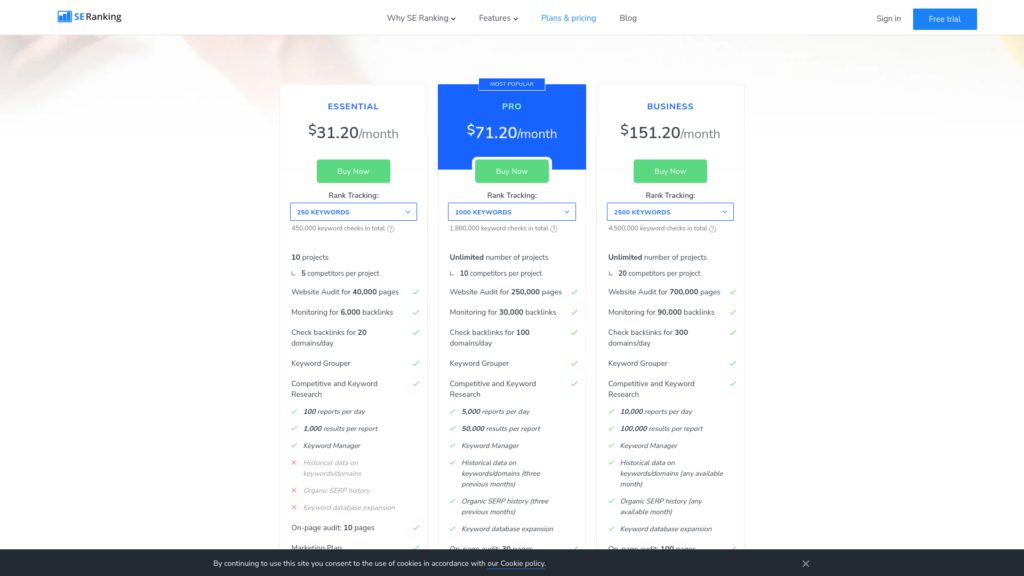 SE Ranking is a powerful software package designed specifically for Search Engine Optimization (SEO). It includes many features such as keyword research, competitor analysis, website auditor and more. The program is affordable, yet offers a wide range of options.
READ ALSO:
Ahrefs is a comprehensive SEO toolkit that includes many different tools that will help you improve your rankings.
Ahrefs is one of the market leaders when it comes to SEO tools. The software provides an array of data that can be used for many different purpose.
Features Of Ahrefs
1. Site Explorer
The Site Explorer is one of Ahrefs' most popular tools. It's named after the fact that it contains all the data necessary to analyze a website's backlinks. The main purpose of this tool is to provide comprehensive insight into how a particular domain ranks in organic search results.
2. Keyword Explorer
Keywords are extremely important when optimizing a website. In order to find keywords that have potential, you need to know exactly what people are searching for online.
The Keyword Explorer helps you discover the best keywords for your niche by providing multiple ways to filter the results. 
The Keyword Explorer will help you determine whether your site ranks easily or not for a given keyword. Using Keyword Explorer, you will never be stuck for new keywords ideas. It has over 7 billion keywords, and they're updated monthly with fresh data.
3. Content Explorer
Content is king! If you don't have compelling content on your site, no one will visit your site.
The Ahrefs' Content Explorer tool is one of the most powerful tools available in its category. It's designed specifically for finding influential pages and authors within specific niches.
Using this tool, you can improve the reach of your content-marketing campaign. The Content Explorer generates a list containing popular articles related to the selected keyword. These articles are ranked based on SEO factors such as social sharing, organic traffic, and the number of other websites linking to them.
4. Site Audit
Ahrefs' website audit tool is one of the easiest to use. When you first sign up, you can choose to have your site crawled by Ahrefs' web spider or not. Once you've chosen to crawl your site, you'll be prompted to do so once per week. The tool provides an overview of your site, including a health score, crawl statistics, errors reports and more.
5. Rank Tracker
You can use the Rank Tracker to set keywords and countries you want to track rankings for. Ahrefs shows all the keywords you're already ranking for as well as suggestions for related keywords. 
Rank Tracker monitors your search engine rankings and helps you see how well your site performs in search results. It shows you your ranking in the search results and the number of visits you get from people who come to your site via organic search.
SE Ranking has four major price plans:
Lite starting at $99.00 USD/Month
Standard starting at $199.00 USD/Month
Advance starting at $399.00 USD/Month
Enterprise starting at $999.00 USD/Month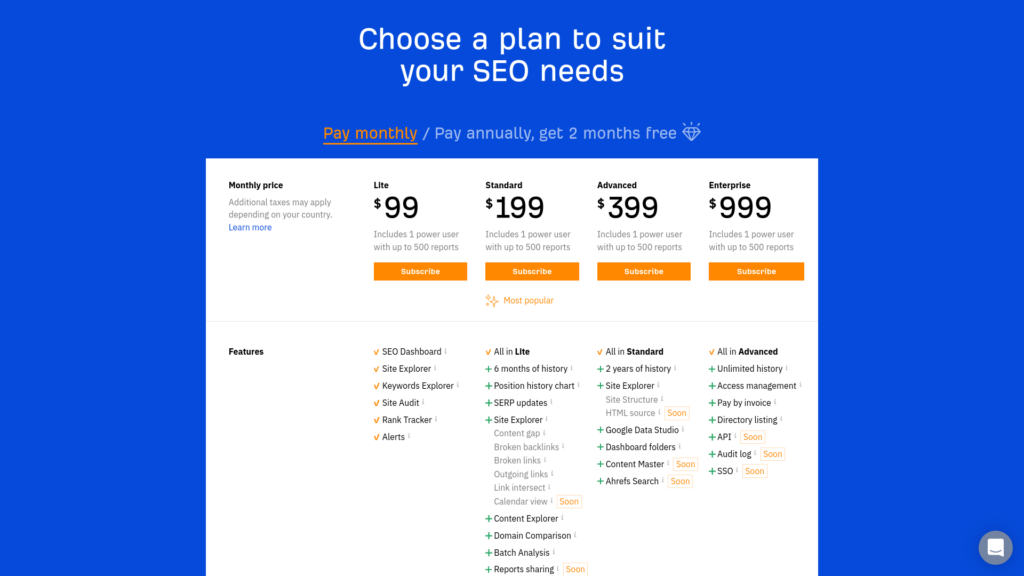 Ahrefs is one of the best tools available for SEO. It provides access to a vast amount of data that can be used to optimize a website and increase its organic traffic. It has made it possible for many businesses to see significant increases in their rankings.
Conclusion
Both SE Ranking and Ahrefs offer great value for money. Both are easy to use and both contain a lot of useful features. However, if you're looking for something that offers more functionality than the others, then Ahrefs may be the right choice for you.