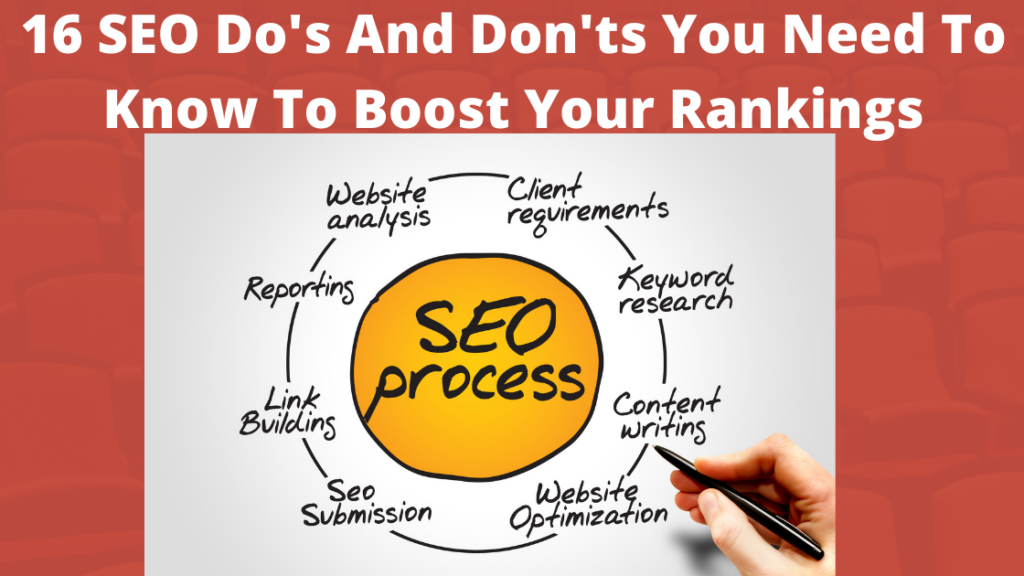 In this article, we'll share with you some of the most important tips on what not to do when doing SEO.
If you're looking to rank higher in Google searches, then you've probably heard of SEO or Search Engine Optimization. This involves optimizing your site so that it ranks well in Google's search results. The goal is to increase traffic to your site and improve conversions, however, there are do's and don'ts when it comes to SEO that can hurt your rankings instead of help them.
If you want to reach millions of potential customers, you need to optimize your website. This means ensuring that your web pages are relevant to users' queries, and that they meet Google's quality guidelines.
Search engine optimization (SEO) is a complex discipline. Even though it seems simple, it requires a significant amount of time and effort to master. It can take months before seeing any results from the work you put into it. However, it's worth every minute spent learning about SEO and optimizing your websites for maximum search visibility.
By knowing the do's and don'ts of SEO, you'll be able to understand how to make sure you get the most out of your efforts.
Do's for SEO
1. Keyword Research
Keyword research helps you identify words that people type into Google to find information, products and services online.
The first thing you should do when trying to boost your search ranking is keyword research. A good way to do this is by using tools like SEMrush or Ahref. These will show you which keywords you're to target and allow you to find other terms related to those keywords.
2. Optimize Title And Meta Data
Another very important part of SEO is meta tags. They play an integral role in helping search engines know more about your page when it appears in their search results, including its title, description and URL.
Title tags and meta descriptions are important parts of your web content. They help you get found by people searching online. Use title tags and meta descriptions that draw people in. 
When it comes to optimizing titles and meta data, you must ensure that these elements include keywords and phrases that describe your page content.
3. Write High-Quality Content
Google wants to provide its users with high-quality content. If your page doesn't contain good information, it won't rank as highly as expected. When writing blog posts, articles and pages for your business, think about whether the content has value for readers.
When writing content for your site, use long tail keywords. Long tail keywords are less competitive and easy to rank for. For example, if your niche is dog clothing, write about things such as "dog collar leopard print", rather than just "leopard print".
You also need to make sure your content are engaging enough to keep visitors on your site and encourage them to share it with others. Make sure you have interesting headlines and paragraphs that are easy to read and digest.
4. Build Links From Authority Websites
One of the best ways to build links back to your site from different sites is through guest posting. This involves submitting a post to another website. The link you get by doing this is known as a backlink.
Guest blogging is one of the easiest ways to create authority around your brand. It gives you exposure to new audiences and helps you increase traffic to your own website.
5. Optimise Images For SEO With Alt Text
Images are one of the most frequently used types of content on the internet. As such, they're a great way to promote your company – but only if you optimize them properly.
Alt Text is also called Alt Tags or Alt Descriptions, this is the description which appears when you hover over the image on a web page if the image doesn't loads properly. This text helps screen readers describe images to visually impaired people and lets search engines crawl and rank your website better.
In order to optimize images for SEO purposes, you have to enter descriptive alt texts.
For example: A picture of a flower could have a descriptive alt text of "A beautiful red rose".
If you don't provide any alt text, search engines won't be able to understand what the image is supposed to represent.
6. Minimize Page Load Times
Page load time is one of the biggest factors affecting how well a user finds your page. Google considers the loading speed of each page as an indication of the overall quality of your website.
Pages with longer load times are considered lower quality than those with shorter load times. Minimizing page load time means making sure every file on your page can be loaded quickly.
Faster loading webpages will get your contents in front of your target audiences faster and provide a better overall user experience.
7. Use Internal Links
Internal linking is a very important factor in the SEO process. These links help search engine crawlers discover related content on your website and help your web visitors find relevant and navigate more pages easily, without having to click multiple links.
It's recommended that you use internal links as much as possible because they not only improve your rankings, but also encourage users to stay on your site.
8. Fix Broken Links
Broken links occur when either a) a URL doesn't work anymore or b) a webpage has been deleted entirely. These types of broken links are just plain bad and can damage your rankings if they aren't fixed quickly.
Fixing broken links is one of the most important aspects of SEO because search engines like Google rely heavily on the number of external links pointing towards your website.
Don'ts for SEO
1. Keyword Stuffing
Keywords stuffing is the act of using keywords too many times within a piece of content. You need to avoid it because there is no point in keyword stuffing if you want your articles to appear natural.
You should use keywords as much as possible without going overboard. Don't put them everywhere, but make sure they're used enough to be found by people searching for what you offer.
Keyword stuffing isn't good for SEO, it makes your article look unnatural and it may even cause penalties. So, try to keep away from it as much as possible.
2. Duplicate Content
Duplicate content refers to the exact same information being posted on two different websites. There are several reasons why you shouldn't do this, including the fact that duplicate content is often flagged by search engines as spam and will never attract organic traffic.
Never copy and paste entire posts from another blog or site onto yours. Instead, create unique content that meets your needs and provides value for your audience. Never decide to take someone else's post and publish it on your own site, it'll hurt your reputation and lead to higher penalties.
The best thing to do is to avoid duplicating content and focus on creating unique, high-quality content instead.
3. No Schema Markup
Schema markup allows you to add structured data to your HTML page. Structured data makes it easier for search engine robots to read through your content, index it properly, and show it in results.
Structured data markup helps in showing the exact information that you need to display on the rich snippets of the webpages. You can also use it to improve search engine optimization and increase organic traffic to the website.
4. Low Quality Backlinks
Poor backlinks are simply backlinks that aren't useful. They're usually low-quality backlinks that link to your website from other irrelevant websites. Search engines usually penalize sites that have lots of these low-quality backlinks.
If you don't know how to build quality backlinks then hire an expert who does. It's not easy to build quality backlinks. If you're willing to spend some money on hiring an SEO specialist then go ahead and do so.
5. Poor On-Page Optimization
On-page optimization refers to all the things you do with your content to ensure that search engine bots can crawl and understand everything about your content.
This includes title tags, meta descriptions, image alt text, and more. You should optimize each of these elements to help Googlebot find and understand your content better. The more optimized your content is for SEO purposes, the more likely it is to rank well for your target keywords.
Your pages should be fully optimized to increase their chances of ranking high in search results. If you have poorly optimized pages, you risk losing out on potential customers who might otherwise visit your website.
6. Targeting Your Own Choice of Keywords
Never target your own choice of keywords because this doesn't make sense at all. 
Instead, choose a few relevant keywords that you want people to type into search engines when they're looking for your products or services. Then, write articles around those specific keywords. Write long, detailed articles that answer questions and satisfy readers' curiosity. This way, you'll get a boost in traffic and sales.
7. Having Multiple Homepage URLs
Many web developers don't realize that it's best to consolidate homepage URLs. You can do this by setting up a 301 redirect to redirect visitors to a single URL. 
The most common way a website will have multiple homepages are:
www.example.com/
example.com/
www.example.com/index.html
example.com/home.asp
8. Ignoring User Search Intent
Google uses user intent as the primary factor in determining which pages on a website are shown in its search results. There are three types of searches performed on the internet: informational, transactional, and navigational. Each one has different needs, and you must cater to each one appropriately.
For example, if someone enters "how much does it cost" in Google, they're probably searching for something like financial advice or information regarding prices. These are informational queries.
Navigational searches tend to focus on finding what's nearby or where to go next. For example, if someone were to enter "best coffee shops near me," they would probably be performing a navigational query.
Transactional searches are focused on buying products or services. For example, someone entering "buy a new laptop" into Google is performing a transactional query. 
If the user wants to know something, provide answers to their questions. If they want to purchase your product/service, direct them to your product/service page If they want to navigate to a specific page through a search query, make sure you include links to important pages on your site.
Conclusion
Every time an algorithm update occurs, Google and other search engine crawlers move themselves closer to achieving a user-friendly experience while weeding out unfairly-ranked pages. Some tricks may help improve rankings or traffic temporarily, however, a quick win today may lead to a huge penalty later on.
Use these tips as part of your SEO strategy today. We're confident that you'll start seeing improvements in your search engine rankings. However, SEO is a process, so be patient. It may take some time before you see results. If you put in the effort and focus, your website can bring in high-quality visitors and leads.
I hope that you learned some valuable tips from my article. I think that you now have a good understanding of how search engine algorithms work and how to use them effectively.
Remember that there are many factors involved with optimizing your website for SEO purposes, so you need to know the do's and don'ts of SEO to ensure that your efforts are fruitful.
I'd love to hear any comments or feedback about this article. Please feel free to share your thoughts below!