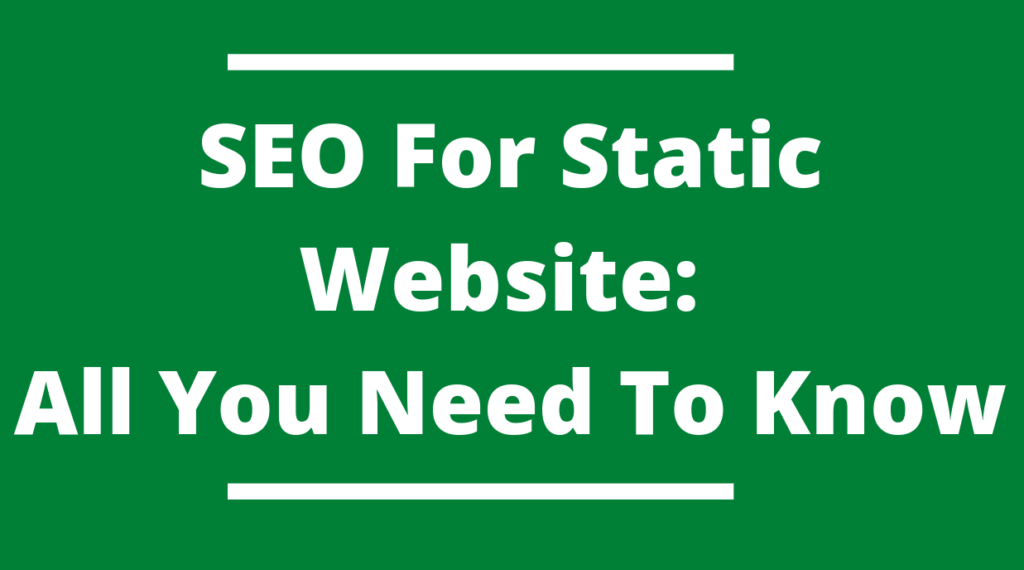 In this post, we will talk about how to optimize a static website for search engines and get more traffic from Search Engines, and other important things you need to know about seo for static websites.
Static websites are the most popular type of web pages today because they load faster than dynamic ones. But that doesn't mean you can ignore the importance of SEO for static websites as they still need to be optimized in order to rank high on Google.
So if you have an existing website or planning to build one, then it is very essential that you know what all needs to be done for optimization. In this article I am going to share with you some simple steps you can take right now to start optimizing your website.
What Is A Static Website?
A static site is made up of pages of static content, HTML, JavaScript, or CSS code. This content is always available and offers little interactivity; it doesn't change depending on who the user is. As the content is not dependent on a specific user, the content can easily be pre-rendered leading towards faster performance and lighter weight overhead.
Static websites are delivered to users exactly how they are stored. That means that no matter who accesses the site, nothing changes until the site administrator makes changes to the site.
5 Advantages of Static Websites
1. Speed
Static websites don't require any server side code to be written. They use pre-built static files to display the content. 
The speed at which a page loads has a direct impact on its ranking by search engines. If a page takes too long to load, visitors may abandon the page before even trying it out. With a static website, there's no server side scripting and therefore no delays when loading.
2. Scalability
A static site lets your content to be presented across multiple channels without having it need to be re-authored. In addition, a static website structure can be easily adapted to the changing needs of a website or an application.
3. Security
Static websites are more secure than dynamic websites because they don't send any information to the server at every request.
With a static website, there is no server side programming required. No vulnerabilities arise from server side coding, nor do hackers have an easy way to exploit them.
4. Cost
When you're thinking about building a new website, you should consider whether you want to have a static or a dynamic website. The cost of developing a dynamic website can be quite expensive, but with a static website, the costs remain low. 
5. Easy Maintenance
These websites are extremely easy to maintain. There are no complex configurations involved in maintaining them. Once they are built, the only thing you would need to do is update the content once in a while.
READ ALSO:
How Can You Optimize Your Static Website For Better Ranking On Search Engines?
1. Add Titles And Descriptions
Titles and descriptions play a crucial role in determining the rankings of your static website. So it is important that you optimize these two aspects of your website.
Meta descriptions are vital for any website. Search engines use it to understand the purpose of each page. Users can also learn more about the page by reading the meta description before deciding to visit your website through search engines.
This is why you must include a meta description tag on your website. It helps you get high rankings on Google and other major search engines.
You can add titles using H1 tags. It is recommended to keep the title between 60 characters and the description between 160 characters.
2. Use Proper Headings And Subheadings
Heading tags are used to create sections within a web page and subheading are used to divide these headings into smaller chunks.
Make sure that you use proper headings on all your pages. Make sure that the heading serves a clear purpose and gives enough details about what the section contains.
You should make sure that you use the right number of headings and subheadings. Too many headings might confuse users, and if not properly organized, it can affect the overall performance of your website as well.
3. Add Images
Images add visual appeal to a website. They help improve user experience and increase conversion rates. When images are added to your website, ensure that they are relevant to the content and provide useful information.
Optimize the images for better visibility on search engine results. This means adding alt text and optimizing the image size.
4. Include Keywords
Keyword is another important factor in getting higher ranks on search engines. It is important to optimize your website using keywords so that it ranks highly in SERPs (search engine results). When people search for something, Google will show the most relevant result first. So, make sure that you add relevant keywords that you want to rank for to your webpages. 
By doing this, you'll improve the chances of getting visitors from search engines.
5. Keep Updating Content Frequently
People don't tend to return to sites which are outdated. Keeping up to date with your site content is one of the best ways to rank higher on search engines.
It's always good to have fresh content on your website. You should only post quality content and avoid posting irrelevant or plagiarism contents.
6. Have A Sitemap
A sitemap is an XML file that lists all the pages of your website. Search engines uses it to crawl your site efficiently, so having a sitemap is very essential.
A sitemap tells search engines how your website is structured. It lets the crawler know where every page is located in your website.
7. Optimize Your Page Speed
Page speed plays a huge role in ranking websites. If a page takes too long to load, then users won't be able to spend time browsing your website.
Loading speed is one of the factors that affect your page's ranking according to Google. So, having a good loading score is important for your site.
There are several tools available online that can analyze your website's loading speed. These tools allow you to identify the areas that need improvement.
8. Build Backlinks 
Backlinks are hyperlinked from another website to yours. Having lots of backlinks also helps in improving your site's rankings. There are two types of backlinks – do follow and no follow links.
Do-follow backlinks are more valuable than no-follow ones. The reason is because Google considers them as votes for your site. So, when other websites link to yours, Google pays attention to it.
However, keep in mind that building links manually would take a lot of effort. Hence, try to find other methods to build backlinks such as guest posting.
Conclusion
All in all, there are some basic things that you need to know when it comes to optimizing a static website for SEO. These tips will surely help you achieve better results.