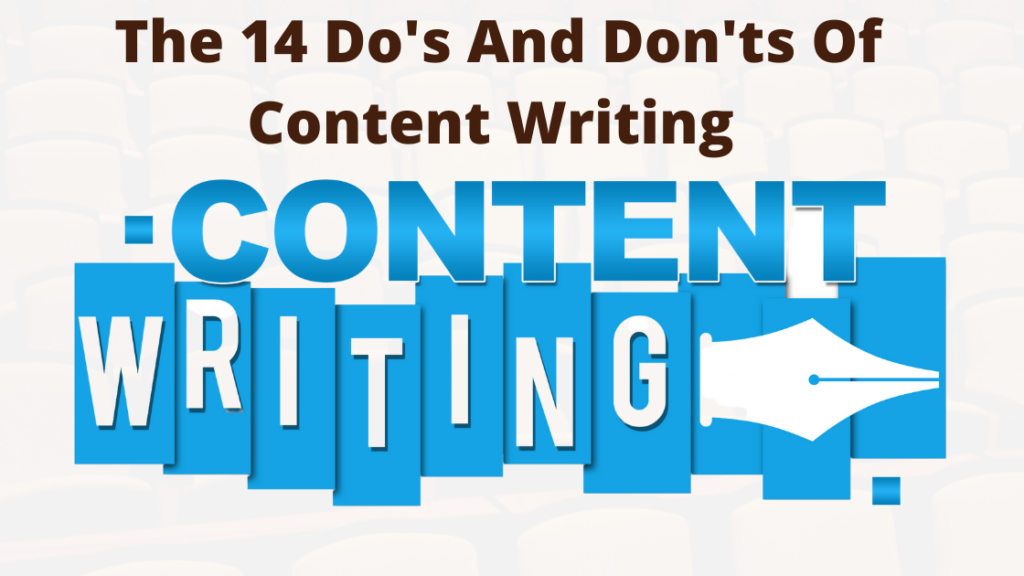 Content writing is a broad term that covers many different types of writing. This guide provides tips and advice on how to write content with the aim of making it appealing to readers. With this article, you will learn what works best in specific situations and how to avoid mistakes that are common among beginner writers.
As a content writer, you need to know the basic layout of content. Understand the concept of do's and don't of content writing to make your content more effective, readable and engaging, which ultimately helps you earn more money from it.
What Is Content Writing?
Content writing is the process of creating written work for websites or blogs. It includes all kinds of text including articles, press releases, product descriptions, blog posts, ebooks, web pages, etc. The main purpose of content writing is to attract visitors to your website or blog so that they can read your content. When done well, content marketing is an effective way to increase traffic to your site.
The 14 Do's And Don'ts Of Content Writing 
Do's Of Content Writing
1.  Do Write High-Quality Content
You should always start by writing high-quality content. If you want people to read your content, then you must provide them with interesting information. Your content needs to be informative as well as entertaining. You should also keep your language simple and clear. Avoid using complex sentences and long paragraphs.
Quality content is one of the most important factors when it comes to attracting customers to your business. A good piece of content can help you build trust with potential clients. Make sure that your content is original, unique, and useful. So if you want to get good results from content marketing, you should focus on producing high-quality content.
2. Do Make Sure That Your Content Is Relevant To Your Audience
Your audience plays a very important role in determining whether or not your content is relevant, useful, and interesting.
For example, if you have a blog about fashion, you probably won't want to post content about politics. Similarly, if you own a restaurant, you might find yourself posting recipes instead of entertainment. Always remember that your audience has preferences and tastes. Therefore, you need to make sure that your content is tailored towards their interests.
3. Do Have An Effective Call-To-Action (CTA)
It is essential to include a call-to-action at the end of every piece of content. CTA encourages users to take some kind of action after reading your content.
A call-to-action (CTA) is the bridge between content marketing and conversion. You need to make certain you have a clear CTA in the article if you wish to get readers to take any kind of action. There are various methods to incorporate CTA in your content material. Just ensure the CTA is clearly seen and well-optimized.
4. Do Proofread Your Content Always
Proofreading is another crucial part of content creation. You should proofread everything before publishing it online. In fact, you should proofread even the smallest details like spelling errors, punctuation, grammar, and formatting issues. These small things can really affect how your content looks.
Proofread your content before submitting it online. You must avoid any grammar, spelling, and syntax mistakes that could affect the reader's interest and cause him/her to click away. Simply read your content aloud to check if there are any grammatical, spelling, and syntax errors. These errors may be corrected right away as well.You can also use Grammarly or other tools that help you proofread your content for errors and also use Quillbot to allow you to rephrase undesirable words.
5. Do Use Visual Elements
Visual elements such as images and infographics are great ways to grab attention. They can improve the quality of your content and encourage readers to stay longer.
A picture speaks a thousand words. Images can add more personality to your content. For instance, they can show your expertise, professionalism, and creativity. Infographics are visual representations of data which makes them easy to understand.
All these visual elements will help you create better content. If you don't know where to start, you can always hire an infographic designer who specializes in creating visually appealing graphics.
6. Do Keep Your Sentences And Paragraph Short
Long sentences and paragraphs tend to bore people. This is why many content writers prefer writing short, concise content.
Short sentences and paragraphs are easier to digest than long ones, so you should keep this in mind when writing. When you write too much information in one paragraph, your readers will lose focus quickly.
The goal is to provide useful information in a quick manner. The best way to do this is by using bullet points and subheadings. Bullet points summarize the main idea while subheadings break down the text into smaller chunks. All these will help you achieve your goal of providing useful information in a quick, concise manner.
7. Do Post On Social Media Sites Frequently
Social media sites like Facebook, Twitter, LinkedIn, Pinterest, and Instagram are very popular today. You can easily share your content on these platforms through social sharing buttons.
Social Media can help increase traffic to your website. It helps you reach out to a larger audience. Moreover, you can engage with your followers and gain valuable insights about their needs and interests.
Posting different ways on a variety of social media platforms can allow you to reach a wide audience. Do not hesitate to use social media to promote your website. All things considered, everything that helps to discover your site for potential readers should be essential.
READ ALSO:
Don'ts Of Content Writing
1. Don't Plagiarize
Plagiarism is the act of copying someone else's work without giving credit to the original author. It includes stealing ideas, words, phrases, and even entire passages from other sources and passing them off as your own.
This can lead to legal issues and damage your reputation. So, make sure you get permission before you copy someone else's work.
2. Don't Write Thin Content
Thin content refers to low-quality content. It doesn't have enough details or substance. It lacks depth and value.
You need to ensure that your content has sufficient detail and substance to convey the message effectively. Make sure it contains all the necessary information that your target audience requires.
3. Don't Forgo Research
Researching the topic thoroughly will give you an edge over others. Good research gives you the opportunity to learn about the industry and its trends.
It also allows you to find out what kind of topics interest your target audience. This will enable you to craft relevant content.
Research is important to ensure that you give correct information about any topic. You should always do your own research before you write anything. This includes articles, blog post, press releases, etc.
4. Don't Use Clickbait Headlines
Clickbait headlines are catchy headlines which promise something sensational but deliver nothing. They usually include exaggerated claims or promises.
They are designed to entice people to click on them. However, they often mislead readers into thinking that they will receive some amazing benefits if they read them.
You should always avoid writing clickbait headlines because they don't add any value to your content. They may attract attention but they won't convert well.
5. Don't Forget To Proofread Your Work
Proofreading is one of the most overlooked yet crucial steps in writing. If you don't proofread your work properly, there is a high chance that you might miss mistakes.
These errors could harm your credibility and cause you to lose customers. So, make sure to proofread your content carefully, especially when you are writing long documents.
6. Don't Use Copyrighted Images
Using copyrighted images is another common mistake made by many writers. These images come under copyright laws. If you want to use these images, you must obtain permission first. Otherwise, you risk getting and paying hefty fines.
This is a very common mistake. You should create your own images and graphics if you want to avoid copyright issues. There are many websites that offer free stock photos. These include Pixabay, Pexels, and others.
7. Don't Use A Passive Voice
It's a tough one. If you cannot avoid using passive voice, then try to limit its usage. You'll get better with practice. Instead, use words that are more persuasive and descriptive. You should strive to use active voice whenever possible. Active voice conveys power and authority. It makes your sentences sound more professional and credible.
Conclusion
Quality writing is a work of great art. Few people are able to produce such quality content. But, following these simple tips can help you improve your skills as a content writer. The key to success lies in practicing regularly. Practice makes perfect.
Good luck!