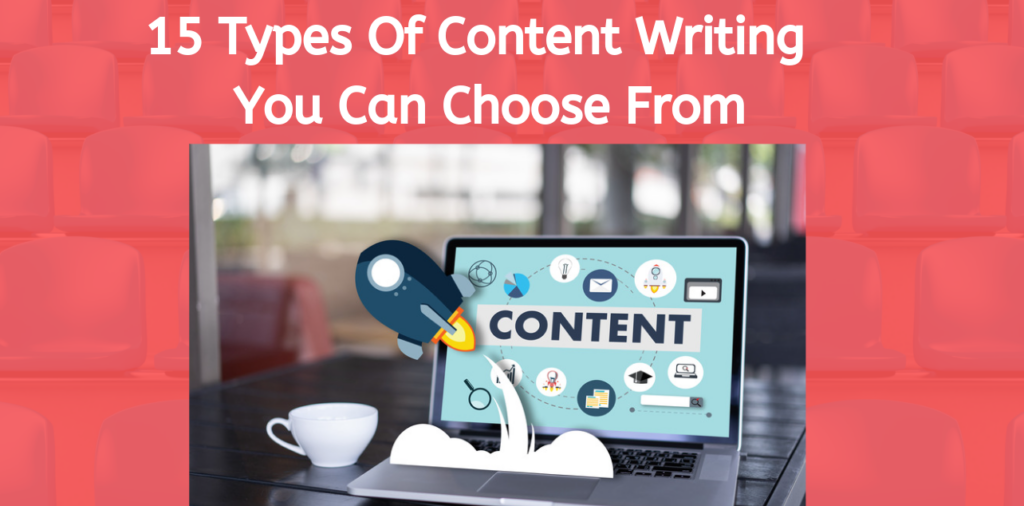 Content marketing has become a major part of many businesses' marketing strategy. In particular, content writers are in high demand. If you love creating compelling pieces of text, then you should consider becoming a content writer.
What Is Content Writing?
Content writing is the act of creating content for websites and blogs. Content writing involves planning, writing and editing, the content can be written in text, video, audio, images, or any combination thereof. 
Content writing is the process by which an individual or organization produces written work that provides information to an audience. The primary purpose of this type of content is to inform and educate the reader, as well as persuade them to take action. It's important for companies to be able to write articles on their own products and services because it helps increase brand awareness and customer loyalty. 
15 Types Of Content Writing You Can Choose From
There are several types of content writing you can choose from, depending on your skills and interests. Some of the most popular ones include:
Blog posts should be short and concise, each post contains useful information that is easy to digest. A blog post should also provide value to readers by making them understand about something.
Blog posts should be written in an accessible style so that readers can easily consume the information. Your posts should also be informative and entertaining. This means you need to do research into what people are looking for when they search online for solutions to problems. You'll write about a broad range of topics, but your focus should be on educating, informing, and entertaining.
A blogger knows how to write engaging blogs that perform well. They are devoted to producing quality content that performs well, is consistent in terms of tone and voice, and appeals to different audiences. These bloggers know their target market — customers who read their blogs regularly. They know what makes people click, like, share, comment, and subscribe. They are familiar with social media platforms such as Facebook, Twitter, Instagram, LinkedIn, Pinterest, Snapchat, YouTube, Tumblr, Reddit, and more. And they're always adapting their writing styles to cater to the needs of their audience.
Copywriting is another type of content writing that requires creativity, a good command of the English language, and excellent grammar. Copywriters are responsible for crafting press releases, product descriptions, advertisements, e-books, brochures, whitepapers, sales letters, emails, website copy, and others.
Copywriters are responsible for creating content that educates consumers about your products and services. They also write sales letters, ads, and email messages that persuade people to buy your products. In addition, copywriters write articles for websites, magazines, newspapers, and blogs.
To become a successful copywriter, you need to develop certain skills, such as being creative and analytical. To succeed as a copywriter, you must master the art of persuasion and understand human behavior. A copywriter should be well versed in the business world, He or she needs to possess strong communication skills, including the ability to listen carefully, speak clearly, express ideas effectively, and interact with clients to take a particular action.
Technical writing is a style of writing in which the author explains a specific subject that requires guidance, instruction, or explanation. Technical writers explain concepts, procedures, systems, processes, equipment, materials, software applications, and other technical subjects and make them more easy to understand.
Technical writing is about explaining things in an understandable way. It helps people understand complicated ideas. This is done by using simple words and sentences. Technical writers use explanations and examples to help people understand what they're doing.
An email writer has to create compelling newsletters, promotional material, direct mail pieces, and other types of marketing material. Email writers have to be able to craft effective subject lines and write personalized messages that will get results/leads.
The job description of an email writer includes planning, organizing, drafting, revising, editing, proofreading, formatting, designing, and testing emails before sending them out. There are many components involved in this process, and it takes time to do this work properly. 
Email writers want to drive action. They understand lead generation strategy and how to use content to support those efforts. Their psychology is important because it helps them write better emails.
Scriptwriters produce television commercials, radio scripts, training videos, slideshows, and other kinds of presentations. 
This kind of content creation may require some knowledge about writing techniques and grammar.  A scriptwriter usually writes scripts from scratch. But sometimes, he or she might collaborate with another person who has experience in making movies, TV shows, music albums, or books.
For you to write your own scripts, you must learn the basics of grammar and writing technique as well as understand how to work within the constraints of time and budget. To make sure your scripts are clear and easy to follow, you should also learn how to organize them into a logical order. And when you collaborate with others, you need to make sure you all agree on what needs to go where and why.
6. Social Media Writer
Social media writing involves creating posts for social networking sites like Facebook, Twitter, LinkedIn, Google+, and others. These websites offer their users a place to share their thoughts and views with friends, family, colleagues, and even strangers.
The main goal of a social media writer is to write social media content to promote businesses online, Social media writers produce blogs, websites, social media posts, tweets, Facebook posts, LinkedIn articles, YouTube videos, Pinterest boards, Instagrams, Snapchat stories, online ads, and other forms of digital content for businesses.
Social media writing requires a lot of research, creativity, and attention to detail. In order to create high-quality content, writers need to understand what makes people think, what motivates them, and what engages them. They also need to know how to connect with readers using different mediums including text, images, video, audio, and links. Writers who work on social media must also be familiar with the platforms themselves and how they work.
7. Journalistic/News Writing
Journalists write articles about current events happening around the world. They often cover politics, business, sports, health, entertainment, technology, science, and other topics.
Journalism requires extensive research skills. Writers must know how to find relevant sources and gather data. Also, journalists need to analyze, organize, and summarize this information into coherent narratives.
The best way to learn about journalism is by doing it. There are plenty of opportunities available to young people interested in pursuing careers as journalists. Many universities offer courses on news writing, editing, and public relations. Online resources such as blogs and online communities also provide great learning opportunities. 
8. Academic Writing
Academic writing means producing academic essays, dissertations, term papers, book reviews, grant proposals, and other types of written assignments. Most students will have to do at least one type of academic writing during their college career.
If you want to have a successful career in academia, then you need to become an excellent academic writer. This includes being able to express ideas clearly and persuasively through effective use of language, grammar, and organization. It also involves having strong critical thinking skills so that you can evaluate the validity or significance of information.
9. Ghostwriting
A ghostwriter writes material meant to look like it was authored by someone else. A ghostwriter may be hired to assist with anything from books to speeches and press releases. The ghostwriter's job is simply to take the author's words and make sure everything looks authentic.
Ghostwriters specialize in many fields including fiction, nonfiction, technical, marketing, scientific, medical, journalistic, and legal writing, among others. Because ghostwriting is a common practice in today's society, most professionals expect to be paid fairly for their services. You can get started as a Ghostwriter without much experience if you have a certain amount of talent and determination.
10. Feature Writing
A feature writer is a journalist who produces articles about people, places, things, ideas or any kind of feature stories. He/she researches and writes about these subjects using in-depth interviews and thorough research. Typically, he works under an editor, and he may write stories for magazines or newspapers.
A feature writer is someone who has experience with writing feature Stories. They usually work closely with editors, reporters, photographers and designers to produce stories. Feature writers often create content for online publications such as blogs, newspapers, newsletters, magazines and social media pages.
11. Freelance Writer
Freelance writers are independent workers who sell their content to clients. They may work full time or part time depending upon the nature of the project they've been commissioned to complete. 
Freelancers are hired by clients to create original works such as articles, web pages, press releases, social media posts, advertising copy, etc. Some freelance writers charge hourly rates while others charge per project. Many freelance writers offer packages that include editing services, proofreading, formatting and even SEO services.
Freelance writing is one of the most popular ways to make extra cash online today. It is also one of the most competitive industries out there. As a result, freelance writers must have a high level of expertise in order to stand out among the crowd.
12.  Editorial Writing
Editorial writing refers to the process of creating written reports and other materials specifically designed for publication. An editorial writer writes opinion pieces that comment on issues of public or reader interest Editorial writers must write pieces that align with and reflect the views of their publications. 
13. SEO Content Writing
SEO stands for Search Engine Optimization. An SEO writer creates content specifically for search engines. This type of writing involves optimizing website content so that the content can rank higher in search engines. SEO writers use keywords and key phrases strategically throughout their content to ensure maximum exposure. It includes topics like How to, Guides, Tips & Tricks, Tutorials and more. 
SEO content writing is one of the best methods of making money online. There are millions of websites today that need quality content to draw visitors. If you know how to use keywords effectively then this is a great way to make money.  
14. Press Release Writing
Press releases are important for helping businesses communicate and develop new content about themselves to the public. Press release writers mainly write about new products, expanded businesses, collaborations and business events.
A press release is an important part of any sales initiative. It keeps your audience and clients informed about the latest developments in your business.
15. Ad and Promo Writer
Ad and promo writers create advertisements and promotional material for different companies, organizations, brands and products. When planning ads and promotions, adwriters should keep in mind the target audience's interests, age group and location. They should also be aware of the competition in the market.
An ad and promo copywriter knows how to take advantage with any content they write. Powerful messages are quickly constructed within character count limits. The call to action (CTA) is right there, front and center, trying to drive awareness and conversions.
Conclusion
Writing is not just a hobby for many people. It has become a career choice for some. So if you have what it takes to be successful at it, why don't you give it a shot? All you need is a good set of skills and dedication. Your success will depend largely on your ability to deliver high-quality work consistently.
Good luck!