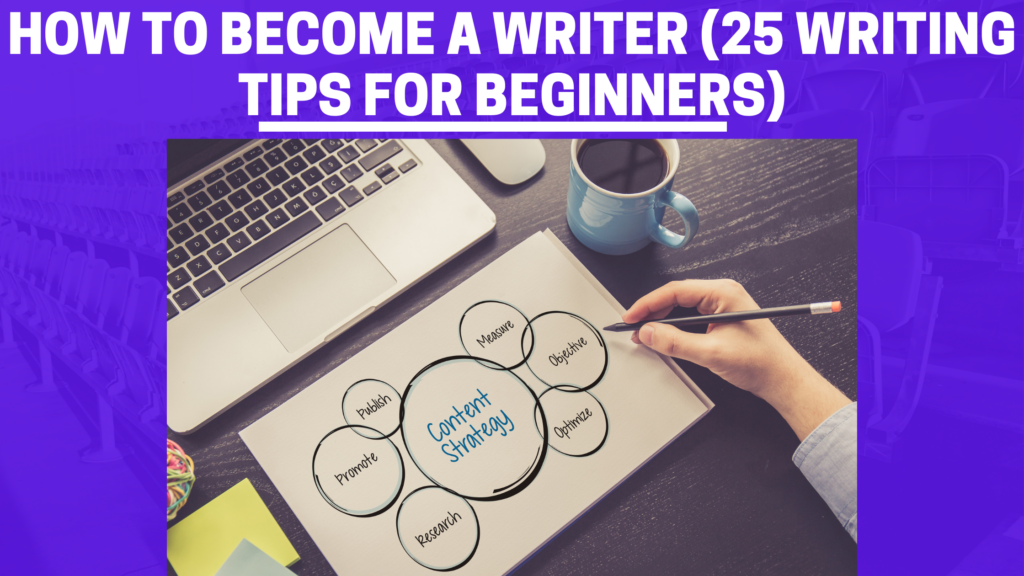 If you want to be a successful writer, then you must learn how to write well and effectively. Writing is an art form that requires practice, dedication, creativity, discipline, perseverance, and the ability to think clearly. It's also a skill that most people can master with time and effort. However, if you're new to writing or just starting out on your own as a writer, it's important to know what you need to do in order to get started. 
What Is Writing?
The dictionary defines "writing" as: "the process of creating written text by combining words and other linguistic elements into meaningful patterns." This definition gives us some idea of what exactly we are doing when we write, but there are many different types of writers. There are fiction writers who create stories based on imaginary characters, non-fiction writers who focus their efforts on reporting true facts, and journalists who work behind the scenes to gather news from sources around the world. To give you more insight into what kind of writer you might want to be, let's first take a look at these three categories.
Types of Writers
1. Fiction Writers
A fiction writer creates fictional worlds using real life settings and events. The main character may be based on someone they knew in real life, or maybe the story takes place somewhere completely fictitious. A good fiction writer will make sure everything is believable; he or she will use logic and common sense to create a plot that makes sense to the reader. Fiction writers often have a background in creative arts such as painting, music, or acting, because those skills help them realize their ideas. Some fiction writers even combine all of these talents together to produce beautiful books full of emotion and imagination.
2. Non-fiction Writers
A non-fiction writer writes about topics that are true and factual. They usually don't invent anything; instead, they collect information from various sources and present it in a way that readers understand. Non-fiction writers often report on current events, but they can also cover any topic that interests them, like sports, history, science, politics, health, and business. Because of this wide variety of subjects, non-fiction writers have a lot of freedom to choose which ones they would like to study. Many non-fiction writers start out as reporters, working for newspapers, magazines, radio stations, television networks, and online publications.
3. Journalists
A journalist gathers information from multiple sources to inform the public about important issues and trends. Journalists often travel to places where interesting things happen, interview experts, and research important facts before publishing articles. Their work involves researching, interviewing, writing, editing, and submitting content to editors. They are one of the few professionals who are constantly changing, as they move up the ranks of the industry and develop new skills as they go along. Today, journalism has moved online, so anyone can publish their own blogs or websites, and they can earn money through advertising revenue. 
25 Writing Tips For Beginners
The craft of writing is more challenging than ever in this digital age. This can make the task seem like something only a select group of people are familiar with. However, there is no reason to let lack of confidence stop you from writing your next content masterpiece. 
Whether you're looking to build a career out of your passion for writing, or just enjoy creating stories, having a few tips to improve your craft could turn into big success. Here's a list of 25 great tips to become a better writer. Follow these tips to learn how to become a writer for beginners and start building your skills, slowly but surely.
Tip 1 – Get Started With Your First Content
Your first content should be short. Ideally, it should only take about two thousand words or less. You should keep adding more pages until you reach around five thousand words. The length of your story will depend on your topic, genre, and word count target. When you have completed writing your story, make sure that it has a beginning, middle, and end. Also, make sure that there are no spelling mistakes or grammatical errors. If you find yourself struggling in any way, don't worry. There are ways to improve these skills over time.
Tip 2 – Write Every Day
In order to become a better writer, it'll help if you write every day. This will not only help you develop good habits but also provide motivation to continue working hard. Writing every day allows you to focus on one task at a time without having to worry about distractions like social media and other things that may pop up while you work.
If you really want to excel in writing, then you need to write regularly. The best thing about being a writer is that you can write whenever you wish. In fact, you can even write without worrying about deadlines. Just make sure that you write something productive every day. If you write sporadically, then you won't reach your goal. Write daily and try to finish one article per week. By doing this, you'll develop good habits that will last throughout your life.
Tip 3 – Read Books And Articles About Writing
This tip is particularly useful if you're interested in learning more about the craft of writing. Reading books and articles about writing will give you insight into different aspects of the industry and help you figure out what works best for you when it comes to creating stories. To begin reading, try finding books by authors who have published multiple bestselling novels. Once you've found a few titles, read them carefully and see which ones you enjoy the most.
Reading other people's writing isn't only a good exercise for honing your own writing abilities. It also helps you see where you fit in the world of writers. Reading books by authors who have already achieved fame will give you insights into their methods of writing. By reading what other people are doing right, you'll be able to figure out what you're doing wrong. Besides, it's never too late to start writing.
Tip 4 – Learn Proper Grammar and Spelling
Grammar is very important when it comes to writing. Although it might seem intimidating, learning basic grammar rules is actually quite simple. All you need to learn are the simple rules that govern English language. You can learn these rules easily by reading books and blogs.
One thing that really sets apart well-written material from poorly written is proper grammar and spelling. Without them, even the greatest ideas can come off as pretentious and unprofessional. While learning how to spell correctly is fairly simple, mastering how to construct a sentence properly requires a little bit more effort. You need to learn how to make sure every word you add adds meaning to your text.
Tip 5 – Join A Writers Group
Writers groups exist all across the world. They allow writers from various backgrounds to gather together and share their knowledge, experiences, and ideas. By joining a group, you gain access to information and resources that will help you grow as a writer. Joining a writers group will also help you build connections with other aspiring authors and professionals in the field.
Tip 6 – Find An Editor
When you're ready to publish your novel, it will be helpful if you find someone else to edit it for you. Hiring an editor will ensure that your book is edited professionally and that it follows certain standards. After you submit your manuscript to an editor, they will return it back to you with comments, suggestions, and edits. Make sure to pay attention to each comment and to follow through with the changes suggested by the editor. These steps will teach you valuable lessons about editing and publishing.
Tip 7 – Get Writing Feedback
Writing feedback is important because it helps you understand where you need improvement and provides guidance on how to do so. It also lets you know whether or not you're making progress toward your goal. As long as you get constructive criticism, you won't be discouraged when receiving negative feedback. Instead, use it to determine what needs fixing and where you could make improvements.
Tip 8 – Write Like You Speak
You should always aim to sound natural when writing. In this case, we mean sounding like you speak naturally, rather than trying to imitate some sort of literary style. When you write, it should flow smoothly and easily. Your sentences shouldn't contain too many commas, and you should avoid using contractions. Try to put your thoughts down on paper in a clear manner. Remember that readers want to hear your voice and experience what you are saying in the same way that they would talk to you.
Tip 9 – Use power words
Power words can help you convey emotion and persuade your audience. If you want to write a story that grabs people's attention, use these powerful words wisely. When writing, keep your main characters and setting in mind. The best way to do this is to think about the type of characters you want to include in your novel and then choose a location that corresponds with those types of characters. For example, if you're writing a romance novel set in New York City, you might consider choosing locations such as Times Square or Central Park.
Tip 10 – Write Catchy Headline
A good headline catches your reader's eye. This means that it must be succinct and compelling. The first line of your article should grab your reader's interest, but don't forget to include keywords that match the topic of your post. The title should be unique and have the ability to draw people into reading your content.
Tip 11 – Choose Good Images
Images are often used to enhance articles and blog posts. If you want to provide a visual element to your piece, look for images that complement your writing style. Avoid photos taken directly out of a magazine or newspaper; instead, select photographs that show something interesting and relevant to your subject matter.
Tip 12 – Use Emojis When Necessary
Emojis are one of the most popular forms of communication online today. They allow you to express yourself more effectively and quickly than text alone ever could. Using emojis increases engagement and makes your message relatable to your target audience.
Tip 13 – Write With Style
Style refers to the overall appearance of your work. A well-written piece will appear professional and polished. When writing, try to add color and variety by varying your sentence structure, word choice, and paragraph length. Keep your paragraphs short. Don't overuse adverbs or adjectives. Also, pay close attention to grammar, spelling, and punctuation. 
Tip 14 – Always Proofread
After you've written an entire post, proofread it carefully. Pay particular attention to any typos or grammatical errors. Make sure that all of your paragraphs are separated by proper spacing. Finally, make sure that there are no missing periods at the end of sentences.
Tip 15 – Overcome Procrastination
Procrastinating is a common problem for writers who feel overwhelmed by their workload. It's important to prioritize your tasks and set aside time to complete them. When you start working on a project, give yourself a deadline so that you can finish it before you run out of steam.
Tip 16 – Practice Makes Perfect
Practice makes perfect when it comes to writing. There's no substitute for practice when it comes to improving skills. This means practicing different ways of expressing yourself. For instance, try writing fiction without any word limitations. Then, once you've written enough for one chapter, move on to another form of expression. Practice makes perfect!
Tip 17 – Know Your Audience
Before starting your novel, you need to know who your ideal reader is. What kind of person reads your work? Who are they? How much experience do they have reading books and novels? These questions will help you understand your readership and decide whether they will enjoy your book or not.
Tip 18 – Focus On Quality Over Quantity
Do not fall into the trap of producing more copies than required. Quality matters most when it comes to writing. The focus should always be on getting the job done right. If you want to succeed in writing, then you should produce quality work instead of trying to put out too many volumes.
Tip 19 – Be original
It is important for you to have a unique style of writing, but it must not be copied from any source. If someone else has written on this topic before you, then use their ideas to write new things. Do not just copy what others are saying because that could make you look like a fraud. Remember that you're not an imitator. So make sure that you don't copy anything from anyone else. 
Tip 20 – Keep up-to-date
If you want to get ahead, then you need to keep yourself updated with current events. It is important for you to know how current trends are shaping up. Make sure that you read articles related to your niche area. Read them carefully and note down your thoughts on these topics. These insights can help you improve your writing skills.
Tip 21 – Understand How To Market Yourself
You may feel overwhelmed at first with all of the marketing tools available today. However, there are things you can do to market yourself effectively. One of the most important things you can do is create a professional website. A website allows you to display samples of your work along with contact information. Also, a website gives you a chance to tell potential customers about your book.
Tip 22 – Create a Perfectionist Mindset
You should never let perfectionism get in the way of your creative process. Instead, focus only on getting quality work done. Once you've finished writing a draft, go back and edit it thoroughly. After you've edited your content, double check it for accuracy and clarity. If you find anything wrong, fix it right away.
Tip 23 – Don't Skip Processes
When you begin your journey as a writer, you should always follow established processes. Writing requires many different steps. You need to prepare your ideas, research your topic, create a plot outline, and plan how each chapter will flow. Every step needs to be completed correctly in order to ensure that your book is successful.
Tip 24 – Focus On Your Goals
The more focused you are when you write, the better your results will be. Before you start drafting, sit down and brainstorm what you would like to achieve from your novel. Then, divide your goals into smaller segments. Break down large projects into small parts that can easily be accomplished.
When you write, you should create a plan beforehand. Some people prefer to write haphazardly, while others prefer to prepare everything first. Whatever method you choose, make sure that you stick to it. A well-planned schedule will help you complete tasks efficiently. Having a plan will also help you avoid making mistakes.
Tip 25 – Have Fun!
Writing is supposed to be fun. Even when you're not having much success, always remember to have a little bit of fun. Writing isn't meant to be stressful.
17 Career Roles For Writers
A career in writing doesn't mean that you'll be working in a library or office. There are many different types of careers that writers can pursue. Here are some examples:
1. Journalist
Journalists often write news stories. They cover everything from politics to sports. Journalists are usually paid by newspapers, magazines, radio stations, and TV networks.
2. Author
Authors often write books, short stories, poems, screenplays, and nonfiction works. Many authors sell millions of copies per year.
3. Editor
Editors are responsible for reviewing manuscripts and other materials submitted to publishing houses. Editors are sometimes called "book doctors."
4. Literary Agent
Literary agents represent authors who want to publish their own works. Agents charge a percentage of the author's royalties.
5. Publisher
Publishers are responsible for printing, distributing, and selling books. Publishers hire editors and designers to improve the appearance of their products.
6. Book Reviewer
Book reviewers evaluate new books and discuss them online. They often review best sellers and award-winning novels.
7. Children's Writer
Children's writers produce children's books, such as picture books, board games, and coloring books.
8. Nonfiction Author
Nonfiction authors write about topics that aren't fiction. They include biographies, memoirs, and autobiographies.
9. Poet
Poets compose original poetry. Often they use rhyme schemes and meter to create their work.
10. Screenwriter
Screenwriters write movies, television shows, and video games. Most screenwriting jobs require an agent and/or manager.
11. Blogger
Blogs are websites where users post articles. Users may comment on posts and share links with friends.
12. Freelance Writer
Freelance writers perform various tasks for clients. These assignments may include editing documents, creating marketing content, proofreading, and designing logos.
13. Novelist
Novelists write long-form fiction. Long-form fiction includes romance novels and fantasy novels.
14. Academic Writer
Academic writers write research papers, essays, term papers, dissertations, book reviews, and lab reports.
15. Technical Writer
Technical writers write technical manuals and white papers. They may also write software programs.
16. Translator
Translators translate foreign language texts into English. They may also translate from one language to another.
5 Things You Should Give Up To Become A Successful Writer
1. Your laziness
You need to accept that being a successful writer is not going to happen overnight. The process will take time. And it won't come without hard work. Therefore if you expect to achieve your goal immediately, you should give up this idea right now!
2. Procrastination
Once again, procrastination is going to hold you back from becoming a success at something. Writing is no exception. If you are lazy and always find yourself putting things off until tomorrow, then I would advise you to stop doing so because there will never be a better day than today! Make the decision to start today and stick to your plan.
3. Your lack of confidence
Many people who have been writing for quite some time believe that they already know everything worth knowing. However, this couldn't be farther away from the truth! There is still so much more to learn about writing. If you think you know everything about writing, you're wrong! Keep learning every single day so that you can constantly grow as a writer.
4. Your perfectionism
There is nothing perfect about writing. It is a process that requires rewriting and editing over and over again until you get what you are looking for. So don't worry too much when you make mistakes or see errors in your work. Just keep working at it and continue editing until you reach perfection.
5. Your lack of discipline
Writing isn't easy. It's very rewarding but extremely difficult. This means that you will have to put in a lot of effort to ensure that you hit deadlines and meet high expectations. In order to succeed at anything, you must set goals and follow through on them. Good writers develop strong discipline by setting realistic deadlines and meeting them.
Conclusion
Here are some tips for becoming a successful writer. The more you write, the better your chances of success will be. So if you're ready to become a writer, get started today and put in your best efforts. You may be surprised by what happens in the future.
I hope that you enjoyed this post and that it helped you to become a better writer. I have been writing for many years, and I still learn new things about writing every single day. Every day is an opportunity to grow and learn more about writing, so make sure that you take advantage of it!
Best of luck to you!