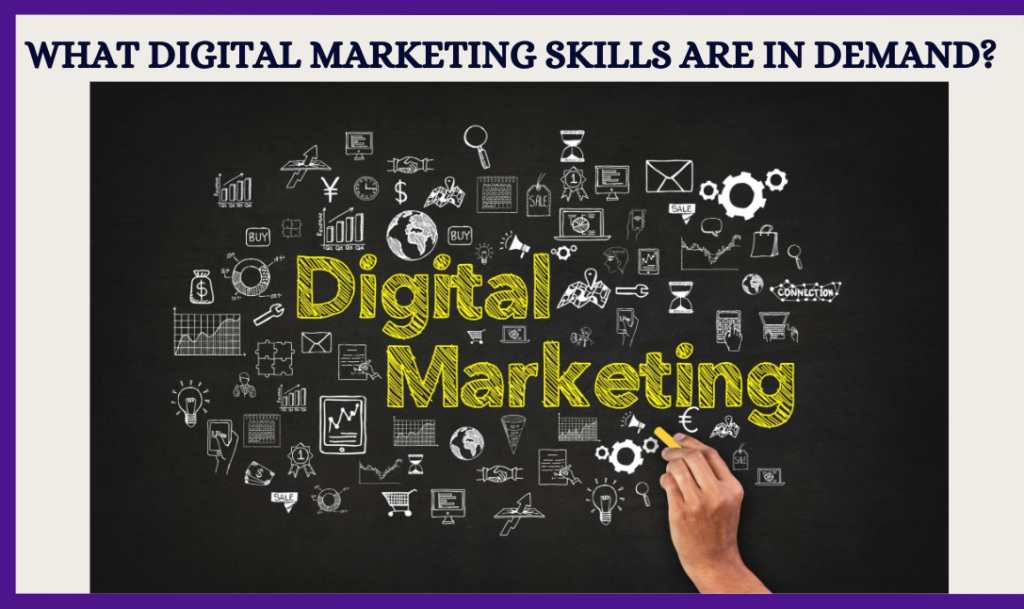 As the Internet continues to grow, so too does the demand for people who understand digital marketing. If you're just getting started with your career in this field, you need to know what skills are most valuable and in demand today.
This article will help you understand which skills are in demand right now and where they might lead you in the future so that you can make a well-informed decision about whether or not to have a career in digital marketing.
10 Digital Marketing Skills That Are In Demand Right Now
The following list of 10 digital marketing skills are in high demand right now:
1. Social Media Management 
Social Media Management is the process of managing all aspects of social media marketing campaigns. It includes everything from creating content and posting it on different platforms, monitoring comments, responding to concerns and complaints, and even analyzing data.
If you have a knack for managing multiple social profiles, you may be able to land a job in this field. 
To be successful in social media marketing, you must understand what works and what doesn't work. There are many different platforms available online. Each one has its own unique benefits and drawbacks, and understanding how each platform functions is essential to being an effective social media manager. 
2. Search Engine Optimization (SEO)
Search engine optimization involves improving search results by making sure that websites appear higher up on search engines than their competitors. This means that SEO professionals must learn how to optimize web pages, build quality backlinks, and do keyword research, among other things.
There's no doubt that SEO has evolved over the last few years. However, there's still a strong demand for someone who understands how search engine algorithms work and can implement those changes quickly to bring results. Companies are constantly updating their websites to make sure they remain competitive. They rely heavily on SEO professionals to ensure all aspects of their website function properly.
Top-notch Search Engine Optimization skills require extensive experience and training. They are difficult to acquire and even harder to keep current. If you can develop these skills, however, you'll become an invaluable asset to any company.
3. Content Creation
Content creation refers to writing articles, blogs, videos, or any other type of content that can be published online.
Because companies are always looking to increase their visibility online, content creators are often needed to create new content on a regular basis. As a result, there's a high demand for good content creators who can produce compelling content consistently.
When you know how to curate and develop great content for companies, you're going to find yourself with plenty of opportunities because companies would want to hire people like you.
4. Email Marketing
Email marketing is one of the most cost-effective ways for businesses to reach out to their audience and promote their business. As an email marketer, you need to figure out exactly what kind of message you want to send and then craft that message into something that resonates with your reader.
Email marketing is a great way to reach out to customers and potential customers. It can be used to send promotional messages, announce special offers, share news, and more.
With so much competition in today's digital world, companies are looking to use every opportunity to grow their business, which involves using email marketing as part of their strategy. This makes the demand for email marketers very high.
So, if you have the ability to write professional emails and can come up with creative ideas that can appeal to your readers and promote brands, then this skill will be valuable for you, you should consider this career path.
5. Conversion Rate Optimization
Conversion rate optimization (CRO) focuses on increasing the number of leads and sales generated through digital marketing channels, such as social media ads, display advertising, paid search ads, etc.
As a CRO specialist, you'll be responsible for analyzing data from various sources to determine where conversions may occur and what needs to be changed to improve conversion rates. You'll also be able to identify areas of improvement for specific campaigns.
The best CROs understand how to analyze data and use it to optimize conversion rates. They also have a keen eye for detail and can spot problems before they happen. As a result, they're highly sought after by many different companies to help them achieve higher conversion rates in their own digital marketing strategies.
READ ALSO:
6. Online Reputation Management
An Online reputation management (ORM) expert helps clients manage their online presence by monitoring and eradicating bad reviews, complaints, and negative feedback about their client brand. They play an important role in helping companies build trust and credibility among consumers.
Their goal is to ensure that all customer interactions leave positive impressions and that any negative information is removed or corrected so that the company's image remains clean and consistent across all platforms.
When you know the ins and outs of managing your online reputation, you're going to be able to land some really cool jobs. Companies are always looking for individuals who can help them maintain a positive online presence, this is why there is a high demand for ORM experts.
7. Web Design And Development
Web developers create websites that look good and function well to attract visitors and encourage them to take action on the website they are visiting.
Building websites, whether they are simply landing pages, blogs, or complex eCommerce sites, requires creativity and innovation. A web designer must be knowledgeable about HTML, CSS, JavaScript, and other coding languages to make sure that the site they are building works properly.
When you are very good at designing and developing websites, you are going to get a good job because there are plenty of opportunities out there for those who are skilled in these areas.
8. Marketing Analytics
Marketing analytics professionals work with business leaders to develop and implement marketing strategies using advanced statistical techniques.
Marketing Analytics is the practice of monitoring, analyzing, and optimizing the effectiveness of your marketing strategy and campaigns in order to measure its success and maximize ROI.
They collect data from multiple sources and use it to evaluate current marketing efforts and predict future trends. This includes things like customer behavior, market share, competitor performance, and more.
When you know how to analyze data and apply it to marketing decisions, you're going to get yourself an attractive salary and great benefits as well since there are lots of companies that need someone to help them monitor and analyze their marketing campaigns.
9. Audience Building
Audience building is the art of drawing your target audience to your brand and keeping them engaged through content and digital communications channels such as social media, emails, etc.
Audience building is one of the most important skills that anyone working in digital marketing should possess.
It involves creating engaging content that resonates with your ideal customers and then distributing it where your audience spends time. It also means staying connected with your audience over time to keep them coming back for more.
If you have experience in audience building, you'll be able to find a lot of opportunities in the field. There are many different types of businesses that need people who can build audiences for them to reach their goals, increase sales, and grow their brands.
10. Lead Generation
Lead generation refers to the process of finding potential leads (customers) for businesses.
The goal of lead generation is to generate quality traffic to a company's website. Once there, the visitor needs to be converted into a prospect. This could mean signing up for a newsletter, downloading an ebook, subscribing to a blog, or filling out a form. The possibilities are endless!
When you are very experienced in this area, you will be able to land some pretty lucrative jobs. Many large companies are looking for people who can help them generate qualified leads for their products and service.
Conclusion
Many modern businesses depend on digital marketing to promote their business online. As a result, demand for digital marketers is expected to rise by 10% from 2021 to 2031, according to the Bureau of Labor Statistics.
That being said, you must learn digital marketing if you want to make money online. If you don't have any experience, start learning now. You can also even courses on Udemy, Coursera, and other platforms to learn any skill you need to succeed.
When you do dedicate yourself to learning digital marketing, you will see results. Your will become an invaluable asset to the companies that you work for, this will allow you to earn a good income. So, try to learn a digital marketing skill today.