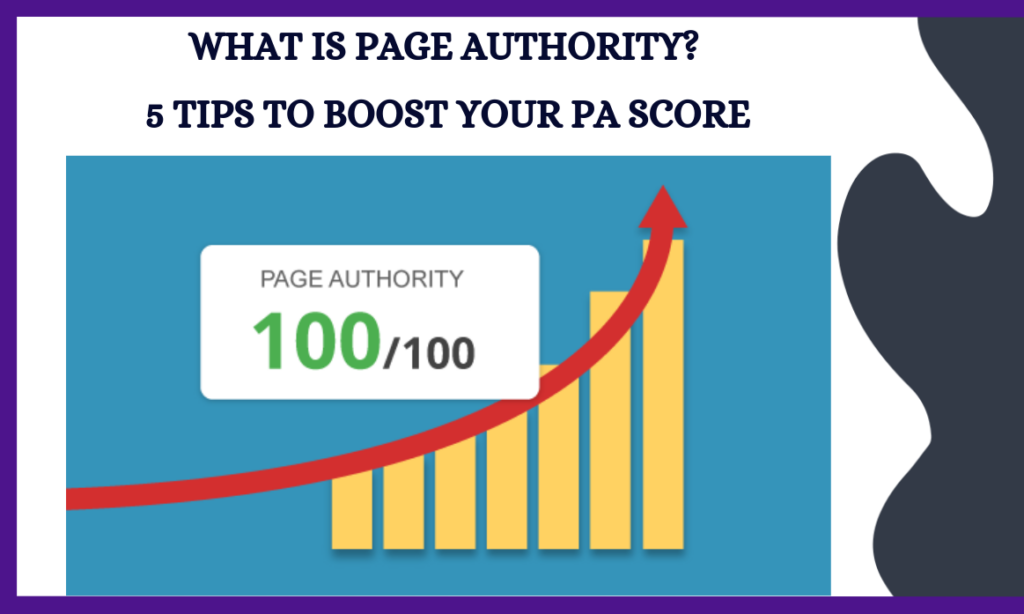 Understanding the importance of page authority is essential for any SEO strategy. This is especially true for those who are looking to rank on Google and other search engines. Without a high enough PA score, your website will not be ranked as highly in organic searches.
If you want to rank higher in search engines, then you should boost your page authority score. But how do you go about boosting your page authority score? In this article, I'll discuss five tips for boosting your page authority score.
What Is Page Authority?
Page Authority (PA) is a metric score created by Moz and is used to measure the importance or influence of a webpage. The higher the PA value, the greater the influence of the page.
A page authority score ranges from 1 to 100, with higher numbers indicating a greater ability to rank higher in search results.
Moz's Page Authority score is based on data from Moz's own web index and takes into consideration dozens of factors. It uses a machine learning model to determine which algorithm best fits the ranking of thousands of pages. Then, it calculates Page Authority scores based on the results of that algorithm.
How Is Page Authority Scored?
Page authority (PA) is scored from 0 to 100 points on a logarithmic scale. The higher the PA score, the easier it will be for a page to rank well in search results. Pages that score 90% or higher are considered A+ level in terms PA.
Page authority is also a comparative metric, which allows a website analyse how it is performing in relation to its competitors.
Moz uses an algorithm comprised of over 40 different ranking factors. This is done by looking at multiple factors including the number of links pointing to the site, the amount of time spent on the site, and other metrics.
If you want to have a high page authority, your website needs to rank well for keywords that users actually search for. If you have a lot of backlinks, then you will likely get a high page authority. However, if you have a very small number of backlinks, then your page authority may not be as strong.
Page authority is a score that estimates how likely your page is to rank at the top of search engine results pages (SERPs). It's not completely accurate because there are many factors that go into determining ranking, but it can be useful when making decisions regarding your website.
What Is A Good Page Authority Score? 
The highest possible page authority score is 100.
However, it's unlikely that everyone has a perfect 100 PA score. Instead, most websites fall somewhere between 50-80. So, even though you aren't getting the 90-100, you're still doing pretty good.
Page authority is one of the most important metrics for SEO because it closely reflects the website's ability to rank in search engines. The higher the PA score, the stronger the website is considered by the search engine algorithms. However, the exact factors used by Google to rank websites is not known.
There are no "bad" or "good" PA scores. Some pages may be able to earn a PA score as high as 70. Others may only be able to get a PA as low as 15. The main point here is that there isn't one standard for what constitutes a "good" or "bad" PA. What works for one website might not work for another.
With regards to PA, Moz says that it isn't a true indicator of how well a page ranks. In other words, a page with a lower PA won't always be ranked below one with a higher PA score, because there are many factors at play. They just measure the authority of a single page within a domain. While this can be used as a relative comparison between two different pages on a website, it shouldn't be taken as an absolute indication that the page with the higher PA score will really rank better in search engine.
Why Does A Good Page Authority Matter for SEO?
Page authority is extremely important for SEO because it measures how powerful a webpage is for it to rank in SERPs. The higher the PA, the greater the chance that a particular page will rank well in the SERPs. It's also useful for tracking progress over time and seeing whether or not you should invest more time and resources into improving a particular page on your website.
There are many reasons why page authority matters for SEO. For one, a good page authority score indicates that someone else has already deemed your website worthy of linking to. When this happens, you can rest assured that others have seen your site as useful and trustworthy. In turn, this means that your site is more likely to be linked to by others.
Page authority is one of the most important factors when it comes to SEO. Your page authority affects which pages show up at the top of SERPs (search engine result pages). Pages with more authority have better chances of showing up at the top.
When it comes to ranking in SERPs, page authority matters a lot. Your goal should be to have lots of pages with good page authority. Having a large number of pages with high page authority means that those pages are likely to rank better than your competitors' sites.
5 Tips To Boost Your Page Authority Score
If you want to boost your page authority, there are several things you can do:
1. Post Quality And Relevant Content
Relevancy is an important element when trying to get links back to your website. You need to create content that will help your site rank high in search results. Your content needs to be useful to your visitors. That means writing articles that answer questions and solve problems. 
Your content should focus on providing value to your readers. If people find value in your content, they're much more likely to share it with their friends and followers. This helps build your brand reputation and increases your page authority.
2. Build Quality Backlinks
Backlinks are links from other websites to yours. Getting these links is another way to improve your page authority. However, getting them requires some effort. These links are very valuable because they indicate that someone thinks highly enough of your website to link to it.
Dofollow backlinks carry the most SEO value because they're followed by search engine spiders. That means if you get more dofollow backlinks to your site, your PageRank will increase.
One of the easiest ways to increase your backlink count is by building links from authoritative websites to your blog posts. There are many different ways to do this. These include guest posting, contributing to online forums, submitting press releases, and posting on social media sites.
3. Use Images
Images make your content look more appealing and interesting. They also add credibility to your content. So, using images makes your content easier to digest and understand.
Images can have quite a big influence on your page authority. Images can help your web pages look better by providing them with a variety of visual effects.
You can use image editing tools like Canva or PicMonkey to quickly create beautiful images for your posts. Add images to your posts to help improve the readability of your content and increase your page authority.
4. Increase Website Speed
A slow-loading website wil not only frustrate users but also hurt your page authority score.
To speed up your website, you'll need to optimize your code. Optimizing your code includes removing unnecessary HTML tags, reducing JavaScript files, and minifying CSS files.
A faster loading website has a higher chance of being ranked higher. The faster your website loads, the more likely it will be to rank well in search engines.
By making sure your website runs fast, you'll be able to provide a better user experience to your audience and increase your page authority score. 
5. Improve Your Internal Linking Structure
Internal linking refers to links between your pages within your own website. It's one of the best ways to boost your page authority score. A good internal linking structure will help your site appear more relevant to search engines.
Internal links help to guide visitors to what they're looking for in your website, which improves their user experience. If they've burrowed deeply into your back catalog of posts, they can still find their way to your home page by one of your internal linking pages.
Internal links help keep visitors on your site for longer by preventing them from leaving out of frustration. Internal linking makes it easier for search engines to index your entire site, so they can better understand the context of your content.
By improving your internal linking structure, you'll be able'to increase your page authority score and improve your rankings.
What Does Google Say?
This is an important tool for SEO professionals to understand the quality of websites. It measures the authority of a page based on multiple factors. It also gives an idea about the popularity of a particular page. However, Page Authority is not used at all by Google to rank websites.
Conclusion
Page Authority is a great indicator of how influential a webpage is. It helps to determine the importance of a specific page. You can use this tool to measure the impact of pages on your website. This helps you to identify the most valuable pages and focus on them to improve the overall performance of your website.