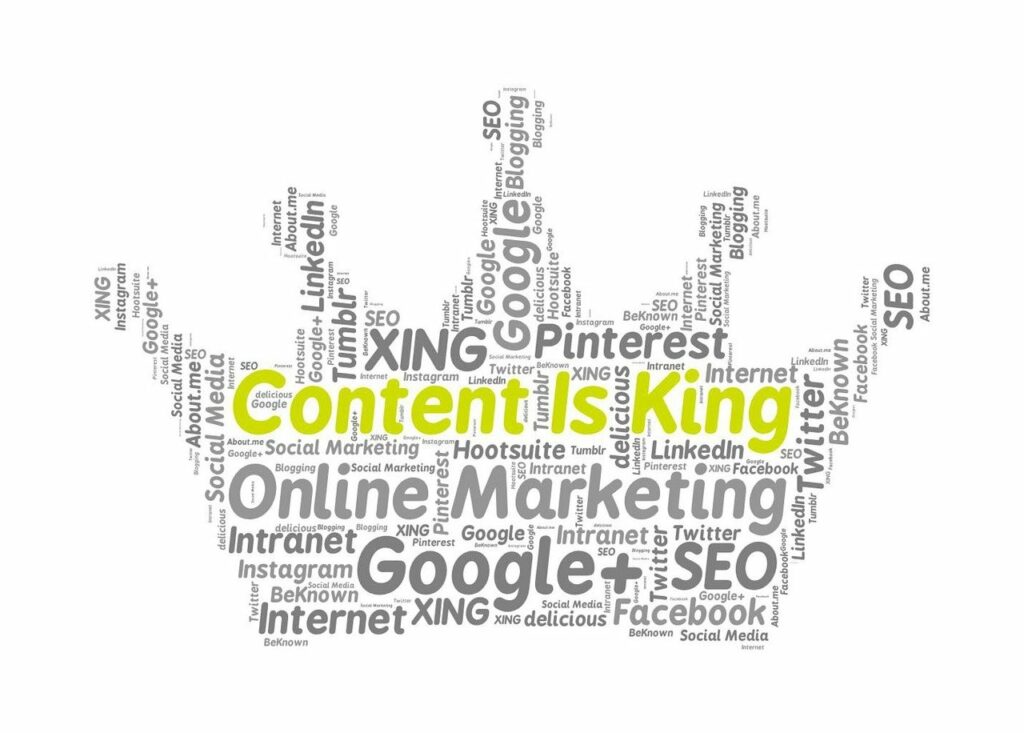 Content is King, and Marketing is Queen. What does that mean? Well, let me explain.
Content Marketing is the practice of creating valuable content that helps prospects solve their problems or achieve their goals. This content is then distributed through various channels (e.g., social media, email, etc.) to attract attention from potential customers. The goal is to get them to take action and ultimately convert into paying customers.
Marketing is all about getting people's attention and encouraging them to take some kind of action. It can be as simple as visiting your website, signing up for a newsletter, downloading an app, filling out a form,  buying a product, or even sharing a post on social media.
Content is king. Businesses should focus on creating high-quality content to attract customers. Dull content won't work. You need to create engaging content to get higher rankings on search engines.
10 Reasons Why Content Is King And Marketing Is Queen
1. Higher Rankings
High-quality content gets ranked above low-quality content. Google understands what real content looks like and will reward you with better rankings if you provide it.
If you are aware of how important it is to rank well in any given search engine. Ranking highly will net you more traffic than ranking low because most searchers don't go beyond page 1. That means if you want visitors, you have to rank high. It's really that simple!
2. Increased Traffic
The amount of organic traffic is directly proportional to how much quality content you produce. If you're producing great content consistently, you'll see a steady increase in organic traffic.
Having a lot of traffic coming to your site is great. If you aren't already seeing an increase in traffic by increasing the amount of quality content you publish, you are doing something wrong. Having a steady flow of relevant traffic is essential for business growth.
High-quality backlinks are one way to drive organic traffic to your site. If your business has many pages indexed by Google, this is a great time to start building links pointing to your site so you can increase your visibility in search results.
3. High Conversion Rate
Your conversion rate is determined by the number of visitors who actually take some kind of action after viewing your content.
For example, your conversion rate would be 10% if only 100  out of 1000 people who  clicked on a link and purchased something. However, if 1000 people viewed your blog post, and 50 of those people bought your product, your conversion rate rises to 5%.
The more people who view your content, the higher your chances of converting them into buyers.
High rankings not only lead to more traffic, but also lead to conversions. Visitors who find what they're looking for on your site are much more likely to purchase products or services compared to those who click on a link without finding exactly what they're searching for.
Traffic is what drives conversions. If you aren't driving enough traffic to your site, then you won't see much conversion. However, with more traffic, you'll see better results.
More conversions mean more opportunities to sell your products or services. If you want to increase conversions, focus on producing quality content. Write well-written posts that inform readers and provide value.
4. Brand Awareness
Building brand awareness is another reason why high rankings matter. As long as you keep providing useful and engaging information, people will come to know your name. They'll become familiar with your company and its products/services.
Branding is huge these days. When someone hears "content marketing," they think of infographics, videos, blogs, podcasts, webinars, and articles. These types of content are great at spreading awareness about your business.
Content that is effective can help you build your brand. You need content that informs about your brand, but engagement looks towards maximizing the reach. Your brand should be spoken in the content to connect your target audience. If you create engaging content that relates to your audience, they'll be more likely to engage with you.
5. Builds Trust For Brands
High engagement means your business is trustworthy. People will research your product before buying. You will get many repeat customers by having a high engagement rate. Your brand will be remembered longer if people like your product.
Trust is a key component of online branding. People trust brands that show themselves to be transparent, honest, helpful, and consistent. Marketing helps you achieve all of those things.
6. Better Customer Retention
Customer retention is a big deal for businesses. Customers who buy from you again are loyal to you. Loyalty is important because it builds customer relationships. It makes them feel valued. This leads to higher sales overall.
If you have a large base of loyal customers, you can expect to make more money overall. Higher revenue means more profit which allows you to invest in new customer acquisition strategies.
7. More Sales Conversions
When people read your content, they're more likely to convert into sales. 
You can use content to increase sales conversions. The goal is to produce content that converts. Make sure you're using the right keywords so that search engines can identify relevant content. Targeting keywords that match the products or services you offer is one way to do this.
Conversion rate is how often visitors become buyers. One way to improve this is through good content strategy. The right kind of content can encourage consumers to take action.
When people buy from you, they often convert into happy customers. Happy customers always recommend you to others. The more recommendations you receive, the more sales you can generate.
8. Increases Social Media Reach & Engagement
Social media platforms such as Facebook, Twitter, LinkedIn, Instagram, YouTube, etc., are valuable tools when used correctly. All of them offer different ways to grow your social following.
The goal is to ensure that you have an active presence across multiple social platforms. Each platform has its own purpose and benefits. Learn how each one works and use them strategically.
9. Increases Marketing Efficiency
When you start a new campaign, the content does it job to reach the goal, but engagement plays an important role here. To maximize results, you must look at both sides of the coin.
Marketing doesn't cost as much when done through content. High volume campaigns are expensive. However, creating good content can help you save a lot when it comes to marketing expenses.
You can produce high-quality content quickly without spending too much money on advertising and other promotional activities.
10. Expand Your Business Reach Globally
Content marketing is very effective when it's used globally. If you want to expand your audience, then global content marketing is crucial.
This will allow you to market your brand internationally. You'll also be able to target local audiences with specific language and cultural nuances.
Content is King! Quality content is the key to any successful digital marketing campaign. You need to focus on creating high-quality content that resonates with your audience. High-quality content should be engaging and informative.
Marketing is Queen! Social media engagement is the number one factor when it comes to determining how effective your content is. Your content needs to be shared to increase the chances of getting more shares. Asking people to share your content helps you get more engagement.
Conclusion
In conclusion, content marketing is a powerful tool that any business should leverage. When done well, it helps companies build strong brands and retain their existing customers.
It's not enough just to create great content though. You need to promote it effectively. There are many ways to do this. Some work better than others. In order to find out what methods work best for you, try experimenting with various content promotion techniques. Keep track of the results and see if there are any patterns. Once you know what works, you can scale up your efforts and get even more results.
If you liked this article, please share it!