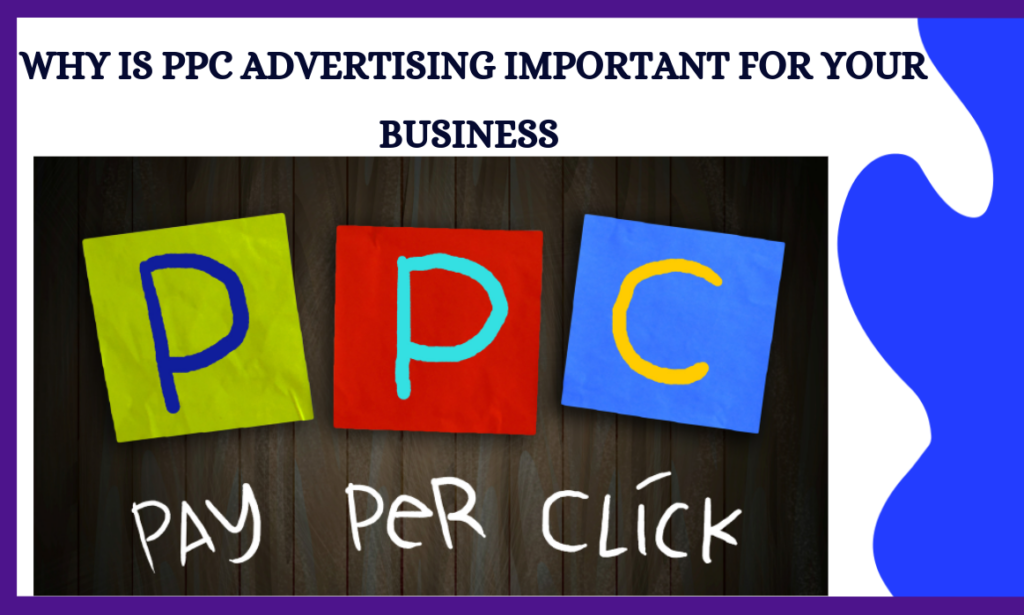 Many businesses are using paid advertising as part of their online strategy. But not many of them understand how important it really is.
 It's not just about the money, but also about the results that you get for your investment. It's also about building relationships with your customers and increasing your online visibility. In this post, I'll explain why PPC advertising is important for your business.
What Is PPC Advertising?
Pay Per Click (PPC) advertising is a form of paid advertising where advertisers pay each time someone clicks their ad. This model has become very common in recent years because it is a cost effective way to advertise.
Pay per click (PPC) is an effective form of online advertising where advertisers pay each time their ad is clicked on. This type of advertising is usually done by businesses who want to attract new customers or promote current products and services.
PPC advertising is a cost effective way to promote your brand or business. If done correctly, it will increase traffic to your site and improve conversion rates. In addition, it helps build your brand awareness and trust among potential clients.
Why Is PPC Important?
PPC is important because it is one of the most powerful ways to attract customers for businesses, with PPC, you can target specific keywords to reach potential customers who are searching for what you offer and If done correctly, it can generate significant revenue for your business.
7 Benefits Of PPC Advertising For Your Business
There are several benefits of using PPC advertising for your business:
1. Increase Brand Awareness
You can use PPC advertising to drive more people to your website. This means that you can increase the number of visitors to your website. Once they arrive at your site, you can then convert these visitors into paying customers.
PPC advertising helps you reach a wide audience of potential clients. It lets you promote your brand and products to people who may not have seen it before. In addition, it will help increase your brand awareness among people who are thinking about buying your products or services.
You can use PPC marketing to promote product and service deals, special offers, discounts, sales and other events.
You can use PPC advertising to drive more people to your website. This means that you can increase the number of visitors to your website. Once they arrive at your site, you can then convert these visitors into paying customers.
2. Cost Effective
When compared to other forms of marketing, Pay-Per-Click (PPC) can be highly effective. You only pay when people click on your ads, which makes it a great option for small businesses.
This form of advertising does require some effort from your side however. You need to set up campaigns, monitor performance, maintain accounts, etc., but the results are worth all the work.
PPC ads are an excellent form of online marketing because it allows you to measure every single aspect of your campaign. This includes clicks, impressions, conversions, and even the cost per click. As long as you understand the basics of PPC management, you will be able to maximize your return on investment.
If you're looking for a quick boost in revenue, PPC advertising may be right for you. You don't have to spend thousands of dollars to see success. All you really need is a good budget plan.
3. Targeted Traffic
Traffic is one of the most important things for any business. Without enough traffic, there won't be able to sell anything, let alone make money.
PPC campaigns let you target specific groups of people based on interest, location, gender, age group, etc. 
PPC also works better than other types of marketing because it allows businesses to target their potential customers. When you use PPC marketing, you can specify certain keywords and phrases that potential customers are using to search for products related to yours. This way, only people who are already looking for your products will see your ad, which means that the chances of a conversion are higher.
PPC advertising allows you to directly interact with your target market. You can provide them with valuable information and answer any questions they might have.
You can create different types of campaigns based on your goals. With PPC, you can select whether you want to target new visitors, existing customers, etc.
4. High ROI
With PPC, you can get high returns on your investment, especially if you do it correctly. The key here is planning. You should have clear objectives and goals when you start a PPC campaign. Then you should regularly check how everything is going. If your results aren't what you expected, you should adjust your strategy accordingly.
5. Easy To Set Up
One of the main benefits of PPC is that it is relatively simple to set up. All you need to do is conduct keyword research, create compelling ads, and track the performance of your campaign. This process can be completed relatively quickly, making PPC an efficient and effective way to reach your target audience and drive traffic to your website.
6. Quick Result
Small businesses, startups and entrepreneurs need to know their results quickly. PPC advertising is the perfect solution as it provides immediate results. By running a PPC ad campaign, you can increase traffic to your website and boost sales. This allows you to get an idea of what products or services are selling well by looking at the performance of your campaigns.
PPC advertising is a great way for small businesses to get quick results without having to invest too much time or money into other marketing strategies. It's also easy to track and measure the success of your campaigns so you can make adjustments if needed. With PPC, you can get instant feedback on how your ads are performing and make changes accordingly.
7. PPC Ads Drive Warm Leads
When you advertise your products or services through PPC, you'll get leads. These warm leads come from people who are interested in your product but haven't yet made a purchase. They're usually more likely to buy your products and services.
Pay Per Click (PPC) ads allow you to reach potential customers when they're actively looking for what you offer. You won't just pay per click; you'll also get your product in front of people who are already interested in your business.
Does PPC Work For Small Businesses?
Yes, PPC works great for small businesses. By implementing the right strategies and tactics, you can generate lots of qualified leads, increase conversions, and boost sales.
PPC is one of the most effective ways to promote your business online. But don't expect instant success. It takes time to build a solid reputation and gain trust among your audience.
If you're ready to start generating leads and converting prospects into paying customers, then PPC marketing could be a great fit for your business.
Conclusion
PPC advertising has proven itself over the years as a powerful tool for driving targeted traffic, increasing conversion rates, and boosting sales.
While PPC advertising is often seen as a short term solution, it can actually help grow your brand and increase traffic to your site in the long-term. This gives your company a competitive advantage over your competitors, allowing you to stay ahead in the market.
When it comes to PPC campaigns, it's important to keep in mind that you're competing against other advertisers, so you need to know exactly what you're doing. Make sure you choose keywords that are relevant to your industry and products, and use them wisely. When done correctly, PPC campaigns can boost your sales and create a lasting impression on your potential customers.
In this article, we've covered seven reasons why PPC is important for small businesses. So if you're thinking about starting a PPC campaign, make sure to consider all the benefits before making any decisions.
We'd love to hear your thoughts and comments below.