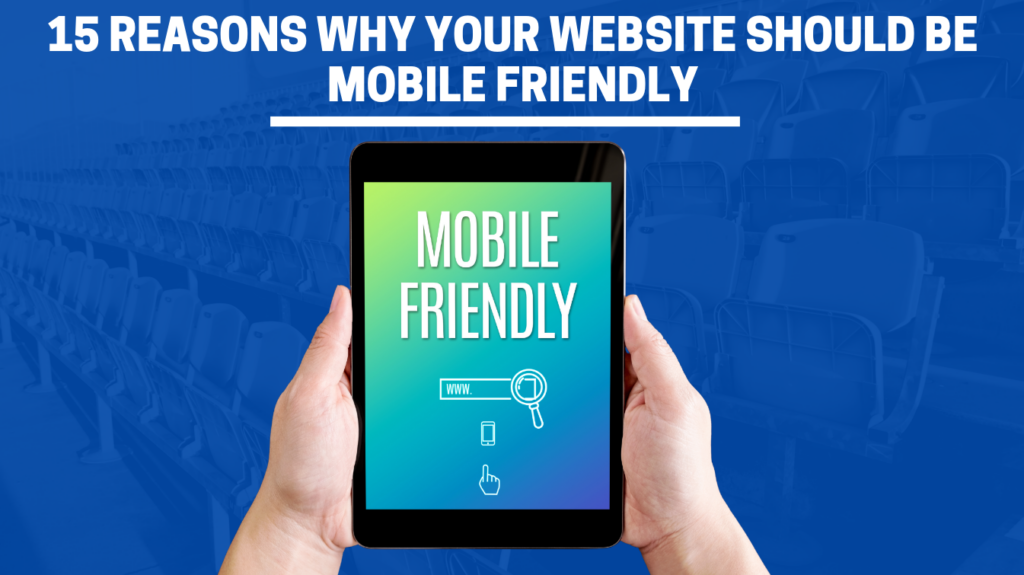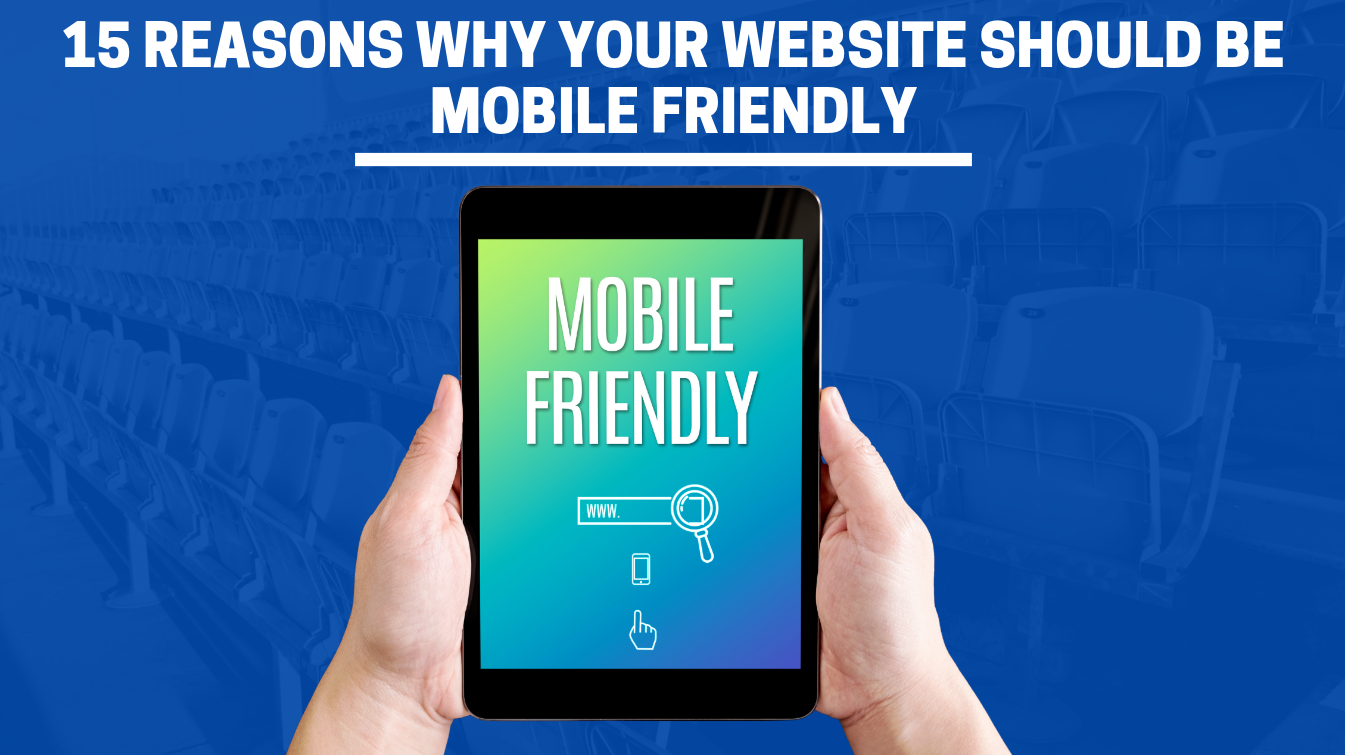 Mobile traffic has increased at a rate of over 50% per year since 2014. The average smartphone user now spends 90 minutes every day using their phone. That number continues to rise, and it has become imperative for your company to get into the game.
Your website should appear beautifully on every type of device, including desktop computers, laptops, tablet PCs, smart watches, etc. The design should also be optimized for mobile screens, offering seamless navigation, quick loading times, and responsive functionality.
A mobile-friendly website is crucial for your business. If you aren't offering a mobile experience, you're missing out on sales and potential customers. Here are some reasons why a mobile-responsive site is essential for your business.
15 Reasons Why Your Website Should Be Mobile Friendly
1. Improved User Experience
The first thing that users notice about your website is its appearance. They want to know if your site looks professional and appealing, Your website needs to look great across all devices so that your visitors can easily navigate through the pages.
When someone lands on a page that doesn't work well with their device, they may decide not to return. This could lead to lost conversions because there isn't enough incentive to stay on the site when things don't work correctly. There may be no direct conversion from landing on a non-mobile-optimized version of your site, and people will eventually leave.
2. Increased Search Engine Rankings
Google loves mobile-friendly sites. When Google sees a website that works well on multiple different devices, it shows preference towards these types of sites. This means that if you have a mobile-friendly site, you will see an increase in organic search engine rankings.
3. Increased Sales
It's easy to convert a visitor who arrives on a mobile-optimized site. These individuals are more likely to make purchases than those who land on a page that doesn't look right. A good mobile-friendliness factor leads to higher conversions.
4. Conversion Rate Increases
Websites that support all kinds of devices typically convert better than those that don't. More people use smartphones than any other kind of device, so the fact that your website supports them allows you to reach a wider audience. In addition, converting visitors to buyers is easier on a mobile device as they'll feel more comfortable shopping on their phones.
5. More Customers
A mobile-readiness means that more people will visit your page rather than an older version of the same web page. This is because mobile users tend to have higher expectations when visiting websites. They want a mobile-optimized website so that they can easily navigate through your content and find what they need quickly. In addition, mobile shoppers spend nearly 30% more on purchases than desktop shoppers.
6. Higher ROI
Mobile optimization is important for businesses that rely heavily on digital marketing. It makes sense to invest in a high quality mobile experience if you plan on reaching customers via social media or email. If you're building brand awareness, having a mobile-optimized presence results in increased engagement. 
7. Better Security
As a small business owner, you already deal with plenty of security risks. Having a mobile-friendly website ensures that your information is protected. This means fewer worries about data breaches and cyber threats.
8. Lower Operating Costs
Many companies still have outdated websites. This can cause issues for a company that relies on online sales and customer service. With a mobile-optimized design, you'll save money on hosting costs and bandwidth fees. Additionally, you won't have to pay extra to update your site.
9. Improved Brand Awareness
Mobile optimization has become increasingly important over recent years. According to Google, 90% of shoppers conduct research using mobile devices. Many companies understand this and realize that mobile usability is crucial to making a positive impression on potential consumers. If a user can't easily access the products and services that you offer, they might choose another option instead. That's why mobile optimization matters.
10. Mobile-friendly Content Is More Sharable
People love being able to share content. Whether it's photos, videos, articles, or anything else, people want to get the word out and let others know about the great things they found. If your website isn't optimized for mobile, sharing will be difficult. Your content won't be sharable and people won't have a chance to enjoy read your content on their phone.
11. Social Media Optimization
If you're just starting to improve your SEO strategy, one thing you should focus on is social media optimization. If your site lacks a mobile-friendly style, you could lose traffic due to poor sharing performance. People aren't going to share websites that don't load properly on their phones. An optimized site means that you can reach customers on all platforms.
12. Easy Accessibility
Not everyone has access to computers at home or work. If you want to ensure that your audience can view your content, make sure that it works well on every device. Having a mobile-ready website allows people to access your content regardless of where they are.
13. Easier Navigation
Another benefit of an optimized website is the fact that it makes navigation easier. If a visitor has trouble finding what they need while browsing your website, then they will likely leave before completing their task. It doesn't matter if they are trying to learn about your business, buy something from you, or ask a question – when they can't find what they are looking for in the first place, they simply move onto the next page. Make sure that all aspects of your website are easy to identify so that visitors feel comfortable navigating your site.
14. Better Click Throughs
When a page loads slowly on your smartphone, it makes it harder to click through to other areas of the website. Slow loading times also cause people to abandon a site entirely. Mobile-optimized sites load quickly. The faster a visitor can browse the web, the more likely they are to stay engaged.
15. More Traffic
The last reason to optimize a mobile-friendly website is because it actually helps increase traffic. As we've mentioned earlier, most smartphone users browse the web through apps like Facebook or Twitter. Because your site is not optimized for mobile, these people will go elsewhere once they find a website that works better for them.
5 Reasons Why A Mobile Friendly Website Is Necessary
1. Customers expect a fast, reliable, and consistent experience when they browse your site. And they don't want to wait around for anything. They want to move onto the next thing right away. If you slow them down by having to load graphics, menus, and other elements, then they won't come back. Your site needs to load lightning fast so that they stay engaged with what you've got to offer.
2. Even though mobile apps are becoming increasingly popular, the majority of consumers still prefer to interact with websites on their mobile devices. In fact, most people will only download an app if it's free, and there's no cost. Having a mobile friendly website gives you a chance to attract new customers, as well as returning ones.
3. There's a very big difference between a good looking website versus a bad looking website. When someone visits your website, the first impression they receive is often based on how attractive your design looks to them. If you're not making your site mobile friendly, you're letting them know that you don't care about their experience.
4. Many search engines rank websites according to whether or not they're mobile friendly. Google now even offers a tool to help determine whether or not your site is mobile ready.
5. In addition to the above mentioned benefits, a mobile-friendly website also has several SEO advantages. A properly coded website will allow search engine spiders to crawl your entire site and index any images, videos, or other content. 
Being mobile friendly doesn't mean sacrificing quality. You can create a high performing website without compromising quality. The key is to ensure that all the moving parts work together seamlessly.
If you're using WordPress as your CMS platform, you should check out the Responsive Theme feature. It's designed specifically for creating highly functional and fully optimized mobile-responsive themes. 
Conclusion
Mobile-friendliness isn't just important in terms of user experience. It's also essential for SEO purposes. With the rise of smartphones, tablets, and smart watches, mobile usage continues to grow. This means that your website must be optimized for mobile use.
Responsive web design ensures a smooth page flow across different devices. As per the current trend, the mobile web entrance has grown, so set up your responsive site and ensure you stay ahead of the competitors.
Thanks for reading! We hope these 15 reasons why your website should be mobile friendly have convinced you to make it one of your top priorities.