Are you looking for a way to rank higher in Google or other search engines? If yes, then you don't need to look further because Woorank and Semrush are two of the best tools for SEO. They both offer similar services, but they also differ in some ways. Let us see them side by side.
"SEO stands for "Search Engine Optimization." In simple terms, SEO is the process of optimizing websites for better visibility in search engines. This means that a website should be optimized to get a high ranking on SERPs (Search Engine Results Pages). The higher the position, the better. It will help your site gain more traffic from different searches.
Woorank Overview

WooRank is a cloud-based SEO tool that helps its clients gain higher search engine rankings in a short time. It provides automatic website reviews, dashboards with technical data and marketing planning with all the details described. It helps users analyze their websites, SEO efforts, and backlinks.
Woorank is a tool to help you keep track of everything affecting the SEO performance of your site. It provides an easy-to-understand overview of the current status of every single factor that influences search engine rankings.
An SEO audit is a report that shows you how healthy your website is. You can use this information to fix any bugs that may harm your rankings, or you can learn about any problems you might face. You can also connect your account to Google search, Google analytics, and your Facebook page to get the most accurate results when analyzing each page individually or tracking your keywords.
Woorank is a powerful software development tool that can help you maximize your productivity by automating repetitive tasks.
Woorank Features
WooRank features include website reviews, backlink analysis, continuous tracking, white-label reporting, SEO tool, marketing plan, smart dashboard, competitor analysis, in-depth reports, and KPI monitoring.
1. Backlink Analysis
Backlinks are an important SEO element and are not easy to create. This tool helps you analyze them by counting them, creating a ranking, and calculating the quality. The backlink score depends on the total number of backlinks, the quality of linking domains, and the relevance of the anchor text used. You can also compare your competitor's scores with yours.
2. Competitor Analysis
You can use the Competitor tab to see how your rivals are doing. You can analyze their SEO scores and check out their on page results. You can even see what keywords they're ranking for. This gives you an advantage when it comes to advertising and marketing.
3. Site Crawl
Site crawls all the webpages you have created. Then, it shows you an overall SEO health score. It also visualizes key data in charts, and flags all potential SEO problems. Finally, it provides suggestions on what to improve. Some of them include: title tags, meta descriptions, h1 tags, and body content. These errors could be fixed by you or by an expert. It finds technical SEO issues impacting your website's visibility.
4. Assistant
WooRank offers an assistant tab that analyzes the performance of each page on your website. The tab shows a visual representation of the data collected by WooRank and provides insights into the health of your website.
The WooRank Assistant helps you improve your website by analyzing its performance. You'll get suggestions about what needs to be improved.
5. Keyword Tool
This keyword tool helps you get more traffic by adding keywords that people use when searching online. 
WooRank gives you a lot of information about what keywords to target. It tells you how many people are searching for these keywords, and how much money they spend when they do. It tells you how well you're ranking for these keywords compared to other sites, and how well you're doing overall. It also helps you see if there are any new keywords you haven't thought of yet.
Woorank Pricing
Anyone can try WooRank for 14 days without any restrictions. During this time you'll be able to use all of the tools available. After your trial ends, you'll still be able to access all of these tools, but you won't be able to generate reviews.
You can get started for just $79 per month for the pro plan to get more data and insight for your growing business.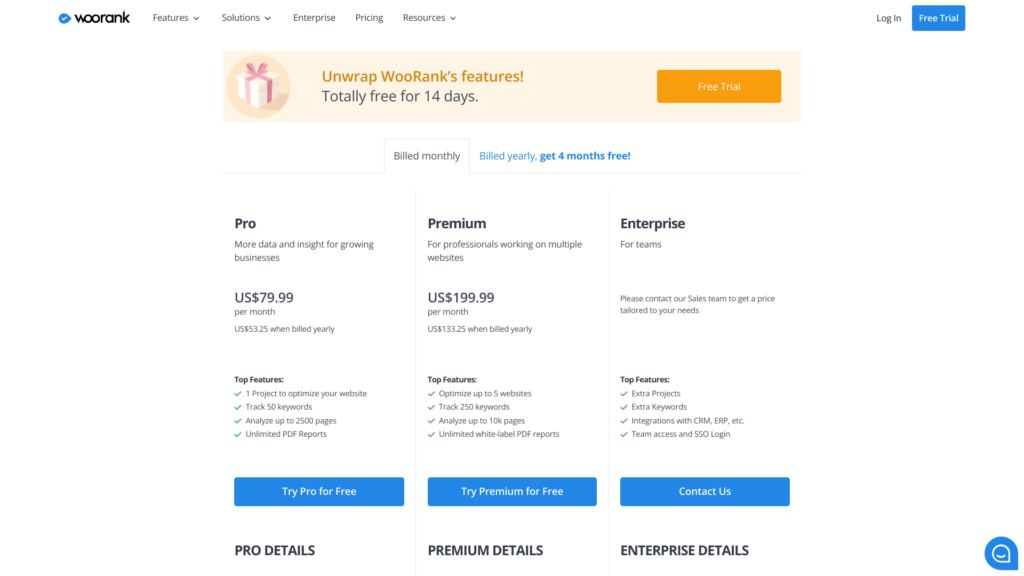 WooRank provides SEO tools to analyze websites and give actionable insights on how to optimize them. More than 40,000 companies worldwide use WooRank.
WooRank's software generates instant website reviews. These reviews contain valuable data combined with a detailed list of tasks that need to be done. The goal of WooRank is to increase your search engine ranking, convert more visitors into sales, monitor your competitors, and get more ROI on your digital marketing investment.
This software generates instant review sites that offer valuable data combined with a list of comprehensive tasks to help businesses and online marketers achieve higher search engine rankings. The goal is to keep track of their competitors. WooRank's software helps them convert more visitors into customers.
READ ALSO: is Tesla55555.com Legit or Scam? Find Out Here
Semrush Overview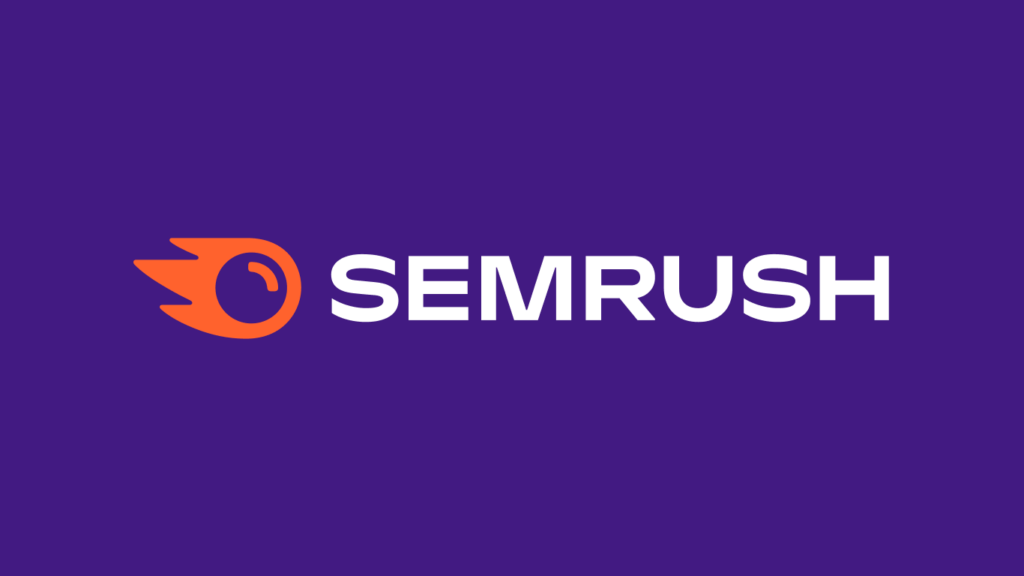 Semrush is a search engine optimization (SEO) and paid ad tracking service that was founded by Oleg Schegolev and Dimitri Melnikov. Semrush offers tools for seo, pay per click advertising, competition research, content marketing, and social media management.
Semrush is a search engine optimization software that helps webmasters find keywords related to their site. It also gives them information about the competition for those keywords. This program is very useful for finding new keywords and making sure that existing ones are being used effectively.
Semrush Competitive Intelligence gives you the ability to look at your competitors' marketing strategies and tactics from every angle. It helps you develop new partnerships, find new ways to generate more leads, support sales processes, or quickly evaluate new market opportunities when developing go-to market plans.
Semrush provides comprehensive data about competitors' keywords, including keyword popularity, monthly searches, and search volume. Users can use this information to improve their SEO strategy and increase their rankings.
Semrush is used by SEO specialists, but can also be valuable to website owners and bloggers who want to learn more about their site or blog. It helps users understand how their website is performing in comparison to their competition, and it provides them with new and profitable keywords that they might not have considered before. SEO can be overwhelming, but SEMrush does a great job of simplifying things. Their tutorials, videos, articles, and webinars make learning about SEO easy.
Semrush Features
1. Domain Analysis
SEMRush is an incredible tool for analyzing any website. It helps us understand our competition's strategy and improve our own. You can use SEMRush to check out potential websites you want to target before building quality links. You can also use SEMRush as part of your link-building strategy.
The SEMRush domain analysis dashboard shows you data about your domain, including monthly website visitors, the number of backlinks pointing to your domain, best performing keywords, and the number of keywords your domain ranks for. 
Domain Analysis gives you a big picture view of a website's overall SEO and PPC efforts. You can also drill down into a site's organic traffic, backlinks, and PPC campaigns. Detailed reports help you understand what makes a site successful.
2. Keyword Research
Keywords are important when it comes to SEO. You need to know what words people use to find your website. This tool helps you understand what keywords people are searching for.
Semrush is an SEO tool that helps you rank better in search engines. It helps you find keywords that are relevant to your brand and to your product. It also ranks keywords based on how much competition there is, and how many backlinks each keyword has. Keywords are listed on the left sidebar. You can click on any keyword to see more information about it. It also provides a list of related keywords. For SEO purposes, you can select specific keywords to analyze.
You can use Semrush to find out what keywords bring people to your site and what keywords you should be targeting. Semrush is also great for finding popular long-tail keywords that bring in lots of traffic.A keyword tool helps you research your long-tail keywords. You'll be able to see what people are searching for and how competitive the keyword is. This gives you an idea of whether or not it makes sense to invest time into creating content around this topic. 
Keyword research in Semrush looks confusing at first, but once you get used to it, it's really easy. You type in potential keywords, and it shows you how many people searched for them, what they're searching for, and what other words people often use instead of those keywords. This helps you figure out what terms your competitors are using, and what terms you should be using too.
3. Rank Tracker
SEO is an ongoing battle. You need to stay on top of your ranking and see what your keywords are doing. Semush allows you to monitor your keywords and pages. You can see if your keywords are improving, decreasing, or staying constant. You can also check to see if there is any overlap between your keywords. This is only available for Guru or Business Plan users.
4. SEO Writing Assistant
SEMRush's SEO Writing Assistant is a great tool to help you write better content, including tips on how to improve your keyword density, and how to make your content more readable. The readability of your content can have a major impact on how many people will engage with it.
SEMRush helps writers by offering tips on how to improve content. This tool makes sure that your content is original and unique. It helps you use the right keywords to increase traffic to your website. It also suggests tags and links, so that people can find you easily.
5. Site Audit
The Site audit tool is a great tool for checking your website. It helps you identify errors, warnings, and notices. You can also see details about your site's performance, crawlability, and internal links. There are 6 tabs within the SEO tool, all of which are very useful when it comes to looking into a site's technical SEO.
Semrush provides an easy-to-use interface for SEO analysis and reporting. The site audit tool gives a quick overview of your website and helps identify potential problems.
Semrush Pricing
The price of SEMRush depends on the package you choose. There are three packages available, one includes the Pro Plan ($119.95), the Guru Plan ($229.95/m), and the Business Plan ($449/m).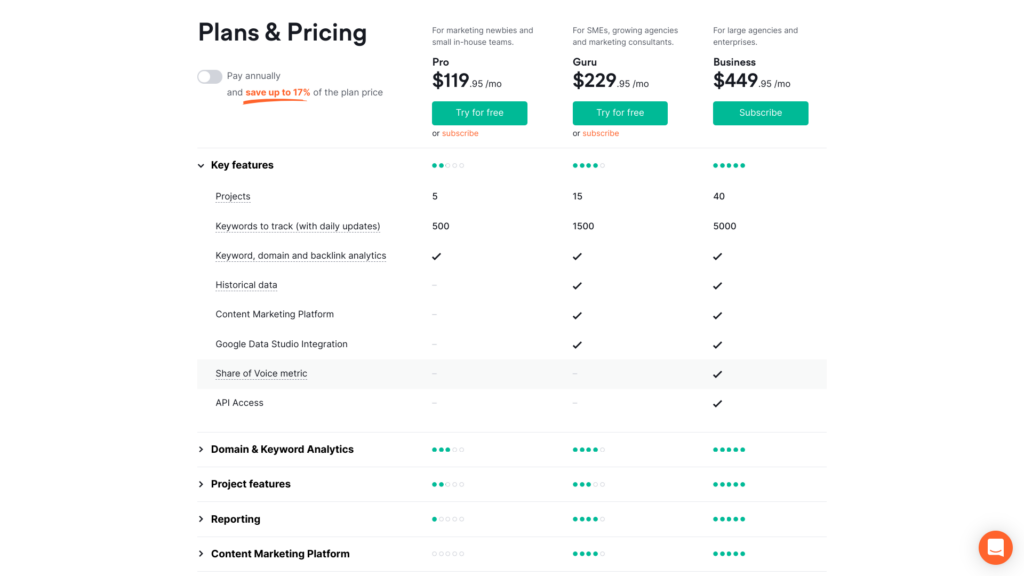 Semrush is a great SEO tool. It helps you get links for free and check your competitors' backlink profiles. You can also use this tool to see how well optimized your website is. SemRush is a very good solution that provides you with the key information you'll need to improve your search ranking. 
Conclusion
Overall, I found SEMRush to be a great tool for both beginners and advanced marketers who want to learn more about SEO and link building. If you're just beginning your journey as an SEO marketer, I highly recommend starting with SEMRush.
SEMrush is worth your time and your money. You won't find better keyword research tools on the market. It's easy to use, intuitive, and provides deep insights into your SEO performance.