Wordtune Vs Grammarly – Which one should you choose?
You might have heard about both tools before. They are somewhat similar and they offer some useful features. Which one should you choose? Let's take a look at both and see which one has more features and better pricing.
Wordtune Overview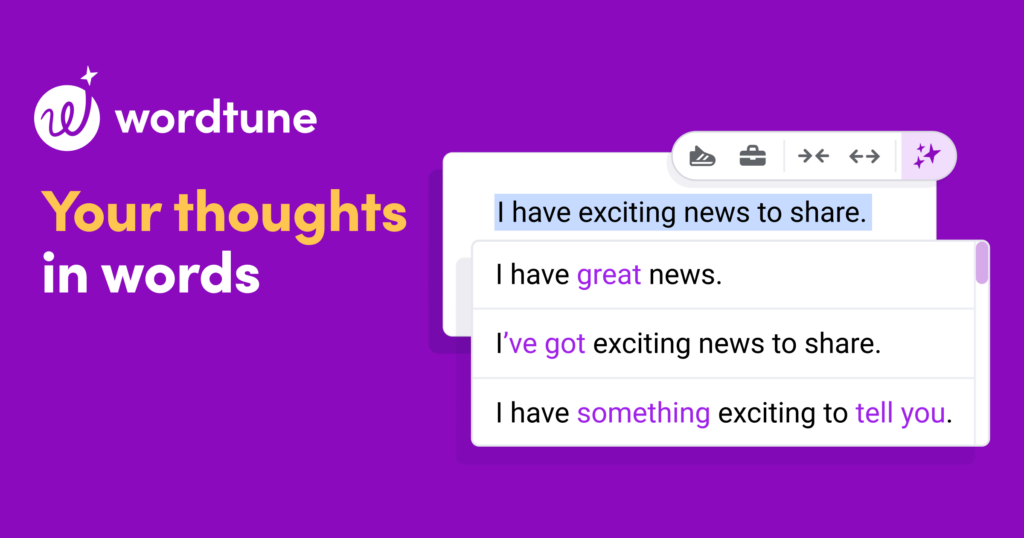 WordTune is an AI editor designed to help you improve your writing by rewriting your content to make it clearer. It has a user-friendly interface, so anyone can use it. There is also a spellchecker, grammar checker, and article rewriter included. With these tools, you'll be able to edit your content easily and get a professional look.
Wordtune was developed by AI21 Labs in early 2018 as a writing editing software and Google Chrome extension. Their goal was to take writing and reading even further by using the power of artificial intelligent technology.
Wordtune helps writers write all kinds of copy, like:
Documents
Emails
Instant messages
This AI editor uses deep understanding of semantics and contexts to offer a suite of tools to help writers improve their writing.
Key Features
It helps you take an idea and turn it into something that's easier for people to understand.
Here are five ways that Wordtune can help you write better:
1. Rewriting suggestions: The tool will suggest words or phrases to replace those that aren't clear enough. This feature allows you to quickly create paraphrased versions of your original content.
2. Casual tone:  It makes your sentence sound more informal, making it easier for readers to understand. This way you can avoid sounding too formal or too casual.
3. Formal tone:  This will translate your text to a more professional tone, making it sound more formal and official. You can do this if you want to present information in a certain manner.
4. Shorten it: This will make your copy shorter, making it less wordy. If there's no need to include unnecessary words or sentences, you can remove them from your writing without losing any meaning.
5. Expand it: Make your copy longer, making it more descriptive and interesting. It can help with long paragraphs to add extra details.
Wordtune Pros And Cons
| Pros | Cons |
| --- | --- |
| It offers synonyms | Its free version is very limited |
| Provides multiple phrase rewriting suggestions | Mobile versions/ App is not available |
| Very simple to use |   |
| It offers excellent integration with social networks. |   |
| Powerful AI-writing assistant |   |
| It also makes rewriting easier and makes sentences more enjoyable to read. |   |
Pricing & Plans
Wordtune offers three plans with different pricing options. These plans allow you to try out the free version, then upgrade later on.
With the free plan, you have a limit of 10/day to rewrite your copy. However you can go unlimited with just $9.99/month.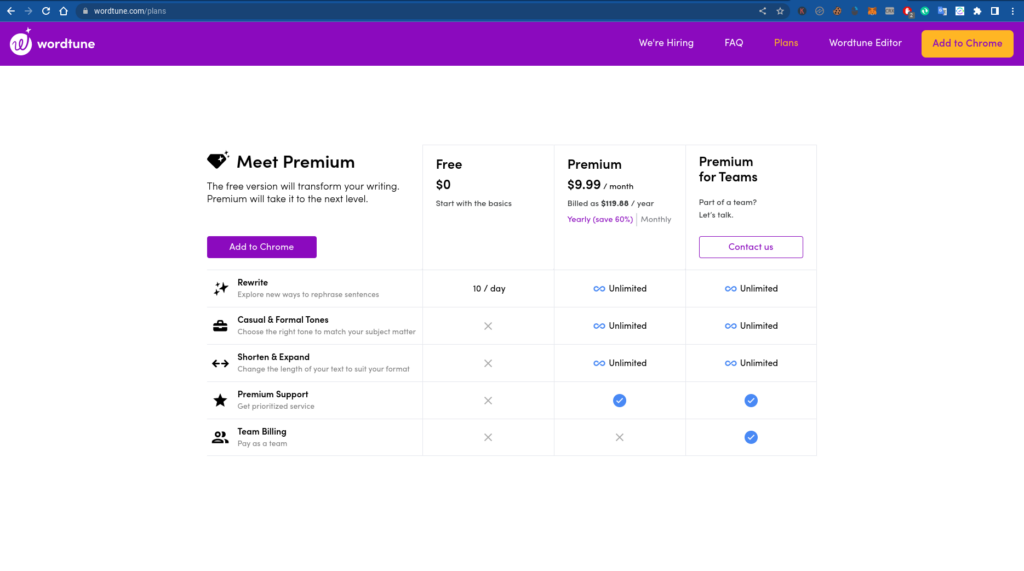 READ ALSO:
Grammarly Overview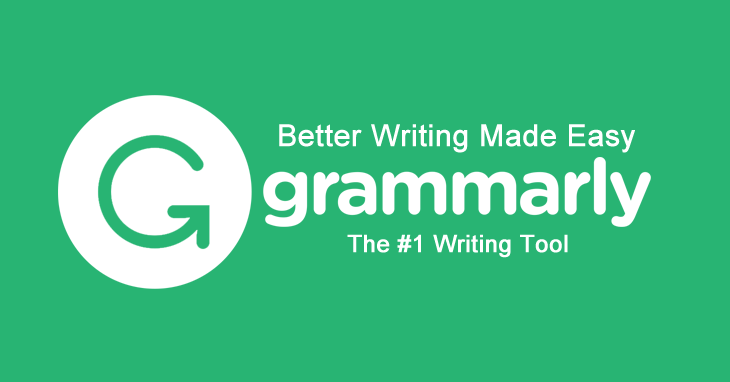 Grammarly is an advanced writing assistant that checks your writing for mistakes in grammar, writing style, punctuation, spelling and plagiarism. It provides users with feedback on how to fix the errors.
The company is headquartered in San Francisco. First released in 2009, the Grammarly suite of products includes desktop and web apps, and software plugins. By using its browser extensions, you can correct common grammatical errors directly within your favorite websites. Its mobile app is also available for iOS and Android devices.
Key Features
Basically, Grammarly scans the text you write, and uses artificial intelligence to identify spelling and grammar mistakes, errors and other things that need fixing. It includes these tools:
1. Grammar Checker: This tool automatically detects incorrect usage of grammar, punctuation, and vocabulary. It also suggests alternative phrasing based on your context. You can choose which parts of your writing to check against.
2. Spelling Checker: Grammarly includes a robust spell-check tool. You can also use the business version to add words to a custom vocabulary and even create a dedicated Style Guide. They can find misspellings and even suggest alternative words.
3. Plagiarism Scanner: The tool checks your work for plagiarism. It also highlights sections of your document that are similar to others, Grammarly detects plagiarism, comparing your document to billions of web pages on the internet. It provides articles with plagiarism scores and provides links that editors can check.
4. Writing Style: Grammarly analyzes your writing style and allows you to improve your writing by providing suggested improvements, It helps you write better by providing tips, suggestions, and ideas on your writing style.
5. Readability: The readability score indicates how easy your content is to understand. This feature works as a proxy for determining how your content is readable.
Grammarly Pros And Cons
| Pros | Cons |
| --- | --- |
| Real-time grammar correcting | Its free version is very limited |
| Customization | Requires internet access to work |
| Very simple to use | Aggressive advertising |
| Support for US, British English. American and Canadian English | Advanced formatting not supported |
| Powerful AI-writing assistant |   |
| Encrypted data |   |
Pricing & Plans
There are three pricing plans available when you sign up for Grammarly. They are Free plan, $9.60 for premium plan and $15.00 for business plan.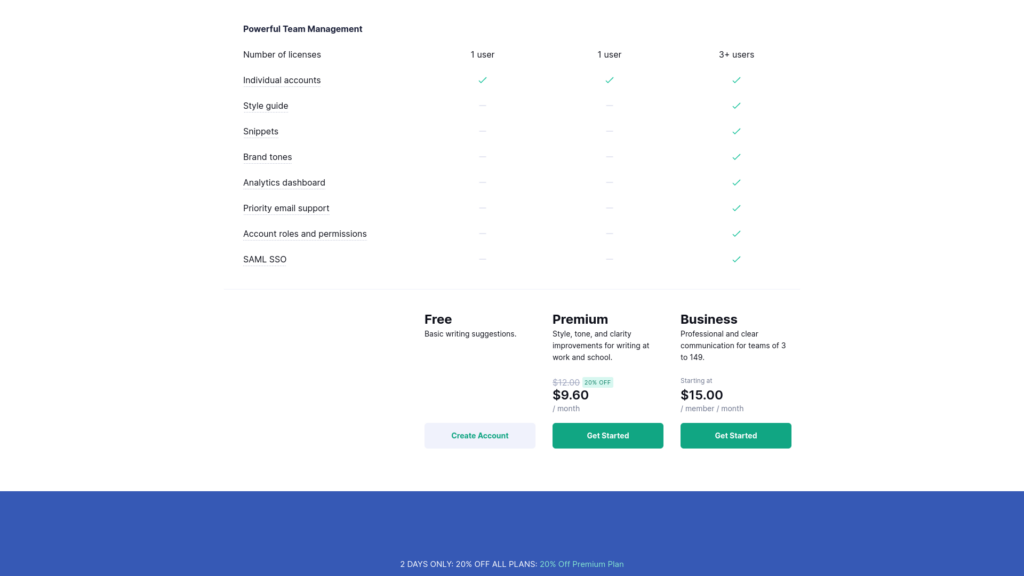 Conclusion
If you want to make sure your writing is error free, Grammarly is one of the best choices. It has all the features you may require in a writing assistant. If you're looking for something simple but effective, this is the right choice for you.