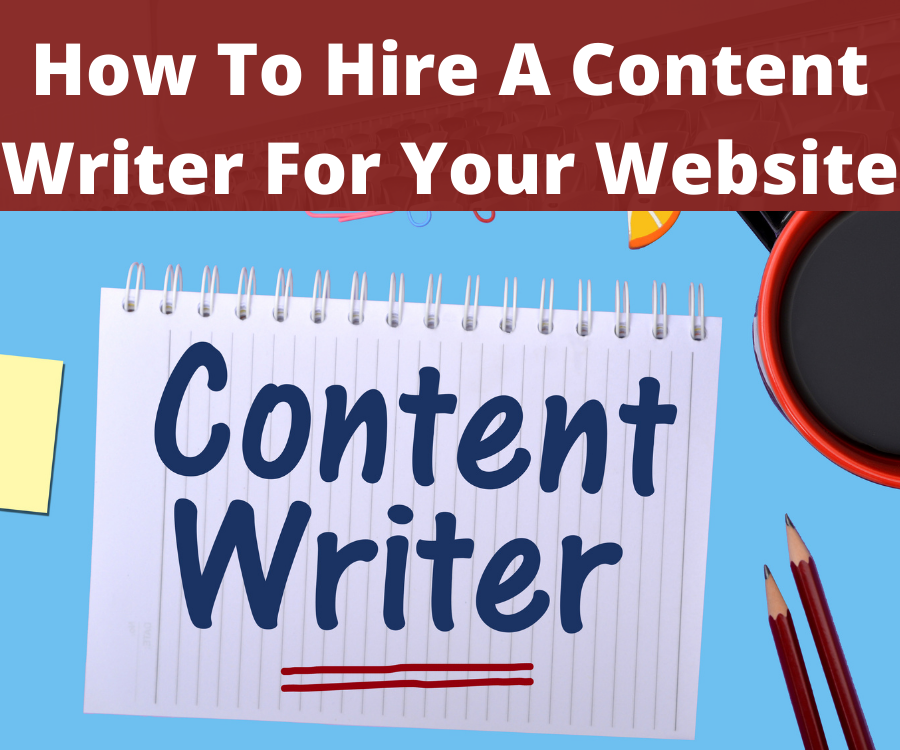 Are you looking for ways to hire a content writer? If yes, then read on. This article will give you some ideas on how to go about hiring someone who can write great content for your blog or website.
Content writing has always been a challenging or so-called "time consuming" task and it is still today. The reason being that the best writers are hard to find and even harder to retain. Most companies struggle with finding good content writers as they often lack experience, skills and talent.
If you want to create great content for your website, blog, or social media channels, then you need a professional writer who understands how to write engaging copy that converts readers into customers. Your content should be written for humans, not search engines. The best writers know what makes a reader click, share, or comment on your site.
Who Is A Content Writer?
Content writers are professionals who write articles, blogs, press releases, white papers etc. They create quality content for websites, social media channels, eBooks, marketing materials, business plans, brochures, etc. As such, they have to be creative and innovative in order to produce compelling content.
Your first choice should be a freelance writer who specializes in this type of work. They should have experience in your industry, be able to communicate effectively, and be able to produce high-quality content quickly. Make sure that they understand your brand and what makes you unique. A good writer should also be creative and have impeccable grammar skills. 
There are skilled content creators out there who can help create new leads for your business. They can add value and authority to your blog, website or business by creating quality content that people want to share. You need them for your overall success of attracting more customers and converting these into loyal clients.
If you want to create great content for your website, then hire a content writer. Content writers know how to write well, and they understand what makes a content interesting. They also know how to structure articles and keep them readable.
7 Things You Need To Look Out For When Hiring A Content Writer
Here are some of the things you need to look out for when hiring a content writer:
1. Experience
The most important thing you need to look for while hiring a content writer is their experience. Do they have any experience in your field? Have they worked for other businesses before? What kind of content did they create for them? How many projects did they complete successfully? These questions and answers will help you determine if he/she is qualified to do the job.
2. Skills
You must check whether a candidate has the right set of skills required to handle your project or not, so that you don't end up wasting time and money. Some of the skills which an ideal content writer should possess are listed below:
Writing skills (grammar, spelling)
Researching skills
Proofreading skills
Editing skills
A good content will have all of these qualities. If you get someone who does not have these skills, chances are he/she won't finish the project on time. So, make sure that the person you choose possesses all of these skills.
3. Communication Skills
A good content writer communicates clearly, writes concisely, and uses appropriate language, so that his/her audience does not feel confused or lost during the reading process. It's essential that you find someone who knows how to connect with your target audience.
4. Technical Expertise
A content writer must be knowledgeable about your niche. He should be able to research keywords related to your topic and find information that is helpful to you, as well as useful for your readers. This way, he'll be able to provide valuable insights on your topics and deliver quality content that is both informative and engaging.
5. The Ability to Meet Deadlines
Make sure that you hire a content creator who can meet deadlines. An ideal content writer will always give you a timely delivery of the content. He should have a clear understanding of the timeframe within which you require him/her to submit it.
READ ALSO:
6. A Solid Understanding of SEO
An effective content writer understands how search engine optimization works. He/she should be aware of various techniques used to optimize content for search engines. This means creating content that is useful and interesting to rank in search engines and bring readers, so they come back again and again, and share this content with others.
7. Flexibility
In addition to meeting deadlines, an ideal content writer must also be flexible enough to change the structure, format and layout of the content according to your needs. He/she should work closely with you to ensure that the content meets your expectations, and that it delivers results. 
5 Places To Hire Content Writers Online
Fiverr is an online marketplace where people offer services such as writing articles, designing websites, programming etc. There are different packages depending upon the type of service offered. You may choose to outsource some tasks like writing, editing or proofreading to freelancers at very affordable prices.
Upwork is another popular freelancing website that connects millions of customers and freelancers from across the globe. On Upwork, employers post jobs offering unique talents needed by their business, freelancers then apply for those job posts and complete them accordingly. 
Upwork is a popular freelancing website that allows employers to find freelancers who have the necessary skill sets to complete their project. It's a great resource for hiring a content writer.
Contentment agency is a gold standard of agencies that connects businesses directly with vetted writers who produce high-quality content. The tools offered by Contently are customized to clients, and the platform works with only the top quality writers to help you reach your goals.
You will need to talk to an agent about your needs and what you want to achieve. Contently does not publish their pricing publicly because all contracts are customized. Their services are more expensive than others listed here but you do get great value for money.
The team manages everything from strategy to content production and you'll work closely together with a consulting partner to understand your business' marketing needs.This platform is only recommended for those who don't have budget limitations.
Textbroker is a company that connects new clients with web content writers for freelance work, focusing on the American continent. Writers are hired based on their experience and skill set. Prices vary based on the writer's rating.You can also choose to commission authors or teams of hand-picked experts to write articles. 
Textbroker online writing platform has thousands upon thousands of reliable, verified writers who create articles that are optimized for both search engines and human readers. Textbroker is an established content writing service provider to help you get your written content done fast and easily. You will always get exactly what you need.
Guru helps companies hire qualified copywriters, editors, designers and other creative professionals. They provide the best talent in these fields and make sure they deliver exceptional work every time. 
Guru provides a range of services including editorial, design, video creation, SEO and other digital marketing services. All writers listed on the site have been carefully screened before being added to the network.
5 Benefits Of Hiring A Content Writer For Your Website
1. Increased Traffic
When people read well-written article, it gives them confidence and encourages them to visit your website again. This increases the number of visitors which translates into increased traffic.
2. Better Engagement
A good article engages readers and makes them feel connected with the subject matter. When a reader feels connected with something, he or she is likely to share it with others too. Engaging content attracts more traffic and leads to better conversions.
3. Improves Credibility
Having authoritative content can improve your brand's image and reputation as it shows that you're competent at what you do. People trust brands that offer trustworthy content so if you want to increase sales, having well-written content should be one of your priorities.
4. Increased Conversions
If the article is interesting, informative and engaging, chances are there will be higher conversion rates. There are times when a visitor comes across information that is very useful or entertaining. Such situations motivate him to take action. This results in higher conversions.
5. Helps Build Customer Relationship
When customers see that you care about how they think, feel and behave, they tend to trust you more. By offering well-written content, you show that you value customer feedback and want to improve your product or service. This will result in loyal customers who may even come back to buy from you.
Conclusion
Content plays a vital role in any business because it helps build relationships with potential and existing customers. It can give your business credibility and authority. If you don't have quality content, then you might not be able to compete effectively. In today's world where competition is cut throat, you need to find ways to outshine your competitors. One way to achieve this is by hiring professional writers who know their craft and write well.
Hiring freelance writers is a great idea if you're running a blog or website. You'll get high quality content written for your site quickly and easily, without spending hours doing all the writing yourself.