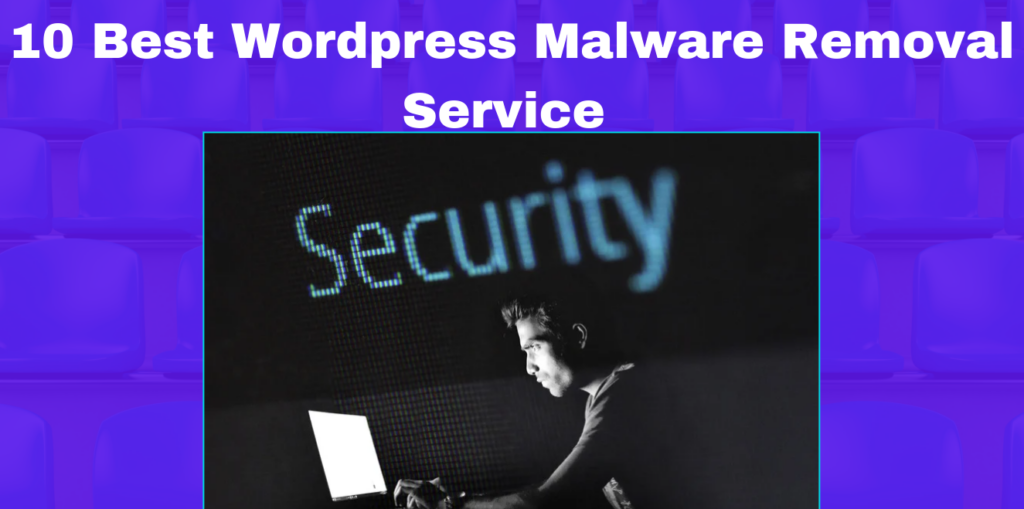 WordPress is the most widely used CMS (content management system) in the world. Millions of websites are powered by WordPress, from blogs and personal sites to large companies and government agencies. About 37% of websites on the web use WordPress. If you run a blog or other type of site, then you should consider using WordPress. It has become very popular because it is free, open source, and customizable.
However, WordPress comes with some security risks. In addition to being vulnerable to hackers, your WordPress website theme and plugin may also contain vulnerabilities that allow malware to infect your site. This means that your site could be hacked, resulting in potential losses.
But what if your website gets infected with malware? Is there anything that can be done? The answer is yes! There are many services available online that can help remove such malicious software from your site. Let's take a look at the 10 best WordPress malware removal services and plugins:
10 Best WordPress Malware Removal Services And Plugins
Nobody is safe on the Internet, and all website owners are vulnerable to hacker attacks. No Matter How Big or Small a Website is, they are still at risk for being hacked because of this reason, we have listed 10 Best WordPress Malware Removal Services and plugins which will help you remove any kind of malicious files like trojans, spywares, viruses, adware and many more.
Sucuri eliminates any malicious code from your website's files and database in a secure manner. They fully restore your website. Whether you use a CMS or not, your site is a great fit for Sucuri. They specialize in removing malware infections from websites.
There are a million reasons why you should use Sucuri. Their services include website monitoring, malware removal, and all the other services you would need. We highly recommend them.
This tool checks the integrity of your website and makes sure it's safe. It also removes malware and prevents hackers from stealing information. It keeps you informed about any changes that happen to your website, so you can quickly fix problems before anyone can exploit them.
Wordfence is an advanced anti-malware and security plugin that works by scanning pages and detecting threats before they do damage. It protects against known exploits and zero-day attacks. It's one of the most reliable solutions out there.
Free users get access to the scanner, firewall, and repair features, as well as other security features. While the free version of Wordfence has some limitations, they claim that the free version isn't completely effective.
Once the plugin is installed, it automatically scans your WordPress website for threats. You can find out whether your website is affected by malware through their dashboard. The main function of this service is to scan your website for malware and remove any issues found. You can get a complete report of all issues found within minutes. Once you receive the report, you can easily resolve these issues.
Astra Security is a WordPress plugin that helps keep your site secure. It monitors every aspect of your site and provides real-time protection. Astra is a robust plugin with features such as scheduled scans, firewalls, manual cleanups, etc. Astra's user-friendly interface makes the plugin easy to use.
Astra Security is designed to provide security solutions for WordPress sites. This is achieved by monitoring all aspects of your website, including plugins, themes, core files, databases, and much more. The plugin also uses a variety of techniques to detect vulnerabilities, including file scanning, malware detection, SQL injection, etc.
Malcare is one of the best free malware scanners in the market. This plugin can scan your site instantly. With one click, it can scan your entire website. It scans your website with 99% accuracy.
MalCare will keep your site safe without causing it to load slowly. For total website protection, you get automatic malware scans, one-click malware elimination, and a real-time firewall. This malware scanner will search your whole site, including files and databases, for even the most powerful malware. It'll check your site automatically and inform you if it's about to be hacked, so you can address the problem before it becomes a significant problem.
Your site will be protected from hackers and bots, thanks to the integrated Web Application Firewall (WAF). To prevent new attacks, its Threat Intelligence Network pushes rules and IPs in real time.
Bulletproof Security is a free and premium WordPress security plugin that offers comprehensive protection against hacking attempts. It blocks malicious code, detects and eliminates malware, and stops spam. BulletProof Security is a must have plugin for everyone who wants to protect their website from cyberattacks.
The plugin comes with many useful features, like:
Block dangerous scripts and URLs.
Protect your database from SQL injections
Detecting and eliminating malware
Prevent brute force login attempts
6. Cerber Security
Cerber is an advanced WordPress security plugin that protects your site from hackers and spammers. It checks your website for vulnerabilities and prevents them from being exploited. It also ensures that no unauthorized changes are made to your site.
You can protect your WordPress websites from hackers, spammers, trojans, viruses, and malware using this plugin. It also limits the number of login attempts by limiting the number of login attempts via the login form, XML RPC/REST API requests, or authentication cookies to prevent brute-force attacks.
With configurable email, mobile, and desktop alerts, it keeps track of user and bad actor activities.
Spammers are stopped with the use of a sophisticated anti-spam engine. To protect registration, contact, and comment forms, Google reCAPTHCA is used. IP Access Lists are used to limit access. With a powerful malware scanner and integrity checker, it keeps track of the website's integrity. It provides a set of customizable security settings and powerful security algorithms to improve the security of your WordPress sites.
7. SecuPress
SecuPress is one of the plugins with a complete scanner that automatically resolves the problems of malware attacks, It will ask you whether it needs a decision from you before proceeding. This feature allows you to check 35 security points in 5 minutes and leave the rest to the plugin.
SecuPress can identify insecure WordPress themes and plugins that have already been modified with malicious code by scanning them for known security vulnerabilities. If you use one of these plugins, your security module will email you and warn you when something goes wrong.
SecuPress reinforces the WordPress core by adding security features. By setting the right parameters, the security plugin protects the config. file from unauthorized access.
8. Clean Talk
CleanTalk is a web-based security service that helps protect your website from internet attacks. It also provides powerful security tools to help you manage it. It provides detailed security statistics for all of its security features, giving you full control over the security of your site.
CleanTalk Antivirus protects against viruses and removes malicious code from files. Anti-virus analyzes not just your WordPress core, but all of its files as well. Viruses/malware code may be found by scanning for bad PHP constructions.
CleanTalk uses a proactive approach to detect threats. Its virus scanner scans every file on your server, If CleanTalk identifies a threat, it immediately blocks it and sends a notification to the administrator.
9. Titan Anti-spam & Security
Titan is a WordPress security plugin that is built with features that include anti-spam, firewall, malware scanner, site accessibility checking, security and threat audits for WordPress websites.
Titan has an integrated spam filter that checks incoming emails and prevents them from being sent if they contain keywords associated with spam. The plugin also offers an advanced firewall that gives you real time protection against common exploits. The plugin also has a built-in malware scanner that constantly checks the database for suspicious activity.
The plugin also has a built in vulnerability scanner that checks for any potential issues with your current WordPress installation. You can choose how often Titan should run this scan. There's also a built-in accessibility tool that helps make sure your site is accessible to everyone, regardless of their device or browser.
10. All In One WP Security & Firewall
WP Security & Firewall is a popular WordPress security plugin. It includes a number of useful features, such as clean URL filtering, secure login form, captcha, security audit, etc.
WP Security & Firewall makes sure that only authorized users can edit pages and posts. It adds a layer of security behind login forms and other sensitive parts of your site. It also lets you add custom rules to block specific IP addresses or domains from accessing your site.
With WP Security & Firewall, you can scan your site for security flaws at regular intervals using the built-in security checker. This way, you can ensure that your site is always protected.
7 Factors To Consider When Choosing A Malware Removal Service/Plugin For WordPress
When choosing a malware removal service/plugin for your WordPress website, there are many factors to consider. Here are 7 important things to know before using any:
1. Firewall Functionality
One of the most important aspects of any malware removal service is whether it has a built-in firewall feature. This will allow you to set up rules that will automatically block access to certain URLs or IP addresses. With firewall functionality, you can prevent hackers from gaining unauthorized access to your site via brute force attacks, port scans, and so on.
2. Malware Scanner
A good malware scanner runs regularly to identify and remove malware on your site, including viruses, adware, spyware, Trojans, backdoors, rootkits, keyloggers, bots, and more.
Malware scanners are important tools for detecting malicious software on websites. They are also useful for finding vulnerabilities in web applications and identifying hidden threats within the code of website pages.
Malware scanners typically run as scheduled tasks on servers and often check multiple URLs per minute. If you don't have a malware scanner running on your server, you should consider purchasing one. It's easy to set up and inexpensive.
3. Backup Creation
Malware infections can cause major damage to your website. That is why some malware removal services backup your entire website after removing malicious code. This ensures that you don't lose all your data even if your site gets hacked. If you want to back up your site manually, some plugins have automatic backups enabled by default.
4. Anti-Spam Technology
Many antivirus products use spam detection technology to help protect your site from publishing malicious content. Some malware scanning services integrate anti-spam technology into their products to detect and block spammers.
Spam filters play a critical role in keeping your website secure by blocking harmful content such as viruses, spyware, phishing sites, and more. They also help reduce bandwidth usage and keep your server running smoothly.
5. User Authentication
User authentication helps keep your site safe by ensuring that only authorized users can make changes to your site. This prevents malicious users from adding harmful scripts to your site without your permission. You can enable user authentication with just a few clicks using the plugin provided by your malware removal service.
6. Security Audit
Security audits are an excellent way to test how secure your site really is. Most malware removal services offer this service free of charge. The auditors look for weaknesses like weak passwords, outdated software, insecure files, etc.
7. File system security
File systems provide a means for storing and sharing documents, images, videos, music, and other types of information. They're very susceptible to security breaches, which is why they need to be protected at all times. A good malware removal service provides file system security features to ensure that no malicious codes can slip through.
What Is The Best Malware Removal Plugin For WordPress?
All the listed plugins are very excellent for preventing website attacks. We recommend the Wordfence and Sucuri plugins because they are very effective than others, and have many useful features.
Conclusion
We hope our list will help you find the best WordPress malware removal plugin. Keep in mind that there are many more great plugins out there, so we encourage you to use the one that works well for your WordPress website.