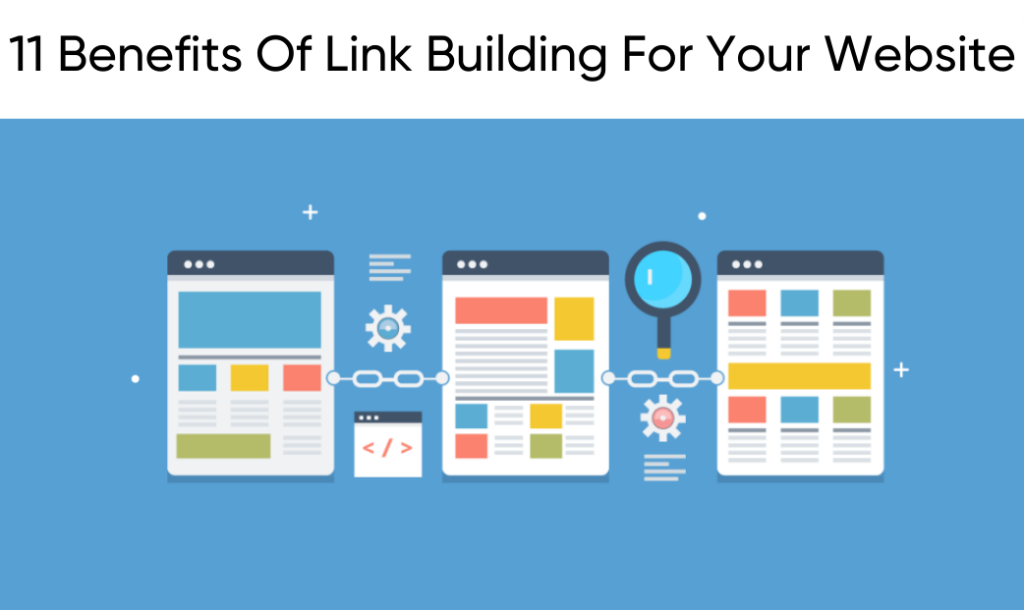 Link building is the process of getting links to your website from other websites. It's a very important part of SEO and can be done in many ways. When you build links, you are essentially telling search engines that your site has value. This will help them rank your pages higher in their results.  In this article, we are going to look at some of the benefits that come with link building.
11 Benefits Of Link Building
There are many benefits of link building, but here are 11:
1. Increase Domain Authority
Domain authority (DA) is a search engine ranking metric developed by Moz. It predicts how likely a page is to rank on search results pages. DA can be used to determine how trustworthy a domain is. A high DA score means a domain has been around for an extended period of time and is trusted by Google. If you want to increase your DA score, start building links to authoritative domains.
Domain authority ranges from 0 to 100. Websites that score above 50 have an increased chance of ranking better than others. Those that score less than 20 will be ranked lower on search engine result pages.
You need to make sure that your website has a high DA score. And the main reason why your domain authority goes up is when you get lots of links from relevant websites with a high domain authority.
Backlinks play a huge role in determining how trustworthy your website appears to search engines like Google. Having more backlinks from authoritative domains means that your site has more credibility. Search engine algorithms use this data to determine which pages should rank high in SERPs. In order to build up a strong reputation for your brand online, you must focus on getting backlinks from reputable sources.
While DA doesn't play a role in determining which webpages appear at the top of SERPs, it's still useful to increase the domain authority of your site. High DA means more traffic. In fact, some people believe that the number one factor influencing whether or not a website ranks at all is domain authority. So, if you have a low DA, then you may find yourself missing out on a large portion of potential customers.
2. Better Search Rankings
When you build quality backlinks to your website, you're giving search engines another way to access your content. Backlinks indicate that there is something valuable about your website. The more backlinks you have, the more valuable your website becomes.
If relevant websites link to your site, it helps provide context for search engines to consider when they're deciding which pages to show in their results. And the more authoritative the linking sites are, the more they can help improve your own search rankings.
So, if you want to boost your search rankings, try building as many links as possible. But don't just go after any website. Instead, choose sites that share a similar niche to yours and have high domain authority for maximum effect.
3. More Traffic To Your Site
Traffic refers to the number of visitors coming to your website. There are two types of traffic – organic and paid. Organic traffic comes from search engines, social media platforms, etc. Paid traffic comes from advertising services such as AdWords or Facebook ads.
The benefit of link building is that it increases the amount of traffic coming to your website. People who visit your website via search engines are much more likely to become loyal visitors. They also tend to stay longer on your site because they've found what they were looking for.
Traffic is the lifeblood of every business. It's essential for generating leads and sales. If you want to see real growth in your business, you'll need to invest time into building backlinks. More quality backlinks mean more opportunities for people to visit your site and learn more about your products and services.
4. Ensures Consistent Conversion Rates
One of the best ways to ensure consistent conversion rates is by creating an effective link-building strategy, and then following through with it.
With standard SEO link-building campaigns, you don't need to go through the feast and famine cycle where your site's visitors increase and decrease. It helps you plan better by ensuring a predictable trend. Even when Google Algorithm changes affect your position, it will be easy for you to bounce back because the quality of your links improves your ranking.
People are more likely to buy products or services when they're recommended by friends or trusted sources. Backlinks can therefore lead to more customers with little to no hassle. In fact, research has shown that people are more likely to spend money on a product when they're referred by a trustworthy source.
When a trusted source links to your site, they're immediately exposing your site to a large and receptive audience. Because people trust these sites, they will immediately trust you more too leading to increased conversions. This means less work for you!
5. Fater Indexing On Google
Another reason why link building is important is that it makes sure that your site gets indexed by Google faster, thereby increasing its chances of getting ranked higher.
When you quality link, this will improve the trust that google has for your site. As a result, your site will get indexed faster than before and you'll start seeing results sooner.
READ ALSO:
6. Low Bounce Rates
Bounce rate refers to the percentage of visits to your site that leave after viewing a page on your site. A low bounce rate indicates that users find value in your content. When users come to your site, they should find something that interests them.
A low bounce rate shows that your content is relevant and useful. You can use this information to improve future posts. The more valuable your content is, the fewer bounces you'll experience.
Apart from having helpful content that answers the question from a query that brought these visitors to your website, your internal linking structure is another thing that matters for reducing the bounce rate.
Internal linking is an integral part of link building. When someone visits your website, it's important that they can quickly find what they're looking to see. Linking pages within your site keep visitors on your site longer, which means less chance of them bouncing off.
It's helpful because it helps keep your bounce rate low, so it's an important factor when it comes to making sure your site is easy to use and navigable as it helps both visitors and Google crawler bots navigate your website and find what they're looking for easily.
7. Delivers More Valuable Content for Users
A great white hat link-building strategy involves producing high-quality original articles that are useful to readers. You want to make sure that your content is unique and interesting enough to engage your target market. If not, then your efforts may be wasted. Your best bet is to create original content that is valuable to your target audience.
Link-building forces you to think about your target audience and their needs. It also encourages you to write content that is genuinely useful, informative, and engaging. This way, you will focus on creating good content with aim of focusing on the intent of your target audience it is likely to attract organic traffic from search engines and it is likely to increase conversion rates, which ultimately increases revenue.
8. Improves Your Trust Score With Search Engines
Trust scores can be called by different terms depending on the platform you're using. It's not just Trust Score; it's also known as TrustRank, MozTrust, and Authority Score.
Trust is earned, and for some websites, it takes time to build up. However, if you have a lot of quality backlinks pointing at your site, search engines will eventually notice and reward you with a higher ranking.
By appearing on authority sites and pages, you can help boost your overall reputation score and gain trust. In turn, this will help you rank better in search engines.
9. Helps Build Relationships in Your Niche
Focus on building links in your industry niche because this is what Google wants you to do. Not only will you create relevant links, but you'll be able to connect with authoritative experts in your field. These connections could lead to collaborative projects down the line and more opportunities that will help grow, expand, and diversify your business.
10. Increase Sales and Revenue Generation Opportunities
If you want to generate sales and revenue, you need to get people to buy products. The easiest way to do this is to drive targeted traffic to your site.
The most effective way to achieve this goal is to build links to your site. By doing so, you'll be able to improve your SEO rankings and increase your chances of being found online by potential customers.
11. Boosts Your Site's Page Rank
Page rank is one of the most important factors in determining how well a page ranks in search results. A higher page rank means that your page has been deemed more trustworthy than other pages on the web.
A Page Authority score ranges from 1 to 100, where higher numbers indicate a greater likelihood of a webpage appearing at the top of the SERP for its target keywords. Like Domain Authority, Page Authority is also based on the number and quality of incoming links. However, it only considers the links coming from pages that point to a specific URL.
When you start building links to your site, you'll be helping to raise your page rank. As your page rank rises, you'll see an improvement in your search engine rankings.
FAQ
Why Is Link-building Important?
Link building is important because search engines use it to determine how valuable your website is. When you get backlinks from reputable, high-authority websites, you are sending signals to search engines that your website is valuable, credible, and trustworthy.
Is Link Building The Main Driver For Organic Search Traffic?
No, link building isn't the main driver for organic search traffic. Instead, it's a tool used to support the efforts of other strategies of your SEO campaign. The main driver for organic search engine traffic is quality content.
Are There Consequences For Poor Link Building?
Yes, there are consequences for poor link-building. If you don't have enough high-quality links pointing to your site, then you won't appear as highly ranked in search results. This could mean losing out on qualified traffic, which could mean missing out on new leads and lost sales.
Is Link Building Still Effective?
Yes, link-building is still very much effective today. It is one of the important factors that is used by search engines to rank a page in SERPs. If you're building backlinks from high-quality sites, you can expect to see improvements in your search engine rankings over time.
Conclusion
Link-building is an essential part of any successful SEO strategy. You should focus on creating high-quality links to your site, especially if you want to rank better in search results.
When you create a link profile with high-quality websites, you will send signals to Google that your site is authoritative and trustworthy. In turn, this will help you gain a higher ranking in search results.
By using these tactics, you can boost your business's visibility and attract more visitors to your site.