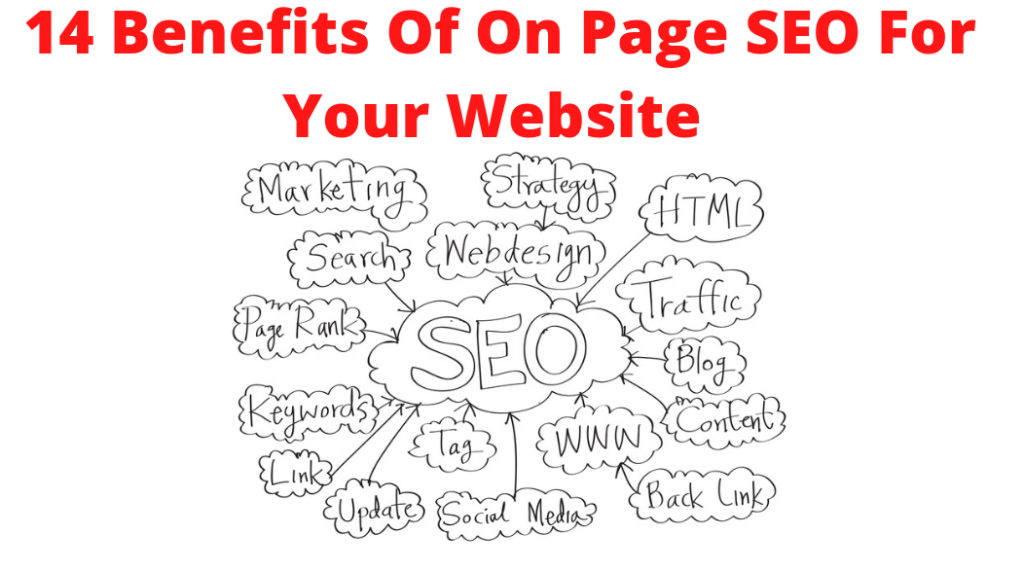 Are you looking for ways to improve your web page ranking? If yes, then you are in the right place. This post discusses 14 benefits of on page SEO for your website.
SEO (Search Engine Optimization) is the practice of improving the visibility of websites or webpages in search engines such as Google, Bing, Yahoo, etc. The goal of SEO is to increase traffic from organic searches.
What Is On-Page SEO?
On-Page SEO is the internal optimization of your website for search engines. These include things like choosing keywords and phrases that are relevant to the content of the site, optimizing images, headings, titles, links, etc.; and making sure these elements meet various standards and guidelines.
The goal of on-page SEO is to make it easier for search engine spiders to find and index your pages properly. It also helps people understand how your site works by providing clear navigation and a user-friendly experience.
14 Benefits Of On-Page SEO
There are several benefits of on page SEO. Some of them include:
1. Increased Organic Traffic
One of the biggest benefits of on page optimization is increased organic traffic, which translates to more sales and leads for your business. A big part of this is the fact that when people find a site because of its ranking within the search engine, more often than not, they are going to spend a little bit of time looking around. This can directly translate into the exposure and traffic you receive, which can lead to very real sales.
Organic traffic is the free, natural flow of users that come to your site on their own, through search engines. It's important to note that this kind of traffic helps you avoid paying for any ads or pay per click services.
So when you optimize your website well, you will start getting more organic traffic, which means more customers, without having to spend money on marketing tactics.
2. Better User Experience
When you optimize your site properly, it will not only help you get the best search engine ranking possible but it will also help your visitors find the information they are looking for much more easily.
A good user experience makes users stay longer on your site. People do not want to have to navigate through multiple levels of menus or click around in order to get what they need. If you can make it as easy as possible for them to get what they want, then they are more likely to stick around.
Google rewards content that provides a good user experience and satisfies the search intent of the user. If you do on-page SEO correctly, then your visitors' experience will be improved.
3. Better Search Rankings
One of the main goals of on-site SEO is to rank higher in search results. When you do a good job optimizing your website, it will be easier for search engines to crawl and rank it appropriately.
This means that you'll have better chances at appearing near the top of search results if someone does an online search for something specific. Your rankings will improve overall, so you'll be able to attract more targeted customers.
A higher ranking will allow you to generate more brand visibility. You can then position yourself as an expert in the industry. 
Improving your search ranking will help consumers find your website content easily. You can rank for multiple keywords to generate more website visitors. Then, you can convert those visitors into leads or customers.
4. Increased Conversions
Another benefit of on-page optimization is that it can increase conversions. When you attract as many visitors as possible to your site, so that they can become interested in buying whatever it is you're selling. And when you can provide a great user experience, and clearly explain what your product or service is and why it is valuable, then you're going to see more people convert.
Because search engine traffic tends to be highly targeted, it will always results in high conversion rates for your business which means more profit. 
5. Lower Bounce Rate
The bounce rate is a measure of how long a visitor stays on your site before leaving. The lower your bounce rate, the better.
If you've ever been to a website where everything was crammed together with no clear navigation, you know exactly what I mean. Visitors will quickly leave such sites because it is not user friendly at all.
If your website has too much clutter, then it will look unprofessional. This will cause visitors to lose interest and move on to another website.
But if you design your website in a way that it has a clean layout and loads fast, then visitors will tend to stay longer. They will feel like they got their value out of visiting your site.
Websites with lower bounce rate tend to rank higher than those with a higher bounce rate. So by improving your on-site SEO, you can expect to see a decrease in your bounce rate and rank higher in search engines.
6. Increased Site Speed
When it comes to web performance, speed matters. A lot.
Page speed is now considered an on-page SEO factor by Google and they have certain criteria for measuring a website's performance.
You don't want your website to load slowly. It's frustrating and annoying. But Google doesn't reward websites that take forever to load.
Your site must load quickly regardless of whether it's viewed on a mobile device, tablet, or desktop. Page speed matters when it comes to on-site SEO.
So if you want to rank well in search results, make sure that your website loads quickly.
 7. Build Brand Awareness
Search Engine Optimization (SEO) is an important tool for any business owner. If you're not optimizing your website, you're missing out on potential customers. A high search engine ranking positions your website content ahead of competitors. Every time someone searches for a query related to your products or services, your site could appear in the results. As consumers see your site, brand awareness grows. Over time, consumers will begin to associate your brand with what you offer. 
A high rank in search engine results can help you get more traffic and customers. Higher rankings mean that more people visit your website when they type in keywords related to your products or services. This means that you can attract more visitors to your website and build a loyal customer base.
READ ALSO:
8. Faster Indexing
Another benefit of on page optimization is faster indexing. When you optimize your pages, they can be indexed much faster by search engines.
This means that your website will show up faster in search results. You'll also receive a boost in organic traffic as your website starts getting indexed by search engines.
9. Enhanced Click-Through Rate (CTR)
The click-through rate (CTR) is the number of clicks received from each visitor on a specific webpage.
Higher clickthrough rates mean you'll be able to generate more visitors to your site. It can also help improve your ranking further.
Meta title and meta description are important parts of SEO. If you want to get more traffic and visitors to your site, then you need to optimize them. Make sure you write unique and relevant meta descriptions for each post.
Make sure that your meta descriptions are not too long and don't contain any irrelevant keywords, otherwise, this may hurt your CTR.
By writing compelling meta titles and descriptions, you can increase the chances of generating more clicks.
10. Higher Dwell Times
Dwell times refer to how long users spend on a particular page before leaving.
If your website has a longer dwell time, this means that your audience stays longer on your site. They're likely to come back again and again.
Longer dwell times can lead to higher conversion rates. In other words, your audience will become more engaged and interested in your product or service.
11. Draw Local Customers
Local SEO refers to the process of optimizing your website so that it ranks highly in local search results.
Optimizing the on-page factors in your local area can help improve your chances of being found in the local search results for your business.
Local SEO is important to any brick-and-­mortar business that wants customers from their local area.
12. Improve Your Crawl Rate
The ultimate goal of a website is to appear at the top of search engine rankings. To achieve this, you must optimize your webpages for search engines. Your website needs to be optimized so that search engine bots can find and index its content. Once these things happen, then Google will rank your site accordingly.
By improving your website's crawlability, you can make your site easier to index. This means that you'll have better visibility in search results.
13. You Can Rank For Any Keyword You Want
You can rank for almost any keyword if you use the right techniques. The only thing you need to do is to optimize your pages for those keywords.
You can use on-page SEO techniques to rank for any keyword you want. If you have a specific niche, then you can target particular keywords within that niche to help attract customers, build trust, and earn revenue.
14. Long Term Gain
On-Page SEO is one of the most effective ways to gain long term benefits. By optimizing your site, you'll see an improvement in your rankings. As a result, you'll start receiving more organic traffic.
It takes time to rank well in search results. But once you've done it, you'll reap the rewards over years to come.
Conclusion
SEO is a great way to drive targeted traffic to your website. It doesn't matter what type of business you run. Whether you sell products online, offer services, or provide information, there's always room for growth.
By optimizing your website using on-page SEO, you can boost your ranking and generate more leads. This helps you reach new customers and grow your business.
On-page SEO is a powerful technique that can help you succeed in your business. It's easy to implement and requires little effort. You definitely make sure that you optimize your website properly.
What are some other benefits of on-page SEO? Share them with us in the comments section below!