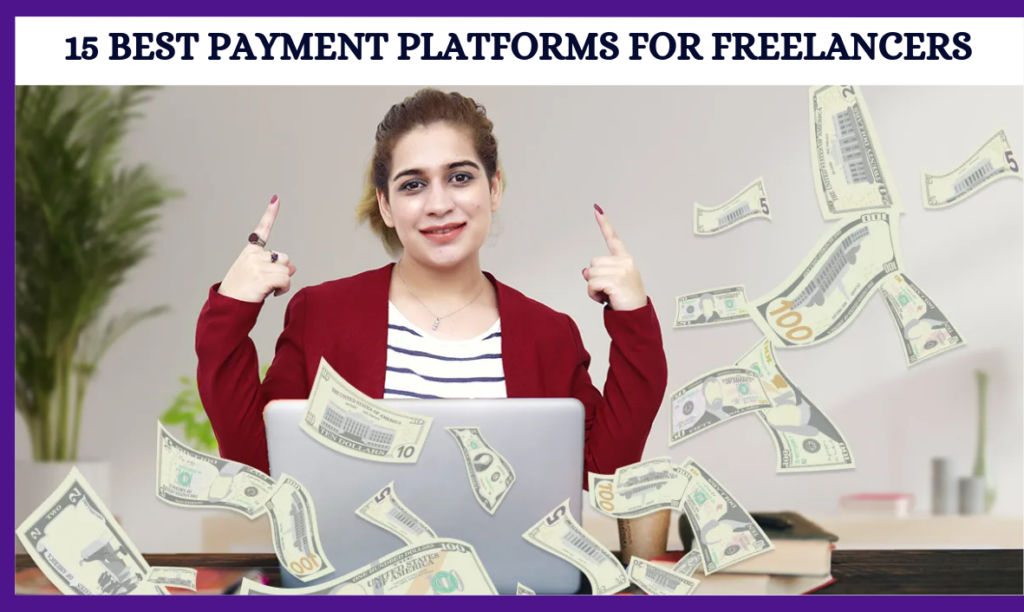 In this article, we will review the best payment platforms for freelancers. We have done a lot of research and testing to find out which are the most reliable ones that you can use for your business. There are many different types of payment processors available on the market today. You need to make sure that you choose one that suits your needs. Some are better than others in terms of security, reliability, ease of use, etc. So, let's get started with our list!
15 Best Payment Platforms For Freelancers
PayPal is probably the most popular online payment platform. It has been around since 1998 and it was acquired by eBay in 2002. Today, there are over 350 million active users of PayPal worldwide.
The company provides an easy way for people to send money to someone easily. With its advanced features, including fraud protection, chargeback protection, low fees, and more, PayPal makes it possible for anyone to accept payments from anywhere in the world.
As a freelancer, you can start accepting payments through PayPal quickly and easily. The only thing you need to do is open up a free account on their site with your email or phone number and you are ready to go.

Payoneer is a global leader in providing innovative solutions for businesses. They offer a wide range of services such as multiple currencies, invoice management, local receiving accounts, and much more.
They also provide various tools that help you manage all these processes efficiently. Payoneer offers a great customer support service that helps you resolve any issues that may arise during your transactions.
Their interface is very simple and user-friendly so you don't have to worry about getting confused while using their services. All you have to do is create an account and then follow some basic instructions to set up your account properly.
Payoneer also allows you to withdraw payments into your own bank account or use their branded debit cards to withdraw payments at any ATM in the world. This feature is really useful when you are traveling because you can withdraw cash directly from ATMs without having to wait for days for international wires to clear.
Payoneer is one of the easiest ways to accept payments online. Clients simply receive an email with a link directing them to make the payment without them even having a Payoneer account. They then use their credit cards to complete the purchase. Payoneer charges a small fee (3%) for each transaction.
If you're looking for an alternative to Paypal, Payoneer can definitely be an excellent choice for you. Payoneer stands out from its competitors because users can receive & make online payments with just a few clicks, track the status of their accounts, and view their entire transaction history.
Stripe is an all-in-one solution for both businesses and individuals who want to receive payments online.
Stripe is the most popular payment processor available online. Its features include a smart payment page, customizable UI toolkit, invoicing, payment options through credit cards, debit cards, currencies, bank transfers, and more. You can use this platform to accept payments from customers around the world.
There are no setup costs or monthly fees at Stripe, but it charges you 2.9% + 30 cents per successful credit card transaction. 
Stripe is primarily used to accept payments from customers. However, it can be used for many different business activities including accepting donations, processing payroll, and more. Because it has been around for quite some time, Stripe has become one of the most popular ways to process payments online for freelancers.
Square is one of the most popular ways to accept payments online. It offers a wide range of features including its mobile app, payment account, and more. Its customer service is top-notch, earning a 5-star rating across all its reviews. With its low fees and competitive rates, Square is a powerful tool for freelancers looking to grow their income.
Square has become one of the most popular online payment processors because it offers a reliable service. You can start accepting payments within minutes and the user-friendly platform makes it easy to manage transactions. Freelancers love Square because there's nothing complicated about using it. 
Square's invoicing tool is powerful and versatile. It supports one-time and recurring invoices along with installments. Additionally, Square provides a number of templates that you can customize based on your needs for free.
With features such as inventory management, a free and fully functional virtual terminal, advanced reporting, offline processing, recurring billing, marketing, online sales, and more, Square is a great way to accept payments online as a freelancer.

Wise is another popular option for freelance professionals looking to accept payments online.
Wise is known for being simple and easy to use, making it a favorite among freelancers. The platform is also highly secure, allowing you to access your funds 24/7 without having to worry about any type of fraud.
When it comes to invoicing and managing finances, Wise has a number of features designed specifically to make life easier for freelancers. There are no limits on how many transactions you can perform, and users can switch between different currencies at any time. With so many options available, it's never been easier to manage your finances.
The Wise Freelance account gives you access to over 55 different currencies and more than 100 international banks. Plus, you can use this platform to get a local bank account anywhere in the world at no cost.
In terms of fees, Wise Freelancer doesn't charge anything extra for its services. Fees are only incurred when withdrawing earnings from freelancing platforms. Once you have opened an account, you can easily make invoices and withdraw funds at no cost.
In terms of fees, Wise Freelancer doesn't charge anything extra for its services. Fees are only incurred when withdrawing earnings from freelancing platforms. Once you have opened an account, you can easily make invoices and withdraw funds at no cost. 
Revolut is an online bank offering services such as spending and transfers across borders in real-time. It offers accounts in Sterling and Euro. Revolut does not perform any credit checks or require any documentation. Accounts can be opened within minutes.
The Revolut mobile app makes managing your account extremely convenient. It has a clean interface and is easy to navigate. The app offers a number of features including making payments, transferring money between accounts, setting up alerts, viewing transaction history, and more, the app works seamlessly.
Revolut is an impressive mobile banking platform that offers users instant access to their bank accounts around the globe. Its user interface is smooth and intuitive, making it a breeze to navigate. Additionally, Revolut provides outstanding customer service via live chat and phone calls. With this platform, you can easily send and receive money globally at minimal costs within minutes.
Wave is a free cloud-based platform that allows you to manage all aspects of your finances in one convenient location. Its main purpose is to make managing your invoices and payments easier than ever before. As such, Wave has many useful tools, including accounts payable (APs), accounts receivable (ARs), payroll, and more. 
If you're a freelance professional looking for free, cloud-based bookkeeping software, Wave Accounting is definitely worth checking out. Not only does it offer a full suite of tools, it's completely free! Plus, it has a clean interface and offers plenty of features to make managing your finances a breeze.
With Wave, users can create estimates for potential clients Once those estimates have been approved, they can easily then be converted into invoices with just a few clicks. Users can accept payments via credit cards, debit cards, and more. Payments are generally processed within just 2 business days. Fees vary depending upon what type of payment method is used.
Wave integrates with a variety of third-party apps to expand its capabilities. Some examples include Hubspot, Shopify, Square, PayPal, Etsy, Pipedrive, and more. Wave also integrates with thousands of apps via Zapier.
For freelancers who don't want to spend money, Wave Accounting is a good choice. As long as you aren't looking to expand beyond its basic functions, you can use this tool completely free. Since there's no cost involved, you should definitely give it a try!
Skrill is a leading global electronic payments company based in London, UK. Their goal is to provide people with safe, fast, and simple ways to pay and get paid.
Skrill has over 1 million active customers in 50 countries. This includes both businesses and individuals. Skrill is known for being very reliable. When sending or receiving funds, Skrill processes transactions in less than 10 minutes. 
The Skrill platform has been designed specifically for freelancers looking to accept online payments. To use the service, you'll need to have verified your identity by submitting any government-issued ID card. Once you've done so, you can start accepting payments from clients anywhere in the world.
Skrill is well suited for freelancers because of its simplicity, speed, and security. It's easy to set up, and once you have, you can begin accepting payments immediately.
READ ALSO:
Razorpay is another great option for freelancers who want to accept online payments without having to stress about fees or complicated setup procedures. 
RazorPay is an online payment gateway service that allows you to accept credit cards and electronic payments through its platform. Freelancers can use this service to provide customers with a convenient option when paying for services online. It also enables users to set up their invoices and integrate them with their own websites.
Razorpay has made it much easier for freelancers to accept payment from clients around the world. They support over 100 currencies and have integrated several features to make managing money easier for freelancers. These include the collection of advance payments, the creation of GST-compliant invoices, and financial reporting tools.
You may be able to save some money by using Razorpay, but you must pay them after they've processed your payment from your client. You don't pay any monthly fees or maintenance fees to use their service. However, if you choose to go with Razorpay, you will need to verify your identity before you can start to receive payments.
If you're looking for a way to accept payments on your website as a freelancer, then PaySimple could be a good fit.
As a web-based solution, PaySimple makes it easy for you to process payments from customers. The platform itself offers many handy features such as invoicing, accounting integration, point-of-sale, customer relationship management, and reporting.
If you use PaySimple, you'll get your own merchant account. An account that allows you to accept credit cards. It takes up to 2 weeks for the process to open an account.
With PaySimple, you can help clients pay their invoices using ACH transfers instead of credit/debit card transactions. If you don't accept credit card payments yet, you could even use PaySimple for processing only ACH payments.
When it comes to managing customer data, there isn't anything better than PaySimple. With this software, you can easily store and manage all of your customer's payment details. From creating customized invoices to sending out reminders, you can use these tools to effectively communicate with your customers.
PaySimple is great for freelancers because it gives you access to all of the features you'd expect from a payment platform.
XE is a simple and flexible payment platform. It's designed specifically for small businesses and freelancers.
XE Money Transfer provides a wide range of services related to foreign exchange. They offer a variety of products including currency conversion calculators and tools, and international money transfer services, etc. Their website includes all these features and more.
XE claims that it sends out most transactions on the same day that it receives your funds. The reason they say "most" is because there are a few areas where the speed of the transfer can be affected.
In most cases, XE Money transfers are processed immediately after receiving your money. Once you've paid, it processes the transaction within minutes. In addition, it provides a due date when you'll receive the money. If XE Money receives your payment on time. Then the provided payment date is your earliest possible delivery date.
XE is a financial institution that provides services to businesses and individuals who conduct international transactions. However, these services are also available to anyone who wants to make an international transfer. Wire transfers and ACH transfers are two popular methods used by XE customers.
Paxum is another online payment processor that specializes in providing solutions for freelance professionals.
The team at Paxum understands how important it is for businesses to have a reliable payment system. That's why they provide a full suite of services to help you grow your business.
Paxum e-Wallet is a great service for those looking to conduct business online. Sending money, transferring funds, and receiving payments have never been so easy. With Paxum e-Wallet, you can receive money from clients around the world quickly and easily.
Paxum has been around for quite some time now and it is one of the most popular choices among many freelancers. Its popularity comes from its low transaction fee structure and the fact that it offers multiple payment options. While there are many other similar services available, Paxum remains one of the top picks.
Neteller is a global online payment processing company that allows users to send and receive money at ease.
Neteller is known as one of the best online payment processors for freelancers because of its fast and secure method of handling payments.
With Neteller, you don't need to worry about making sure your client gets their money. All you need to do is set up a free account and start accepting payments. This means that you can accept payments from anywhere in the world at a minimal cost.
Verifone previously known as 2Checkout is one of the most known payment gateways for online merchants.
They are currently focusing on small-to-medium size businesses and are offering them a complete solution package.
VeriFone offers different payment withdrawal options, including credit cards, bank transfers, and Payoneer. You can even integrate your Payoneer debit card to withdraw funds. Some notable features include recurring payments; hosted checkout experience; multiple currencies; and language support.
Verifone is highly recommended if you're just starting out as a freelancer. They offer a wide range of features for you to make use of and take advantage of.
Moneygram is yet another money transfer company for you to choose from. It was founded way back in 1969 and became a household name ever since.
It is one of the oldest companies in this industry but still manages to maintain its position. The company provides services all over the globe and it's no wonder why.
Payments can be made in over 200 countries and there are over 45 currencies available. Payment methods include cash pickup, bank transfer, debit card, mobile wallet account, and home delivery.
it's mostly geared toward international transactions with over 360,000 on-site agent locations that are ready to serve customers 24/7.
Is PayPal Good For Freelancers?
Yes, PayPal is an excellent choice for freelancers who want to accept payments from clients all over the world.
Is Payoneer Good For Freelancers?
Yes, Payoneer is also a good option for freelancers. It offers several advantages such as convenience, security, and reliability, which makes it more than suitable for freelancers. 
Conclusion
There are lots of great options when it comes to choosing a payment gateway. However, we recommend that you go through our list of the best payment platforms for freelancers and see how they stack up against each other.
All in all, there's no perfect solution out there and every platform has its pros and cons. So before you decide which one to use, consider what your needs are and find the one that works best for you.
If you have any questions or feedback, feel free to leave us a comment below!