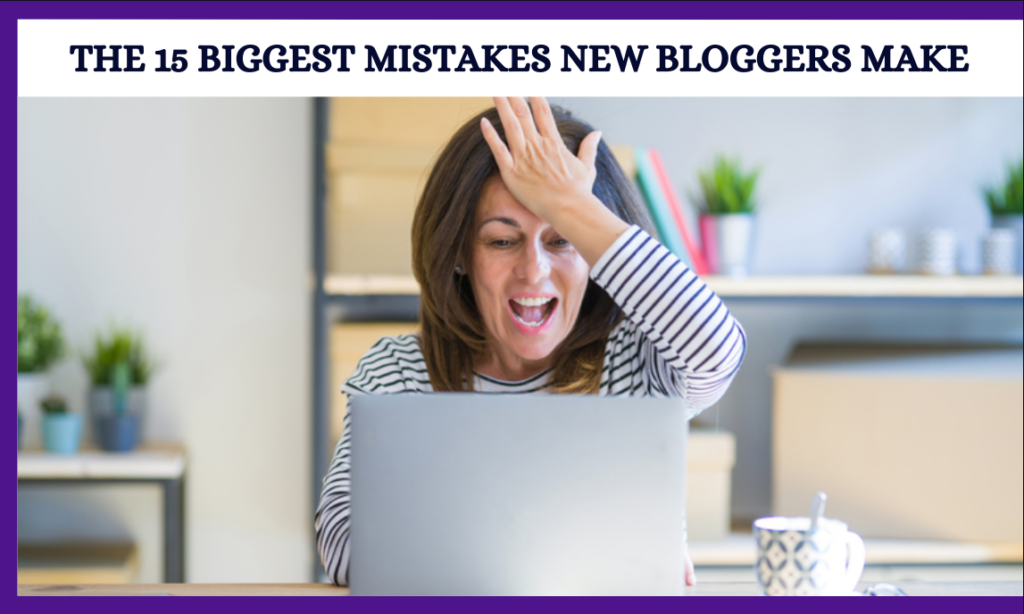 If you're a new blogger, there are many things that can make or break your blog and your success as a blogger.
Have you ever wondered why some blogs are successful and others aren't? Some people even have a blog that has been around for years but still isn't growing at all. It could be because of the mistakes they made when starting their blog.
There is no doubt that it takes time and effort to build a successful blog, so if you want your blog to be one of those success stories then you need to make sure you don't fall into the same mistakes as many other new bloggers out there.
The 15 Biggest Mistakes New Bloggers Make
When you start a new blog, there are always going to be mistakes made along the way. Whether they are small or large, they all add up and ultimately affect your ability to succeed.
There is no one way to start a successful blog. However, we have put together this list of the 15 biggest mistakes new bloggers make in an attempt to help you avoid making them yourself.
1. Not Having A Plan
Not planning ahead is the biggest mistake that new bloggers make. They assume that once they start writing, everything else will fall into place.
This isn't true. Planning ahead means thinking about what you want to accomplish and how you want to achieve those goals. This takes time and effort.
Before you launch your blog, you should first think about what you are trying to achieve with the blog. Are you looking to make money from advertising revenue or do you just want to share your opinion on certain topics? Whatever your goal is, having a plan will ensure that you stay focused and avoid wasting time and energy on something that won't work.
New bloggers often make the mistake of launching without thinking through how they are going to use their blog. If you want to be successful, you need to have a clear idea of where you want to take your blog before you begin working on it.
New bloggers don't realize that they need to plan ahead and set goals for themselves. You need to know exactly where you want your blog to go before you get started. If you don't have a plan, you might end up spending too much time and energy on something which doesn't really matter that is why setting goals is one of the most important things you can do when you're starting a blog. Without goals, you won't know whether you're succeeding or failing.
Without goals, you'll probably give up too early. And without goals, you'll waste a ton of time trying to write content that no one wants to read.
Goals are essential. Without them, you'll never succeed in life, let alone with blogging.
2. Not Choosing An Appropriate Domain Name
A domain name is very important for any blog. It is basically a URL (Uniform Resource Locator) address that tells search engines and visitors where your site is located.
If you want your blog to rank well in Google searches, you need to choose a good domain name. Your domain name needs to be unique and memorable, yet easy to spell and type.
It also needs to be short. Long domain names are harder to remember and type. So, when choosing your domain name, keep these points in mind.
Choosing the right domain name is crucial because it affects how people find your blog. If you have a bad domain name, your readers will not easily find your blog, which could mean losing potential traffic.
3. Using Unreliable Hosting Services
Choosing a reliable hosting service is essential for any blogger. Your host should be able to keep your site running smoothly even during peak times. They should be able to handle spikes in traffic and deliver fast page load speeds.There are many different types of hosts out there, and choosing the right and good is very important.
The problem with most web hosts is that they aren't really designed to help you build a successful blog. They're designed to make money off of you. So they give you a ton of options for how much you pay each month depending upon which features you select.
There's nothing wrong with paying less per month if you don't need all the bells and whistles. But you should at least consider the following factors:
Performance
If your site takes longer than 5 seconds to load, people won't stick around long enough to read anything. They'll bounce off your site and go to your competitor instead.
So, you need a web host that provides fast loading speeds. This is especially true if you're serious about building an audience.
Bandwidth
This refers to how much data your hosting company allows you to upload and download every month.
You need to pick a host that has plenty of bandwidth so that you don't run into problems uploading large amounts of photos or videos to your site.
Backup and Security
Your web host should give you peace of mind knowing that your site is safe from hackers and cyber attacks. After all, if your site goes down, your customers lose trust in your brand and your business. A good web host should protect your site against malware, spam, viruses, DDoS attacks, brute-force login attempts, and other threats.
Backup is also important. You should always back up everything on your site before making changes. If something happens to your site, you can restore your site quickly by copying over files from your backup. As this will help to ensure that you get your site back online as soon as possible.
Reliability
Can your host guarantee uptime? Do they offer 24/7 customer support? Can they provide email notifications when things go wrong? These are important questions to ask yourself when selecting a host.
All these factors are important when selecting a web host, it is important to do your research and look at reviews of multiple hosts to see what kind of experience others have had with them before you sign up with them.
4. Choosing A Poorly Designed Theme
A theme is the design template used to create your blog. It helps define the overall look and feel of your blog. It is what makes your blog look like a professional website. It determines how your blog looks and feels to visitors.
You need an attractive design so that people will visit your site. However, you also need to make sure that your design isn't too complicated for search engine spiders to index properly. To avoid such problems, you need to choose a theme that is SEO friendly and easy for robots to crawl and understand.
With a good theme optimized for both search engines and your blog visitors, you will be able to attract more readers and increase traffic to your blog, giving you a competitive advantage.
5. Not Having An Email List
An email list is simply a collection of emails collected from different sources. Once collected, you use those emails to send messages to your subscribers at regular intervals.
Having an email list is one of the best ways to grow your blog. When people subscribe to your emails, they become part of your community. And once they've joined, they'll want to hear what you have to say. Plus, having an email list means that you can send out valuable content to your subscribers without spending money on advertising.
Email marketing is a great way to build relationships with your followers and turn them into loyal readers of your blog. This strategy works well because most people check their email regularly. So, if you send out quality content regularly, they're likely to open your emails and read them which leads to your blog getting more exposure, traffic, and ultimately more earnings for you if you are monetizing your blog.
6. Writing Poor Headline
Headline writing is one of the hardest things to master as a new blogger.
If your headlines don't catch attention, then no matter how good your content is, you won't get many visits. Your headlines must be compelling, interesting, and clear. They must also include keywords that relate to the content of your post.
Headlines are one of the most important elements of a blog post. They play a huge part in attracting visitors and inspiring people to read your content. But many newbies still struggle to come up with catchy headlines, this often results in poor click-through rates (CTRs) and low rankings in search engines.
By writing a compelling headline, you can attract more readers to your blog and inspire them to continue reading your posts.
7. Not Engaging With Your Blog Readers
Blog engagement is the key to building a successful blog. You must interact with your audience and respond to comments and questions posted by your readers.
One of the biggest mistakes new bloggers make is not engaging with their readers. They fail to acknowledge their presence and respond to their comments. And it's a big mistake. Comments are the lifeblood of any blog — especially when you're trying to establish yourself as an authority in your niche.
If you don't engage with your blog readers, they might stop visiting your site. That's why you should always reply to comments and answer questions about your blog. It shows that you care about your readers and makes them feel valued.
8. Ignoring SEO And Keyword Research
SEO and keyword research is essential for every blogger, it helps you rank high on Google and other search engines. If you don't do these two things, your blog may never be found online.
The most common mistake I see among bloggers is ignoring SEO and keyword research. These are two critical components of a successful blogging campaign, and without them, your efforts will go nowhere fast.
Keyword research is the foundation of any good SEO strategy. Before writing even one word on your site, you need to know what people are searching for. You can use free keyword research tools like Google Trends and Google Suggest to find popular keywords. Once you've found keywords, you'll want to conduct a competitive analysis to see how well your competitors rank for those terms, so you can choose which ones to target.
You need to do keyword research to know what people are searching for so you can write relevant articles that rank higher in search engine results pages (SERPs) and get traffic to your blog. Without proper keyword research, you'll end up writing generic, boring articles that nobody wants to read or visit.
By doing keyword research, you can learn a lot about your audience and gain valuable insights into what your ideal customers are looking for. This information will help you create better content and improve your conversion rate.
READ ALSO:
9. Not Picking A Niche
Choosing a niche for your blog is another crucial step in starting a successful blog.
The best blogs focus on one particular subject that appeals to a narrow audience. When choosing a niche, think about who your audience is, what topics interest them, and whether there's enough competition in your chosen niche.
Identifying your niche is the first step toward establishing a successful blog. So, before you start writing posts, ask yourself: What topic am I passionate about? How would my readers benefit from reading my post? Can I write about this topic in a way that's unique and original?
Answering these questions will help you determine if you are going to succeed at blogging. And once you have an idea of what you're passionate about, you can easily decide on a niche that fits your interests.
10. Expecting Instant Results
Blogging is a long game. You won't start earning money right away if you're just starting out. It takes months before you begin seeing a return on your investment.
When you first launch your blog, you shouldn't expect instant success. Instead, you should set realistic expectations for yourself. Don't expect to make $1,000 per month or even $5,000 per month at first. That's unrealistic.
Instead, aim for a steady flow of low-cost visitors who convert into sales. Focus on improving your content, making sure it's engaging, and optimizing each post for SEO and social media marketing. When you consistently deliver great content, your readers will come back for more.
You're going to spend hours upon hours writing, researching, editing, and promoting. You're going to put in countless hours of research. You're likely going to invest hundreds of dollars in blogging tools.
So, if you're expecting to make money right away, you're setting yourself up for disappointment. Don't fall for the hype. Focus on building an audience. Then, when you're ready to monetize, go for it.
11. Not Proofreading Before Publishing
Proofreading is one of the most important aspects of publishing a successful blog. If you publish something without proofreading it first, you could hurt your reputation.
If you don't proofread, you may miss spelling errors and grammatical mistakes. These small mistakes could damage your credibility, especially if they appear in posts that receive a large amount of traffic.
I think it's safe to assume that most new bloggers know how important proper grammar and spelling are. But many fail to give themselves enough time to edit their post properly. And while I understand why some new bloggers might feel rushed to publish their work, others just don't care about being professional. They write fast and often, and they don't spend too much time polishing up their writing skills.
But we all know that mistakes happen. So why wait until later to correct them? If you're publishing your posts without proofreading, chances are that you'll eventually find typos, misspellings, and other common mistakes. So, take the time now to double-check your post before publishing.
12. Not Building Backlinks
Building links is one of the best ways to boost your rankings on Google and improve your traffic. By getting links from sites that are relevant to your niche, you can increase your chances of being found by search engines like Google.
But building backlinks is not easy. It takes time and effort to earn quality links from reputable websites. In order to build a strong backlink profile, you must focus on building relationships with influential blogs in your niche, writing high-quality content, and guest posting on their sites.
With high-quality backlinks, you'll be able to position yourself as an expert in your niche since people trust authoritative sources more than random blogs. But this isn't easy either. To generate high-quality links, you'll have to invest some time and money.
13. Not Writing Enough
Another mistake new bloggers make is not writing enough content. Many new bloggers try to get started quickly, and they end up rushing through their articles or spending way too little time crafting their content.
You need to write a post that is well-detailed, informative, and interesting. When you rush through your writing process, you won't be putting out quality content. Instead, you'll be producing low-quality posts that only attract a limited number of visitors.
So, slow down and take your time when writing. Write at least 1500 words per article. Spend at least two hours researching your topic. Come up with a unique title, write high-quality content, add images, and use SEO techniques to optimize your site for maximum visibility, then proofread and publish.
14. Violating Copyright
Many new bloggers make the mistake of violating copyright laws. This means that you copy someone else's content and use it on your website without giving credit where credit is due.
This is a serious offense because it violates the law. You could potentially face legal action against you. And even if you aren't sued, you could still lose your domain name or see your blog shut down.
To avoid this issue, always ask permission before using another blogger's content. Give credit whenever possible and link to the original source to avoid any problem for yourself.
15. Not Promoting Your Blog
Your blog needs promotion. Without promoting your blog, no one will visit it. So what should you do to promote your blog?
You should start by sharing your blog on social networks. Share your blog on Facebook, Twitter, LinkedIn, Pinterest, StumbleUpon, Tumblr, and Reddit. 
When you share your blog on social media, you'll also gain exposure. People who follow you on these platforms will notice your new blog and may want to check it out.
You can also promote your blog using email marketing tools such as MailChimp, Constant Contact, Aweber, GetResponse, and others. These tools allow you to send emails to your subscribers so that they can receive updates about your latest posts to keep them engaged with your blog.
Promoting your blog will help increase traffic to your blog, which means that more people will come to read your content. As a result, you'll gain more readers and become an authority in your niche.
FAQ
Why Do Most Bloggers Fail?
Blogging is a great way to earn extra income and build a personal brand online. However, most bloggers fail to succeed. Why? Because they don't know how to reach their target audience effectively. They don't know how to create engaging content, nor do they understand how to market themselves.  This lack of knowledge leads to failure.
What Percentage Of Bloggers Are Successful?
On Average, less than 30% of all blogs are successful. That means that about 70% of bloggers fail. But why does this happen?
It happens because most bloggers have never learned how to properly market their websites. Most bloggers believe that creating good content is enough to drive traffic to their sites. It isn't.
If you want to achieve success, you must learn how to market yourself and your blog effectively. This includes learning how to attract visitors to your site and convert those visitors into customers by monetizing them.
Is Blogging Really Worth It?
Conclusion
If you're just starting out as a blogger, there are many mistakes that you can easily avoid. Avoiding these mistakes will ensure that you succeed as a blogger.
These are just 15 mistakes that many new bloggers make. There are hundreds of other mistakes that you might make while starting a blog. If you find yourself making any of these mistakes, don't worry. Just remember that there is hope, you can still turn things around and get back on track.
What mistakes have you made as a new blogger? What tips would you give to fellow newbies? Please leave your comments below.