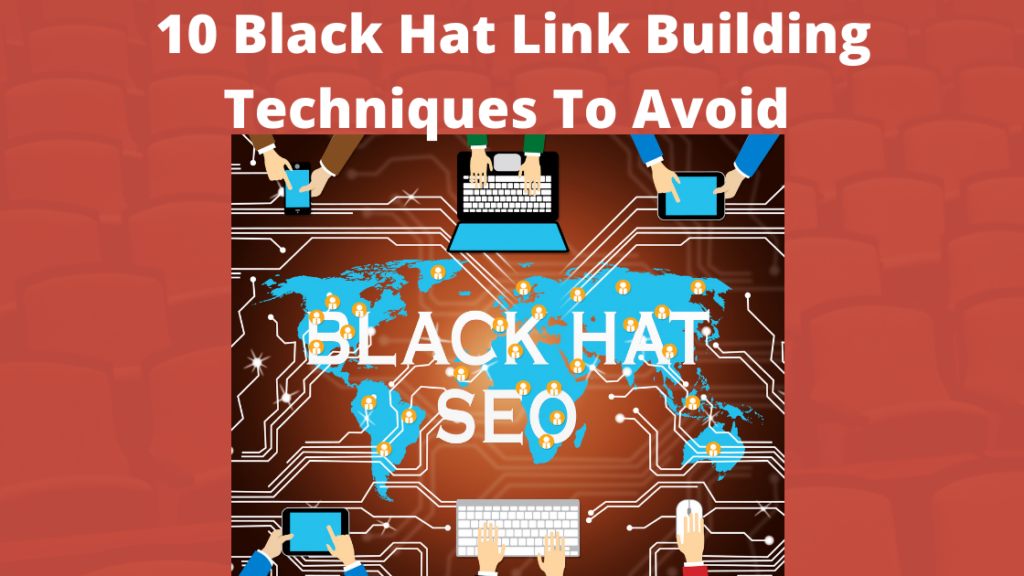 Link building is a crucial part of SEO (Search Engine Optimization). It helps improve the visibility of websites in search engines. And that means better rankings and higher traffic. In other words, it increases the chances of being found by potential buyers.
But there are some black hat techniques that can get you banned from Google, Yahoo, Bing, etc. This article will help you identify them and avoid these link building mistakes.
What Is Black Hat SEO Link Building?
Black hat link building refers to any kind of unethical methods used in search engine optimization that can get you banned from search engines.
Black hat SEO is a risk for any website. Search engines ban sites that use black hat techniques. Black hat SEO can boost a page's ranking in search engine result lists (SERPs). However, using these methods could get your site banned by search engines.
Why Are Black Hat Link Building Techniques So Dangerous?
The main reason why black hat SEO techniques are harmful is because they do not follow best practices. They also go against search engine guidelines, which means they could get your site banned.
White hat SEO is a safer way to improve rankings. This involves following best practices and using white hat techniques. These include creating content that is relevant to users, using keywords in titles and meta descriptions, and having quality backlinks from high-quality websites.
10 Black Hat Link Building Techniques To Avoid
Guest posting is when an author publishes articles on other people's blogs. The goal is to build links back to their own blog or webpage. 
Guest posting on blogs with low authority can be effective if done properly. But guest posting spamming can be damaging. You should only submit posts on high-authority blog networks to avoid getting penalized.
Doing unrelated guest blogging just to generate links is considered spamming. If you want to become a guest blogger, then make sure you have something valuable to share with readers about what you write. You must provide useful information that will help the reader and send them back to your site to generate traffic, rather than irrelevant links that will get your site down for good.
Low-quality backlinks are those that are irrelevant to the topic of your post or website. For example, if you publish an article about business management, don't try to build backlinks from websites related to gambling or sex.
Low quality backlinks can damage your reputation as well as your rankings. Therefore, be careful about the kind of backlink you build to your website. You should only get links from websites that are relevant to your niche. 
Shady redirects involve hiding text within website pages. Some sneaky webmasters use this method to trick visitors into thinking they are leaving to a legitimate website.
When someone clicks on a link, they might end up at an irrelevant website. That's called a shady redirect. It could be a sign of bad SEO practices.
Redirects are not always bad. Some webmasters use them to point users back to their website when the original content has been removed. This is called a redirect. However, some webmasters abuse redirects by pointing users to irrelevant pages. You may get penalized by Google if your redirects are not relevant.
Spammy, junky or scammy footer link is a link that is written with the sole purpose of cheating your way up to be ranked higher than other articles in search engines. This practice leads to rank loss. You may end up with a penalty in the worst case scenario.
Footer links appear at the bottom of each page, loading the footer of your site with links will only get your site a large number of unnatural backlinks and this can cause your site to lose its ranking.
Always remember to add value to your readers with informative footers. Don't just throw links in there because it looks cool. Make sure your links are relevant to your audience.
READ ALSO:
Linkbaiting is where you pretend like one thing but actually do another. In other words, you are using clickbait to lure visitors into clicking through to your site.
This strategy happens when you 'revitalize' your content into a commercial article. The trick is to get links for a specific article and then make an entirely different article out of it. Even though the original article had been unique and qualitative, and the links were natural, if you made another article out of it it means you're trying to gain traffic by doing something frivolous.
You should never employ link bait tactics. They're considered unethical and against Google's guidelines.
It refers to an arrangement between two websites to get each other ranked high in Google. I will spoil the fun for you so you don't get tempted to use this method because it's considered a link scheme. It won't let your site appear in SERP anymore! The bad guys use black hat SEO techniques to get their websites ranked high in search results.
This is a common mistake made by many people who try to cheat Google. You should never use any type of link schemes. Your site will be penalized and you'll lose traffic.
You must avoid using these methods to build backlinks. If you do, you will risk losing rankings.
Buying links is not recommended as a ranking strategy. Links should be built organically by building authority content and earning links naturally.
Never buy links from sites that have low domain authority. There are a lot of ways that buying links can damage your website and lead to penalties.
When buying links, the safest practice is ensuring that the links have "nofollow" meta tags, which tell Google that you're not trying to gain rankings through the links.
Blogging comment spammers are those individuals who leave spam comments on blogs in hopes of getting their own site linked to. These types of spam comments aren't useful and they also hurt your own reputation as well as the reputation of the person whose blog you left such a comment on.
Don't ever leave spammy comments anywhere online. You could easily get caught and penalized for it by search engines.
Private Blog Networks (or PBN) are networks of blogs that all share the same owners or management team. PBNs are used to artificially inflate PageRank and Domain Authority in order to rank higher in Google.
With this tactic, a chain or group of site users actually create networks of private blogs just to boost their most important sites, what makes them worse than regular blogs is that they usually contain spammy articles. So yes, you might be able to rank higher in Google, but you'll end up being penalized at some point.
A link farm is basically a network of websites owned by one company. The goal is to increase the number of incoming links pointing to your site in hopes that this will help you rank better in Google. A link farm violates Google's Webmaster Guidelines and can result in a penalty.
Link Farms are extremely risky. In order to build a real web presence, you need to focus on creating quality content and building relationships with other bloggers.
Conclusion
The 10 things mentioned above are some of the worst practices you can do when trying to improve your SEO. All of these tactics are very risky and can even land you in trouble with Google.
You need to implement the right strategies to succeed in getting organic traffic. That means focusing on quality over quantity, building trust, and avoiding spammy tactics.