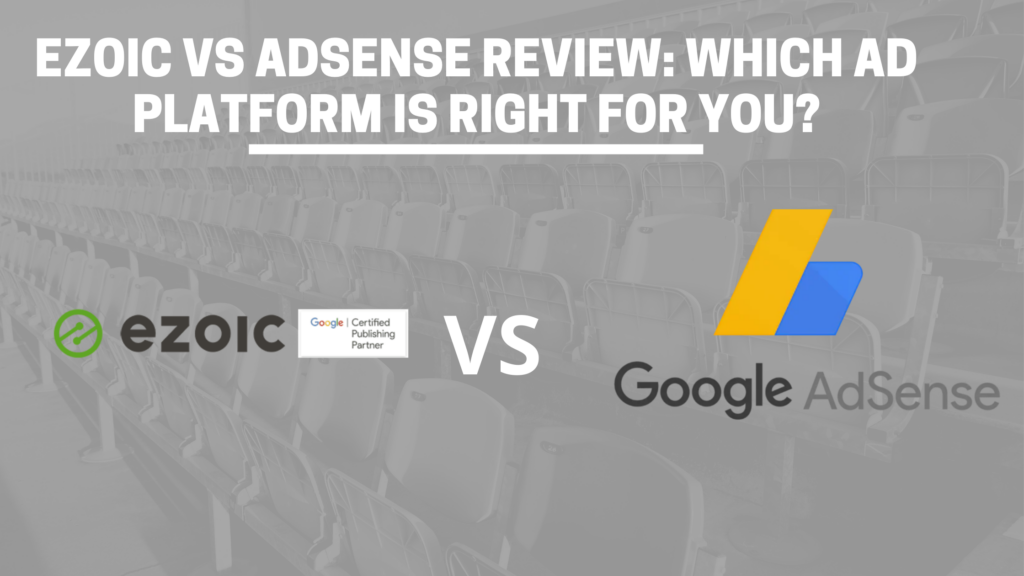 In this post, we're to going to do an in-depth review and analysis of Ezoic vs Adsense so you can know the right Ad platform you can choose for your website.
What Is Adsense?
AdSense is Google's ad platform that allows publishers to monetize their websites by displaying ads on the pages of those sites. It provides a great opportunity for webmasters to make money from their content. Advertisers bid for ad space on your page. You get a percentage of the revenue generated by those ads. 
Google charges advertisers per ad click and gets paid 68% of the money. Publishers get 51% of the money earned by ads. This means that if there are more clicks, the publisher makes more money. As a result, it is important to choose a website that attracts lots of traffic so as to maximize the amount of money that can be made.
What Is Ezoic?
Ezoic learns from visitors' behavior and allows publishers to improve different areas automatically using real machine learning, including testing thousands of different ad units, placements, website layout, and more.
Ezoic is an advertising network that helps publishers make more money by running ads on their website. It also allows them to monetize their content without having to pay for traffic or clicks. This means that if you sign up for Ezoic, they will help you increase your revenue while making sure that your users see relevant ads. Ezoic pays per impression, which means that you get paid every time someone views an ad on your page.
Ezoic enables publishers to manage multiple goals while remaining in full control of all testing. Its unique technology was designed for digital publishers and includes industry-first features for monetization, improving site performance, and more. Ezoic can increase the traffic and revenue of your website by 300%, This may sound like an exaggeration, but it's Ezoic's technology that's the game changer here.
Features of Adsense
Balance User Experience and Ad Revenue
Simple. Just copy & paste code into any HTML file on your server.
A/B Test Ad Variants for Performance
Automatic tracking of how well each ad unit performs, allowing you to see results and improve the next time around.
No limits on maximum number of impressions or clicks.
Easily track conversions (clicks) at no cost.
Support for all types of ads, including text and image ads.
Get paid quickly
Features of Ezoic
1. Automated Testing and Optimization
Ezoic offers automated testing and optimization services for both desktop and mobile browsers. These include A/B tests, split-testing, ad tester, layout tester, and other advanced techniques that help publishers drive more conversions.
2. Advanced Reporting and Analytics
Ezoic offers a free version of analytics software that looks very similar to Google Analytics. Ezoic is a free analytics tool that looks and feels like Google Analytics but allows you to see much more detailed information about your ads.
You'll be able to see how much money you're making per page or device, etc. You can see exactly what drives your users, including demographics, location, devices, operating systems, and more. Understand how they interact with your site. And gain insights about your audience.
3. AI Placeholder
AI placeholders will make you more revenue as well as improving user experience. Ezoic's technology has more data to work with as well as testing to try. The technology considers these elements, length of content and word counts, and then inserts placeholders accordingly. Just like with normal placeholder, Ezoic's AI figure out over time which places performs the best and continually improves website.
Ezoic lets you test hundreds of variations of placement — everything from different sizes and positions of ads to whether certain ads should appear before or after them.
4. Speed Optimization (Leap)
Leap is a tool that optimizes websites by removing unnecessary code and scripts. It also includes performance monitoring tools. This tool includes some great features and making sure that website codes are optimized.
The Ezoic leap tool will have various different features namely:-
Overview
Core Vitals
Optimization Settings
Technologies
Ezoic Lab
Leaderboard
5. Ezoic Cloud Caching
Ezoic Cloud is an application that helps website owners to improve their site performance. It analyzes the web pages and stores them in cache memory. This reduces the number of requests made by the browser to the server, thus improving the overall page load time.
Ezoic Pros and Cons
Pros
Programmatic Advertising
User Experience and Revenue Goalsetting
Automated Audience Segmentation for Mobile/Desktop/Tablet
Automated Ad Placement Testing
Cloud Serving of Content & Free CDN
Cons
Small Ad At The Bottom Of The Page
Very Hard To Set Up for beginners
The Need To Wait At Least 30 Days To Get The Results, The Algorithm Needs Time To Collect And Analyze The Data.
You Need To Wait At Least 30 Days To See The Results
No Payout For Cryptocurrencies.
Adsense Pros and Cons
Pros
High CPC
Supports Many Countries
No Minimum Traffic Required
Smart Algorithm To Optimise Relevant Ad Content
Ability To Monitor Click-through Rate (CTR)
Cons
Postal Account Verification
Slower Loading Speed Due To Javascript In The Browser
Poor Technical Support 
High Risk Of Blocking, Including Account Ban
No Payout to Cryptocurrencies or PayPal
Ezoic and Google Adsense Approval Requirement
Ezoic and Google Adsense have the same approval requirements since Ezoic is a Google-certified publishing partner. Your website must adhere to Google's policies in order to be listed in its ad platform. This includes, but is not limited to, the items listed below:
No adult content or pornographic images on your site
No malware or malicious software on your site
Properly configured robots.txt file
Site must be publicly accessible
No invalid clicks/impressions
Not falsely encouraging clicks
Not offering copyrighted material/downloads
Not offering counterfeit goods
The site should have reliable traffic sources
Not using automatically generated content
Not creating empty pages with no original content
Not using content that is copied from other webpages
Not keyword stuffing
Not using adult / dangerous / derogatory content
Not offering alcohol/tobacco / healthcare-related content
Not using aggressive/threatening content
Not using illegal content
Ezoic Vs Adsense: Key Difference
| Ezoic | Google Adsense |
| --- | --- |
| Low Threshold Of $20 | High Threshold of $100 |
| Great Technical Support | Poor Technical Support  |
| Ezoic Run A Lot Of Tests To Give Your Site The Most Optimized Experience And The Best Performing Ad Placements. | Google Adsense Does Not Test Run Ads. |
| Ezoic Will Improve Your Site's Load Time By Using Its Caching And Cloud Flare Applications That Increase Your Site's Speed. | Google Adsense Can Slow Down The Speed Of A Website. |
| 3 Payment Method, Cheque, Payooner and Paypal | Multiple Payment Method |
Conclusion
Ezoic vs Adsense – which platform is better?
Well, it all depends on what you want out or how you plan to monetize your blog. If you want to make more money with less effort and you want to create a unique experience for your visitors, we recommend Ezoic because it's easy to set up and manage, However, Both platforms are great for different reasons, so why not try both out and see which one works best for you?