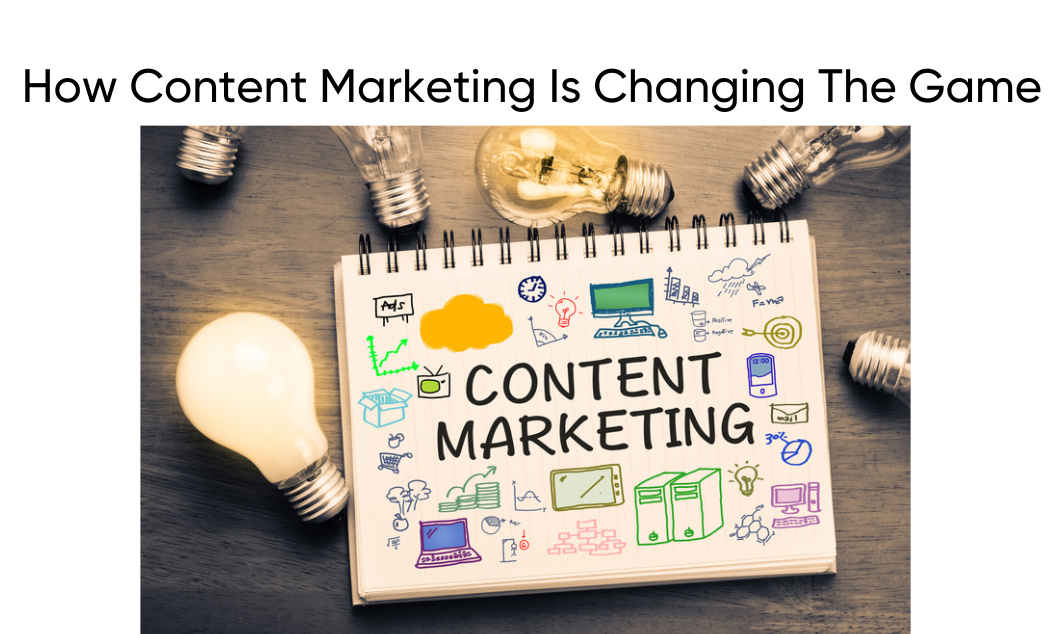 Content marketing is one of the fastest growing areas in digital marketing and has been a major focus for many businesses over the last few years. This article will explain how content marketing is changing the game, what it means to your business, and why you should be considering this strategy as part of your overall marketing mix.
What Is Content Marketing?
Content marketing is simply the process of creating and sharing high-quality information with the goal of attracting new customers or clients. It's about providing value to people to stimulate interest in products or services, and ultimately encouraging them to take action.
The main aim of content marketing is to attract new leads and turn them into paying customers. You do this by providing valuable information that is interesting and useful to your target audience, while also being consistent across all customer touchpoints (website, social media, email, etc.).
Why Is Content Marketing Important?
The main reason that most companies are starting to use content marketing strategies is that they want to attract more leads and grow their customer base, this is because, with content marketing, it is possible to build an endless supply of fresh, relevant traffic that can convert at higher rates than any other channel.
With content marketing, you don't have to rely on outbound techniques such as advertising or sponsored post. Instead, you can provide engaging, relevant, original content regularly, which gives prospects and customers something valuable and encourages them to interact with you.
This interaction could lead to sales, and if you are able to create great content consistently, then you open yourself up to the possibility of generating regular leads and revenue.
If you can consistently deliver great quality content that solves problems and answers questions then you give yourself the opportunity to become an authority figure in your industry, this means that when people search for solutions to their problems they'll come across helpful content on your website and find exactly what they need, resulting in a conversion.
The best way to think about content marketing is that it's a long-term investment in building trust and credibility with potential buyers. By delivering helpful, informative, unique articles, podcasts, videos, and other types of content you present your company as an expert. And this will lead to increased traffic to your site, increased sales, improved SEO rankings, and better brand recognition.
READ ALSO:
5 Benefits Of Using Content Marketing For Your Business
Content marketing is an essential part of any successful online marketing campaign. Here are 5 benefits that you can expect from using content marketing for your business:
1. Attract New Customers/Leads
One of the biggest benefits of using content marketing is that it allows you to attract new customers and leads. If you are producing regular, valuable content that provides real value to readers, then you are giving yourself the chance to reach a wider audience who may not have heard of your brand before.
2. Improve Conversion Rates
Another benefit of using content marketing is the fact that it helps improve conversion rates. When you produce valuable, informative, and helpful content that addresses specific issues faced by your target market, you have the chance to increase the likelihood of conversions.
3. Improved Search Engine Rankings
When you are creating high-quality content, Google rewards you by ranking your pages higher in its search results, meaning that your business gets seen by more people. This is one of the reasons why many businesses are turning to content marketing; they know that it improves their SEO rankings and increases their visibility online.
When done properly, content marketing can help you to get found online through Google and other search engines, meaning that you can appear organically within search results. This can result in your business getting seen by more prospective customers.
4. Build Trust With Prospects & Customers
As we mentioned earlier, content marketing builds trust with both existing and potential customers. It shows that you are knowledgeable and trustworthy, which means that you can be relied upon to provide useful information and also help people who might otherwise never hear of your brand.
So, if you want to build trust with your prospects and customers, then you should consider using content marketing. It's a proven method that works well and has been shown to increase your chances of making your business stand out from others.
5. Increase Brand Recognition
Finally, another benefit of using content marketing for your brand is that it can help you to gain brand recognition. As we discussed above, content marketing is all about providing valuable, informative, and interesting information that helps your target audience understand your brand better.
This helps them to associate your brand with expertise, knowledge, and trustworthiness. So, when you use content marketing to promote your brand, you are helping to establish your authority as a thought leader in your industry.
Is Content Marketing Effective?
Yes, content marketing is an effective way to promote your business and increase sales. It's a great way to get the word out about new products or services you're offering. When done properly, it can also help you build brand awareness, improve SEO rankings, generate leads, and boost sales for your business.
Conclusion
Content marketing is a powerful tool for any business looking to grow, so make sure you take advantage of this opportunity. You will find that it will pay off big time in the long run!
When you take full advantage of what content marketing can do for your business, you'll see how much easier it becomes to attract new clients, convert more visitors into leads, and turn those leads into loyal customers.
Seeing results with content marketing is not rocket science, but it does require some effort on your part. If you want to start seeing positive results with content marketing, then you need to put in the work.
It takes a little bit of planning, creativity, research, and patience. When you combine these things together, however, you will find that content marketing is easy to implement and even easier to scale.
You may have heard the old saying "content is king." Well, it turns out that there is the truth behind that statement. In fact, content marketing is one of the most effective ways to market your business because it allows you to connect with your audience in a personal way.
The best thing about content marketing is that it can be used to promote anything you like. Whether you're promoting yourself, your product, or your service, you can use content marketing to tell your story to the world.
By taking the time to plan and execute a content marketing strategy, you can build relationships with your audience, drive traffic to your website, and ultimately grow your business.