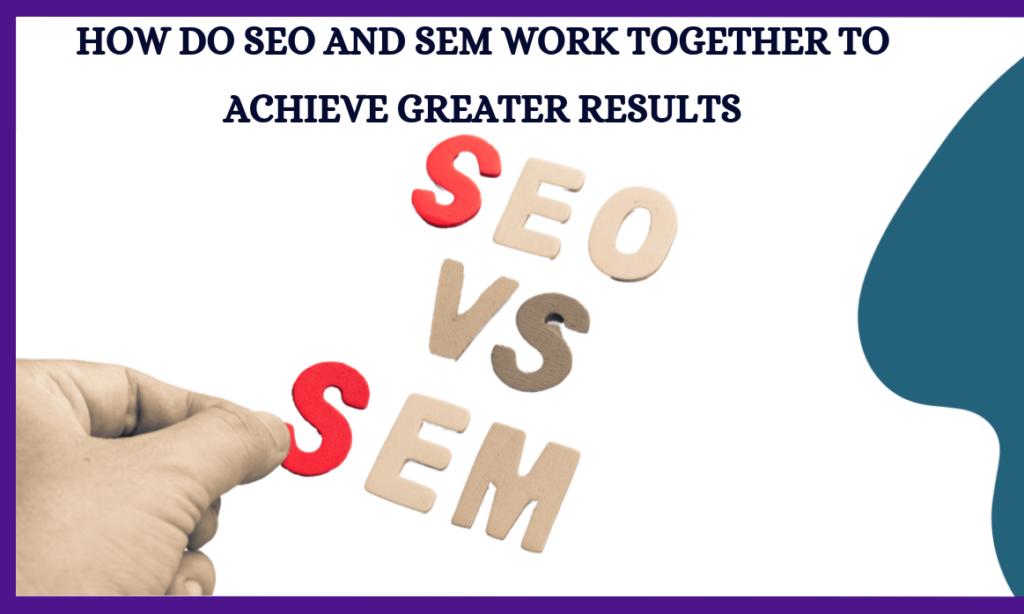 Search engine optimization (SEO) and search engine marketing (SEM) work together to help websites rank higher in Google, Bing, Yahoo, and other major search engines.
Together, they form a powerful combination. They work hand in hand to help bring traffic to your website and increase conversions.
To make sure your website ranks high in search engines, you'll need to do both SEO and SEM. In this article we'll go over how SEO and SEM work together.
If you understand how these two channels work together, you can build a winning strategy that will help you dominate your niche! In this post, I'll explain the relationship between SEO and SEM.
What Is Search Engine Optimization (SEO)?
Search engine optimization is the process of improving the ranking of a web page or blog on search engines like Google and Bing. It's also known as organic SEO because it's done by optimizing each page of your site to rank well for specific keywords.
The goal of SEO is to improve the visibility of your website so people find it when searching online. This improves your chances of getting more traffic from the search engines.
The top result is what most people click on first. Therefore, if you want to get maximum exposure on search engines, it makes sense to optimize your pages for the best results.
When someone searches for a keyword related to your business, your website should be at the top of the list. You don't want to miss out on potential customers who are looking for your product or service!
On-page SEO tactics like optimizing image alt text and titles are essential to getting your page ranked by Google. Off-page SEO techniques such as backlinking and guest posting can be used to further boost rankings. However, combining both on-page and off page SEO tactics will give you the best chance at ranking high.
Data-driven content is extremely important to any SEO campaign. When writing articles, focus on providing useful information that your audience wants to read, your website needs to provide useful information to users who visit it. Your content must be interesting and engaging so that visitors stay on your site longer. That means you have to focus on creating content that is informative, original, and useful.
One of the most important aspects of creating good content is ensuring that it provides real value to users. Quality content that provides real value will rank well in search results. Search engines are better at understanding what users need and what they want so your content needs to be written specifically for them.
By using data-driven content, you're able to create valuable, unique content that helps drive traffic to your site through search engines.
What Is Search Engine Marketing (SEM)?
Search Engine Marketing is a paid marketing strategy to promote a site, generate traffic to your website through Pay-Per-Click Advertising (PPC), and improve page exposure in the search results pages (SERPs), Pay per click (PPC) ads drive immediate visibility to your website by showing up in search results.
Paid search advertising involves targeting specific keywords and phrases so that they appear at the top of SERPs. If you type a query into Google, you may see the top few results have the word "ad" in front of it. These are paid ads.
SEM is one of the most powerful digital marketing strategies for businesses looking to reach potential customers. Paid ds are highly targeted and measurable. They allow your team to identify the exact audience segments, demographics and behaviors that generate more action on your ads. With complete control over the budget, you can spend less money on ads and more on SEO. Optimizing your ads for relevancy, user friendliness and relevance will improve your Quality Score and increase the number of clicks. As a result, Google will reward you by giving you better rankings and lower cost per click.
SEM is the big picture in which SEO sits. Paid search marketing involves both organic search and paid advertising. However, most SEO teams focus solely on paid search because it's the easiest way to get rank higher in search engines without having to do much work. 
Search engine marketing (SEM) involves many different tactics. One of these tactics is content creation. Online marketers use content to attract visitors to their site. They then convert those visitors into leads and eventually customers. To achieve this goal, they create a variety of content including blogs, videos, ebooks, webinars, infographics, etc.
Keyword research is by far one of the most important aspects of a successful link building campaign. Before starting, it's crucial to identify keywords that are relevant to your industry or niche. Once you've narrowed down this list, make sure you select long tail keywords. Long tail keywords target smaller markets with specific interests. You could choose a search engine and pay money to acquire keywords that you think would work for your business. That way, you'd rank fast. However, some search engines have more stringent policies when it comes to what kind of content you can promote.
One advantage that SEM has over SEO is that you can get a lot of data related your keywords. Knowing all the keywords related to your product or service allows you to find out how people are searching for information about your products and services. You can use that advantage to surge the benefits of SEO and SEM.
Keyword targeting is one of the most important aspects of paid advertising. You should always be focused on finding the right keywords for your business, and your ads should be eye-catching and enticing. They should draw attention and encourage visitors to click through. Like SEO, you'll want to monitor your PPC campaigns closely so you can determine how effective each ad is at driving traffic.
READ ALSO:
How Do SEO And SEM Work Together?
SEO and SEM work together because they both help websites rank higher in Google searches. SEO focuses on improving website traffic via organic search results while SEM focuses on using paid advertisements to increase website traffic via ads that show up in SERPs. The key difference between SEO and SEM is that one is free and the other costs money.
When both strategies are used simultaneously, they can create a powerful combination for boosting website traffic, increasing conversions and generating revenue.
SEO and SEM have similar goals, which include driving more quality traffic to your site. A well-planned strategy that includes both SEO and SEM tactics will help strengthen your efforts in areas where you can increase your traffic. In order to succeed, you need to know how to combine them effectively.
5 Benefits Of Using Both SEO And SEM For Your Business
1. Increased Traffic
The first benefit of combining SEO and SEM is increased traffic. When you use both methods, you're able to drive more qualified traffic to your site and boost your conversion rate. This means that you can generate more sales from your website.
If you're serious about ranking higher in search results, then you need to consider both SEO and SEM. Both strategies can work together to drive more traffic to your site. A combination of both is proven to drive the most traffic for your website.
2. Improved Rankings
The two strategies can help improve your website rankings, but combining them into one strong strategy can help make it happen more quickly. They both have different strengths that complement each other, which helps improve page rank in SERPs faster than using one strategy alone.
3. More Revenue
Combining SEO and SEM also helps you generate more revenue. More traffic equals more potential sales. You may be surprised to find that the increase in traffic from a combination of both strategies can generate increased revenue compared to either one alone.
Additionally, with both SEO and SEM strategies combined, you help pull visitors into your website by providing them with quality content and information about your company. The combination of both strategies also helps your visitors get better information regarding certain products or services you offer. This means that they're more likely to convert into customers, which means you're able to generate more sales from them.
4. Better Marketing Strategy
A combination of SEO and SEM also helps form a stronger marketing strategy. With this approach, you can reach out to more people and provide them with valuable information. If you're looking for ways to market your brand, then you can take advantage of the benefits of both SEO and SEM.
You can target specific audiences based on their interests and demographics. This allows you to focus on those who are most likely to buy what you sell, which increases your chances of converting them into customers.
5. Better ROI
Another benefit of combining SEO and SME is improved ROI. By targeting your audience through both SEO and SEM, you're able to maximize your return on investment (ROI).
With SEO, you can target keywords that best describe your business. Once you've identified these keywords, you can optimize your pages so that they appear high up in search engine results.
With SEM, you can target audiences based on their interests. This way, you can show them relevant ads and content that's tailored specifically to their needs. This way, you save money while getting more value from your investment.
Conclusion
When you want to rank higher in search engine results pages (SERPs), then you should consider combining SEO and SEM. These two strategies work together to bring more traffic to your website and help you generate more revenue.
They also help you create a strong online presence and build trust among your audience. By combining them, you'll be able to achieve more than if you were using just one strategy alone.