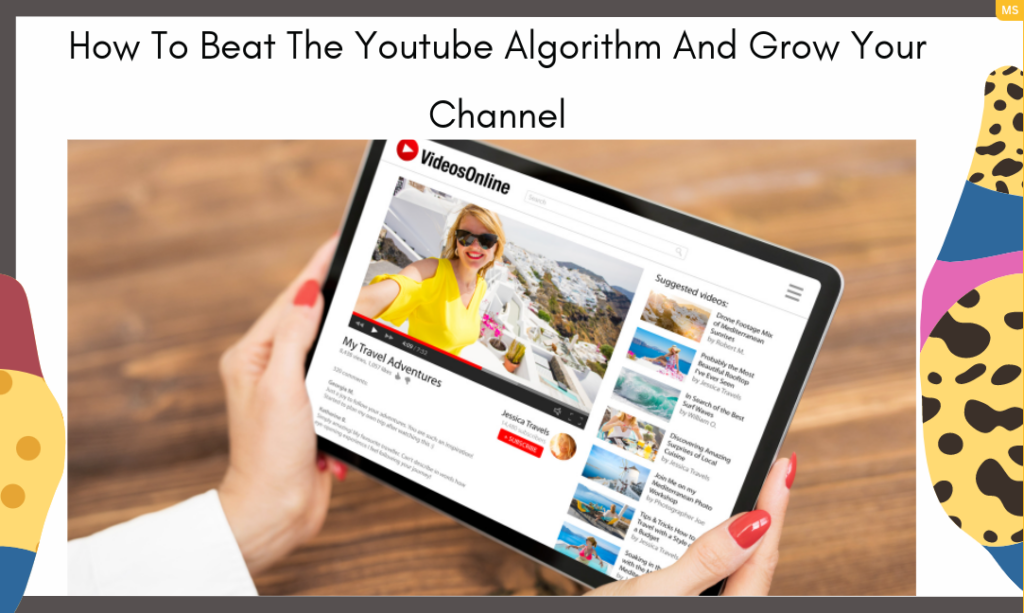 YouTube has become the place to go to find videos related to any topic. It's also become the most popular platform for content creators, with over 1 billion users and billions of hours of videos on the platform every single day.
YouTube is a great platform for content creators to share their videos with the world, but it's also a very competitive place. If you want to grow your channel and reach more people, then you need to know how to beat the YouTube algorithm.
If you're trying to grow your channel or get more views, it can be difficult to compete against channels that have millions of subscribers and hundreds of thousands of daily views. But there are some things you can do to increase your chances of getting views and making money as a YouTube creator. In this guide we'll cover how to beat the youtube algorithm and grow your channel. 
10 Tips To Beat The Youtube Algorithmic Rules & Grow Your Channel
So, let's get started!
1. Have A Great Video Title
The title of your video is what will appear in search results when someone searches for something relevant to your video on YouTube. This means that if you want to rank higher in YouTube search results, you need to make sure that your titles are optimized. So make sure it's catchy and compelling. 
By using keywords in your video title, you can help YouTube understand what your video is about while at the same time increasing click-through rates which leads to more views and helps your channel grow.
2. Create An Interesting Description
Video description tags are written summaries of your videos. They provide vital information about your videos' content, length, and other details. Your descriptions should include keywords and phrases that describe your video. You can use these words to optimize them so they show up in YouTube search results.
Your description plays an important role in helping viewers decide whether they should watch your video or not. You can use the description area to give them additional information about your video so that they can decide whether it's worth watching or not.
By writing interesting descriptions, you can improve your chances of growing your channel by attracting new viewers and keep existing ones engaged.
3. Optimize Your Video Thumbnails
Thumbnails play a crucial role in deciding whether or not a viewer watches your video. When someone clicks on your thumbnail, they see a preview of your video before clicking through to watch the full version. Thumbnail images must be clear, concise, and attention grabbing.
Thumbnail images are really important. So many people overlook the importance of their thumbnails, and end up losing out on potential views because of it. Make sure your thumbnails are eye catching and enticing. 
You can use tools like Canva or PicMonkey to create custom graphics for your thumbnails. These tools allow you to manipulate your images, giving you complete control over how your thumbnail looks.
When you have great thumbnails, you'll attract more views and comments from your audience. This will lead to increased engagement, which will ultimately help your channel grow.
4. Add Keywords To Tags
Tags are another way you can help YouTube understand what your video is all about. By adding relevant tags to your videos, you can help YouTube understand your video better to rank it in search results.
When creating tags for your videos, try to keep them short and descriptive. Avoid using trademarked or copyrighted materials unless you have permission from the owner. Tags should be specific and unique so that they appear when users type certain keywords in the search box related to your video.
Tags are incredibly important when uploading video content to YouTube. Without proper tagging, YouTube won't be able to properly index understand your videos and display them in search results.
When you tag your videos correctly, you increase the likelihood that your videos will get found in searches. This means more views and subscribers for your channel.
5. Engage Your Audience
Engaging with your audience is one of the best ways to build a loyal suscribers on YouTube. If you're posting regularly, interacting with your suscribers, and responding to comments. This helps you gain exposure and reach more people. It also makes your channel look active and trustworthy, which encourages others to suscribe to your YouTube channel as well.
Engaging your audience builds trust. It creates a bond between you and your suscribers. When someone finds something interesting, they are more likely come back for more of it. In this day and age, people are looking for genuine connections with brands. They don't want to be sold to. Instead, they want to feel like they have a relationship with the company. That's why engaging your audience is such an effective tactic.
By engaging with your audience, you show that you care about your viewers. You're willing to respond to their questions and concerns, and give them answers. This shows that you're approachable and open to feedback. People appreciate being taken seriously, and they respect those who take the time to listen to them.
When you engage with your audience, you make yourself relatable. You become human. You show that you're not just some faceless YouTuber. You're real person with feelings and opinions. This makes your audience feel comfortable around you. They know that if they ask you a question, you'll answer it.
This will help you grow your channel by increasing your subscriber base. As long as you continue to interact with your audience, you'll see your channel grow.
READ ALSO:
6. Create Great Content
Great content is king. There's no denying that fact that people love great content. Whether it's funny, informative, creative, or entertaining, people enjoy watching good content.
If you want to grow your channel, you need to create high-quality content. Quality content includes:
High production value – High quality cameras, microphones, lighting, etc.
Good audio quality – Good microphone placement, good sound editing software, etc.
Clear images – Clear photos, clear graphics, etc.
Originality – Original ideas, original concepts, etc.
If you want to grow your channel, you need to produce high-quality content. Quality content is defined by its relevance, originality, and usefulness.
The right content can help you grow your channel. If you upload videos that aren't relevant, useful, or original, then you're wasting your time.
Quality content is what keeps people subscribed to your channel. It's what keeps them coming back for more.
7. Promote Your Videos
Promoting your YouTube videos is another way to grow your channel. By promoting your videos, you let other users know that there's new content available.
There are many different types of promotion methods available to you. Some of these include:
Social media sharing – Sharing your video on social media sites like Facebook, Twitter, Instagram, etc.
Email marketing – Sending out emails to your subscribers letting them know about new videos.
Run a contest or giveaway – Running a contest where you give away prizes in exchange for likes/subscribers.
etc.
You should use all of these methods to promote your videos. However, you shouldn't rely too heavily on any single method.
8. Add Video Subtitles
Adding subtitles to your videos is one of the best ways to improve engagement for your videos.
Subtitles add an extra layer of information for your viewers. When someone watches a video with subtitles, they have to read along while listening to the audio.
With subtitles, you can tell your viewers exactly what's being said during the video. People who watch videos with subtitles don't have to struggle to understand what's going on, which means they're more likely to stay engaged longer.
You can grow your channel by adding subtitles to your videos. Adding subtitles will make your videos easier to understand, which can lead to higher views, increased engagement, increased suscribers, and ultimately, growing your channel.
9. Pay Attention To Your Analytics
Analytics are important because they allow you to see how your audience interacts with your content. They also show you what kind of content performs better than others.
By using analytics, you'll be able to find out what works and what doesn't. You can then tweak your videos accordingly.
Analytics is also important for online channels such as YouTube. You can use analytics to learn more about your viewers. This knowledge allows you to provide better content to your viewers in the future.
YouTube Analytics provide lots of useful data. Some of which include reach, engagement, audience, and revenue. Understanding these metrics will help you understand how your videos perform and what areas you should focus on improving.
By paying attention to analytics, you'll be more successful at growing your channel.
10. Research Your Competitors
Researching your competitors is essential if you want to beat them and grow your channel.
If you want to compete against bigger channels, you need to research their strategies. If you want to beat smaller channels, you need to study how they've grown.
Once you've done some research, you'll be able take actionable steps towards growing your channel.
Before you start creating videos for the target audience, it can often be beneficial to do some basic research into what types of videos your competitors are making, how they are engaging with their audiences, and what metadata they are using. This will give you a better understanding of what your competition is doing to draw traffic to their channels, and where you could improve upon their efforts.
Understanding what your competitors are doing is extremely beneficial when it comes to directing your own strategy. Your audience should be able to rely on your videos, so if you're not providing high-quality content that meets their needs, they may leave your channel.
Your strategy should include covering all of the topics that your audience wants to know about, but there is no one right way to approach this. It all depends on what type of channel you run and what your goals are. It's crucial that you create original content that's relevant to your audience.
Wrapping Up
Growth isn't easy, especially if you're just starting out. But once you put in the work, you'll reap the rewards. With the information provided above, you should be well on your way to growing your channel.
Remember that growth takes time, consistency, and patience. Don't expect overnight success. Instead, build up a strong foundation over time, and eventually you'll see results.
There are many other ways to grow your channel, but these 10 tips are the most effective ones I have found.
These tips work well together, so try implementing a combination of them to boost your growth even further. Good luck!
What are your favorite ways to grow your YouTube channel? Let us know in the comments below.