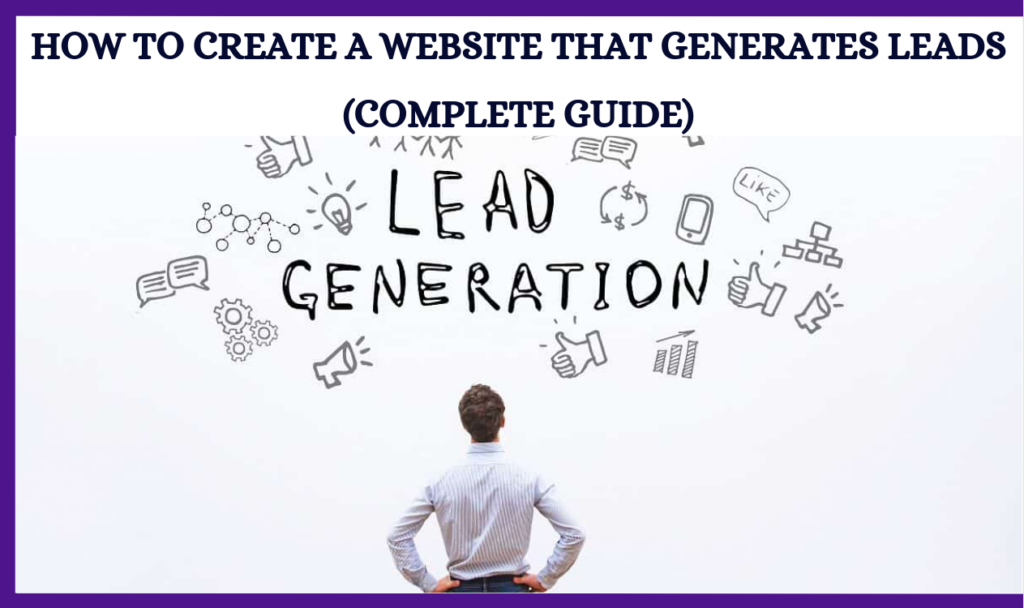 In this article, we will be looking at how to create a website that generates leads, and how you can use it to generate more sales for your business. We will look at the basics of what makes up a good lead generation website, as well as some tips on how to make sure that you get the most out of it.
What Is A Lead?
A lead is someone who has shown interest in your product or service by visiting your site, filling out an online form, calling you, etc. It's basically anyone who could potentially buy from you, so they may be interested enough to take action.
Lead generation is all about getting people to visit your website, fill out forms, call you, or do whatever else you want them to do. The idea is to convert these visitors into customers. Once you have their contact information, you can follow up with them and sell your products and services to them.
Why Do You Need A Website That Generates Sales
There are many reasons why you should consider using a lead generation site. Here are just a few:
1. You Can Get More Sales With Less Work
If you run a small business, you probably don't have a big budget to spend on marketing. Using a lead generation site means that you can get started with little money, while still increasing your chances of generating sales.
2. You Can Increase Your Customer Base
People generally like to buy from businesses that they know, which is why lead generation sites are such a great way to build relationships with potential buyers. If you start building relationships with your target market now, then when it comes time to promote your business, you already have a relationship with them. This makes it easier for them to trust you and buy from you.
3. Spread Brand Awareness
When you start generating leads through a lead generation site, you are essentially spreading brand awareness. People will see that your company exists and that you offer something useful, which gives you credibility in their eyes and hones your ability to succeed in growing your business.
4. You Can Save Time And Money
It takes a lot of work to find new clients and close sales. By having a lead generation site, however, you can save yourself a lot of time and effort. Instead of spending hours searching for new prospects, you can simply let your lead generation site do the work for you.
5. You Can Grow Your Business
You can also grow your business by making it easy for people to signup for your newsletter, opt-in for your email list, and join your mailing list. This helps you keep track of all your contacts and allows you to send them emails and other messages that are relevant to them, which increases your chances of converting them into customers.
15 Tips For Creating An Effective Lead Generation Site
Now that you know why you need a lead generation site, here are 15 tips to help you create one that works for you.
1. Start With A Solid Website Design
The first thing you need to do when creating a lead generation site is to make sure that it looks good. You should design your site so that it attracts attention and gets noticed.
Your website design has an impact on how successful your site is. It should be attractive enough to attract visitors. If you want to increase your conversion rate (the number of visitors who become leads), then you need to pay attention to this aspect of your site.
2. Create Buyer Personas
Before you write any content for your lead generation site, you need to understand who your audience is. What are their needs? What problems do they face? Who are they? These questions will help you determine what kinds of content you should include on your site and what types of pages you should create.
Creating content that drives traffic and generates leads is impossible unless you first understand your target audience. This means that you must research who they are and what they want before you begin creating content. Once you've done this, you can then use that knowledge to craft compelling copy that'll resonate with your readers.
Buyer personas are essential when creating content for your website. They provide insight into who your target audiences are and how you should market your business. Your persona's profile includes all the important details about your prospects including their ages, locations, interests, hobbies, and purchasing behavior. Use this information to develop targeted marketing campaigns that appeal to your audience.
3. Build A Variety Of Landing Pages
Landing pages are webpages designed specifically to convert visitors into leads. When someone visits your landing page, they're looking for answers to specific questions or solutions to specific problems. The goal of these pages is to convert visitors into leads as quickly as possible.
Landing page creation is crucial for generating more leads. Research from Hubspot shows that companies with 30 or more landing pages on their website generate 7x more leads than those with just one to five landing pages on their website.
Landing page copywriting is all about simplicity. Your message should be brief, clear, and concise. Also, make sure that it addresses the core issues of your target market. Don't waste visitors' time by giving them irrelevant information. Instead, focus on what your product does and how it solves their problems.
When writing your landing page copy, keep in mind that your primary goal is to get people to take action. Make sure that every element of your landing page helps move the visitor toward taking some kind of action, whether it's signing up for a free trial, requesting a quote, calling for more info, downloading a whitepaper, etc.
4. A/B Test Your Website
A/B testing is an effective way to improve the performance of your website. You can run multiple versions of your landing page and see which version performs better. By using A/B testing, you can easily find out which elements work best and which ones don't.
You can also test different elements within your website such as colors, fonts, headlines, images, links, and so on. By using A/B testing, you can find out exactly what works best for you to increase conversion rates.
Evaluating your site's conversion rate can make all the difference between success and failure. Testing different aspects of your site like buttons, forms, etc., can increase your conversion rates significantly. Split testing different elements are one of the most effective ways to improve your site's conversion rate, you will be able to optimize your entire site and get higher conversions to turn your website into a lead-generation machine.
5. Optimize Your Website For Search Engines
If you're looking for cheap ways to generate leads, then SEO might be the best option available. 
This strategy relies heavily on the quality of the content you produce, so be sure to create high-quality content for your target market. It takes time to see the results of your efforts.
Search engines like Google and Bing rank websites based on the quality and quantity of content they have available. In other words, if a webpage contains lots of relevant content, search engine algorithms will give it a higher ranking in search results.
As customers use search engines at every stage of their buying cycles, SEO helps you to stay top of mind for them by helping to get your site found when they're looking for something specific. It takes some time for results to appear, but it's an excellent channel that gets you leads in the long run.
6. Use Power Words When Describing Your Offer
Powerful action words can help you to describe your offer in a compelling way. These include terms like "get", "feel", "have", and "free".
By using these powerful words, you'll not only attract attention, but you'll also motivate potential buyers to take action.
So, when you're describing your offer, try to use power words to make it even more persuasive. This will encourage visitors to click through to your landing page or contact form.
7. Use Photos To Add Visual Appeal
Using photos can add visual appeal to your landing pages, making them more attractive and engaging.
Including pictures makes your page look more professional and gives it a unique feel, which encourages people to read more about your business and learn more about your product or service.
Not only does adding photos make your landing page more visually appealing, but it also allows you to incorporate more information about your products or services, increasing its chances of converting.
READ ALSO:
8. Use Videos To Tell Stories About Your Business
Videos are another great way to tell stories about your company and how your products or services can benefit your audience.
They allow you to provide value in a short amount of time and keep your message fresh. They also allow you to explain complex ideas in simple terms.
Videos are an effective tool to increase conversion rates and provide a better user experience. They can be used to explain complicated services, demonstrate how things work, and showcase real-life examples of how your product or service benefits customers.
9. Use Exit-intent Technology
Exit-intent technology works by tracking user behavior. When visitors are about to leave your website, it sends a pop-up message asking them to signup, fill out a form, or take any other action. The idea is to entice users to continue browsing your site rather than leaving immediately.
It's important to note that exit-intent technology isn't foolproof. Visitors may ignore these messages, or click "X" to close them without completing any actions. But it still has its place as a great tool to help you get more leads.
Exit intent technology is one of the most effective tools used by marketers to increase conversions. They can be extremely useful when applied correctly.
Studies have shown that Exit Intent Technology converts up to 15% of site visitors who would otherwise abandon the page. With the help of exit intent technology, marketers can re-engage potential buyers by providing them with compelling content and making sure that they don't leave the site without viewing their offer.
10. Add An Opt-In Form
Opt-in forms are extremely valuable because they allow you to collect email addresses from interested parties. Without opt-in forms, you would never be able to send out newsletters or other promotional emails.
Make sure you don't just place forms on every single page; instead, make sure you add them to pages that get the most traffic. Forms help you convert people who visit your site into leads and leads into customers.
By collecting email addresses with forms, you'll be able to follow up with your prospects later on. You can also segment your list by interests, demographics, location, and even other data points. This allows you to tailor your marketing campaigns to each individual subscriber, which increases your chances of getting better results.
11. Implement Live Chat
Live chat is a great way to answer questions and solve problems for prospective clients. It provides instant access to customer support and makes it easier for clients to reach out to you.
Live chat can be a powerful lead generation tool. By answering questions directly through live chat, you're more likely to turn those visitors into leads. According to a study, companies that implement live chat see a 10% to 50% higher conversion rate compared to businesses that don't use it.
Live chat can solve annoying problems for your visitors and increase your lead by being readily available to answer their questions. They can ask their question immediately instead of waiting until a representative gets back to them. It saves time and annoyances for both you and your users.
12. Have A Clear Call To Action
A clear CTA (call to action) is important because it tells your visitor what he or she needs to do next. Make sure that your call to action clearly states exactly what you want them to do.
Calls to action are crucial to getting conversions, it is extremely useful when implemented properly. They provide users with clear instructions so that they can easily move forward. Make sure your CTAs are as obvious as possible so that visitors won't have trouble figuring out how to proceed.
When you tell your readers what to do, you give them a reason to act. Your goal is to provide them with a clear call to action (CTA). Make sure that this CTA is clearly visible and stands out from the rest of your tex.
13. Test And Optimize, Always
No matter how good your landing page looks, if it doesn't perform well enough, then it will not generate leads. The best way to test your landing page is to create different variations of it and analyze the performance of each one using Google Analytics.
It's very easy to optimize a landing page once you've tested all the variations. If you find that some variation performs better than others, go ahead and make changes accordingly.
When optimizing your landing page, keep in mind that there is no such thing as perfection. Don't worry about making everything perfect. Instead, focus on creating a landing page that works well enough. Once you have achieved that, you can start improving it.
14. Nurture Your Leads
Once you've generated leads, nurture them. Nurturing means following up with your leads over time.
You need to stay in touch with your leads after they sign up for your list.
Nurturing your leads is essential to increasing your sales funnel. It helps you convert your leads into customers.
15. Convert Leads Into Customers
Converting your leads into customers is an essential part of any successful business. In order to convert leads into customers, you must build trust between yourself and your audience.
The more engaged you are with your audience, the more likely they are to buy from you. You should always strive to earn customer loyalty.
If you want to convert your leads into customers, then you need to build trust and relationships with them.
By nurturing your leads, you'll be able to convert them into loyal customers. This will help you grow your business.
5 Effective Channels To Generate Leads
Lead generation channels are the ways through which you collect information about potential customers. There are many different types of lead generation channels. These include:
1. Email Marketing
Email marketing is still one of the most effective forms of lead generation. It allows you to reach out to your target market directly. By sending out emails to your target market, you can reach out to them at their convenience.
2. Social Media Marketing
Social media platforms like Facebook, Twitter, LinkedIn, Instagram, etc., offer great opportunities for businesses to connect with their current and prospective clients. Not only does social media allow you to promote your products or services, but it also gives you the opportunity to engage with your customers.
3. Content Marketing
Content marketing is a type of marketing where you share valuable content with your target market. Content marketing includes things like blog posts, videos, infographics, ebooks, whitepapers, webinars, podcasts, etc.
With content marketing, you can generate traffic to your website. When people visit your site, they're usually looking for something specific. By providing useful content on your site, you can increase the chances of converting visitors into leads.
4. Search Engine Optimization (SEO)
Search engine optimization is another way to generate leads. SEO involves using certain techniques to get higher rankings on search engines like Google, Bing, Yahoo, etc.
SEO is a cost-effective way of generating leads. If you do it correctly, you don't necessarily have to spend a lot of money to rank high on search engines and start getting targeted traffic to your website to turn those visitors into leads. 
5. Paid Advertising
Paid advertising is yet another channel through which you can generate leads. With paid ads, you pay a company to advertise your product or service to people who might be interested in it.
When done well, paid advertising is very effective. However, it's expensive. It requires a large budget. So make sure that you pick the right ad campaigns before spending your hard-earned money.
Conclusion
Creating a website that generates leads is easy if you know what to do. The key is to use the above-mentioned methods effectively.
By now, you should have an idea of how to create a website that generates leads. All you need to do next is put these ideas into practice. Once you've got some experience under your belt, you'll be able to generate leads easily.
You'll see results soon enough!
What are your thoughts? Let me know in the comments section below.