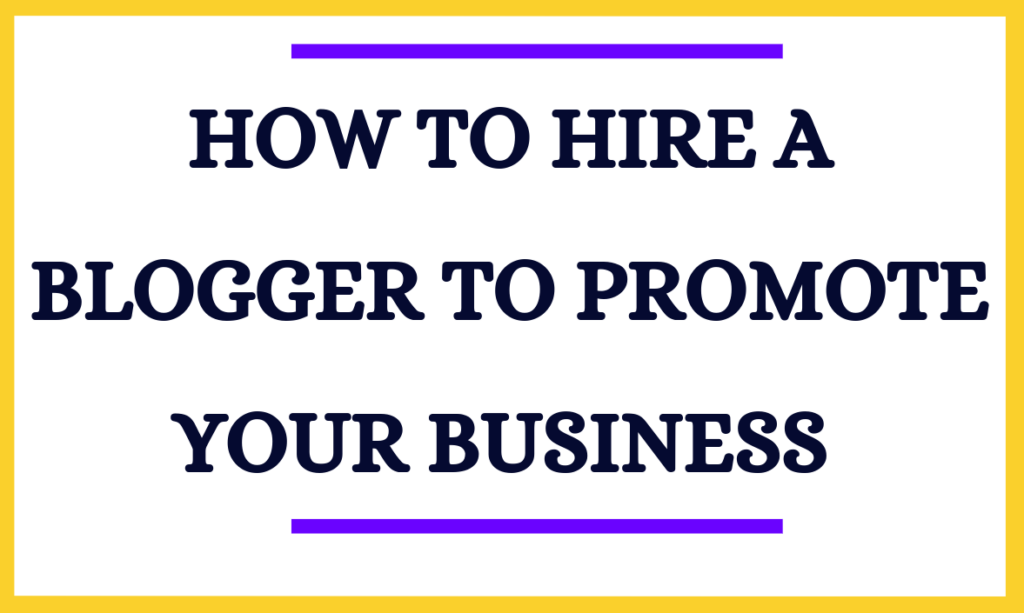 If you're a business owner, then you know that the internet is one of your most powerful marketing tools. It can be used to reach millions of potential customers and clients at any time of day or night. But it's not just about reaching people; it's also about getting them to do something – like buy from you. And if they don't buy from you, then they won't come back for more. So how do you get them to buy? You need to use the right channels to attract their attention. One of the best ways to do this is by using blogs.
Blogs are an excellent way to build trust with your audience and increase brand awareness. They're also a great way to create content that will help you rank higher in search engines to make sure your website shows up when someone searches for your products and services online so that you can generate leads and sales.
And if you don't have an online presence, it will be difficult for people to find out about your products and services. This means that you'll struggle to generate new leads and grow your business.
10 Tips For Hiring A Blogger To Promote Your Business
You need to be careful when hiring bloggers because you want someone who understands both the technical aspects of using blog tools and possesses strong writing skills.
Once you've determined your budget and the kind of blogger you want to hire, you can start spreading the word about your open blogging position.
If you want to hire a blogger, here are some tips on how to choose the right candidate:
1. Determine The Employment Status
Before getting started, you need to determine whether the blogger should work for you as a full-time employee or a freelancer. There are several reasons why you might want to hire someone full-time. A full-time blogger could help you build brand awareness, increase traffic, and generate leads. On the other hand, there are many benefits associated with hiring a freelancer. You don't have to worry about payroll taxes, health insurance, workers' compensation, and unemployment insurance. However, if you're looking to save money, you may want to consider hiring a freelancer instead of a full-time employee.
2. Determine The Pay Rate
The next step is to decide what you'll pay the blogger. Some companies offer a fixed salary while others offer a per project basis. In either case, you need to discuss the terms of the agreement before starting the job.
if you do not have enough money to cover your expenses, then it's best that you start with a low budget and gradually increase your spending over time for better results.
3. Evaluate His/Her Skills
It's always good to check a person's experience before you hire him or her, especially if you plan to spend a lot of money on his or her services. Ask the prospective blogger how long he or she has been working as a blogger. How much experience does he or she have? What types of projects have they worked on? Do they have any relevant certifications? These questions will give you a clear idea of how experienced the blogger is.
4. Decide The Lenght Of The Contract
This is another important factor to take into consideration. If you're planning to hire a blogger for a short period of time, such as 3 months, then you can negotiate a contract that lasts only for this period. However, if you expect the blogger to work for longer than 3 months, then you also need to set a deadline for the completion of the project.
5. Check Out Their Portfolio
A portfolio is a collection of samples of their previous works. It helps you get a feel of what type of work they can do. You can ask them to send you links to their past blogs so that you can evaluate their work.
A portfolio is one of the most effective ways to evaluate a potential blogger's skill level. It will help you to determine if the blogger is capable of promoting your business or not and if he or she is worth hiring.
6. Connect On LinkedIn
LinkedIn is an excellent tool for finding people in the industry you're interested in, including bloggers.
LinkedIn is a prime place to look for people you want to hire and over 85% of companies or hiring managers use it to search for potential candidates! If you want to look for potential bloggers for your company, LinkedIn is the best place to go.
You can connect with people who seem suitable for the job on LinkedIn and ask them if they would be interested in having a quick conversation to get to know each other and talk about their experience, skills, and qualifications.
7. Use Job Boards
The internet abounds with job board websites that connect employers with highly skilled candidates for any job position imaginable. These sites include Indeed, Google for Jobs, Problogger, FlexJobs, Glassdoor, etc. By posting a job opening on one of these sites, you can reach out to thousands of people looking for work.
Although the idea of free seems too good to be true—there are actually several popular sites that allow companies to list open positions for free. You simply pay a small fee for a job ad posted. Then, you wait for interested parties to contact you about the position.
READ ALSO:
8. Consider Using An Agency
An agency is a service provider that offers its clients various kinds of services, including blogging. They usually offer a package deal where they provide all the necessary tools and resources needed to run a successful blog.
They may charge a monthly fee for using their services, but they'll save you a lot of time and effort by doing everything for you at an affordable price.
9. Consider Freelance Websites
Freelancer, Upwork, and Fiverr are websites where you can post jobs and find freelance workers from all over the world that are professional bloggers who can help you to promote your business.
When you post a job on these websites, you have the opportunity to choose from hundreds of qualified freelancers who are ready to do the job for you, and you don't even have to spend much money to get started.
10. Ask For Referrals
Sometimes the best freelancers come from referrals. You can use social media sites to ask for recommendations from people you know or send an email asking for recommendations. By doing this, you can easily find some great bloggers for your business.
5 Reasons to Hire a Professional Blogger To Promote your Business
Hiring a professional blogger to promote your business isn't as expensive as you might think. In fact, there are many reasons why hiring a professional blogger to promote your business could actually save you money and grow your business over time. Here are 5 reasons why:
1. Quality Content Is Key
Quality content is key to generating traffic and building relationships with your target audience. When you hire a professional blogger that can write blog posts on topics related to your industry, you'll be able to provide high-quality content that will keep readers coming back for more.
You can be sure when you hire a blogger for your business that you're getting 100% unique and original content for your business. You're guaranteed that there isn't any plagiarism or generic, boring content that's been written before.
With quality content, you'll be able to gain the trust of your audience and build long-term relationships with them. This means that you'll be able to convert more visitors into paying customers and grow your business.
2. SEO Optimization
When you hire a professional blogger, you'll be able to optimize your site for search engine rankings. This means that you'll be able to rank higher in Google and other popular search engines.
This means that you'll be attracting more visitors to your site who are looking for what you offer. These visitors will become loyal customers who will eventually turn into repeat buyers.
3. Increase Brand Awareness
A well-written blog post can go a long way toward increasing your brand awareness. With a good blog post, you'll be able to develop a strong relationship with your audience and encourage them to share your content with others which will ultimately lead to more exposure for your brand.
4. Not as Expensive as You Might Think
Business owners often shy away from hiring bloggers for their websites because they're worried about the costs involved. Hiring a professional blogger is not nearly as expensive as you might think. And you'll be thrilled by the results when you see your traffic increase and your readers' loyalty grow because of the high-quality content on your site.
5. Save Time
If you want to get things done quickly, then hiring a professional blogger to do all the work for you is the best option available. By outsourcing this task, you won't need to spend hours each week writing blog posts, researching keywords, and promoting your website.
You can save time by letting a professional blogger handle these tasks so you can focus on running your business. So if you want to make the most out of your marketing budget, then it makes sense to hire a professional blogger to help you achieve your goals.
FAQ
What Are The Benefits Of Blogging For Business?
There are several benefits of blogging for business, such as increasing traffic to your website, improving SEO rankings, generating leads, and building relationships with customers. When you have a blog for your business, you can use it to promote your products and services, educate potential clients, and generate sales.
Why Should I Outsource My Content Marketing Needs?
Outsourcing your content marketing needs is an effective way to save money while still achieving great results, by allowing you to focus on growing your business instead of spending valuable time creating content. 
How Much Does It Cost To Hire A Professional Blogger?
The cost of hiring a professional blogger varies depending on the type of service you require, be it full-time or part-time. If you want to hire an experienced blogger, then you can expect to pay between $500-$2000 per month for you to see a better result on your website. 
How Long Will It Take Me To See Results From Outsourced Bloggers?
It's almost impossible to say how long it will take before you start seeing results from outsourcing your content marketing needs. But we know that it takes at least 3 months to see any significant changes in your website, so you should expect to see some improvements within that timeframe.
Conclusion
There are lots of benefits to hiring a professional blogger to help promote your business. If you want to improve your online presence and attract more visitors to your site, then you should consider hiring a professional blogger to create high-quality content for your site to get results, increase traffic to your website or blog, and get more leads and sales.