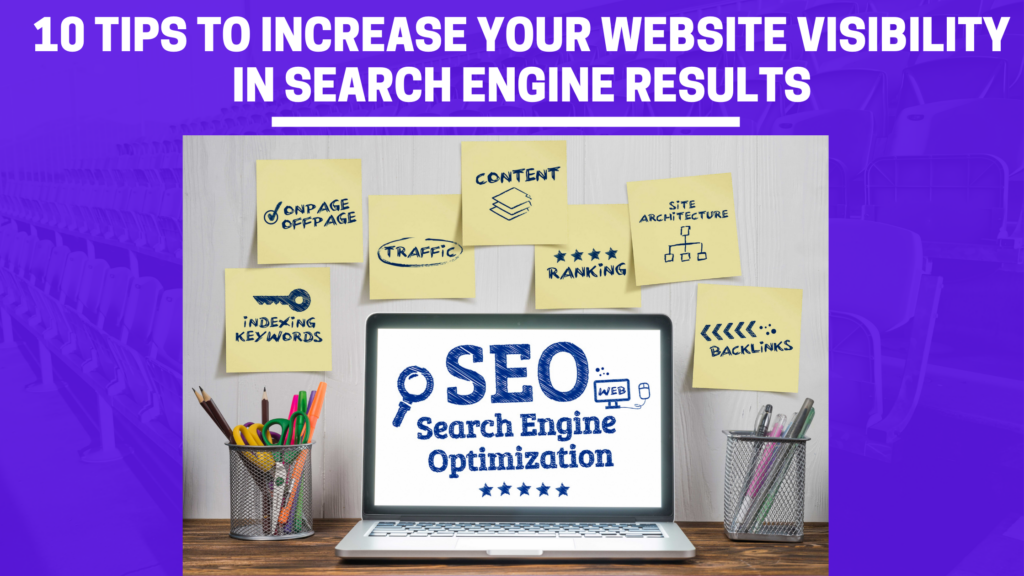 The internet has become the primary source of information for consumers around the globe. If you want to reach them, you better make sure your website appears at the top of their searches. This means optimizing your site for search engines like Google and Bing.
You might already be aware that SEO is important for driving traffic to your website. But did you know there are other ways to increase your visibility? These tactics can help you improve your organic rankings without spending a dime.
What Is Search Engine Visibility?
Search engine visibility is how well your website ranks SERP when someone types in a keyword related to website. Google uses over 200 different factors to determine where websites rank within its search results. While some of these factors are outside your control, others are completely under your control.
How Does Search Engine Visibility Work?
When people do a search online, they use a search engine like Google or Bing to find what they need. When they type in a query, the search engine will look through its database of websites to see if any match those words. The websites with more relevant content will rank higher than others.
Why Should You Care About Search Engine Visibility?
Search engine visibility is one of the most important factors in determining whether or not your website succeeds. If your website isn't visible in search results, then no one will ever find you, This is why you should care about increasing your search engine visibility. 
10 Tips To Increase Your Website Visibility In Search Engine Results
The following 10 tips will help you boost your organic search engine visibility. 
1. Submit Your Sitemap To Search Engines
A sitemap is an XML file that lists all of your pages on your site. It's basically a roadmap of everything on your site. When Googlebot crawls your site, it will use this map to find every page on your site and index it.
Sitemaps are extremely useful for two reasons: they tell Google what content exists on your site, and they let Google crawl your site more efficiently.  
2. Optimize Titles And Meta Descriptions
Titles and meta descriptions are incredibly important for SEO. They appear in your browser when someone types keywords into the search bar. The title should describe the page concisely, while the meta description gives a brief overview of the page.  
3. Target Long Tail Keywords
Long tail keywords aren't as competitive as short-tail ones because fewer websites will compete for these terms. However, if you rank high for long tail keywords, you'll have more room to grow. Use long tail keywords in page titles, descriptions, and content.
4. Create Unique Content
Google wants to index unique content. Try creating original articles and blog posts for your audience instead of reusing content from external sources.
Original content brings value to both users and search engines. It gives you control over the message you send to customers, and it improves your overall reputation among search engines.
If you want people to visit your site, you need to offer compelling content. People won't stick around if they don't feel anything new is being added. You can also add value to your content by providing helpful resources, tips, and guides.
5. Add Schema Tags
Schema markup helps search engines understand how pages are structured and provide a better user experience. Include rich snippets such as reviews, videos, polls, or maps to give searchers an idea about your website.
6. Build Backlinks From High PR Sites
Build quality backlinks to increase your ranking, especially those from sites with a lot of authority (PR) in your niche. You should also avoid sites with thin content or low-quality score.
Backlinks are a good way to show how much value your site has for others. They are an indication that other sites think your site is worth linking to.
7. Use LSI Keywords In Your Content
LSI keywords are words that are related to the main keyword, they help to support the content and add more context so that both users and search engines can understand what your content is about.
8. Add Images & Videos
Images and video can attract more attention and help Google index your site faster, which boosts your chances of getting found in search results. Images and videos are also great for increasing engagement.
People love visuals; adding images to your pages will help boost your presence. The quality of your photos matters too: avoid blurry shots and low-resolution images. You should optimize all your images before uploading them.
9. Post To Social Media
Social media signals can boost your rankings. Share links to your site from Twitter, Facebook, LinkedIn, and other social networks. Also, include share buttons where appropriate so visitors can easily share your content with friends.
10. Improve Page Speed
Slow pages increases bounce rate, which means less traffic to your site. Pages with slow load times may not be indexed at all. If you want to improve page speed, make sure you've optimized images, JavaScript, and CSS.
Final Thoughts
Search engine visibility is important, especially if you want your site to succeed. However, there are strategies you can implement without any cost. If you take these ten steps into consideration, your chances of getting found in search results will skyrocket.