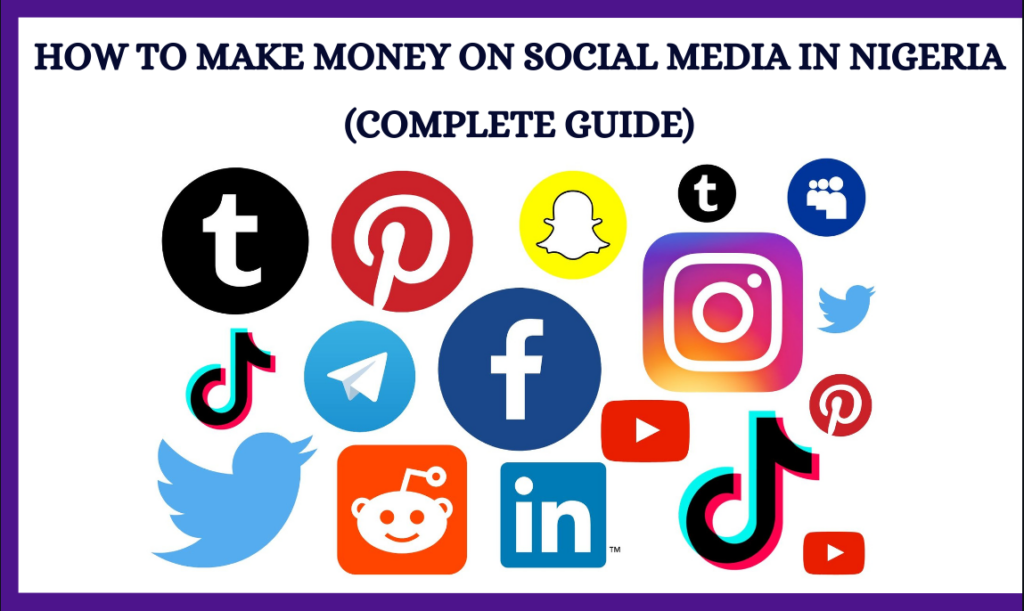 Are you looking for how to make money on social media in Nigeria? Do you want to learn how to make money from social media platforms such as Instagram, Twitter, Snapchat, Facebook, etc.? If yes, then this article is a must-read. You will find out all the tips and tricks that can help you get started with making money on social media in no time at all.
Social media connects people across the globe. It has become an integral part of our lives and businesses. People use it to connect with their friends, family members, colleagues, customers, and even strangers. The best thing about using social media is that you don't need to be physically present to interact with your audience. This means that you can reach people from anywhere in the world, 24/7.
There are lots of people who spend their free hours on social media sites for fun, but there are others who use them to make some extra cash. If you're one of those who wonder how to earn some extra cash by using social media platforms, then you've come to the right place because this article is for you.
10 Ways To Make Money On Social Media In Nigeria
You can make money on social media with the right strategy, tools, and techniques. Today I am going to share some proven ways on how to make money on social media platforms. So without further ado, let us jump into the list!
1. Become A Social Media Influencer
A social media influencer is someone who has a large following of followers on any given platform. If you're really good at attracting a lot of followers, making controversial posts, and engaging people, then this could be a great way for you to make money.
This is probably the most obvious way to make money on social networks. There are many influencers who already make thousands of dollars per month through their social media accounts because many companies hire influencers to promote their products/services online for a fee.
Social media influencers can earn income by promoting almost anything from drinks, fashion, beauty products, food, gadgets, electronics, and more.
Influencers create a buzz around products/services they promote. They do so by sharing reviews, recommendations, and other content related to what they are trying to promote.
If you're an influencer with a large following, people and companies will contact you for business promotions. You can then decide how much you want to charge per month depending on your experience level, followers, engagement rate, and other factors.
2. Sell Your Own Products/Services
Selling your own products or services is another great way to make money on Social Media. Many people have made millions selling their own products/services online. If you know how to sell things well, this could be a great side hustle.
However, if you don't know how to market yourself or what you offer, then you might not be able to make enough to sustain yourself.
There are plenty of opportunities to make money selling products or services on social media. Before jumping into this business, you should first determine whether you have a product or service that would work well on social media. If not, then you may end up wasting time and energy creating something that won't work.
So, before starting out as a seller, you need to think carefully about your product/service. Do you have a product/service that works well on social media? Would it be worth your while to go ahead and start selling it? Answering these questions will help you to know whether you should pursue this option.
3. Start Affiliate Marketing
Affiliate marketing is another great way to generate passive income. With affiliate marketing, you only have to market one product, yet you'll still receive a commission for every sale generated from visitors clicking through your link.
The amount of money you earn depends on the number of sales you drive to the merchant's site.
For example, you may choose to promote an Amazon product on your social media accounts. Whenever a visitor buys a product after clicking your link and completing the purchase process, you get paid a certain commission. When you reach that threshold, you'll automatically begin receiving payments. The payment schedule varies based on the affiliate program. Some programs pay weekly, others monthly.
It's a win-win situation for both parties involved. You get paid for driving traffic to merchants' sites while the merchants benefit from increased exposure. All in all, there's no downside to affiliate marketing. However, just like any other form of internet marketing, it takes time to build up. It also requires constant effort to maintain your efforts at generating profits.
4. Drive Traffic To Your Blog/YouTube Channel
You can also make some extra cash through social media with this method. Your blog or YouTube channel must be Adsense enabled and ready to generate income. Once you have these two things set up, then you can start earning money through social media.
To generate high-quality traffic that converts well, make sure the posts you use to attract visitors from social networks are relevant to your blog/Youtube channel content.
However, how much you earn varies depending on the number of visitors that you are able to bring to your blog/channel. For instance, If you have a good amount of followers, you can share the links of your blog or YouTube channel to increase your traffic which will, in turn, increase your earnings, too.
5. Become A Social Media Manager
Social media managers are people who manage multiple social media profiles for businesses. They ensure that they post content regularly on each profile and keep track of everything that happens on each account.
If you're skilled in social media management, you can become a social media manager. This means that you hire people to manage their own social media pages.
As a social medial manager, your responsibilities vary depending on what your client wants you to do, as a social media manager, you take care of everything related to managing the content posted by those who hire you.
This includes scheduling tweets, responding to comments, replying to messages, etc. There are many social media managers out that are making $10-$100 per hour, so you can easily make money if you want, but it depends on your skills.
READ ALSO:
6. Participate In Giveaways
Giveaways are contests where participants receive prizes for completing simple tasks such as answering questions about products or following a specific brand on social media.
One of the best things about these giveaways is that there are usually no entry fees involved so it's easy for you to take part and win free stuff.
In order to participate in these types of giveaways, you need to create a social media account, follow brands, influencers, and celebrities, and be always active online in order to stay updated on new giveaway opportunities.
You can win free gifts by participating in different kinds of giveaways, including sweepstakes, daily deals, and even contests for exclusive products.
7. Promote Short-Links
Another proven way to start making money on social media is with the use of URL shortening services. They pay you to shorten long URLs into shorter ones, which makes it easier to share and read.
You just need to shorten the links for the content that you will love to share on social media and monetize it on one of the many URL shortening platforms out there.
When you share a shortened URL, if someone clicks on the link they see an ad before seeing the destination site. The advertisers pay the person who shared the link. That is why you get paid when you share a shortened URL.
If you have large numbers of people following you on social media who enjoy your content, then this could be helpful for earning some passive income.
8. Sell Courses
Online courses are becoming increasingly popular. They allow students to learn at a convenient time and place without having to travel to a physical classroom. Online courses are also great for those who work full-time jobs or don't want to spend too much money on education.
With the advancement of technology, the world of online courses has changed dramatically over the past few years. Nowadays, there are many platforms where you can start selling courses. Some of these platforms include Udemy, Teachable, Skillshare, and even Social Media
If you decide to go down this route, you'll need to know what makes a good course. In addition to being well-designed and engaging, online courses must provide value to the student. This includes providing information that helps the student solve problems, understand concepts better, and develop skills.
The course market is huge, and you can take advantage of all of it. You should try to find a niche that you're very knowledgeable about and create high-quality content around that topic, and then sell it through various social media platforms.
The main advantage of selling courses on social media is that you can reach a large number of people who are willing to learn from you and buy your courses.
9. Build And Sell Social Media Accounts, Groups, And Pages
Social Media accounts, groups, and pages are valuable assets that can be sold as a service, such as creating and building them for clients for a fee.
There's no shortage of companies looking to purchase these services, so make sure you set up a reasonable price that aligns with how much work you put into each project so that you can maximize your profits.
Companies are always searching for new ways to promote their brands on social media, and in return, they often offer sponsorships to influencers who are able to bring in customers for their business.
In order to land a sponsorship deal, you'll need to build a strong number of followers and engagement on social media. Since companies usually look for people with thousands of Followers and engagement on social media, you'll need to focus on growing both of these metrics before you start getting sponsored posts.
Once you've built enough followers and engagement, you'll likely receive requests from brands offering deals for you to promote their business for a Fee. So you can make a passive income by promoting other businesses' products on social media.
Conclusion
Making money on social media is possible if you do it right, but it takes consistency, patience, and hard work. If you follow the steps above, you'll have no problem making money on social media.
Making money on social media in Nigeria is easy for anyone to do however, how much you earn daily depends on the efforts you put into it. You cannot be lazy and expect to make money anytime. If you want to make money fast, you must invest in yourself. This includes investing in education, training, and networking. These three things are what will help you succeed in whatever field you decide to pursue.
The best part of making money on social media is that you aren't restricted to an office or time. You can work from anywhere in the world. Just pick out the methods I mentioned earlier and start making money as soon as you can. That's all in this article.