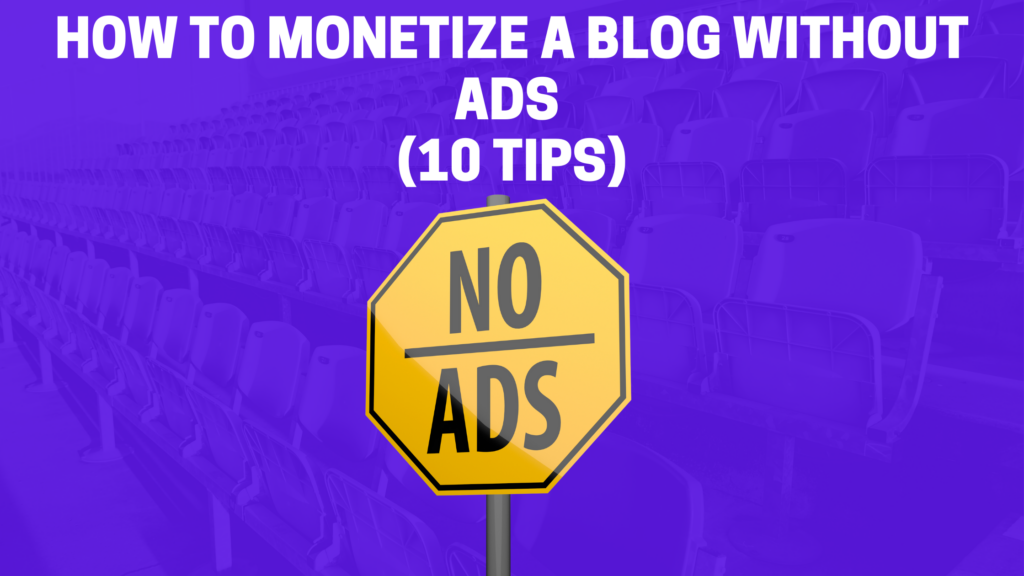 Blogging has become a very common way to share information and connect with other people. If you want to monetize your blog, you should consider some strategies. In this post, I'll show you how to get started without ads.
Blogs are great platforms for sharing knowledge and connecting with readers. They also provide a good source of income for bloggers who sell their services or products through affiliate marketing.
10 Tips On How To Monetize A Blog Without Ads
If you're looking to make money blogging, there's no better place than to start by reading the following tips:
Affiliate marketing is a type of performance-based advertising where advertisers pay commissions to websites that send them traffic. This method is highly effective because it allows bloggers to earn revenue from their audience.
Affiliate marketing is one of the most popular ways to earn money online. It involves promoting someone else's product or service in exchange for a commission when they buy it.
You can use affiliate programs to promote any type of product or service, including digital products like e-books, software, apps, games, subscription websites, and so on.
You don't have to be an expert at making money online to benefit from affiliate marketing. There are many different types of affiliates out there that offer a variety of products and services.
2. Sell Ebooks On Your Blog
An ebook is a collection of text files organized into chapters that can be downloaded as a single file. You can create an ebook using tools such as Microsoft Word or Google Docs.
Ebooks are a great way to build authority and reach new audiences. They can help you grow your email list, increase sales, and generate more leads.
3. Paid Partnerships
Paid partnerships are a collaboration between yourself and a brand that wishes to be highlighted in front of your audience or readers.
Paid partnerships allow you to link up with influencers and brands. These relationships usually last over a long period of time. When you work with paid partners, you can expect to receive compensation for each sale made through your links. The amount will vary depending on what kind of relationship you have with the brand.
4. Sponsored Posts
Brands often approach bloggers to write promotional posts about their products. Sponsored posts are a great way to drive traffic to your site. Brands are willing to pay bloggers to do these kinds of posts because they know they will generate high engagement and positive reviews, and if you're a good fit, brands can pay anywhere from $1K+ per post, so it's an excellent source of revenue.
5. Paid Guest Posting
Guest posting is another form of paid partnership. It works best if you already have a strong network of contacts and connections, but it can still be a great option for new bloggers who are looking for ways to monetize their blog without ads.
If you're interested in guest blogging, first establish yourself as a thought leader in your niche by publishing high quality content regularly. Then, pitch relevant companies directly for opportunities to write about them. 
6. Product Reviews
Product reviews are another great way to make money online, especially if you have a large blog followers. You can review products on Amazon, eBay, or other marketplaces. Your followers trust you, so they'll be much more likely to purchase a product after reading an unbiased review from you.
You can earn comission from every sale made from you. Typically, You can get 10% – 30% commission, depending on the product.
7. Create A Membership Site
A membership website allows people to subscribe to your online course and get access to extra resources and training. This provides recurring income every month, while also creating a loyal followers of subscribers who trust and respect your expertise.
You can create a membership site with WordPress.org, but it requires some technical knowledge. If you want to make sure your members are getting value from your content, you need to build a custom solution. There are lots of great tools out there that let you easily create a membership site. Some examples include MemberPress, and bbPress e.t.c
8. Create And Sell Online Courses
Creating an online course takes a lot of effort, but once done right, it can be very profitable, especially if you target the right niche. If your audience loves what they are learning they will be willing to pay for it. However, you might find it easier to just set up a separate side-blog where you sell courses.
9. Start A Podcast
Podcasting has become one of the most popular ways to create and share audio content online. This form of media offers several benefits over traditional webinars, including the ability to interact with listeners while delivering valuable information, a smaller learning curve than live events, and the flexibility to deliver content whenever and wherever needed.
Podcasts are one of the most powerful forms of digital media available today. They offer a unique opportunity to connect with your readers and grow your email list at the same time.
10. Offer Paid Services
Offering services is another way to make money online. You can provide a service such as writing articles, proofreading, editing, designing, programming, graphic design, SEO, social media management, etc. These services will bring in regular clients who may be willing to buy your services permanently.
Conclusion
There are plenty of ways to make money blogging. The most popular ways are affiliate marketing and selling ebooks, but you can also create a membership site or sell your own courses.
In my own experience, the best way to make money blogging is to start with affiliate marketing. It's easy to get started and you can do it for free with a free wordpress blog. It works especially well if you have a large email list that you can use to promote the products you're promoting.
However, if you're not comfortable using affiliate marketing right away, starting with selling an ebook is another great option.