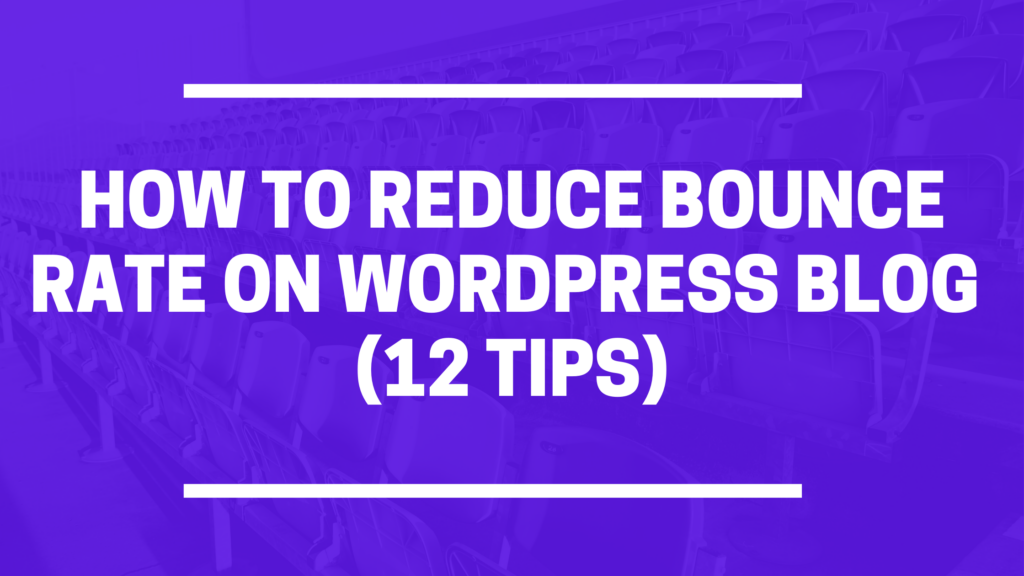 Bounce rates are important because they show whether or not your readers are interested in your content. The higher your bounce rate, the less likely your readers are to return. In addition, bounce rates are also useful for measuring the effectiveness of your marketing campaigns.
What is Bounce Rate?
The bounce rate measures how long it takes for someone to leave your website after visiting it. It's calculated by dividing the number of people who visit a certain webpage by the total number of visits to that webpage.
If you have a low bounce rate, this means that most of your visitors are staying on your site for some time. However, if you have a high bounce rate, this means your visitors are leaving quickly and may be looking for something else.
Why Do People Leave My Blog?
There can be many reasons why people leave your website. Some common causes include:
The wrong topic/content
Poor design
Unreadable content
Bad navigation
Slow loading speed
Low quality images
Having too many ads
Not using HTTPS
Not providing value
Being spammy
Why Does Your Bounce Rate Matter?
A high bounce rate can indicate that your visitors aren't finding what they need from your site. You need to make sure that your content is interesting and provides value to your readers. A lower bounce rate indicates that your content is more relevant to them. Also, keep in mind that good user experience (UX) matters.
Bounce rate is important because it shows if people are visiting your website for information or to buy something. A high bounce rate could mean you're losing potential customers.
From an SEO perspective, high bounce rates also indicate that your content isn't very relevant to what your users want. It also mean that you're losing visitors because they find your site too difficult to navigate. If this happens, try fixing any broken links, making sure your page load speed is fast enough, and optimizing the design of your pages.  
12 Tips On How To Reduce Bounce Rate On Your WordPress Blog
Here are the 12 ways to reduce bounce rate in WordPress:
1. Create an Engaging Headline
Headlines are one of the most important parts of any web page. They can make or break a reader's interest in your content. A good headline will grab attention and encourage people to read more about what you have to offer.
2. Use High Quality Images
Optimizing images for better performance means reducing file size while maintaining image quality. There are many different techniques that you can use to optimize images. One way is to compress the images before uploading them to your server.
Pictures help people understand what you're saying better than any amount of text or bullet points could ever do. The first thing your visitors see when they land on your page is something visual. When you want to tell someone about something, show them a picture. When you want to explain how something works, show them a diagram. When you want to give advice, show them a graph. And when you want to make a point about why something is cool, show them a photo.Images should be used to enhance the user experience. Make sure you use full width images when possible. Also, make sure that your images play nicely with your content layout.
Images are powerful tools when it comes to attracting new visitors to your website. People love looking at photos and videos, so why not use them to get more views and conversions?
If you don't include navigation menus on your pages, it could be hurting your chances of getting more traffic. Your navigation menu is one of your most important tools for organizing your website. Visitors need easy access to the information they're looking for.
A navigation menu that's too complicated or confusing can cause them to leave your site. Organize your navigation menu in a logical manner. Make sure each link leads to an appropriate page.
4. Improve The Speed Of Your Blog
Make sure that your blog loads as fast as possible. To attract more visitors, optimize your blog's performance. Make sure all files are compressed and optimized properly. This will increase the speed of your blog. 
A high bounce rate means that people aren't staying long enough to read your content. Your users might be leaving without reading any of your content. You should make sure that your website loads quickly and that your pages load fast. Speed up your WordPress blog by using caching plugins such as WP Fast Cache and W3 Total Cache. These plugins will cache your files so that they're ready when someone visits your site.
5. Add Internal Links
Internal linking is the process linking from one page on the website to another. This helps users navigate around the site and helps search engines index the pages better. Adding internal links makes sense if you want to increase traffic, as well as make sure people stick around longer on your site. 
Internal linking helps improve search engine rankings. When you link to other pages within your own website, it makes it easier for Google to understand the context of your content.
6. Keep Your Content Fresh And Up-to-Date
Keep your content fresh and up-to-date. You should update your blog regularly to ensure it keeps generating views and clicks, which will help keep your bounce rate low.
7. Include Social Media Buttons
Include social media buttons like Facebook Like and Twitter Follow. These help generate more traffic and engagement on your blog, which is great for increasing your reach.
8. Include Calls-To-Action In All Pages
This is another way to help drive more traffic to your blog. When someone lands on a page, there should always be a clear call-to-action button. 
Call to action should be clear and understandable. Users should be able to see what you want them to do right away. Your call to action should be honest and not misleading. A poor user experience will result in high bounce rates and low conversion rates.
Call to action buttons encourage readers to perform certain actions such as subscribe to your email list, follow you on Twitter, or purchase your product. They are very effective in increasing the engagement rates.
9. Place Ads Strategically
Ads shouldn't block readers' view of content. They should be placed strategically so that they won't distract readers. 
If you prefer to go with a popup, then be careful that it doesn't take up the whole screen. Having a smooth appearance at the bottom of your page is more preferable, thus reducing bounce rates and boosting page views.
10. Make Your Blog Mobile Friendly
Make sure your blog is mobile friendly. If your blog isn't mobile friendly, then chances are your bounce rate will increase. It may also affect your SEO ranking.
Users browsing on mobile devices constitute over half of your web traffic today. Ensuring your blog is mobile friendly is a must if you need to improve your bounce rate, and many other metrics. If the content isn't legible, and the content doesn't fit into the vertical orientation of mobile device screens, visitors may leave your blog. 
11. Add Related Post To Your Blog
Adding related posts to your blog can help reduce your bounce rate. The idea behind this is that when a visitor comes to your blog, he/she might be interested in reading about similar topics. By adding these related posts to your blog, you're giving visitors an opportunity to explore new topics.
12. Make Sure Your Content Is Readable
Readers only stay on pages if the content is readable, and when judging the readability of a web page, you should consider not only what the text is on the page but also the way it looks on the page.
Remove passive voice, shorten long sentences, add transitions, and add headings and sub-headers to help organize the content, use bullets to take advantage of white spaces on the page.
Finally, make sure to add pictures and videos to keep your visitors interested. Articles and blog posts containing images get over 90% higher views than those without them.
Conclusion
Bounce rate is one of the most important factors to measure how well your website performs. If your bounce rate is too high, then it means you have a lot of unengaged users who aren't spending time on your site. 
Bounce rate is one of the key metrics used by Google to determine whether or not a website is relevant to its users. This metric shows the percentage of visitors who leave a site immediately after landing on it without clicking through to another page. If you have a high bounce rate, then your site might not be doing enough to engage potential customers. In this case, you could try implementing some of the recommendations in this article to help improve your bounce rate.