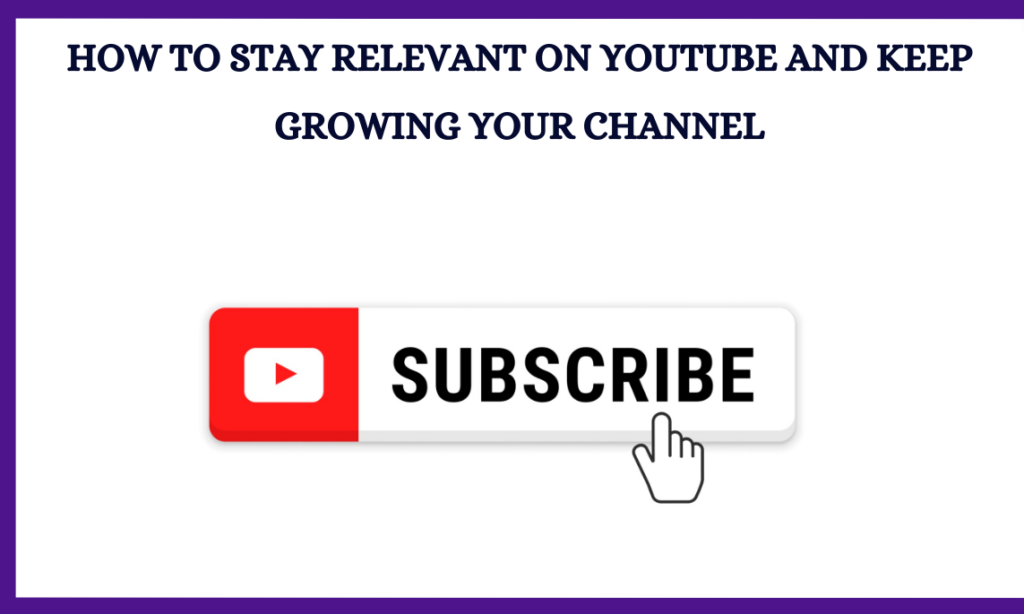 YouTube is a great platform for content creators, but it can also be a struggle to get your videos seen by the right people and keep them watching. The good news is that there are many ways you can make sure your content gets noticed.
In this post, I'll show you some ways that you can keep yourself relevant on YouTube. You can use these tactics to grow your audience, increase engagement with your viewers, and build lasting relationships with your fans.
10 Tips To Help You Stay Relevant On YouTube
Staying relevant on youtube requires consistency, so don't expect overnight success. It takes work and time to gain an audience and become successful. So, if you're looking to stay relevant on youtube, here's what you need to do:
1. Do Keyword Research
The first step in staying relevant on youtube is to do keyword research. This will help you find out which keywords are being used most often when people search for topics in your niche, and then you can start using those terms in your video descriptions and titles.
Keywords aren't just about getting more views, though. They're also about helping people find your channel and finding new audiences. By focusing on the right keywords, you'll be able to reach more people who are searching for content like yours.
As YouTube is both a search engine and a video platform, you need to do keyword research to ensure that your videos appear at the top of the results page so that you can attract more traffic to your channel.
2. Create Content That People Want To See
Once you've done your keyword research, it's important to create content that people want to see. If you create something that no one wants to watch, no one will watch it or engage with it.
This means that you have to focus on creating high-quality content that provides value to your target audience. In other words, your goal should be to provide information that helps people solve problems or complete tasks.
So, think about what types of videos would appeal to your target audience and whether they'd be interested in learning more about your topic. Then, create videos that cover those topics and add value to their lives.
If you want to attract an audience, then you need to create content that they want to see. If you consistently produce quality content, then over time, your audience will come to view you as someone who provides value to them. This will help you build trust with your viewers and encourage them to stick with you.
3. Engage With Your Audience
Engagement is key when trying to stay relevant on youtube. When you interact with your audience, you'll be able to connect with them in a personal way. This means that you should reply to comments left on your videos, answer questions from your viewers, and respond to feedback and suggestions made by them.
Engaging with your audience will help you establish trust with them. As a result, they'll be more likely to watch your videos, subscribe to your channel, and share your content with others which helps you reach new audiences and grow your subscriber base, this ultimately helps you stay relevant on YouTube.
4. Get Branded
Another thing that you can do to keep growing your channel is to get branded.
So your content may be great—but does your channel look appealing to potential subscribers? If you want visitors to actually take your YouTube channel seriously, you need to make sure your profile looks professional, So your content may be great, but does your channel look appealing to others? And even if you do have great content, how do people know that your channel isn't just another one of many out there? This is why branded channels are important—they give users a way to instantly identify you and your brand.
It is important that you understand the importance of branding because it goes beyond simply making your channel look good. It's about establishing yourself and being memorable.
With the right branding strategy, you can gain authority within your niche and become a go-to person for your target audience.
5. Use Thumbnails That Stand Out
When it comes to thumbnail images, don't use generic ones. Instead, try using thumbnails that stand out. It won't only draw attention to your video, but it also plays a huge role in helping your viewers decide whether or not to click through to your video and watch it.
The best way to stand out among all of the other videos on YouTube is to use thumbnails that are unique and eye-catching. You can use different colors, fonts, and backgrounds that are likely to catch viewers' attention.
When you use the right thumbnails for your videos, you're giving your viewer a reason to click through to your channel and watch it. This ultimately leads to increased views, engagement, and more subscribers on your channel, which helps you stay relevant on Youtube.
READ ALSO:
6. Upload Videos Regularly
You should upload videos regularly so that you can continue to provide fresh and interesting content for your audience.
If you want to grow your YouTube channel, it starts with increasing your posting frequency. Each week, try to post at least one video. If you're really struggling, start small and work up to weekly uploads. You'll find that once you've reached that goal, you can begin to ramp up your posting frequency.
The problem many people face is that they're afraid to upload too often because they think they'll lose their audience. But the truth is, uploading every few days isn't likely to cause anyone to unsubscribe. If anything, it might even help retain subscribers who watch your videos regularly.
By posting regular videos, you're going to be consistent and reliable, which gives you a better chance of staying relevant on YouTube. This means that you'll be able to build up a following of loyal viewers who enjoy watching your videos.
This will allow you to continue building your reputation as an expert in your industry, which makes it easier for you to attract new followers and increase your visibility, and helps you stay relevant on YouTube.
7. Research Your Competitors
Research is key when trying to figure out what works and what doesn't when it comes to growing your YouTube channel.
One thing that's easy to overlook is that most YouTube creators spend far less time than they should researching competitors. By researching on your competition, you'll be able to determine what types of things they're doing well and what mistakes they're making.
Doing this will give you a good idea about the types of videos that are working well, as well as the kinds of videos that aren't getting much traction, and why.
Knowing what your competitors are doing can be extremely helpful when it comes to directing your own strategy to grow your channel and become successful.
8. Turn Viewers Into Subscribers
Once you have a large number of subscribers, you need to make sure that you keep them engaged and interested.
To do this, you need to create great content that keeps your viewers coming back for more. The best way to do this is by turning viewers into subscribers.
There are several ways that you can encourage viewers to subscribe to your channel. One of the easiest ways is to add a call-to-action (CTA) at the end of each video. These CTA's could ask viewers to subscribe to your channels.
If you provide informative content, you will be able to get viewers to subscribe to your channel without even asking them to. By providing value, you're giving viewers something that they want, and they'll feel compelled to subscribe to your channel if they like what they see.
By turning viewers into subscribers you will be able to gain more views, comments, likes, shares, and grow your subscriber base, this is what will help you to stay relevant on YouTube.
9. Promote Your Videos
Promotion is another important part of growing your YouTube channel to stay relevant. You need to promote your videos so that other people know about them.
You can use multiple methods to promote your videos including:
Sharing your videos on social media sites such as Facebook, Twitter, Instagram, etc.
Using paid advertising platforms such as Google AdWords or Facebook Ads
Getting featured on websites and blogs
By promoting your videos, you're going to make it easier for others to find them, which will lead to increased exposure and ultimately more views for your channel.
10. Be Consistent
Consistency is one of the keys to staying relevant on YouTube, and it's also very important when it comes to growing a channel.
It is important to be consistent with your uploads because this will show your audience that you care enough about your channel to consistently produce high-quality content.
When you upload videos regularly, you're showing your audience that you're committed to your channel and that you're serious about growing your channel. This will build trust between you and your audience, which will help you to stay popular on YouTube.
Conclusion
Staying relevant on YouTube isn't always an easy task, but there are some simple steps that you can take to ensure that you remain in the spotlight.
These 10 tips should help you to stay relevant and continue to grow your channel. If you follow these tips, you'll be able to increase your popularity, gain more subscribers, and eventually reach success.
What are some of the things that you think would help a channel to stay relevant on Youtube? Let us know in the comment section below!