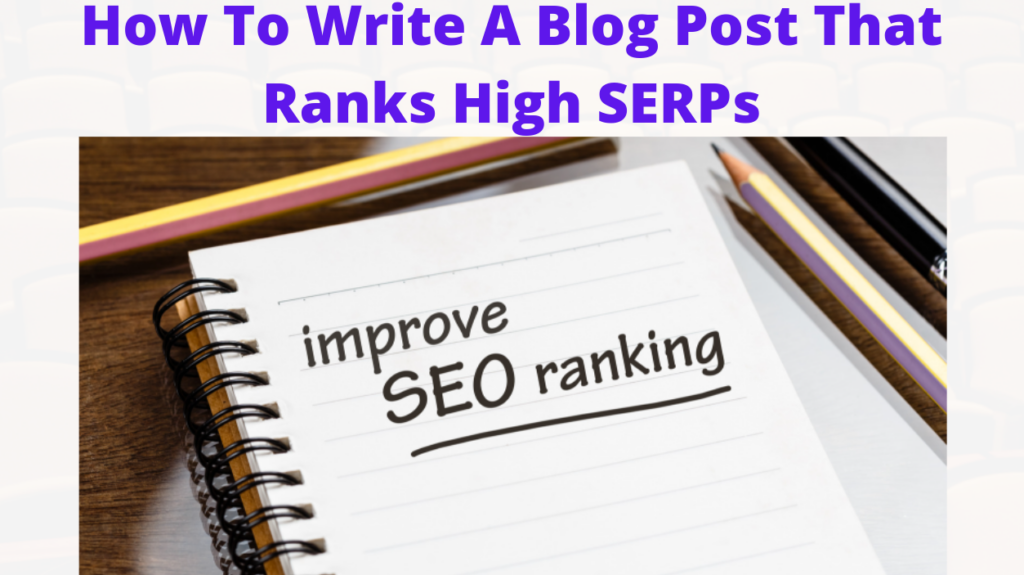 How to write a blog post ranking well in Google? There are many ways to rank high in Google, but writing quality content is key to success. In this article, I'll show you some proven methods to write a blog post ranked well in Google.
What Is SEO Writing?
SEO writing is the process of creating original and engaging content for your website that helps search engines understand what your site is about. It's important because when people type keywords into Google or Bing they want to find out more information than just your page title. They want to read something interesting and unique that will help them solve their problem.
In other words, SEO writing is an art form. You have to be able to tell a story with pictures and videos, as well as create content that has value to readers. This means you need to know how to use images, video, infographics, and other elements that make great content.
The best way to learn SEO writing is by doing it yourself. Start by reading articles on how to write good SEO content, then practice applying those techniques to your own work. The more you do it, the better you get at it.
Writing great content is essential to building authority and trust in your niche. If you want to rank well in Google, you need to create valuable content that helps readers solve their problems.
Content is king when it comes to SEO. It's what drives traffic to your site and converts visitors into leads. The more unique, informative, and helpful the content on your website, the higher you will rank in search engines like Google.
But how do you go about creating good content? You can't just throw together any junk piece of text and expect it to rank well. Your content needs to be useful, authoritative, and engaging.
What Does It Mean To "Rank'' On Google?
Ranking a blog means getting your website listed in Google's search results when someone searches for a specific keyword or question. This is a fundamental goal for most website owners and offers them an opportunity to gain large amounts of traffic to their sites.
When a website ranks on Google when it receives a high number of organic search engine traffic from users who typed specific keywords into a search box. Search engines like Google use complex algorithms to determine which websites receive the highest ranking for those keywords. If a website has a high number of backlinks (a link from another website), then it also increases the chances of receiving a higher rank.
Can I Rank Blogspot Blog?
Yes, you can rank blogspot blog easily. As long as you optimize your blog properly, you will surely rank blogspot blog on google.
READ ALSO:
How To Write A Blog Post That Ranks High In SERPs
1. Do Keyword Research
Keyword research is essential for SEO writing. Before you begin writing, you should always perform extensive keyword research to identify the keywords that you're targeting.
Keyword research is a crucial part of any successful blog post. Without targeting a specific keyword, you won't have a chance at ranking for that particular phrase. With this data, you'll know which words to use when creating your own posts. And, you'll also know how often people are searching for those terms.
You can use a keyword tool to find relevant keywords. Some of these tools include:
Ahrefs
SEMrush
Moz
Ubersuggest
Keywords are the magic words that drive traffic to your site. When someone types a phrase into a search engine, they're looking for something specific. Therefore, if you've identified the right phrases to target, you'll increase your odds of ranking for those terms.
Try going for long tail keywords because short-tail keywords tend to be very competitive, so there aren't many other websites competing for them. Long-tail keywords usually require a bit more work before you start generating traffic, but ultimately, they pay off more than shorter ones.
By doing keyword research properly, you will be able to discover new ideas for blog topics. Once you have all of the information you need, you're ready to start writing.
Make sure to conduct keyword research regularly to ensure you're still focusing on the right keywords for your target audience and aren't missing out on vital ranking possibilities.
Before starting to write, you must first come up with an outline of what you plan to cover within your post. By structuring your thoughts ahead of time, you'll save yourself some time later on.
The biggest mistake bloggers make is not planning out their posts before actually sitting down to write. There are many times when we get stuck while trying to think of topic ideas. So, having an outline beforehand will help you avoid wasting time by coming up with ideas that aren't even worth pursuing.
An outline helps you stay focused and ensure you cover everything you need to.
To create a successful outline, you need to identify four different types of sections:
Title: Your title needs to be compelling enough so that readers want to read more.
Introduction: The introduction section is where you provide context for your content.
Body: The body includes all of your content.
Conclusion: The conclusion wraps everything up nicely. 
3. Write For Humans Not Search Engines
As mentioned earlier, one of the most important things in blogging is optimizing your content for human beings, rather than search engine spiders. It's easy to fall into the trap of thinking about how your content should look to search engine bots, but ultimately, you want to focus on making your content readable and understandable by humans.
If your content isn't readable, no one will ever see it. When you're writing for humans, being as specific as possible is key. People don't like reading blogs that lack details. They don't care how long your article is or how much work went into writing it. They just want to learn something.
Use your knowledge and expertise to create original content that is helpful to your target audience. Provide answers to questions that haven't been asked before. Add value to the reader's life and show them how they can solve problems or take advantage of opportunities.
So, when writing a blog post, make sure to include plenty of details and examples, this will help your readers understand exactly what you're talking about and will also improve your chances of getting backlinks from other websites that link to your content.
4. Optimize Your Meta Description
The meta description is describing the content of the article itself. If someone comes across it in Google, they know what the content is about without clicking through to the actual page. This description appears below the title on the results page.
In order to optimize your meta description, make sure that it contains clear and concise keywords related to your content. Make sure that the words in your meta description match the words used in the title. Also, try to keep the length under 160 characters.
The purpose of meta description is to convince the searcher to click through to your post and hopefully let them visit your blog.
5. Use Keywords In Title And Body Of Article
Search engines use keywords as indicators of what people are searching for. As such, using relevant keywords throughout your content can increase your rankings significantly.
You need to use keywords in both the title and the body of your content. These two parts of your post are very important because they affect how well your post ranks in the search engines.
By simply adding keywords in these areas, you'll automatically increase the likelihood of your post appearing at the top of search results.
6. Add Images & Video
Images and video add interest to your site and help attract visitors from search engines. Adding an image or video to your website will give you some extra SEO benefit too.
You can optimize images by including alt text, which adds more information to the image for screen-readers or those who have trouble viewing photos. You can even use the ALT text to tell search engines what the image represents.
By using videos in your posts, you get a chance to communicate with your audience in a new and interesting way. There are many ways to add videos to your site. Some methods involve embedding YouTube videos directly onto your blog posts. Others involve linking to third party sites that host videos. Either way, videos have proven to be great SEO tools.
Social media shares are the best way to spread your content around the web. When someone finds something useful on your blog, they'll want to share it with their friends and followers online. By placing social sharing buttons on every post, you encourage users to do just that.
Social media links allow users to share your content with their friends on social networks like Facebook and Twitter. By sharing your content, you expand your reach and encourage others to read your articles.
Social signals also play an important role to help you rank higher in search engine results, it tells search engines that your article has high quality content and should be ranked higher than other articles. So, when your article gets shared on social media sites, you will see its ranking go up.
8. Interlink Your Articles
Interlinking helps improve the navigation experience on your website. It allows readers to move between different sections of your site easily. If you interlink all of your articles, you create one large network. This means that readers will find it easier to navigate your site, making them less likely to leave.
Internal links help market your blog post as readers read your blog post. When someone is done viewing your content you have to provide them with a next step. If your link points to 4 or 5 previous posts you give the reader a reason to continue reading your content. They stay longer on your site. You build that trust and relationship with your readers.
Once again, blog readers appreciate internal linking as long as it isn't overused. And because readers prefer internal linking, search engines also do.You should always link to other articles on your blog. This helps search engines know more about what your blog is about. Also, internal links help visitors stay on your website longer because they have found something interesting or helpful.
9. Build Backlinks For Better Rankings
Google rewards pages that have quality backlinks as compared to ones that don't. The more high-quality backlinks you have, the better Google ranks your page.
In order to get high-quality backlinks, you need to make sure you write unique and engaging content and other websites will want to link to your blog posts.
You can also guest post on blogs that have similar audiences as yours. Doing this may not be easy for some people. However, it's worth it if you want to boost your rankings and don't forget to include links back to your own blog. Backlink is essential for SEO. Do not underestimate the power of backlinks.
10. Utilize The "Skyscraper Technique"
One of the best ways to rank high in Google is through creating great content that ranks highly. This means that your content has to be useful, well-written, original, and engaging.
The Skyscraper Technique is an excellent way to earn more backlinks and improve the performance of your blog. It basically means finding trending and well performing articles, turning them into more detailed and appealing pieces of content, and reaching out for relevant people for outreach.
This will increase the number of backlinks that are pointing towards your articles and raise their overall ranking.
11. Increase Page Loading Speed
Page loading speed is another factor that affects how fast a web page appears. If your page loads slowly, you lose potential customers.
You can use tools such as GTMetrix to check whether or not your page is currently slow. Most users won't wait more than 3 seconds before leaving a page. If your page takes longer than 3 seconds to load, then you might want to consider improving it.
Page loading speed is one of the most important factors in determining whether a page ranks well in Google, so make sure you take time to optimize it.
12. Optimize URL
URLs play a big role when it comes to SEO. URLs should contain keywords, but also be short and descriptive. Having a descriptive URL is very important for SEO purposes.
13. Use Schema Markup
Schema markup helps search engines to understand your site's content and present it more effectively in the search results. Rich snippets are one of the most common forms of structured data markup, but schema markup can do more for you than just that.
By using schema markup, you can give search engine spiders even more information about your site. Make sure you use the right type of markup for each section of your page.
14. Focus on Reader's Intent
When someone searches for something on Google, they usually have a specific intent behind it. They're looking for an answer to a question they have.
Always write a blog post that meets readers' needs, it will help you rank your blog post higher and you will gain traffic. When writing a blog post, always keep your readers in mind.
15. Avoid Keyword Stuffing
Keyword stuffing refers to inserting keywords too many times within the body of your article. Although keyword stuffing can give you better search engine rankings, doing it too often can get you penalized by Google.
You should never put more than 2% of keywords in any given blog post. If you insert keywords too much throughout the entire post, then you risk getting flagged by Google for keyword spamming.
Conclusion
Writing a quality blog post isn't easy, but following these 15 tips will help you create a winning piece of content. You'll start seeing an increase in your blog post rankings, which in turn will bring new visitors and revenue to you.
Do you agree? What other things would you add to this list? Let us know in the comments below!
If you did enjoy this article, please share it with your friends. Your social media shares will really help us spread the word. Thank you for reading!