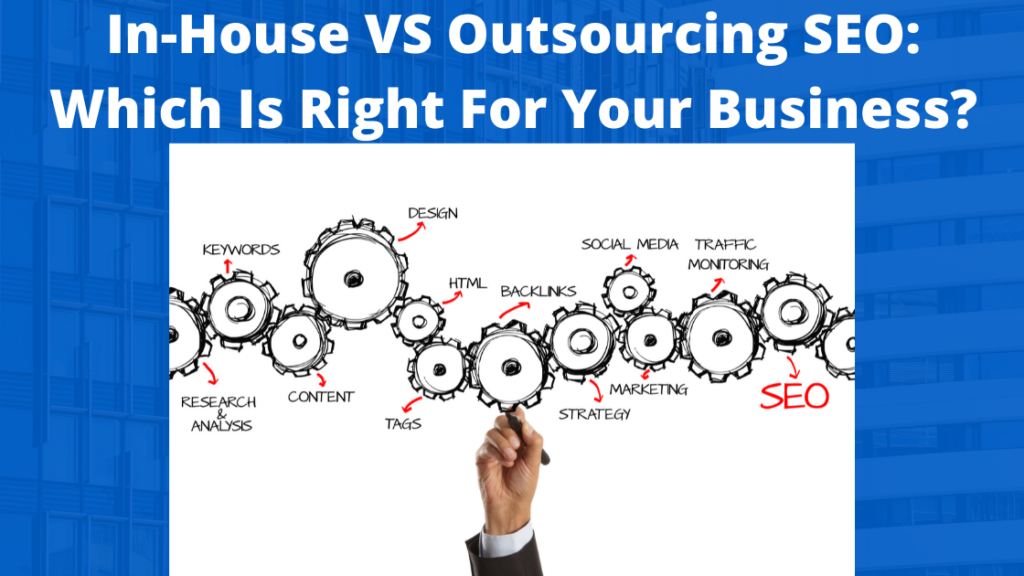 SEO in house or outsource? Which one is better?
Getting visitors to your website is important, but generating visits from people who want to buy your product or service will always be more expensive than attracting visitors through paid advertising. Whatever method you use to optimize your site for search engines, you'll spend a lot of time, money, and/or a combination of both to achieve the results you want.
Outsourcing SEO services has become a common practice for many businesses because of its low cost. But do you really get what you pay for? In-house SEO experts have extensive knowledge of your company and your target audience. They also know how to create high quality content that attracts customers.
Many companies choose to outsource their SEO services due to time constraints, lack of expertise, or budget limitations. One of the biggest mistakes small business owners make when they decide to outsource their website SEO, is choosing an inexperienced company. This is a costly mistake that could cost your company thousands of dollars in lost revenue.
In-House SEO
In-House SEO is hiring internal staff to build and execute a businesses' search engine optimization strategy. An SEO professional either work alone or as part of a marketing team.
In-House SEO refers to having your company's employees carry out your company's SEO needs, without external help. An in-house SEO team usually consists of at least one person with expertise in SEO, plus any additional employees required to complete the project.
Hiring an in-house SEO expert means hiring one or more people who specialize in SEO as employees within your business They'd be an employee, so they'd take care of all of our SEO needs and responsibilities.
Pros of In-House SEO Team
The pros of having an in-house SEO team include:
Local Knowledge – Having local SEO professionals on staff means they are familiar with your area, your competitors, and your industry. This makes it easier for them to understand your business and develop strategies specific to your market.
Reliability – When you hire an in-house team, you can rest assured that they will follow through on their promises and deliver on their promises. You won't have to worry about whether or not they're going to show up, or if they're going to keep their word.
Communication Is Easier – If you hired an outside agency, you would need to communicate with them via phone, email, and possibly even Zoom. However, if you hired an in-house team member, communication is much simpler. You don't have to go through different channels to reach them. Hiring an In-house SEO team gives you immediate access to the team members which makes communication easier.
Accountability – The accountability factor comes into play when you hire an in- house team. With an in-house team you can hold them accountable by giving them tasks and deadlines, and making sure they meet those goals.
You Have Full Control Over The Team – There is no third party involved in the process. If you handle your own SEO, you have full control over every aspect of the project. You have direct access to all aspects of the project and can see exactly what is being done. This makes it easy for you to make any changes or improvements as needed.
In-House SEO can have a HUGE impact on your business if you do it right. But there are also some cons of using an in-house SEO.
Cons of In-House SEO Team
There are some cons to having an in-house team. These include:
Cost – Depending on the size of your business, hiring an in-house team may be too expensive. It might be cheaper to pay someone else to do this job than to hire an in-house SEO specialist. Hiring full-time staff normally requires massive financial investment. However, if you outsource instead, you'll save money while still getting great results.
Additional Budget Is Required – Having an in-house team does mean more work for the company. You'll need to hire employees who understand SEO and how to use the tools. Additionally, you'll need to invest in additional software, services, and other tools that make up the cost of an in-house team.
Lack Of Experience – Employees may not have the experience and skills that a well-established SEO agency has which could lead to problems down the road. An experienced SEO agency knows what works and what doesn't. They know how to get the best results from your website.
Time Commitment – Hiring an in- house team means you'll need to dedicate time to managing your SEO campaign. You'll need to track progress, monitor performance, and ensure everything goes smoothly.
Unpredictable Results – Because there's no one overseeing your SEO efforts, it's difficult to predict what kind of results you'll get. You never really know what you're going to get until after the fact.
These are the cons of In-House SEO teams, but they aren't necessarily reasons why you shouldn't hire an in-house group. Some companies simply prefer to manage their own SEO campaigns because they want to take care of things themselves. Others like to have complete control over their projects so they can make sure everything runs smoothly.
Outsourcing SEO
SEO outsourcing is the process of outsourcing search engine optimization services to an external company. 
Outsourcing SEO means hiring an expert to handle all aspects of your website's SEO, including keyword research, content creation, link building etc. If you are looking to hire an SEO agency, it's best to ask questions about their experience and track record before signing any contracts.
Hiring an external agency means outsourcing SEO. This isn't always a bad thing if you've got the time and resources to do it yourself. But if you want to save money and get better results, then outsourcing may be the right choice for you. You can focus on other aspects of your business instead. However, outsourcing SEO may lead to poor outcomes if done incorrectly by an inexperienced company.
Pros Of Outsourcing SEO
Save Time & Money – By outsourcing SEO, you won't need to invest hours each week learning about SEO and creating new content. Instead, you can focus on growing your business with other tasks.
Expertise – When you work with an experienced SEO agency, you're working with someone who knows exactly what works and doesn't work for your specific industry.
Quality Content – An SEO agency will ensure that your content is optimized for search engines, which helps increase your rankings.
Focus On Other Areas Of Your Business – Since you don't have to worry about optimizing your website, you can focus on other areas of your business like marketing, sales, customer support, etc.
Cost Effective – Hiring an SEO agency is much cheaper than hiring an in-house team.
If you outsource SEO, you can have a HUGE impact on your business. You'll be able to use their expert knowledge to climb to the top spots on Google and other search engines, increase your visibility, and bring in more qualified organic traffic to boost your ROI. But it's not always the best choice for everyone. Your options depend on many different factors including budget, resourcing, and the amount of control you need over your campaigns.
Cons Of Outsourcing SEO
Poor Outcomes – Hiring an inexperienced company would result to poor result for your business.
Confusing contracts – Before signing any contracts, make sure that you read them thoroughly and understand what you're getting into. Unfortunately, there are always some bad cmpanies who will charge too much and not deliver enough. 
Lack Of Transparency – A good SEO agency should provide regular updates on your progress so you can see where you stand.
Unreliable Results – There's no guarantee that you'll get the results from an SEO agency that you expect.
Limited Communication – Outsourced SEO companies are more likely to have meetings with clients once a month. You're not able to communicate as much as you could if you hired an in-house SEO agency. Some companies only communicate through email, leaving you with very little information on your project status.
These are the cons of outsourcing SEO. If you decide to outsource, make sure that you find a reputable SEO agency, one that has a proven track record, and one that offers transparency throughout the process. By choosing wisely, you can reap all the benefits of outsourcing SEO without having to deal with the risks.
Deciding Whether To In-House Or Outsource
When deciding whether to outsource or in-house, consider these factors.
1. The Size Of Your Company
If you have a small business, then it might be easier to manage everything yourself. But when it comes to larger businesses, it becomes harder to keep up with the constant changes in technology. It also becomes difficult to scale your efforts across multiple channels.
If your business is growing quickly, then you may want to hire an SEO agency. They can help you grow your business by helping you reach new customers, improve your conversion rates, and optimize your site for better rankings.
2. How Much Control Do You Need Over The Process?
Do you want complete control over every aspect of your project? Or would you prefer to let an experienced professional take care of it? 
You may want to go with an in-house SEO because they give you complete control over your project. However, this means that you'll have to take on more responsibilities. You'll need to monitor every aspect of your website's performance, including content creation, link building, and keyword research.
By outsourcing SEO to an outside agency, you can save on costs by not paying salaries for in-house SEO professionals. You also gain access to specialized tools and training that are only available to large agencies. However, if you hire an inexperienced SEO firm, you may end up spending too much money and wasting valuable resources.
3. What Are Your Budget And Time Frame?
How much do you plan to spend? Will you be willing to pay a monthly fee for ongoing support? These are questions that you need to ask yourself before making a final decision.
4. How Much Experience Does The Agency Have?
Outsourcing SEO requires expertise and experience. An agency that lacks both will struggle to deliver high quality work. Make sure you choose an agency that has been around for years. This way, you know that they've got the skills and knowledge needed to get the job done right.
Conclusion
There are pros and cons to each option. When weighing them against each other, you should determine which option best suits your needs.
The most important thing to remember is that there is no perfect solution. Each option has its own advantages and disadvantages, so it's up to you to decide what works best for your company.