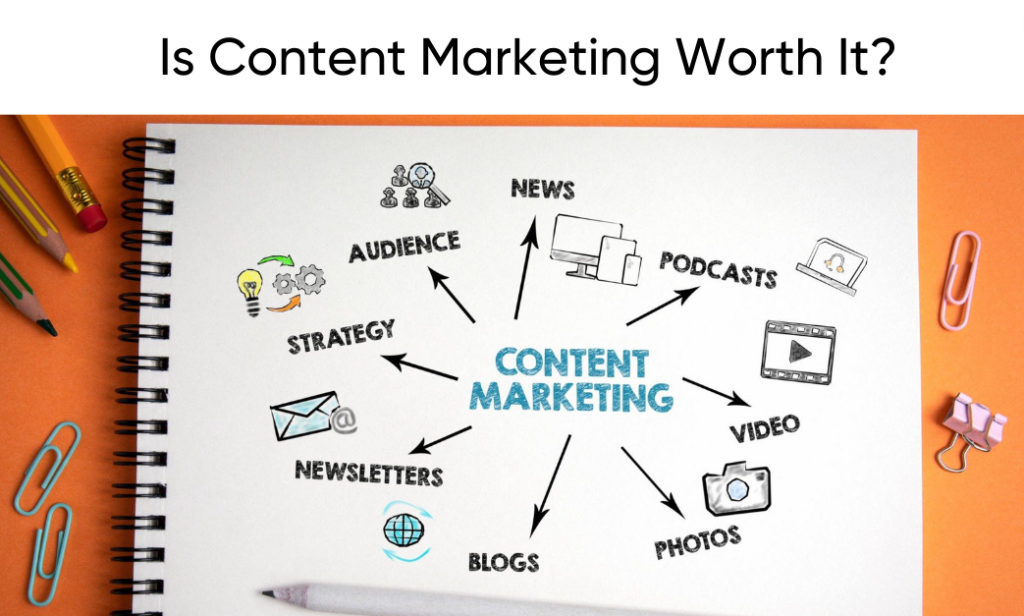 Content marketing has become a buzzword over the last couple of years. Is it really worth investing time and resources into creating quality content?
Content marketing is defined as the strategic use of content to attract visitors to your website, keep them there, and convert them into leads and customers. The goal is to create valuable content that helps customers solve problems and encourages them to interact with the brand.
It's no secret that content marketing is effective at driving traffic to websites and boosting sales. In fact, content marketing is a very cost-effective way to promote products or services because you can create content for free and then easily use it to build your audience and entice people to take action to buy your products and services.
Types Of Content Marketing
There are several different types of content marketing that you should know about:
1. Blogs
This involves posting informative articles on a blog, this type of content marketing requires writing skills. You need to write something that is interesting and helpful to readers, but if you don't have any experience in writing, it may be difficult to get started.
This cheap way to promote your business is completely dependent upon the quality of the content you provide.
The more elaborate, well-detailed, and up-to-the-date a blog post is, then the more likely it is to get the results your company wants, so make sure you do your research before publishing any blog post.
2. Infographics
An infographic is a visual representation of information, usually data related to a particular topic. They are visually appealing and easy to understand, which makes them perfect for promoting ideas and concepts.
Infographics are also great for providing detailed information without having to read through an entire article.
Infographics are a good visual representation of an idea. They're not just for showing off fancy graphics; they can be used to explain complicated ideas and break down complex topics into simple terms. 
Infographics can help your business stand out from the crowd by making your message easier to digest.
3. Videos Content
Videos are another form of content marketing that many companies rely on today. People like watching videos instead of reading text, and they tend to prefer videos that are short. This means you only have a few minutes to grab someone's attention.
You can use video to educate consumers, entertain them, or inspire them to act. With YouTube being such a popular platform, it's a must for businesses to have their own channel to reach potential customers and make them aware of their product or service.
4. eBooks
eBooks are one of the most popular ways to market a business online.
To download an eBook, customers must submit to you their email addresses and names.
With that information in mind, your company can easily guide the customer through the nurture cycle, providing them with more relevant content that is likely to attract their attention, and ultimately convert them into paying customers. 
eBooks on popular topics can generate a lot of interest in your products and services, so you should definitely consider investing in them.
5. Podcasts
Podcasting has become increasingly popular over the past few years. Many people listen to podcasts while commuting, exercising, or doing other activities.
Content marketers often overlook podcasts as a way to share their message, but they can be a powerful medium for spreading awareness about your brand.
Podcasts are a great way to reach a highly engaged audience because listeners want to hear what you have to say. 
What Makes A Great Content?
A great content is something that helps your audience solve a problem or answer a question. The content must be informative and engaging enough to keep visitors interested and coming back for more.
Here are some tips to ensure your content is successful:
1. Write For Your Audience
You should write for your audience, not yourself. What do your customers care about? How can you help them? These questions will guide you toward creating valuable content. Ensure that your content answers these questions and addresses the pain points of your audience.
2. Give Value
Your content should give value to your audience, not just sell products. Provide them with solutions to their problems and offer them advice, rather than simply selling them a product.
When you focus on giving value instead of selling, you'll build trust with your audience and earn their loyalty.
3. Error-Free
Make sure your content is error-free before publishing. Check grammar, spelling, and formatting errors before publishing it on all platforms.
4. Focus On Quality Over Quantity
Quality over quantity is a common saying in the world of content marketing. If you want to succeed, you shouldn't always try to produce too much content. Instead, focus on quality. Create high-quality content that is well-researched and written, and make sure it meets your audience's expectations.
5. Use Visuals
Images and videos are powerful tools when it comes to content marketing, as they provide a better user experience. They're highly shareable and increase engagement. Include images and videos where appropriate for your audience.
READ ALSO:
Is Content Marketing Really Worth It?
Yes, content marketing is still worth it, content marketing is a great way to attract attention and drive sales. However, it takes a lot of effort to produce high-quality content that attracts readers and encourages them to take action. When done properly, you will be able to generate more leads and increase revenue with content marketing.
Why Is Content Marketing So Profitable?
There are many reasons why content marketing is so profitable:
1. High ROI
When you invest in content marketing, you get a return on investment (ROI) on effort and money spent. If you publish good content regularly, you will start attracting new audiences who want to learn about your business. This means they will visit your site and buy from you.
2. Low Cost
The best part of content marketing is that it can be done at a minimal cost, especially when compared to other forms of advertising, such as PPC ads. With content marketing, you don't need to spend thousands of dollars to gain exposure and make sales.
3. Targeted Traffic
With content marketing, you can target specific groups of people based on their interests and needs, then provide them with useful information that solves their problems. This will help you reach out to potential buyers and encourage them to take action to purchase your product or service.
SEO optimization is another reason why content marketing is so beneficial. You can optimize your content by including keywords that match search terms used by your target market. This will improve your ranking in search engines like Google and Bing, which will result in more organic traffic, meaning more conversions.
4. Increased Brand Awareness
If you have an established brand, you should consider using content marketing to help spread awareness. By providing helpful content, you can show potential clients what your company is all about, which will lead to increased customer loyalty, repeat purchases, and ultimately higher profits.
5. It's Future-Proof
Content marketing is future-proof because it provides value to your audience long after you've stopped producing content. You can create an evergreen blog post that will continue to attract new readers even years down the road.
Content marketing ensures that your content not only stays useful but also relevant and serves your brand throughout its entire life cycle, making it one of the most effective ways to grow your business.
Conclusion: Is Content Marketing Worth It?
Whether you're just starting out or already running a successful online business, content marketing is something you should consider. There are plenty of benefits to investing in this type of marketing strategy, it's up to you to decide if you want to use it for your business.
What do you think? Do you think it's worth it for your business? What would convince you to give it a shot? Let us know in the comments below!