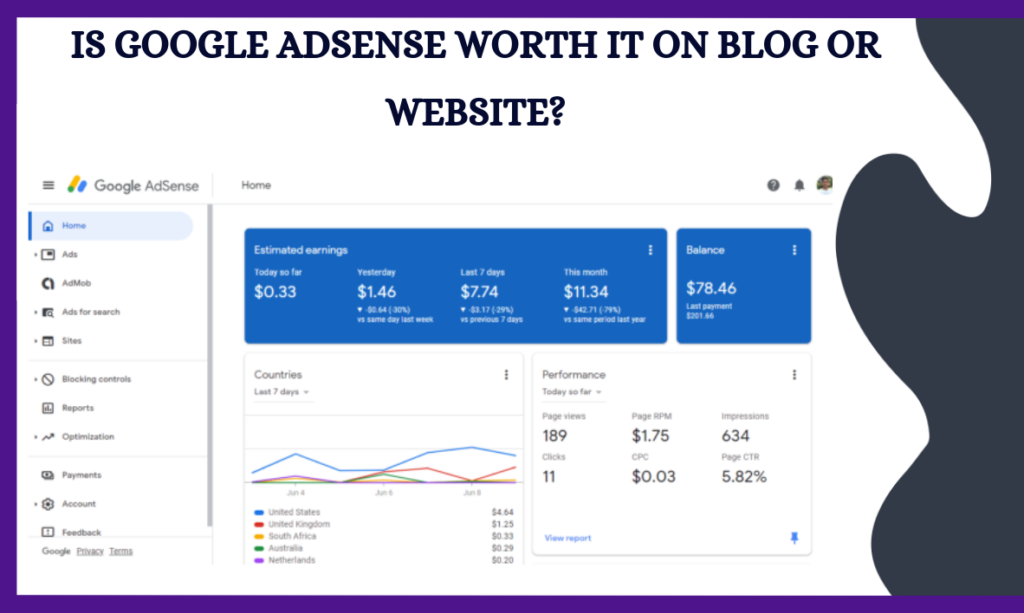 Google Adsense is a great way to monetize your blog or website, but is it worth it to have Adsense ads on your site? As a blogger and webmaster, you are probably wondering whether having Google Adsense ads on your blog or website will be worth your time and effort.
What Is Google Adsense?
Google Adsense is an ad network that allows bloggers to display advertisements on their websites. This means they get paid every time someone clicks on those ads. The problem is, it takes a lot of effort to build your audience, and only then can you start earning from the ads.
Adsense is a great tool for monetizing blogs and websites, but is it really worth it? Lets first check out some pros and cons of using Google AdSense on your blog or website.
Pros And Cons Of Using Adsense On Your Blog Or Website
The following are the advantages of using Google Adsense:
Pros Of Using Google Adsense
1. Easy To Use
As a beginner blogger, setting up Adsense ads is very easy. You don't need any coding skills. You just need to include one piece of code to display ads on your site and Google will take care of the rest for you.
2. Drive Revenue
Adsense will help you earn money from ads that are displayed on your site. If you have enough traffic, you can earn $10-$1000 per day with adsense.
3. No Minimum Traffic For Approval
There is no minimum traffic for you to get approval for Adsense ads.
4. No Cost
You do not need to pay anything upfront to use Adsense. Once you have set up your account, you can start earning revenue immediately.
5. Targeted Ads
Adsense will show relevant ads to the readers on your blog/website, this will increase click-through rate (CTR) and increase earnings.
Cons Of Using Google Adsense
The following are the disadvantages of using Google Adsense:
1. Slow Growth
If you want to make good money from Adsense, you should have at least 500 visitors per day. Otherwise, it will be difficult to grow your income.
2. Low RPM
Adsense RPM is not stable. There is no guarantee that you will earn more than what you put in.
3. High Bounce Rate
Bounce rates are high when there are too many ads on your page. So, if you have a lot of ads, it will decrease your bounce rate which will eventually lower your earnings.
4. Slow Site Speed
Having Adsense ads on your website can slow the loading speed your website may affect your CTR and ultimately reduce your earnings.
5. High Threshold
It may take you several months to earn $100 from Adsense. And that is what you need to get paid by Google. It might take you a month, or it might take longer than that. That means you work and Google holds onto your earnings until you reach their threshold, which may be $100 per month.
READ ALSO:
How Much Does Adsense Pay Per 1000 Views?
If you have 1,000 visitors, then if your CTR is 2%, and you have a CPC of $2. Therefore: you will earn $40 for every 1,000 visits.
Your earning depends on your niche, audience, traffic source, etc. As mentioned earlier, you can earn $10-$1,000 per day. But keep in mind that you must have a large number of daily unique visitors to make this happen.
Is Google Adsense Worth It?
Yes, Google AdSense is worth it. It is a great way to earn money from your website. When you have a decent amount of traffic, you can easily earn $100-$1,000 per day. The best part about Google AdSense is that you can make money from home.
3 Alternatives To Adsense
Other alternatives to Adsense are:
Ezoic is a leading provider of software solutions for media companies and brands looking to monetize their content online. They have a wide range of products designed to help publishers maximize their traffic and revenues. Their tools include Big data analytics, Leap, Ezoic CDN etc.
Ezoic is designed to give users control over all aspects of their website and maximize their advertising revenues. With time, Ezoic machine learning algorithm collects more data about your visitors, and the performance improves, as well as your revenue.
Mediavine is an ad management service that represents publishers across all verticals but particularly in the travel, home, lifestyle, and food spaces.
The company primarily manages ad placements for its clients' websites so that they can make money from their sites.
To get approved by Mediavine, you will need to reach an audience size of 50,000 monthly unique visitors. It is important to note that they care most about US-based traffic.
AdThrive is an award-winning ad management company that provides a wide range of services. They help websites determine the best ad layouts and organize the ad auctions that determine which ads appear on the site. 
They are a premium advertising network and also a Google certified publishing partner. AdThrive offers best-in-class technology for ad bidding and placement. 
At AdThrive, the approval process is manual and quite strict, but they're working hard to improve it. They require at least 100,000 monthly page views. Newer blogs don't usually qualify for AdThrive because they don't meet their requirements. Even if you do meet the traffic requirement, there's no guarantee that you're going to be accepted.
Should You Join Adsense Or Not?
Yes, If your website is allowed to use Google AdSense, then go ahead and sign up for it. It's one of the quickest ways to start earning good ad rates. They've set up their system so that anyone can use it and benefit from it.
If you decide to join Adsense, then you'll have to create a blog or website with a enough audience. After creating your blog, submit it to Google Adsense. Once you're approved, you can begin making money
What If I Don't Get Accepted By Adsense?
It's not always easy to get accepted onto Google AdSense. Sometimes you just need to try again. If you don't get approved after trying many times, then maybe it's time to move on to another network. Some alternative Ad networks offer great payouts and have proven themselves over time.
Bottom Line
Google Adsense is a great way to earn some extra cash when you're starting out. The only problem is that getting accepted into Google Adsense isn't always easy. But once you've been accepted, you can start making money right away.