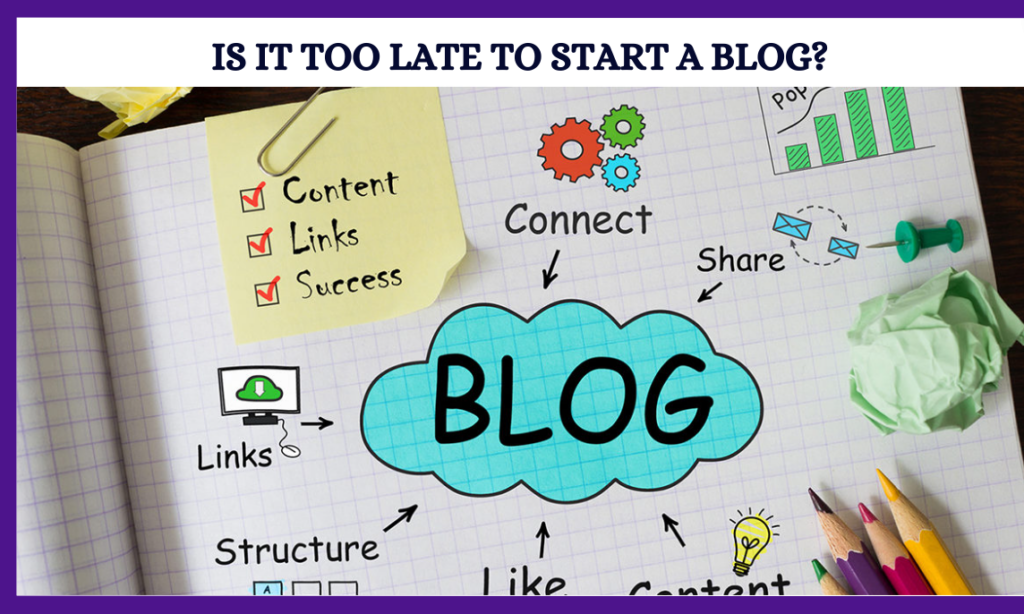 Starting a blog is an excellent way to share your ideas with the world and make money in the process, but it's not always easy to get started. If you want to start a blog for yourself or as a business venture, then you need to know that there are many things involved in starting a successful blog.
If you've ever considered starting your own blog, and haven't done so because you thought it was too hard, don't worry about it! Starting a blog can be pretty simple, keep reading on to find out how.
Is It Too Late To Start A Blog?
No, it's never too late to start a blog. There is no time limit when it comes to blogging. In fact, if you're thinking of starting a blog, now is actually a great time to do it. You can start now, build up loyal readers over time, make money from ads and affiliate links, and even sell products online through your blog.
It's also easier than ever before to start a blog. The tools available today are more powerful than they have ever been before. They let you create a professional-looking blog from almost any device connected to the internet, including smartphones, tablets, laptops, and desktops. With these tools, anyone can easily set up their very own blog.
The Evolution of Blogging
A blog is simply a weblog, or journal, written by someone called a blogger. These days, blogs are often used to write personal thoughts, express opinions, and provide information. They are usually updated regularly and may contain photos, videos, audio files, and other content.
Most blogs start out as personal diaries, But over time, the meaning of blogging shifted. Today, we see blogs used for everything from sharing news and information, to creating communities, to building businesses.
Blogging platforms such as WordPress, Dupal, Joomla, and Tumblr offer tons of features that allow users to customize their sites to fit their needs. These features include themes, plugins, widgets, social media integration, SEO optimization, and more.
With the right platform, you can turn your blog into a thriving business. However, you will still need to learn some basic skills to be able to run a successful blog. Whether you choose to monetize your blog or just enjoy writing and sharing your opinion, blogging is one of the best ways to reach an audience.
Why You Should Start A Blog Now
So why should you start right away? Here are some reasons:
1. Make Money Online
With the right tools, you can turn your passion into a profitable side hustle or full-time job. When I first started my blog, I made $2,000 per month just by writing about topics I loved. Today, I earn much more than that every single month. But it wasn't easy. I had to work hard at learning new skills, figuring out what kind of advertising worked best for me, and finding different ways to promote myself.
I'm sure you'll find something similar when you start your own blog. Even if you don't make a lot of money right off the bat, you will eventually make enough to cover all your costs. And once you start making money, you'll want to continue doing so. So why not get in while you can?
2. Build Your Personal Brand
Starting a blog gives you the opportunity to share your unique voice with the world. By expressing yourself in this way, you will become more well-known within your niche. This means that people will recognize you as an authority in your field, which will help you land better jobs in the future.
3. Learn New Skills
If you want to grow as a writer, then a good place to start is by developing a strong portfolio. Writing is a skill that requires practice, but if you keep working on it, you will improve. This will give you the chance to hone your craft and gain experience.
Blogging can really teach you how to communicate effectively through words. If you're looking to expand your knowledge, starting a blog is a great way to do it.
4. Grow Your Network
When you start a blog, you have the power to connect with other bloggers and readers. Some of these connections could lead to collaborations, guest posts, or even paid opportunities. Plus, you will have access to a vast network of like-minded individuals who will support you along the way.
Why Is Blogging Still Relevant?
Blogs are one of the most popular sources of information on the web. They provide unique perspectives and insights that can't be found anywhere else. As such, readers tend to trust what they find there. In addition, blogs have become a vital part of online marketing strategies because they can serve as effective tools for promoting products and services.
Blogging offers many benefits, including promoting your company or brand online. Blogging can be used to build your reputation and establish credibility among potential customers. It's also a good idea to use blogging to share useful tips and advice with others.
Blogging has become one of the most effective ways to market businesses online. It can be used to build relationships with customers, generate leads, promote products, etc. Your blog should act as the foundation for everything else you do online. 
Although blogging has evolved over the years, there's no denying its value. The amount of content available online continues to increase exponentially. As a result, it's becoming increasingly difficult to compete against authority websites in your niche.
You can't expect to succeed without putting in time and effort, however. There's no shortcut to building a successful blog. Instead, you must dedicate yourself to learning everything you can about your chosen niche, honing your writing skills, and promoting yourself.
Once you've mastered those things, you can start thinking about monetizing your site. That's where the real fun begins!
READ ALSO:
Should You Start Right Away Or?
The truth is, there's never been a better time to start a blog than now. With so much content being created every day, there's simply too much competition out there to ignore. However, this doesn't mean you shouldn't take some time to learn about your topic before jumping into the fray.
It's important to consider whether or not your blog will be helpful to your audience. Will it offer them something new and valuable? Will it be of interest to them? Can you write well enough to convey your message clearly and persuasively?
These questions will help guide your decision. Once you know more about your audience and their needs, you'll be able to determine whether your blog is worth pursuing or not.
Before you begin, it's always best to conduct thorough research on your topic. This will give you an understanding of how your blog fits within the larger landscape of similar sites.
If you're considering starting a blog, make sure you choose a niche that interests you. If you don't know much about your niche, you won't stick with it long enough to see results.
Your blog should be focused on providing useful information to your target audience, not just selling yourself. By doing this, you'll get a chance to build a relationship with your readers and earn their trust. This will ultimately lead to increased traffic and higher conversion rates for your product or service and earn you more money.
How to Start a Successful Blog in 8 Steps
Step 1: Choose Your Domain Name
Choose a name for your website that reflects who you are and what you want to achieve. Make sure it's easy to remember and spell.
In addition, make sure it's short, descriptive, and catchy. Your domain name is an important part of your blog identity. It should reflect your personality, values, and goals.
By choosing a domain name that's memorable and relevant, you're setting yourself up for success.
Step 2: Select a Hosting Service
A hosting service gives you access to a server where you can store files, photos, videos, and other media.
Choosing a good host is essential because it makes your blog easier to manage and maintain, you need a reliable web hosting service to ensure high performance and uptime.
When selecting a hosting provider, look for one that offers unlimited disk space, bandwidth, email accounts, and security features like spam filters and virus protection.
Also, make sure the company has a 24/7 customer support team available via phone, chat, and email.
Step 3: Pick a Content Management System (CMS)
A content management system enables you to easily create and edit posts without having to manually type HTML code.
Some popular CMSs include WordPress, Joomla!, Drupal, and Squarespace. These platforms are free to tomize your site using plugins and themes. There are thousands of free and paid plugins
There are many different CMSs available today. Popular ones include WordPress, Joomla!, Drupal, and Squarespace.
WordPress is by far the most popular option among bloggers. It's user-friendly, flexible, and extensible. With over 455 million active websites using WordPress worldwide, it's also very stable and secure. So, if you're looking for a robust blogging platform, then WordPress is definitely the way to go.
Step 4: Choose a Niche
Having a specific niche is key when creating a successful blog. You must narrow down your topics so they fit into your niche.
What is your passion? What do you love to write about? Do you have any expertise to be able to write topic in the niche? All these questions help you determine which topic would be best for your blog.
Niche means something that you're passionate about. When you find the right niche, you'll never run out of ideas, which will keep you motivated and inspired to write great content.
It's important to choose a niche you enjoy writing about. If you don't enjoy writing about a certain topic, never force yourself to do it. You may end up hating it!
Step 5: Install A Great Theme
A theme is a template or skin used to design your blog. They come with all sorts of designs, colors, fonts, widgets, and other elements you can use on your blog.
Installing the right theme is essential because it helps you achieve your goal of building a beautiful website. Themes are available at no charge from multiple online sources.
You can pick from hundreds of free themes. Some popular options include Divi, Genesis, Elegant Themes, and StudioPress.
But if you want something better looking, you might consider purchasing a premium theme, they usually cost between $10 – $20 per month.
Themes are an easy way to customize your blog. You can change the color scheme, layout, font style, and more to your liking.
Once you've chosen the perfect theme, you can install it on your new blog.
Step 6: Install Essential Plugins
Plugins are tools that extend the functionality of your blog, they allow you to add extra features to your blog like social media sharing buttons, eCommerce, contact forms, and much more.
Most themes come with a variety of preinstalled plugins. But if you want to add additional features to your blog, you should always look for plugins.
Some of the most popular plugins include Yoast SEO, Jetpack, WP Super Cache, Gravity Forms, etc.
Installing these plugins in your blog is necessary to help improve its performance.
Step 7: Publish Your First Post
Now that you've installed everything and set up your blog, it's time to start publishing posts.
To get started, click on the "Add New" button in your dashboard. This will take you to your post page. Here, you can create your first post.
Write a title for your post, enter some text, select images, and publish your post, you're done!
Step 8: Keep Learning 
Keep learning as much as you can about blogging. There are many ways to learn, including reading articles, watching videos, taking courses, attending webinars, joining communities, and more.
If you follow this guide step by step, you'll soon see how simple it is to build a profitable blog and realize that blogging isn't really hard after all.
Conclusion
If you have something interesting to say or share, writing a blog will give you the platform to express yourself, build confidence, and potentially earn money from it. Whether you're looking for a new hobby or simply trying to make some cash, starting a blog could be just what you need.
It is not too late to start a blog, but there are things you need to know before doing so. With the right knowledge, you can easily start a successful blog with little investment, even if you have little experience.
In this article, we discussed what makes a good blog, why starting a blog is beneficial, and how to start a blog. We also covered the seven steps to creating a successful blog.
We hope you found our tips helpful and useful. Feel free to leave us a comment below if you have any questions.