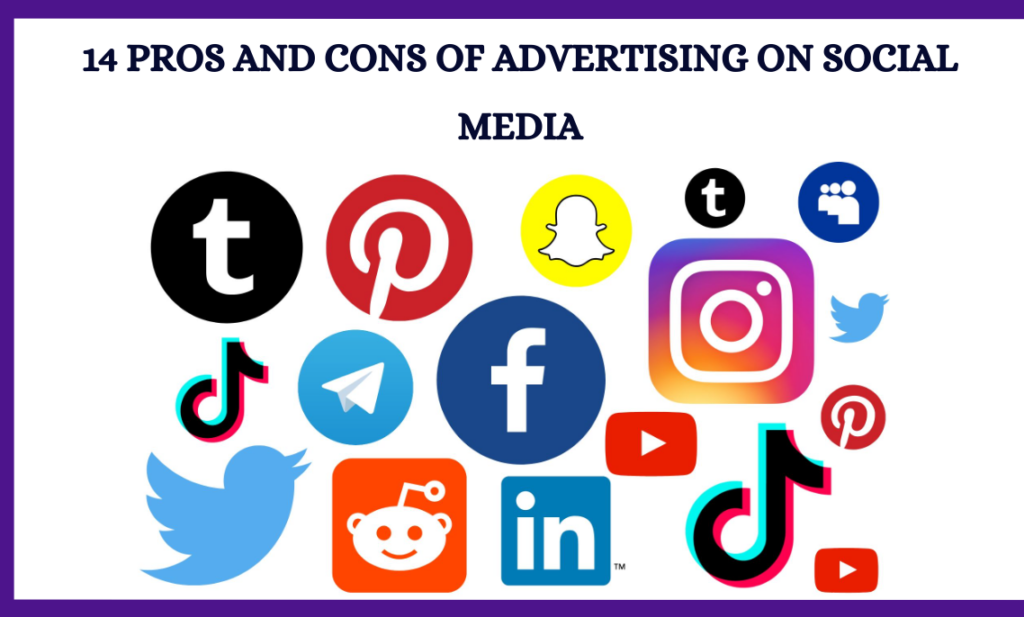 Advertising on social media is an effective means of promoting your business. However, there are numerous pros and cons of doing so that you should be aware of before you start advertising on social media. Here we'll explore some of the significant benefits and drawbacks of utilizing social networks to promote your brand.
What Is Social Media Advertising?
Social media advertising is a type of internet marketing in which businesses use social networking websites to advertise their products or services. The main purpose of this form of online marketing is to increase sales by increasing brand awareness, driving traffic to landing pages, collecting email addresses, converting website visitors into buyers, etc. 
With the help of social media platforms such as Facebook, Twitter, Instagram, LinkedIn, Pinterest, Twitter, etc., companies can market themselves to millions of potential customers anywhere in the world. These platforms have become one of the most powerful tools for reaching out to consumers worldwide.
The best part about social media advertising is that it allows marketers to target specific audiences with greater precision than ever before. This targeted audience approach has made social media advertising more cost-effective than other forms of advertising.
14 Pros And Cons Of Advertising On Social media
So let's take a look at what these 14 pros and cons entail:
7 Pros of Advertising on Social Media
Let's begin with 7 major advantages of advertising on social media.
1. Increased Brand Awareness
Social networking sites like Facebook and Twitter allow users to share their experiences with others in real-time. Thus, when people use them to advertise or market their products, they can reach out to millions of potential customers in minutes. This allows your company to reach more customers than it would have been able to do through traditional marketing methods such as TV ads, radio spots, or print advertisements.
Social media really helps in increasing brand awareness because it reaches a large number of consumers in one go. So if you want to increase your brand awareness, then social media is definitely the best way to go about it.
2. It Helps You Reach New Customers
The biggest benefit of using social media for advertising purposes is that it helps you reach new customers. The reason why this is beneficial is that most social media websites offer free accounts which makes it easy for anyone to join.
If you're looking to target new customers who don't know much about your product yet, then social media will help you achieve that. In fact, many companies now use social media to find new customers for their businesses.
3. Allows You To Connect With Your Audience
Another great thing about social media is that it allows you to connect with your audience. By interacting with your followers and allowing them to comment on your posts, you provide them with information about your business.
This gives you an opportunity to create a relationship with your followers that goes beyond just selling your products or services. If you want to build trust and rapport with your audience, then engaging with them via social media is a good idea.
Social media advertising is also helpful because it allows you to get feedback from your customers regarding how well you're performing. You can learn a lot from customer reviews and complaints regarding your products or services for better improvement.
4. Increased Website Traffic
One of the major reasons why people use social media for advertising purposes relates to website traffic. 
With social media advertising, you can effectively drive traffic to your site by promoting your content on various social media platforms.
Having traffic to your website is important because it helps improve sales and conversion rates for your business. Thus, if you want to make sure your website gets enough traffic, then you should consider using social media advertising.
5. It Is Cost Effective
If you're familiar with social media advertising, it can be quite cost-effective if done right. There are several ways to promote your business via social media with a minimal budget, but you need to understand what works and what doesn't work before you begin.
It's not always easy to tell whether something will work or not. That's why it's very important to test different strategies to see which ones actually work. Once you've identified the right strategy, you'll be able to save money while still getting results from social media advertising.
6. Quick Results
Another advantage of using social media for marketing purposes is that it offers quick results. This means that once you start running ads on social media sites you'll be able to quickly measure the effectiveness of those campaigns.
You won't have to wait too long to see results when you advertise on social media platforms. This means that you could run multiple campaigns at the same time without having to worry about waiting weeks to see results or spending all of your budgets on ads that aren't working.
7. Boost Leads For Your Business
When you advertise on social media, you can boost leads for your business. 
Running a lead generation ad campaign can really help you harness the power of social media advertising for your business, especially if you're looking to increase your conversions for your product or service. 
With so many advantages of advertising on social media, there's no reason why you shouldn't do it as part of your overall marketing plan. However, you need to choose the right platform first to ensure that you get the best results possible.
READ ALSO:
7 Cons of Advertising on Social Media
So far we discussed some pros of advertising on social media; let's take a look at its cons now:
1. Not All Platforms Are Created Equal
Just like any other type of online advertising, you need to choose a platform that has the most potential to convert into sales.
Choosing the right platform depends on your target audience, your goals, and your budget. If you're new to social media advertising, you may find it difficult to decide where to spend your money.
There are lots of social media platforms out there, and each one has its own unique features. Some platforms may appeal more than others depending on your target audience.
If you don't know where to start, then you should probably stick to Facebook. It's the largest social network in terms of users and also has the highest number of active advertisers.
2. The Competition Can Be High
The competition in social media advertising is extremely high.
There are thousands of companies who are trying to sell their products and services through social media, meaning that they're competing for attention.
This makes it hard to stand out from the crowd, especially if you don't have a large budget to invest in advertising, but it doesn't mean that you can't succeed.
3. You Need To Have A Good Strategy In Place
Before you even think about investing in social media advertising, you need to have a good strategy in place.
Without a clear goal in mind, you might end up wasting money on ineffective campaigns.
With the right strategy in place, you can easily determine which platforms will work best for your business, what kind of content you should create, and how much you should spend on advertising.
A good strategy will help you to avoid making costly mistakes and save you time and money in the future.
If you are really serious about growing your brand, then you'll need to make sure that you have a solid strategy in place before you begin advertising on social media. 
4. It Is Difficult To Track Social Media ROI
One of the biggest challenges associated with social media advertising is tracking the return on investment (ROI).
Tracking ROI is essential to measuring the success of your social media campaigns. Without this data, it can be difficult to determine whether or not your efforts were worth it.
Without a proper method of tracking ROI, it can be hard to tell whether or not your ads are effective.
5. Not A Perfect Fit For All Types Of Business
Social media advertising isn't always the perfect fit for every type of business, so it's important to consider all of these factors before deciding to advertise on social media.
If you're not sure whether social media advertising is right for your business, ask yourself these questions: Do you want to be seen as a brand? Or do you just want to sell stuff? Is your target audience online or offline? Do you want to build relationships with your followers? Or do you just need them to purchase your product?
Answering these questions will help you to figure out if social media advertising is the right choice for your business.
6. Competitors Could Study Your Business
Another reason why some businesses choose not to advertise on social media is that they fear that competitors could study their business and learn everything about them.
Advertising on social media can make it easier for competitors to track your business, copy your ideas and use them to promote their own business.
Nobody would want their competition to steal their idea and profit off of it, with no effort put into developing it themselves.
7. It Requires Constant Monitoring
You need to constantly monitor social media ads because they require constant attention. Time is just as valuable as money when it comes to advertising on social media.
It takes time to develop an effective campaign, so you won't get any results unless you dedicate enough time to it.
If you want to be successful at social media marketing, you need to invest a lot of time into it. When you don't devote enough time to it, you risk wasting money, losing potential customers, and missing out on opportunities.
Is Social Media Advertising Right For You?
Social media advertising works well if you know how to do it right, and what not to do. It's a great way to reach your target audience, but there are many pitfalls that can make or break your campaign. If you don't have the time or resources to learn social media advertising, then hiring an expert is the best option for you.
If you are interested in promoting your business, then you might consider investing in social media advertising. Through social media ads, you can target specific groups of people based on age, gender, interests, location, and even lifestyle. With this type of targeted marketing, you will be able to increase brand awareness, drive traffic to your website, and generate leads.
Conclusion
These are the pros and cons to using social media advertising, but overall, it has proven to be one of the most cost-effective ways to market your business.
The more you know about social media advertising, the better prepared you'll be to create a strategy that will bring success to your business.
Do you think social media advertising is right for your business? Share your thoughts in the comments section below!