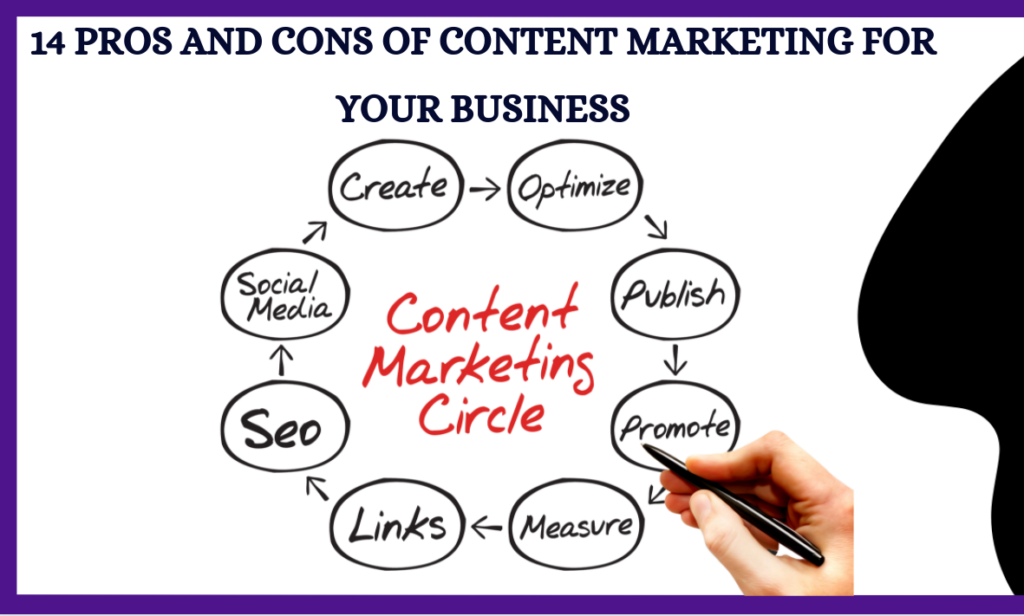 Content marketing involves the creation of relevant, valuable, and consistent information designed to attract customers. Content marketing has become a key component of any successful strategy. In recent years, content marketing has grown exponentially due to its ability to connect with consumers.
Content marketing is a powerful way to build authority, trust, and visibility. It also offers unique opportunities for businesses to connect with customers on a deeper level and make meaningful relationships.
But there are pros and cons to consider before jumping into content marketing. In this article, we'll explore the pros and cons of content marketing to help you decide whether it's right for you. 
14 Pros And Cons Of Content Marketing For Your Business
7 Pros Of Content Marketing
1. Reach a Wider Audience
Content marketing has become a popular way to reach new audiences. It allows businesses to connect with people who may not otherwise hear about them, by creating useful and engaging content that attracts their attention. This can be done through blogs, social media, email newsletters, or other types of content.
With content marketing, businesses gain access to an even broader audience than they would normally be able to reach. They can create content that helps them stand out from competitors and increase brand awareness.
2. Enhance Traffic And Conversions
One of the biggest benefits of content marketing is that it generates traffic. Businesses can use these resources to drive more visitors to their websites, which increases sales.
In addition, when using content marketing, businesses can improve conversions. The goal is to provide value to users so they convert when they encounter your website. When businesses create quality content, they're able to capture leads and nurture existing customers. 
3. Helps To Rank Higher On Search Engines
When search engines see that a business creates high-quality content, they rank it higher in searches related to that topic, improving its Google ranking. With content marketing, businesses have a greater chance of appearing at the top of organic search results.
4. Boosts Social Media Presence
Another benefit of content marketing is that businesses can promote themselves on social media sites such as Facebook, Twitter, LinkedIn, or Instagram. These platforms allow businesses to interact directly with potential clients and share content.
Social media engagement is one of the most important metrics to track when it comes to content marketing. Businesses can also use content marketing to engage their followers on social networks, increasing brand loyalty and driving sales. 
5. Increases Sales and ROI
A major perk of content marketing is that it generates leads and sales. When businesses create useful and relevant information, their sales can increase.
When companies implement content marketing, they're able to reach their target audience and create trust. By establishing authority within a specific niche, they have a better chance of making sales in the long-term. 
6. Helps In Building Authority
Content marketing helps businesses build authority and credibility by creating high quality content that people want to read. It builds trust, which leads to better conversions.
Content marketing also gives companies the opportunity to create quality content that stands out from others in their industry. This means that they are seen as experts and trusted by their target market, leading to increased sales and customer satisfaction. 
7. Boost Brand Awareness, Trust and Loyalty
By creating content for consumers, brands can build relationships with their target audience. When potential customers see that your brand creates high-quality content, it shows them that you take time to listen to what they say and offer helpful solutions.
Businesses should consider content marketing as part of their overall marketing strategy. Content marketing provides a constant flow of fresh, valuable, and consistent messages to attract prospects and encourage interactions.
When your business creates great content, readers begin to view you as someone who delivers value. They start trusting you and viewing you as a credible expert in your field. As a result, they're more likely to buy from you when the time comes.
Brand awareness is one of the most important factors in determining whether people choose to buy your product or service. If you want to improve your brand awareness, then you should consider having a content marketing strategy.
Content marketing is one of the most effective ways to build brand awareness and increase customer engagement. It helps people understand who your company is and what it does, and gives them reasons to trust you and want to do business with you.
When you create high-quality content that educates and informs your audience, you're giving them something they can trust. This helps build credibility and trust among your target market.
READ ALSO:
7 Cons Of Content Marketing
1. It Is Time-Consuming
To create high-quality content that's essential to attracting engagement, you'll need to understand your audience. This means getting to know them, their needs, their concerns, and their questions. This might mean spending time researching – collecting data and analyzing it – before presenting it as easy-digestible content.
Creating the kind of high-quality content that's essential to draw attention will take time and that task will be ongoing. But if done right, this process will lead to higher conversion rates and greater success.
Creating good content takes time and effort. You need to write about topics that your audience wants to read. If you create something that doesn't interest them, your audience won't engage with it which makes it worthless. You should focus on creating great content that is engaging and let other people share it. 
2. No Immediate Benefit
The benefits of content marketing come slowly. This is why content marketing isn't an overnight fix. There's no guarantee that once you implement a content marketing plan, your website traffic will immediately jump. Instead, you have to work hard at building your reputation and establishing yourself to stand out from the competition.
Content marketing takes some time. Depending on your competition and the type of business you're running, it can take anywhere from 6 to 18 months to see significant results. Content marketing works like compound interest. The more effort you put into it, the more you get out of it.
3. High Costs
Writing high-quality content requires expertise and knowledge. So unless you're willing to hire writers, editors, and graphic designers, your efforts are going to be limited. In addition, there's the cost of maintaining quality content. You'll need to invest money into hiring staff members responsible for writing new posts, managing social media pages, etc.
4. It Can Be Difficult To Find Content Ideas
If you're not experienced with creating a good content strategy, it can sometimes be difficult to come up for new content ideas. This means you may end up doing some research in order to find fresh topics to cover. However, if you don't have enough experience or knowledge, then you're likely to make mistakes when trying to produce useful content. The best way to succeed in content marketing is by finding your own niche and staying true to it.
5. High Complexity Marketing Method
In general, content marketing is a complex method of marketing. If you want to get started with content marketing, you'll need to learn how to use different tools, strategies, tactics and put together a content strategy that aligns with your business goals so as to increase your chances of success.
6. Too Much Competition
There are many businesses who are already using content marketing to market their products and services. As such, it's tough to break through the noise and get noticed in today's crowded digital landscape if you aren't offering anything unique.
7. It Requires Lots Of Content To See Results
You can only attract people to your site by providing interesting content, but this is easier said than done. Writing compelling content is extremely difficult for most people. If you want to really build a solid reputation online, you'll need to dedicate lots of time to producing high-quality contents that keep your readers engaged.
Conclusion
By now, you've probably read all of these pros and cons of content marketing. Hopefully, we were able to help you decide whether content marketing is right for your business.
Content marketing can be a powerful tool for your business, but it doesn't come without its challenges. In order to reap the rewards of a successful content strategy, you'll need to overcome some obstacles along the way. 
Like any form of marketing, content marketing has its pros and cons. But overall, I think that it's one of the best ways to grow a business over the long term because it allows you to connect with potential customers while also increasing your brand awareness.