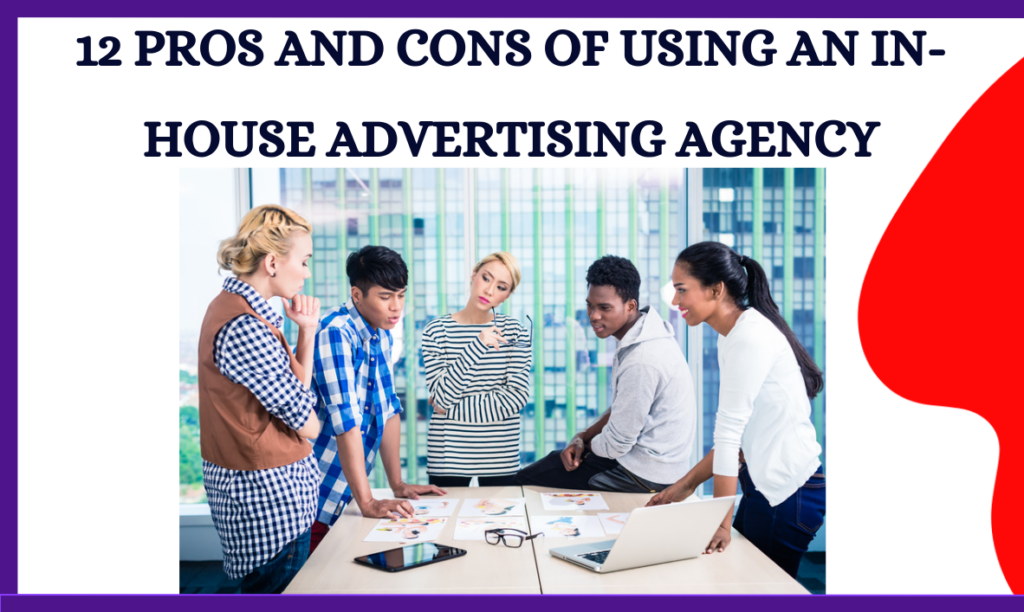 Are you thinking about hiring an in-house advertising company? If yes, then you should know the pros and cons before going ahead.
In-house advertising refers to a business that is run by its employees or the people who work for it. It can be a small agency or a big one. There are many benefits when using an in-house advertising agency but there are also some disadvantages too.
So, if you are planning on using an in-house ad agency then this article will give you a clear idea of what is good and bad about it.
12 Pros And Cons Of Using An In-House Advertising Agency
Lets check out the 12 advantages and disadvantages of using an in-house marketing agency:
6 Pros Of Using An In-House Advertising Agency
1. Local Knowledge 
When you have an in-house advertising firm, you get access to their local knowledge which means they have more experience with your target audience than any other person. They know where to reach them and how to do so. This makes it easier for them to create advertisements that are effective.
2. Better Communication 
An in-house agency is an extension of your team. They might even work out of the same office space, with all the same staff and lines of communication that you already have. This means there is less chance of miscommunication or breakdowns in communication that could lead to poor results.
A dedicated in-house team will give you much faster communication paths because they're all working together in one place every day.
3. More Control Over The Process 
If you want to make sure that everything goes according to plan, then you need to use an in-house advertising service. You can control every aspect of the process from start to finish. You don't have to worry about anything because they take care of it.
Since you'll be hiring someone within your organization, you'll have complete control over the process. You'll be able to give instructions, ask questions, and even guide them throughout the entire process.
4. They Have A More Personal Touch
When you hire an in-house company, you're hiring people who work inside your business. This means they understand your brand and culture and are able to create campaigns that speak directly to your target audience.
5. Cost-effectiveness
One major benefit of hiring an in-house advertising agency is that they offer effective results at lower costs. Outsourcing marketing usually requires large budgets and high fees. On the other hand, in-house agencies offer great savings. Since they work directly for your brand, they can be hired at much cheaper prices when compared to outsourcing firms.
6. No Conflict Of Interest
Another advantage of using an in-house agency is that there's no conflict of interest, since they work directly for your business. Your interests come first. You can trust them to represent your brand in a way that's most beneficial for your business.
If you outsource work to a third party, the agency may have preexisting relationships with one of your competitors or they may establish new relationships without your knowledge which could put your business at risk.
By taking your agency activities in-­house, you can eliminate any potential conflicts and ensure that the team working for your account is fully committed to the end-cause of growing your business.
READ ALSO:
6 Cons Of Using An In-House Advertising Agency
1. Lack Of Experience
The biggest drawback of using an in- house advertising agency is that they may lack experience, especially if you're looking for a long term relationship. 
An agency that has been around for years, they will likely have a lot of valuable information on what works and what doesn't work for your brand.
This means that they won't waste time trying things that haven't worked before. Instead, they'll focus on creating strategies that are proven to generate results.
2. Limited Resources
In addition to lacking experience, in-house agencies also often have limited resources. If you're looking for a fast turnaround, this may not be the best option for you.
They may only have enough staff to handle smaller projects. When you outsource, you get access to more employees and resources.
Even if your company has the best people in your industry, it will still struggle to compete with larger organizations when it comes to finding the right talent. An agency partner provides access to a wider skill base, allowing you to find the perfect fit for your needs.
3. HR Headaches
Hiring your own team is time consuming and expensive. You need to screen candidates, manage them, pay them, handle any issues and then keep them happy. Hiring through agencies means that they take care of all of this for you, saving you money and time.
It is definitely worth considering though as it does save you a lot of hassle.
There is not enough time for in-house teams to focus on your account. There is also not enough time for them to share what they learn with other teams. When you hire an agency, you get access to all the resources and expertise available. These agencies will have worked together before, and will have shared information about best practices and industry trends, giving you a leg up over your competition.
5. Talent Recruitment
Finding the perfect team for your in-house marketing department is hard. But if you hire the wrong people, there might be consequences. Not hiring the right people could end up costing you a lot of money which is why you may consider outsourcing.
An agency will know exactly who would be a good fit for your organization and will be able to make sure they bring the skills and experience needed.
6. No New Perspectives & Creativity
In-house teams have the same employees working on all their projects. This means there's no new perspective or creative energy coming from outside sources. Agencies work with top talent that bring a fresh pair of eyes. They provide a competitive edge by bringing unique ideas and strategies to each project for maximum impact.
Which Is More Effective In House Agencies Or Advertising Agencies?
It depends entirely on how much you want to spend. If you're just starting out, an in-house team can be very helpful. However, once you've grown, you might start to feel like your growth is being held back by having so many employees working for you.
When you choose to use an advertising agency, you get access not only to the resources but also to the talent. It allows you to tap into different perspectives and creativity.
Outsourced advertising agencies offer a different set of benefits. They tend to be larger than in-house teams, providing better coverage and giving you access to more of the latest innovations. By partnering with an advertising agency, you are getting the advantage of using their knowledge and resources.
Conclusion
If you're looking for the most cost effective way to grow your business, use both. Using an in-house team is great because you gain control over your brand messaging and you can save a lot of money. 
Agency partners will give you access to a wide range of professionals, giving you the best services at a reasonable price, but you'll still have to do some research to find the right partner for you.
The choice between using in house or hiring an ad agency is really down to personal preference. Both options have advantages and disadvantages. It is important to weigh the pros and cons of both before making a decision.