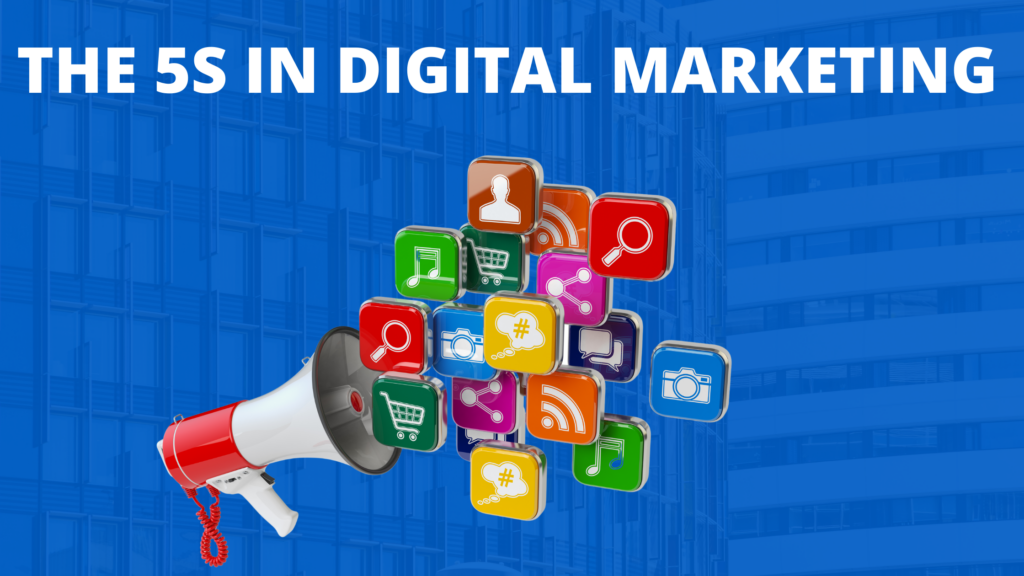 We all know that the main aim of any business is to increase its sales. This can only be achieved by using the 5Ss of digital marketing. Digital marketing is an important part of your business plan. You can follow the concepts and 5Ss of digital marketing. This is a reasonable command that you should at the very least follow.
Do your digital marketing objectives cover all the bases?
A good set of digital marketing goals include a variety of metrics for tracking, monitoring, and controlling performance across different digital marketing activities.
There are various factors that go into creating a successful digital marketing strategy. Chaffey and Smith's 5S model provides a framework for developing a digital marketing strategy that attracts and retains customers.
The 5s in Digital Marketing
To help your business grow, here are the 5S of digital marketing strategy:
1. Sell
Sell is an indispensable part of any digital marketing business. A company aims to make as much profit as possible from sales. With an online presence, a company gains leads that eventually turn into customers, which ultimately results in increased profits. 
Start with the transactions that generate the most revenue and profit, but also consider how they will impact customer retention or loyalty.
You need to have a clear understanding of what you want to achieve before developing a successful digital marketing strategy that includes selling products and services.
2. Serve
Once you have developed a solid understanding of what you want, it is time to focus on serving customers. Your goal is to provide superior service so that your customers will keep coming back for more.
This means providing an excellent user experience, responding promptly to emails and phone calls, and delivering exceptional customer support when needed.
"Customers are king", As the popular adage goes. It is very important to know the needs and requirements of your customers and serve him/her accordingly. 
You need to make your customers feel the benefits of working with you and your brand. Try to be present online and responsive to your customers whenever possible.
3. Speak
The way you communicate with them has a huge influence on whether they return to buy anything from you or not. If you are not aware of this fact, then you may end up losing out on potential customers.
Customer Service is an important part of any business. Customers expect great service from companies and when they receive poor service they may not return. Companies should invest in customer services to ensure they provide excellent service. 
Communication plays an important part in any marketing business, regardless of whether it is selling products, services, or both. You must listen carefully to your customers and learn about their needs, wants, and expectations. Customers want to be heard and understood. A good relationship with customers enables you to provide better service, build trust, and increase sales.
Your communication channels should be well-defined and consistent in order to ensure that you maintain a strong relationship with your customers.
Make sure that you use the right tone of voice, language, and style that best suits your target audience.
READ ALSO:
4. Save
Digital marketing helps companies save money by reducing advertising costs, printing expenses, postage and customer service. 
Digital Marketing is very effective if done properly. You can use this technique to advertise your business and reach out to more people. This method is also cost-effective compared to other methods.
With the help of digital marketing, you can easily create a website through which you can send information about your product or service to your target market, allowing them to find out more about your company and its products while saving money at the same time.
5. Sizzle
Sizzle is the last stage in 5s in digital marketing. It is all about creating, expanding, and establishing your brand's presence on the digital platform, such as Facebook, Instagram, Twitter, YouTube, etc. Social media plays a big role in achieving or building a brand's presence. 
The purpose of sizzle is to catch attention and get people interested in what you're offering. With digital marketing, you can incorporate sizzle into your marketing strategies to attract new clients and retain current ones.
You should also build trust, recognition, relationships, and credibility to enhance your product's presence in the market.
Conclusion
Every business owner dreams of having his/ her own business empire. The key to success lies in ensuring that the process of growing one's business is easy and simple. One way to achieve this goal is by becoming familiar with the five stages of digital marketing. These five stages will enable you to understand how to grow your business using digital marketing techniques.
When you implement digital marketing strategies to promote your business, you will grow as a result. The Internet is now used as a tool to reach out to customers, expand businesses, and improve profits.
Your digital marketing strategy needs to align with your overall marketing mix. The 5Ss of digital strategy provide specific guidelines on what you need to consider when designing your digital marketing plan.