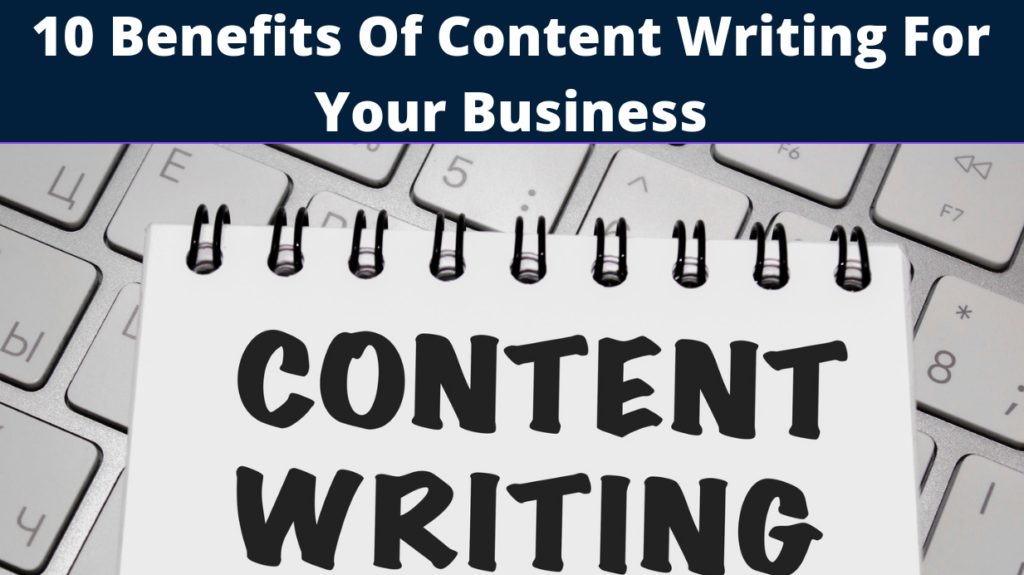 The internet is a vast and ever-growing source of information, but it's also a place where many businesses are struggling to compete for attention. The good news is that you can use the power of content marketing to your advantage and boost your business online. In this article we'll look at some of the benefits of content writing for your business. 
Content is the foundation of good communication, whether it's written text, audio, video or other forms. If you don't have great writing skills, you'll struggle to communicate effectively.
Content marketing has become an essential part of running a successful business. In today's digital age, consumers expect businesses to provide them with high-quality information. And the way they get that information depends largely on the quality of the content they see. So if you want to grow your business, why not start by improving your content?
Why Content Writing Is Important?
Content writing is important because it helps you build trust and credibility for your business. When users read your content, they feel like they know who you are and what you do. They also feel connected to you, which makes them more likely to engage with your business.
Quality content is useful. It helps readers understand the topics covered on your site and gives them all the necessary information they need to make informed decisions when buying from you.
If you want to generate leads for your business, then you need to create quality content that attracts potential customers. Content writing is one of the best ways to attract visitors to your website and convert them into leads. You should use unique and engaging content to increase the likelihood of visitors taking action.
10 Benefits Of Content Writing For Your Business
1. Boosts Brand Awareness Through Quality Content
The internet offers a wealth of content – more than you could ever read or watch. If you want your business to be noticed in this vast sea of information, you have to have quality content that stands out from the crowd. If you invest time and energy into writing high-quality content on your website, then people will start to notice your business – and remember it when they're ready to make a purchase. If you write exceptional content, then search engines will be more likely to place your website at the top of their rankings.
When people visit your website, they're going to be looking for specific types of information. By providing them with clear and concise information about your company, products and services, you give them something to latch onto. This means they're much more likely to remember your brand and come back for future purchases.
2. Helps You Stand Out From Competitors
If your competitors aren't using content marketing, then chances are you will be able to stand out from the crowd when you begin writing high-quality content for your website. As long as you produce consistent and valuable content, you can position yourself as the go-to source for information on your industry.
The internet is incredibly competitive, and that means you need to do everything you can to attract visitors to your website, keep them there and encourage them to take action once they're there. A great way to achieve this is through generating high-quality content.
You need to be clever and creative in the way you market your business online. High-quality content can help you stand out from competitors and get noticed by search engines. The right type of content will also help get your business noticed.
3. Can Help Generate Leads For Your Business
If you're struggling to generate leads for your small business, then you need a strategy that works. One of the most effective strategies is to focus on creating high-value content. You'll find that your efforts will pay off if you provide your audience with helpful information that's relevant to their needs.
Lead generation isn't just good for selling more products and services; it's important for building relationships with existing clients and attracting new ones too. It doesn't matter how big or small your business is – every customer wants to feel like they've received value for money when they complete a transaction. That's why high-quality content is so vital.
4. It Boosts Conversion Rates
High-quality content will boost conversion rates for your website, which means more customers and higher profits. When you create content that's useful and engaging, it gives your visitors an incentive to convert.
High-quality content has been proven to increase conversion rates – which is really important for any business, regardless of size. If you're not getting conversions, then you're losing potential revenue. 
5. Allows You To Grow Your Audience
Content creation helps you build trust with existing and potential customers, allowing you to grow your audience over time. High-quality content attracts readers, and those readers become loyal followers who may even end up becoming paying customers.
If you want to gain exposure for your business, then it makes sense to use content marketing. As long as you write high-quality content, you have the chance to reach potential customers at the exact moment they're searching for what your business offers.
READ ALSO:
6. Improves Search Engine Rankings
Search engine optimization (SEO) is all about improving website rankings. In order to improve your ranking, you need to write content that's optimized for search engines. However, it takes a lot of work to ensure that your site appears at the top of search results pages. 
Search engines like Google love content, especially if it's well written, but they don't always reward quality writing alone. So, it pays to combine SEO techniques with content marketing to make sure you receive the best possible return on investment.
7. Helps Increase Marketing ROI
Marketing ROI refers to the return on investment you make when investing in a particular marketing channel or campaign. With high-quality content, marketing ROI increases because it brings in more traffic. This, in turn, leads to more sales.
8. Increases Sales
When you write content that's educational and entertaining, you can attract readers who may be interested in purchasing your product or service. The more engaged your audience is, the better chances you have at generating sales.
Content writing is a type of marketing strategy that involves creating content about your products or services. This strategy helps businesses market their products more effectively by influencing consumers' decisions.
9. Gives Your Site Authority And Trustworthiness
If you want to establish trust between your company and its target audience, then you need to act like an authority. That means you need to build credibility and trustworthiness through good content. When people see that your website contains useful information and resources, they're more likely to feel comfortable doing business with you.
10. Builds Relationships With Customers
Writing content builds relationships with your current customers. It also creates opportunities to win new clients. By providing valuable information and resources, you've already built a relationship with your audience.
Your content let you to able to form stronger connections with your audience, which will help you to attract more people to your page. You'll find that this strategy works best when you create compelling content that helps people solve problems and achieve goals.
FAQ
How Does Content Writing Help Businesses?
The purpose of content writing is to generate leads for business owners. By using content marketing strategies, businesses can attract new customers and increase sales. Content marketing also helps businesses create a strong online presence and build trust with potential clients.
How Do You Create Evergreen Content?
Evergreen content is content that keeps getting better over time. This means that the content has to be continually updated and improved upon. The best example of evergreen content is Wikipedia. Wikipedia is constantly updating and improving its information. If you want to create evergreen content, then you should focus on writing about topics that are timeless and relevant.
How Much Can Content Writing Services Boost Conversion Rates?
Content writing agencies can be an effective way to increase conversions. Your company should work with a content marketing agency to develop a content strategy that helps you reach your goals. They can also help you create content that attracts prospect, converts them into paying customers, and ultimately boosts conversion rates.
What Are The Best Ways To Improve Search Engine Ranking With Content Writing Services?
There are several ways to improve search engine ranking with content writing services, such as: optimizing for keywords, generating relevant content, using high quality images, and getting links from other websites. By optimizing for keywords, you can increase traffic to your website by making it easier for users to find what they're looking for.
Relevant content means having information about your topic that is useful, interesting, and valuable to the reader, so they keep coming back for more. Quality content will improve your search ranking because Google wants to give its users the most relevant results.
Conclusion
Content writing is essential for every business. Why? Because it improves productivity and helps you gain exposure for your brand.
Content writing can be a very effective way to generate leads, build trust, increase sales, attract new customers, and boost traffic.
At the end of the day, the best content marketing strategy is to write quality content that's relevant to your audience. As long as your content meets this criteria, you'll do just fine.
If you're thinking about hiring a content marketing agency, then you should know that there's a lot involved in creating great content. A professional company will have the experience needed to produce winning content that drives higher conversion rates and increased revenue, while satisfying readers at the same time.